Do you need an affordable pair of studio headphones? There are dozens of highly-rated headphones to choose from, so how you do know which one is best for your needs? The Audio-Technica ATH M30X professional studio headphones are among the top-selling headphones available online – thanks to enhanced audio clarity and sound isolation.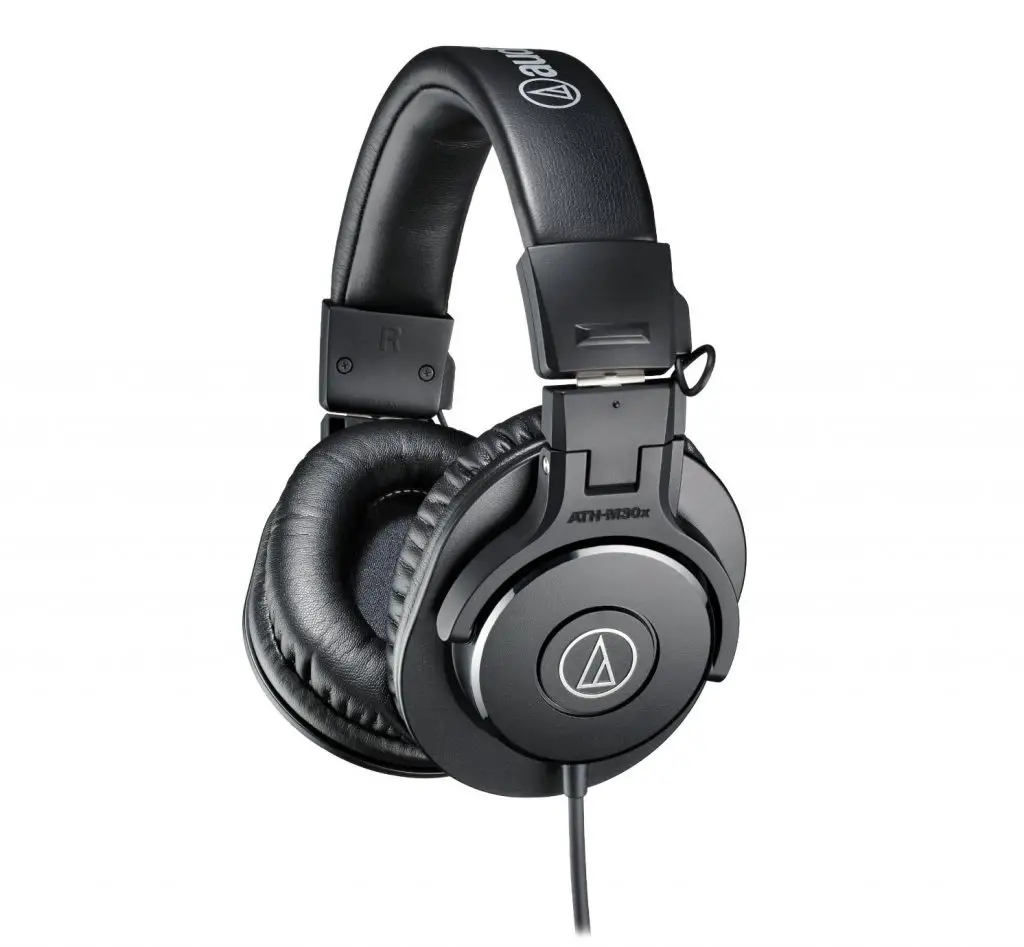 If you are in need of a new pair of headphones, before you make your decision, examine this review of the Audio-Technica ATH M30X studio headphones and find out if they will be a good fit for your needs.
Overview and Technical Details
The technical details are the meat and bones of the product. Audio-Technica has a line of studio headphones, with the M30X falling into the lower end of the five headphones. Though, these are still quality headphones and suitable for professional use. If you find that the frequency range or drivers do not meet your needs, consider stepping up to the ATH-M50X or the ATH-M70X. Take a closer look at the technical details of the M30X studio headphones:
40mm drivers with rare earth magnets and copper-clad aluminum wire voice coils
15Hz to 22kHz frequency response
96 dB
1300mW maximum input power
The Audio-Technica M30X studio headphones feature 40mm drivers with rare earth magnets and copper-clad aluminum wire voice coils to provide superior sound quality. The 15Hz to 22kHz frequency response is a step above other studio headphones that fall into the same price range. This provides the exact audio definition that you would expect from a high-end pair of studio headphones.
Pros
In addition to the technical details mentioned, there are a few advantages that should be pointed out when discussing the Audio-Technica studio headphones. Here are some of the best features and benefits:
Exceptional mid-range definition
Lightweight
Comfortable to wear
When discussing studio headphones, there tends to be a strong emphasis on the quality of the highs and lows, with few comments about the mid-range sounds. These Audio-Technica headphones are able to capture the highs and lows with precision and clarity, while also offering an exceptional mid-range definition. This results in a crystal-clear sound that rivals many higher-end models.
Another benefit is the lightweight construction. The M30X studio headphones only weigh 7.8 ounces. This is about half the weight of some of the most popular headphones and adds to the comfort.
Being lightweight helps with the comfort, but the overall design also provides comfort when wearing these for hours at a time. The large earcups featuring thick pads help to isolate noise while also offering a comfortable fit.
Cons
There are a few limitations of these studio headphones that you should consider. Always weigh the benefits and drawbacks of a product before you make your purchase. The Audio-Technica M30X studio monitor headphones are definitely quality headphones, but they do have a few disadvantages.
Limited 15-degree earcup swivel
Straight cord
The ear-cups only have a swivel of 15-degrees. This is actually fairly standard for a pair of headphones, but some people are specifically seeking ear-cups with a 90-degree swivel so that you can turn the ear-cup around and allow another person to listen or to isolate the left or right ear. This is not an option, when you can only swivel the ear cups 15-degrees, but for most users – this should not be a major problem.
The only real disadvantage is the straight cord. While the cord is long enough, with a length of 9.8-feet, it would have been nice if they had included a coiled cord. The coiled cord is available on each of the Audio-Technica studio headphones that are above the M30X, so the straight cord was probably to cut costs. Having a straight cord can lead to tangling, which could eventually damage the cord. As long as you are careful, you should be able to enjoy your headphones for a long time. Though, a coiled cord would have been a good addition to these studio headphones.
The advantages definitely surpass the meager disadvantages, unless you have specific needs and would prefer a coiled cord or ear-cups with 90-degree swivel. If this is the case, you could consider stepping up to the Audio-Technica M50X or M70X.
Where Can You Buy?
You could probably pick up a pair of these studio headphones from your local music shop, or you can also find them online easily enough. For just under $70, you can order a pair of Audio-Technica professional studio monitor headphones from Amazon. This is a savings of 30%, bringing these studio headphones to a lower price point.
What are People Saying?
Whenever you plan on purchasing a product without trying them out first, you should look at what people are saying about the product. For these studio monitor headphones, the customer reviews on Amazon are a good place to start. With 673 customer reviews, the Audio-Technica studio monitor headphones received an average rating of 4.5 stars.
89% of those reviews were 4-star or higher, with only a handful of negative reviews. One user commented on the quality of the bass, stating that the bass is overblown and overexaggerated. This contradicts hundreds of reviews that praise the quality of the bass.
Other users mentioned loose components and flimsy construction. Again, these comments go against what the majority of users have mentioned – which is that the studio headphones are well constructed and feel durable.
While you should always look at what other customer had to say, by looking at both the positive and negative reviews, you also need to realize that not everyone will have the same experience. Any product can ship with some defects or issues that result in power performance or durability, but this appears to be incredibly rare for the Audio-Technica studio headphones.
Read more reviews and feedback here
Conclusion
The Audio-Technica studio headphones are among the top-selling headphones. They are built with advanced engineering for audio clarity and are perfect for any of your audio needs. This includes professional use, such as mixing, engineering, or recording. Though, they also make a great pair of recreational headphones for home use.
To summarize – the Audio-Technica studio headphones are built to last and feature clear, pristine audio at an affordable price.