When you deal with music on a professional level, you cannot make due with a cheap $20 pair of headphones. You need something that offers superb sound quality with clear highs and extended lows. Studio monitor headphones need to able to reproduce sound with amazing clarity.
Can the Sony MDR7506 studio monitor headphones meet these needs? Gather of the details by reading the rest of this review to learn more about these Sony headphones.
Overview and Technical Details
What are the main features of this pair of studio headphones? Other than allowing you to listen to music with clear, pristine audio, you can expect the following:
Closed-ear design
9.8-foot cord with a gold-plated plug
¼-inch adapter
Fold up design for storage or travel – with a provided soft case
40mm drivers
10Hz to 20kHz frequency range
The closed-ear design helps with noise isolation and comfort. This helps to reduce external noise interference so that you can focus solely on the music and sounds that you are listening to.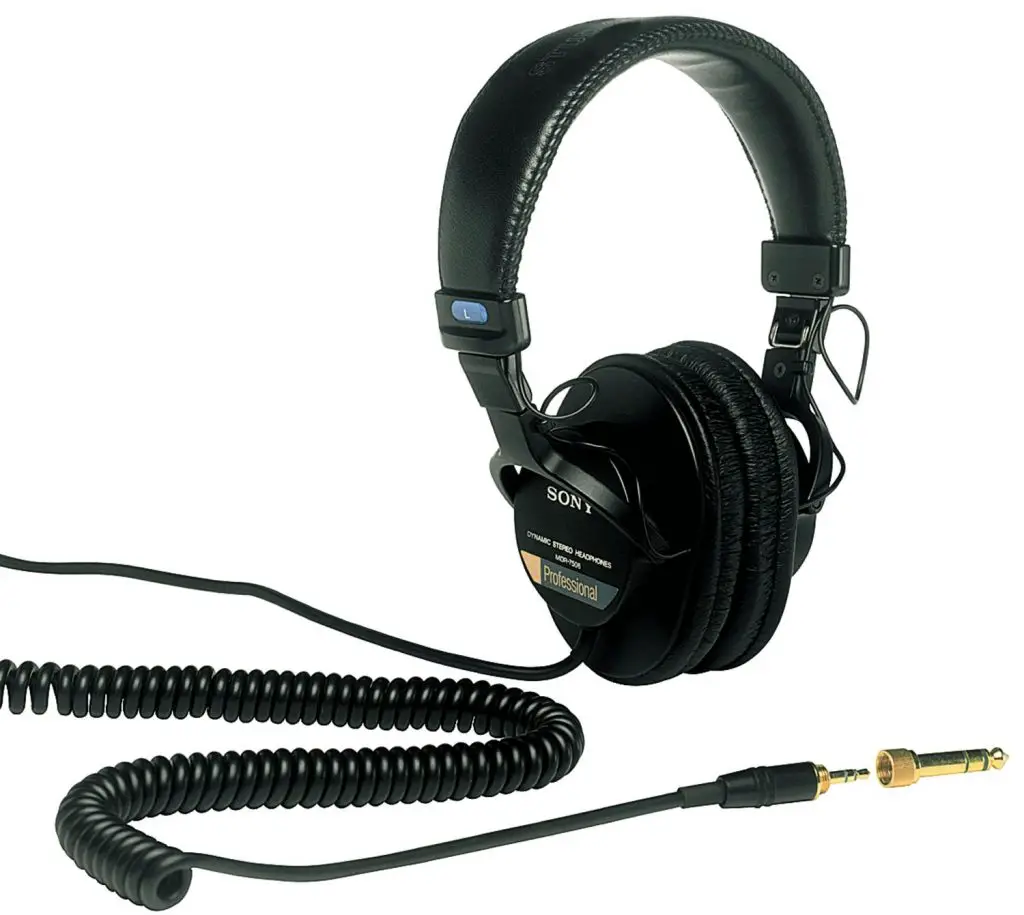 The long 9.8-foot coiled cord should be more than enough length for most settings. The coiled cord helps prevent tangling and allows you to move about the room without having to remove the studio headphones.
The end of the cord has a 1/8-inch plug, but the studio headphones come with a ¼-inch adapter, so that you can use these headphones for any sound application – whether you want to connect them to your MP3 player or a professional sound mixer.
The studio headphones fold up for easy storage or travel. They come with a soft case for storing the headphones when folded, but will not fully protect them from damage. When traveling with your headphones, make sure that you use care when storing them in a suitcase or backpack.
The 40mm drivers and 10Hz to 20kHz frequency range offer professional sound. This allows for crystal-clear highs and extended lows, which is essential for accurate monitoring with a pair of studio headphones.
Pros
Why is the Sony MDR7506 studio headphones the best-selling headphones on Amazon? Along with the features mentioned above, the following advantages help draw customers to these studio headphones:
Comfortable closed-ear design
Durable, rugged construction
High-quality sound
If you are going to spend hours wearing a pair of studio headphones, you will want them to be as comfortable as possible. This is what you get with the Sony studio headphones. The closed-ear design is not only comfortable, it also helps with noise isolation, preventing unwanted noise from interfering with your listening.
In addition to being incredibly comfortable, these studio monitor headphones have a durable, rugged construction. While you should always treat your studio headphones with care, these headphones should be able to take a beating and continue working properly.
Above all else – it is the sound that really matters. With the Sony MDR7506 studio headphones, you get exceptional sound. Everything sounds as clear as possible – with the only real limitations coming from the device that you are listening to.
Cons
There are no major disadvantages that should prevent you from purchasing these studio headphones. They are built to last and feature amazing sound – what more could you want from a pair of headphones? Apparently, some users were not happy with the overall construction and design.
There have been reports of the headband and other components breaking easily. Sony has taken great care in producing a pair of durable and rugged headphones that should last a very long time. There are always going to be users that treat their equipment poorly or are unfortunate enough to receive a damaged pair of headphones. Accidents happen, but they are rare. Luckily, you can always send your headphones in for a replacement if the damage is the result of a manufacturer's defect.
Another issue that gets discussed is the presence of background noise. This is likely the result of a defective unit. If you notice unwanted background noise, you should first try adjusting your sound levels or volume. If this does not solve the problem, try listening to your studio headphones through another device. This allows you to rule out the headphones as the cause of the background noise.
When the problem persists, you may have a defective pair of studio headphones. Return them and get a replacement. Since this is not a majorly reported issue, this should not prevent you from buying these studio headphones.
What are People Saying?
As mentioned, these studio headphones are a top seller on Amazon, which means that are plenty of customer responses to explore. Out of 2,858 customer reviews, these Sony headphones were able to maintain a 4.5-star rating.
An astonishing 78% of customers gave the studio headphones a 5-star rating. They often comment on the superb sound and comfort. Some users even mention that these studio headphones could easily compete with studio monitor headphones that cost several times as much. Essentially, they are suitable for professional use by musicians, DJ's, and studio engineers.
Despite all of these positive responses, there were some negative comments. The majority of the negative reviews discuss the construction and design of the studio headphones. These users have claimed that parts of the headband break easily while others have commented on background noise. The negative reviews are few and far between – so, these issues may not be a problem for most users.
The Verdict
The Sony MDR7506 studio headphones are the best seller in the DJ headphones category for a good reason – they are quality headphones. You will get exceptional sound at an affordable price.
The headband and closed-ear design are comfortable, even when wearing the studio headphones for an extended period of time. The coiled cord does not tangle and allows you to walk around without having to take off your headphones. The folding construction makes it easier to take your headphones on a trip without worrying about damage. The bottom line is that these are high-end studio headphones at a mid-range price.