The AKG K240 studio headphones are a reliable, great sounding set of headphones for less than $100. They are designed to deliver a balanced sound and to be comfortable for long sessions of use. Let's take a look at what can make these a good option for studio headphones, and also some of the potential negatives.
Sound Quality
Owners of these headphones love the sound quality that they deliver. Considering that they are designed for studio use, they will deliver a nice, flat frequency sound that doesn't have any sound coloring or enhancement of certain frequencies for flavor, which can misrepresent the sound.
The frequency range goes from 15Hz to 25Khz, which will give you full frequency representation with anything you listen to.
The mids and highs are clear and sound great, and users of these headphones find them to provide sound clarity that cheaper headphones fail to deliver.
The bass doesn't overly thump, but instead is balanced well with the other frequencies to provide that flat frequency response for more accurate monitoring. People who buy these expecting thundering bass are typically disappointed, and they mention that they think the bass sounds weak.
People who are looking for a more highlighted or eq-heavy sound might not like these due to the balanced nature of the acoustics.
The Semi-open Air Design
AKG uses XXL transducers, along with an acoustically tuned venting structure in the enclosures to provide a sound quality that feels more open. That is where the "semi-open air design" description comes from, which is prominently mentioned with these headphones.
This design also creates less noise isolation, so you will be able to hear more of the ambient and room sounds compared to headphones that are designed to isolate more heavily.
People who are used to a very direct-sounding headphone might also find these to be airy compared to what they are used to. It might come down to personal taste depending on what you are looking for, sound-wise.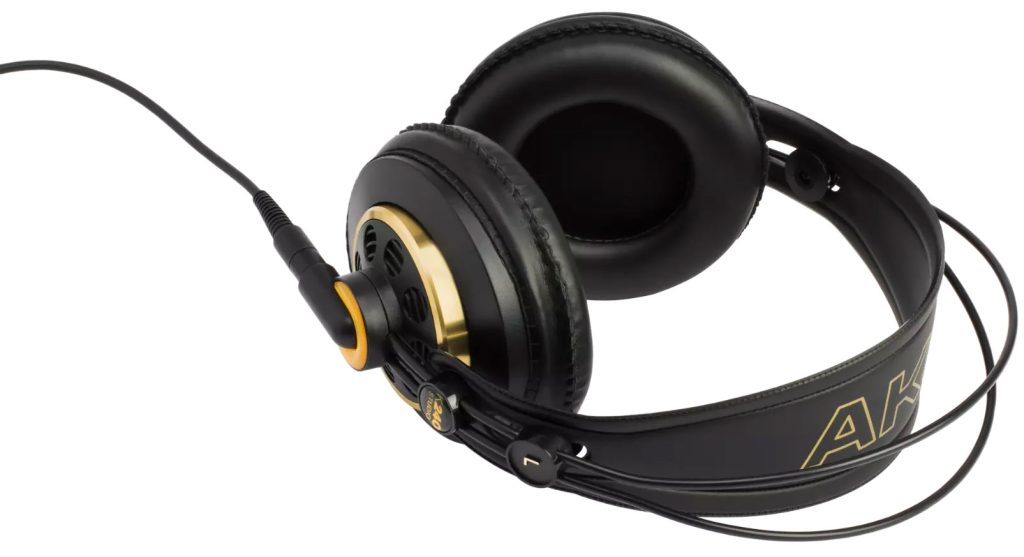 The Varimotion Diaphragm
AKG has developed a special type of material for use in many of their audio products. Called "Varimotion Diaphragm", it's a special material that is not as resonant as other diaphragm materials like mylar, and it helps AKG achieve their amazing sound quality in their audio products.
Here's a good video from AKG to explain the technical details:
Pretty cool, huh?
Comfort
These headphones have a gimbal type of suspension, meaning they are designed to move a little more freely than some other restrictive headphone designs, and as a result it helps improve the overall comfort. These adjust easily and you can wear them for quite a while without experiencing any discomfort.
The earpads are somewhat stiff on the inside, and soft on the outside. People who own these headphones generally love the comfort during long periods of use like watching movies or working in the studio for an extended period of time. Some users say that they feel like the pads are too hard for their tastes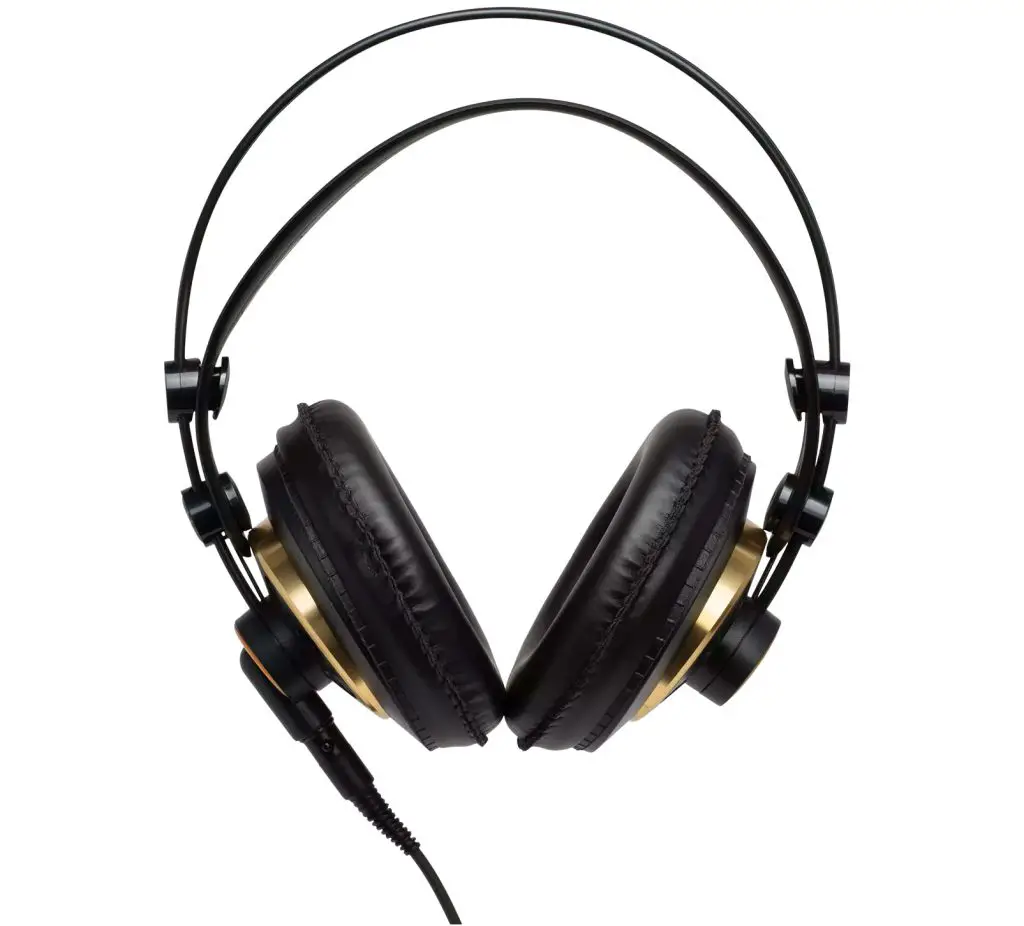 The Detachable Cable
One feature that is really nice about these headphones is the detaching cable. If can make them a little more manageable during storage or transportation, and if the cable wears out or breaks you can replace just the cable and not your set of headphones.
The cable is just under 10 feet long (3 meters), so you will have plenty of cable length to work with. The default is a 1/8 inch plug, with a 1/4 inch, screw-on adapter included. The end of the cable that plugs into the headphones is a mini-xlr plug.
Some users say the cable feels a little thin, but it depends on what you compare it to.
Replacement cables for the AKG K240 seem to be easy to find, if yours wears out or breaks. Here's one example of what a replacement cable looks like (along with the cable ends).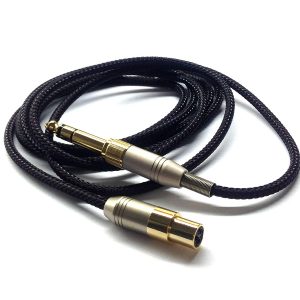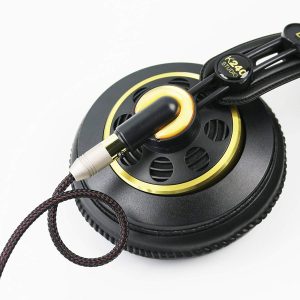 Design
These headphones have a sleek look, black with gold accents. People who own them like that they look like serious headphones, and have a sound to match. They are light, which also adds to the comfort factor.
These headphones also going to feel bigger on your head than something designed for out-and-about street use, so keep that in mind.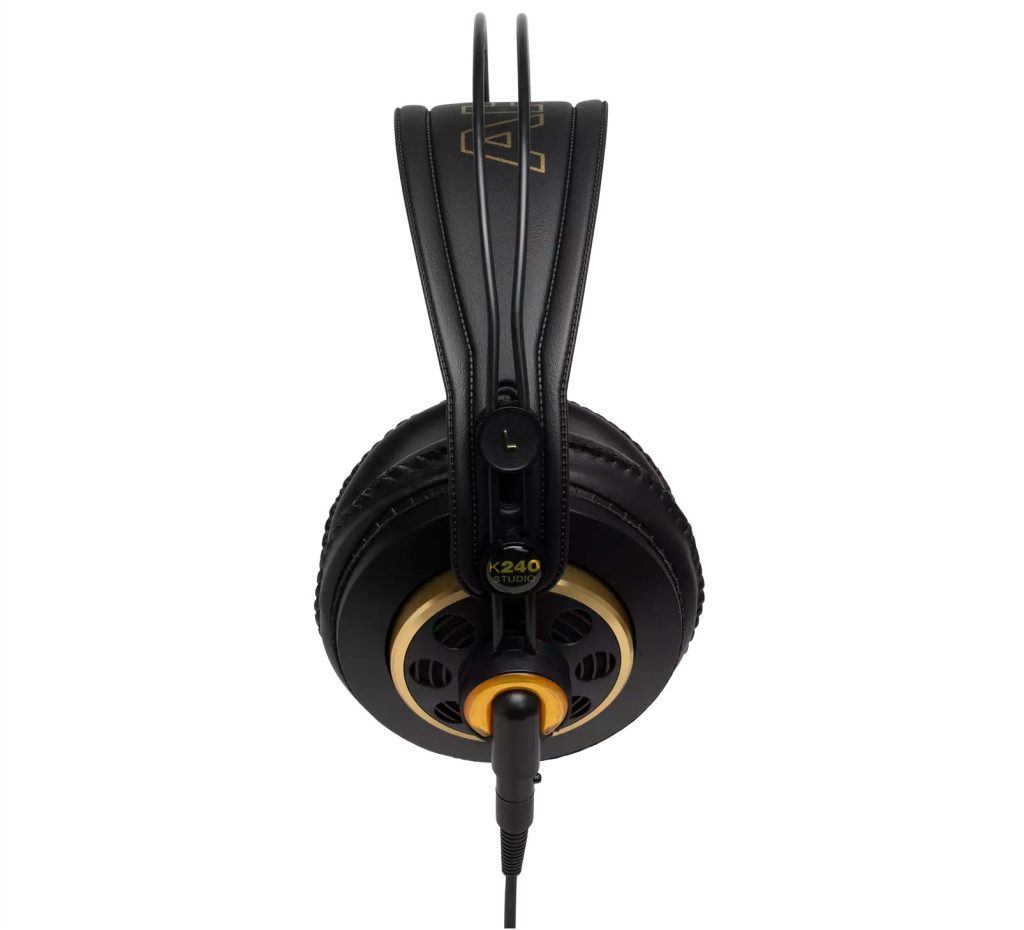 Build Quality
These headphones feel light, and some owners say they feel cheap as a result. The biggest common gripe is that the cable seems to wear out or break for some, but it can easily be replaced if it wears out or breaks. However, they are built well and hold up if you take care of them and don't abuse them.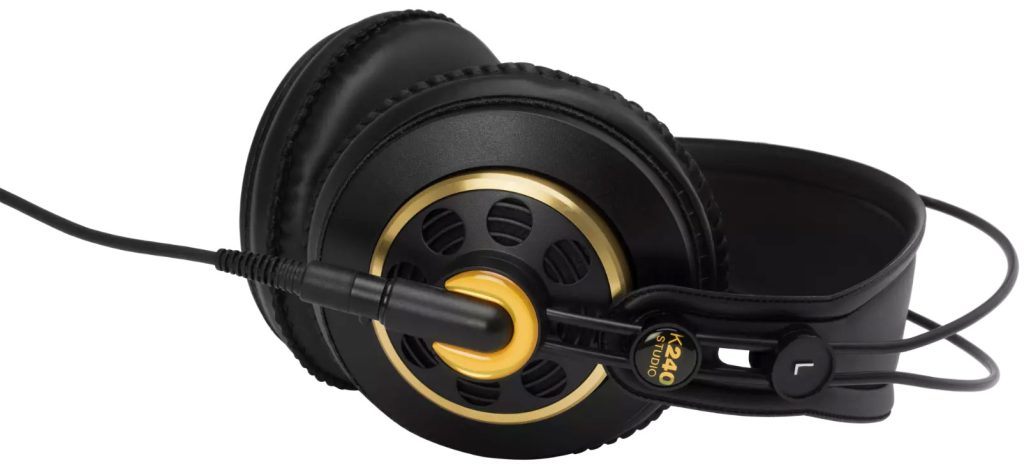 Uses for these Headphones
These headphones, due to the open air design, may or may not work well for electronic drummers. They don't have the greatest isolation, but that's by design. You will hear a lot of the pad noise from your drum kit with these.
If you are hooking them up to a computer for mixing or monitoring during tracking, they will work well for that. They will also work well when you need to hear the environmental room noise more while also listening or monitoring with these headphones.
Pros
Flat sound for accurate monitoring
Comfortable fit
Long, detachable cable
Semi-open design for a more open sound
Affordable price
Cons
Lack of strong noise isolation
Bass is lacking to those expecting thumping bass
Earcups can feel stiff or shallow to some
The Verdict
Overall, the AKG K240 studio headphones are a pretty good option for under $100. People who are looking for a more natural, open sound, without overpowering bass, might like the acoustics of these headphones and semi-open air design. On the flip side, if you are looking for an enhanced bass-heavy sound, you might want to stay away from these.
These headphones would be a good option for electronic drums due to the acoustics and fact that drum pad sounds won't really cause any issues with the lack of strong sound isolation on these. The sound is great for drum sounds, but will come down to your personal taste on whether it's what you are looking for or not.