The Roland VAD306 electronic drum kit is Roland's most budget friendly acoustic-design electronic drum kit. In fact, that's that the VAD stands for in the product name – "V-drum Acoustic Design". These drums look much more like an acoustic drum kit, but with all the features you would expect from a mid-level Roland electronic drum kit. Let's take a look at the details.
Drum Pads & Cymbal Pads
Not only do the drum pads look really nice on this kit, they are also very fun to play. The snare and tom pads are built with a 2-ply poplar shell and 2-ply mesh drum heads. The cymbal pads are Roland's rubber cymbal pads, and not quiet as fancy as the drum pads, but very playable.
Multi-Zone Drum Pads
The snare pad has an excellent feel and is fun to play. The snare included with this kit is Roland's PDA120LS-BK snare pad. It's a shallow wood shell design with a diameter of 12-inches. So it's a little smaller than a typical 14 inch snare. This pad is designed to provide an even response all across the mesh head with no hot spots, and it delivers in that regard. The tension of the mesh head can be adjusted like an acoustic drum with the tension rods. The pad is also dual-zone, so it can generate sounds from both the head and the rim. The rim is rubber and is about the same depth as an acoustic rim, so playing this snare translates well to acoustic if you jump between electronic and acoustic kits.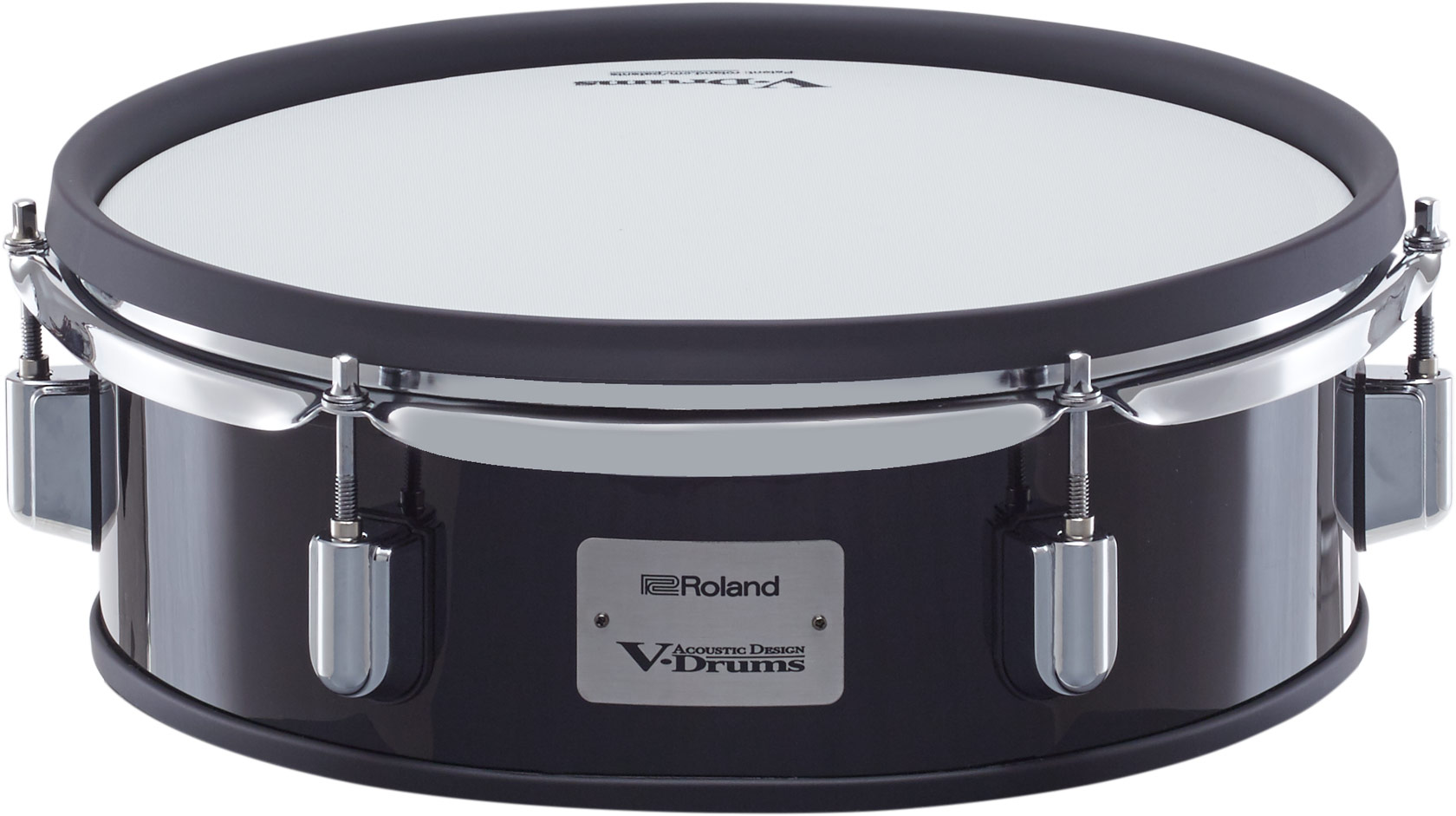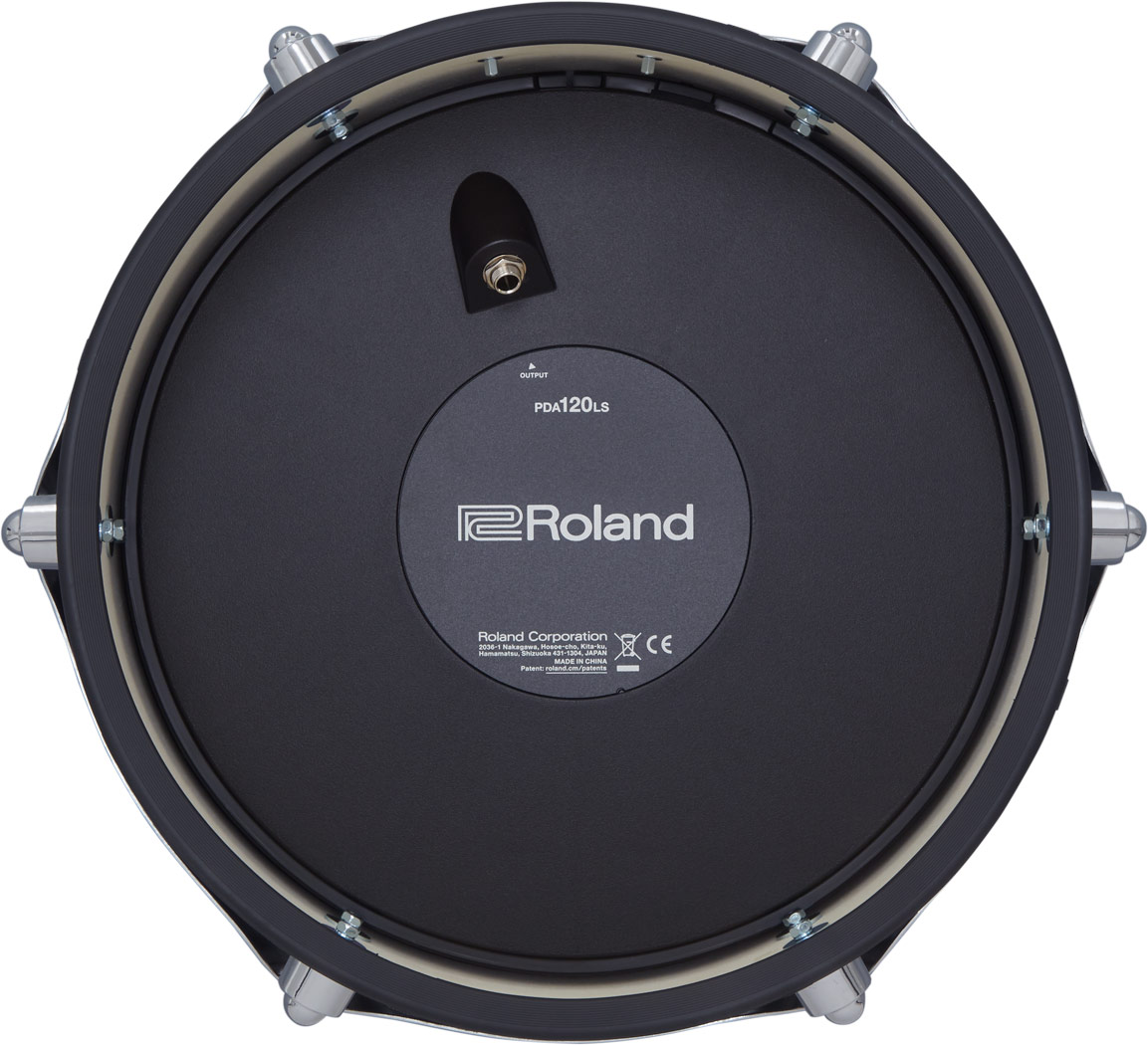 The tom pads are similar to the snare in terms of design and playability. The two rack toms are both 10-inch PDA100L-BK pads. The floor tom is a 12-inch PDA120L-BK pad. The rack toms at both 10 and 12 inches aren't overly large, but pretty decent size for a smaller electronic kit. They play very nicely though, and are both dual zone pads with mesh heads like the snare. They also have the same even response across the heads like the snare. Overall, it's hard to not like these toms when playing on them.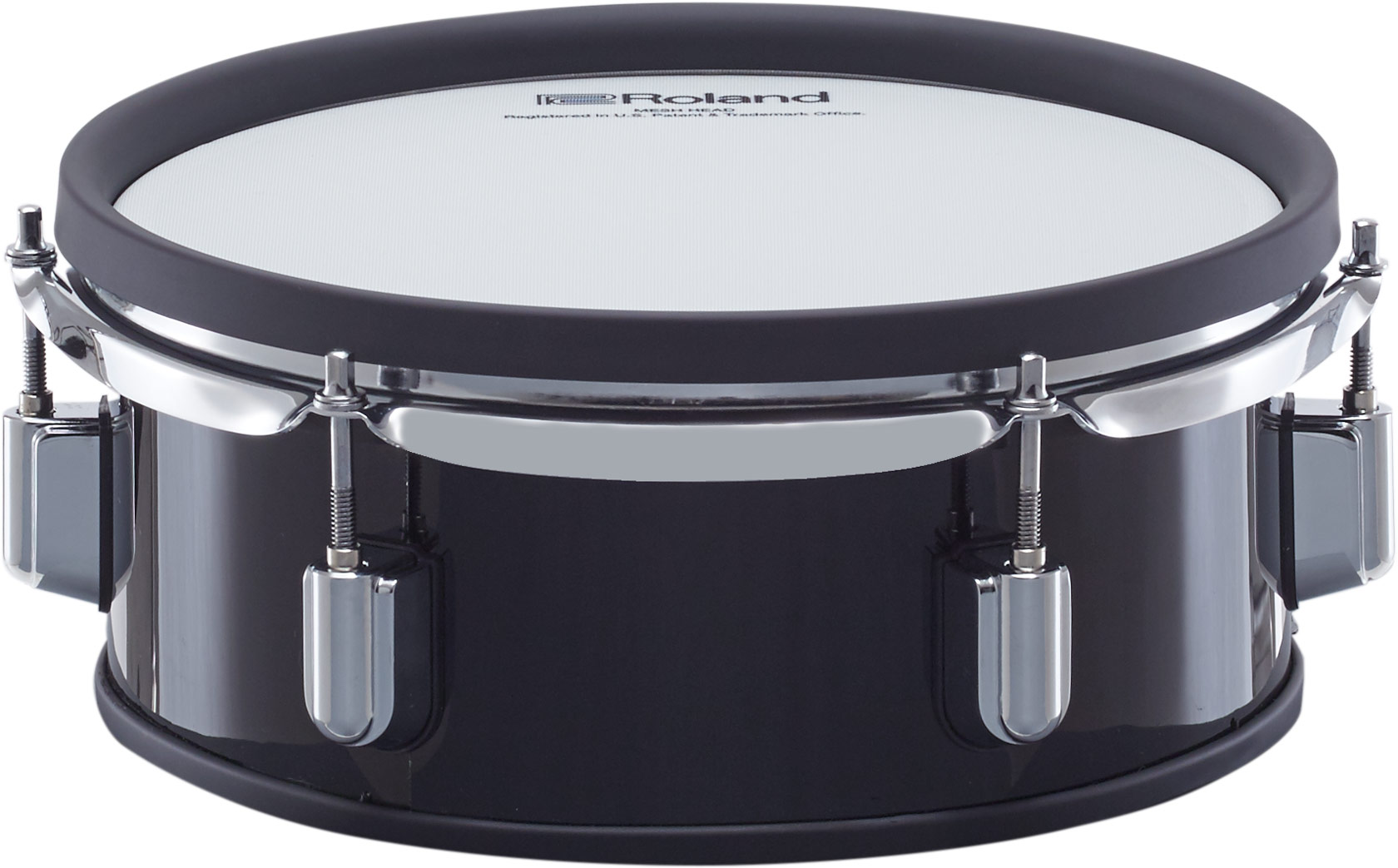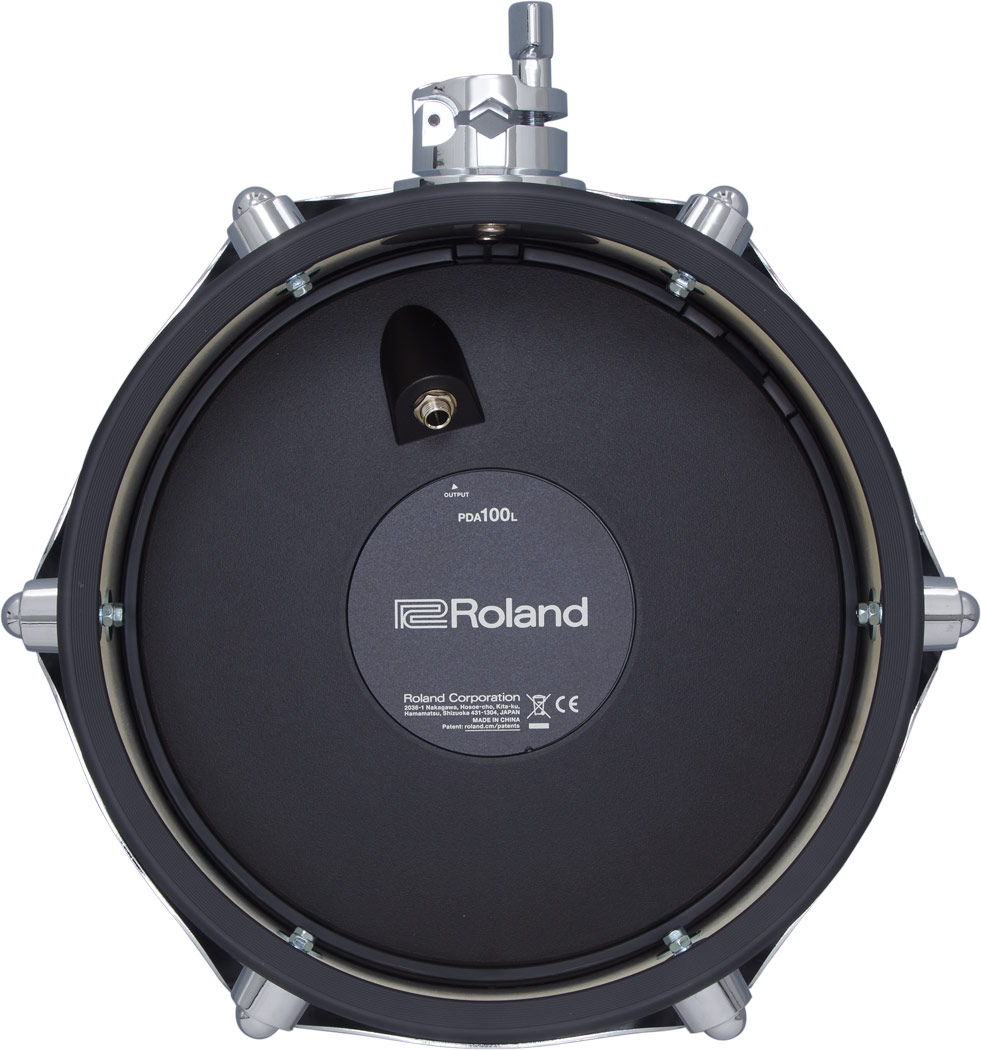 Multi-Zone Cymbal Pads
This kit, while offering some excellent drum pads, is probably a little weak in the cymbal pad area. They don't include any of Roland's newer digital cymbals or larger diameter cymbals. They stick with smaller, more affordable, yet very playable cymbal pads on this kit.
The ride cymbal is small but feels good to play. This kit uses the CY13R ride pad, which is common across Roland's more affordable drum lines. The pad is small at 12 inches, but it offers three zone – bell, bow and edge. There's no real hot spots or anything to worry about and response is pretty even all over the pad.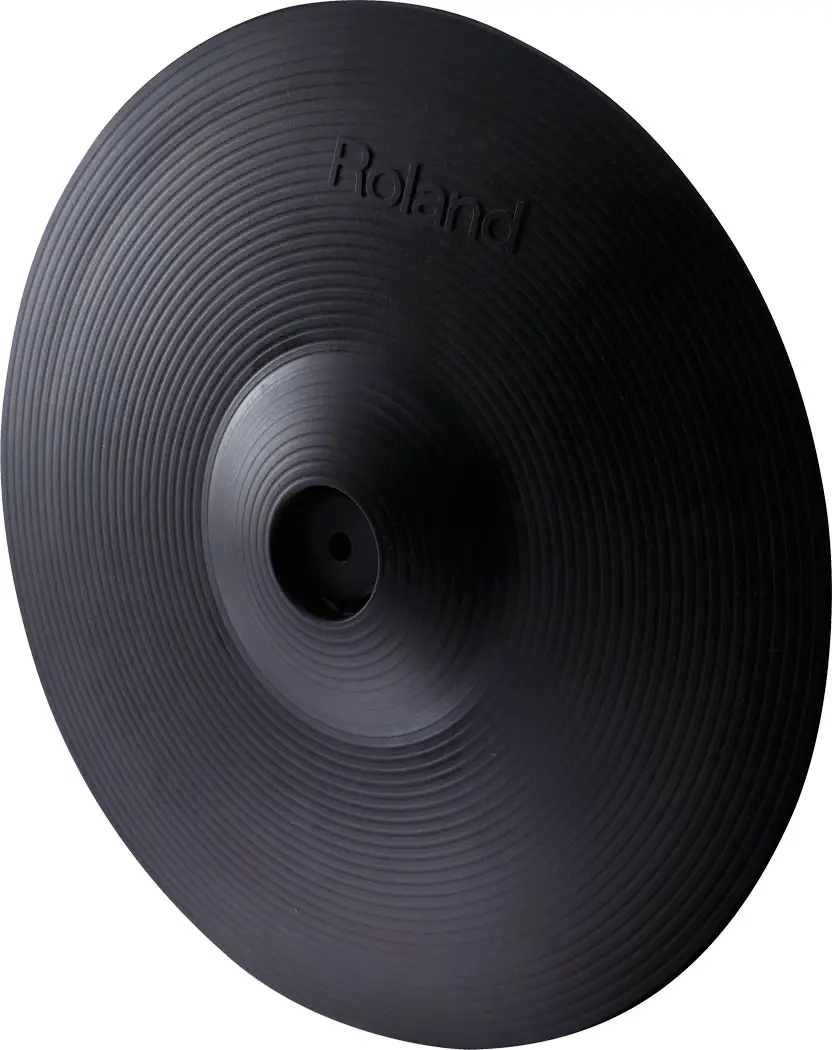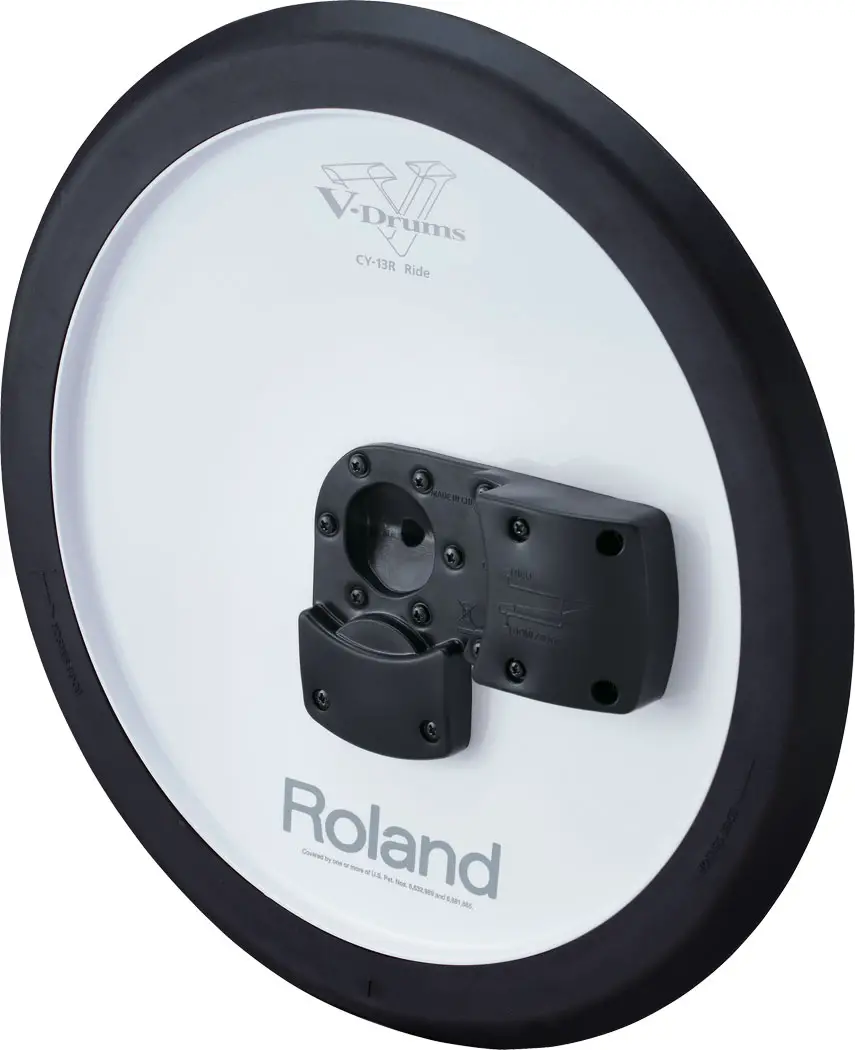 Both crash cymbals are standard, smaller, dual zone rubber pads. This kit comes with two 12-inch CY-12C cymbal pads for both of the crash cymbals. These are pretty basic in terms of what Roland can offer for cymbal pads, but they get the job done and play nicely. These pads can generate sounds from both the bow and the edge, and have good sticking response. They aren't overly fancy but they work well on this kit.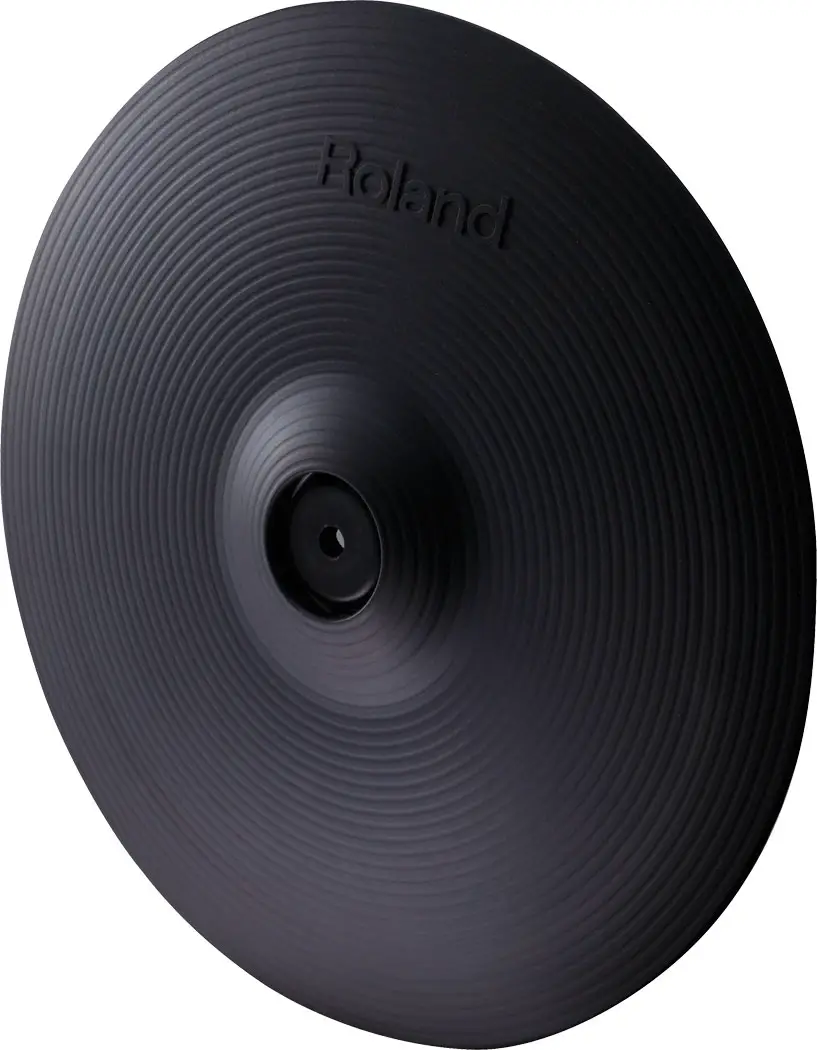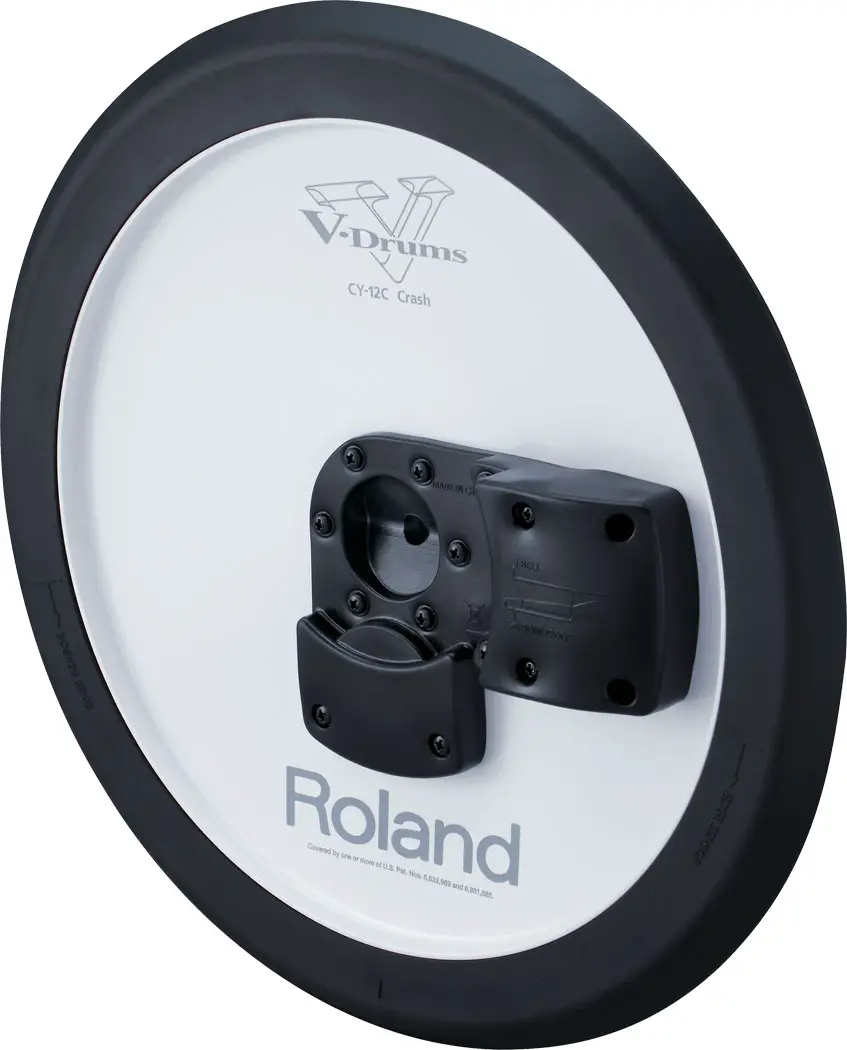 The hi-hat pad is designed to mount on an acoustic hi-hat stand. This kit utilizes the VH-10 hi-hat pad, which is common across Roland's mid-level kits. The VH-10 is actually a 12-inch pad, so the name can be a little deceiving. The pad itself plays very well, and drummers like how it feels. Being able to mount it on a hi-hat stand does wonders for the overall feel of the pedal action. The pad responds to strikes on the edge and bow, you can do foot splashes, and it can do open/closed hi-hat sounds along with everything in between.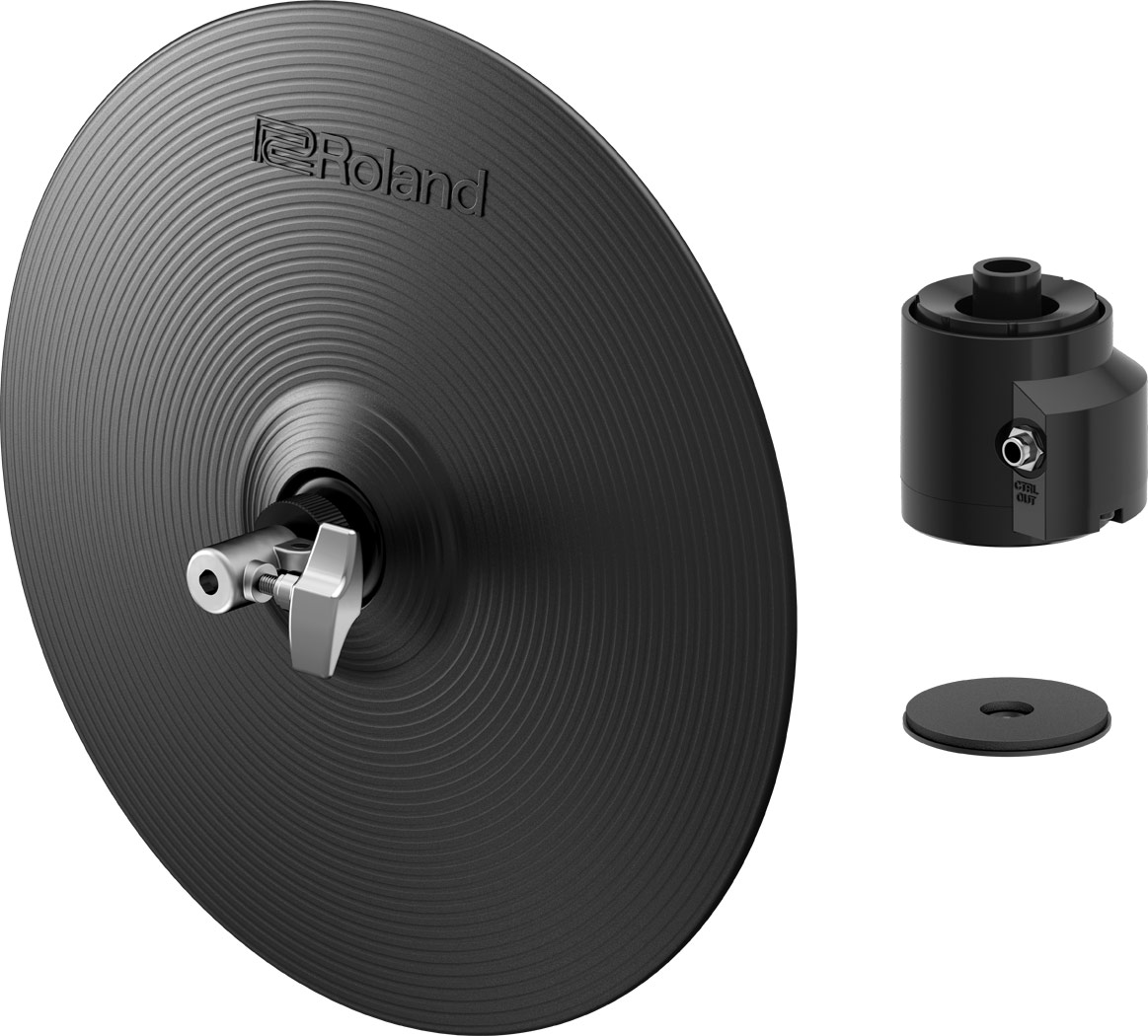 The Kick Drum Pad
The kick drum on this kit is small, but it looks great and it plays well too. The KD-180L-BK kick drum pad simulates the look of an acoustic kick drum without the bulky size. The drum pad is 18 inches in diameter and 7 inches in depth. Having the kick pad mounted on a kick drum head makes it feel very similar to an acoustic drum in terms of rebound and feel with the kick beater. There's something about having air moving behind the kick head that adds a very subtle push towards realistic feel. The drum itself seems to bounce a little bit if you play it aggressively, mostly due to it's small size, design and weight. However, if your kick drum pedal secures well to your drum rug, which most should, this pad will stay in place just fine.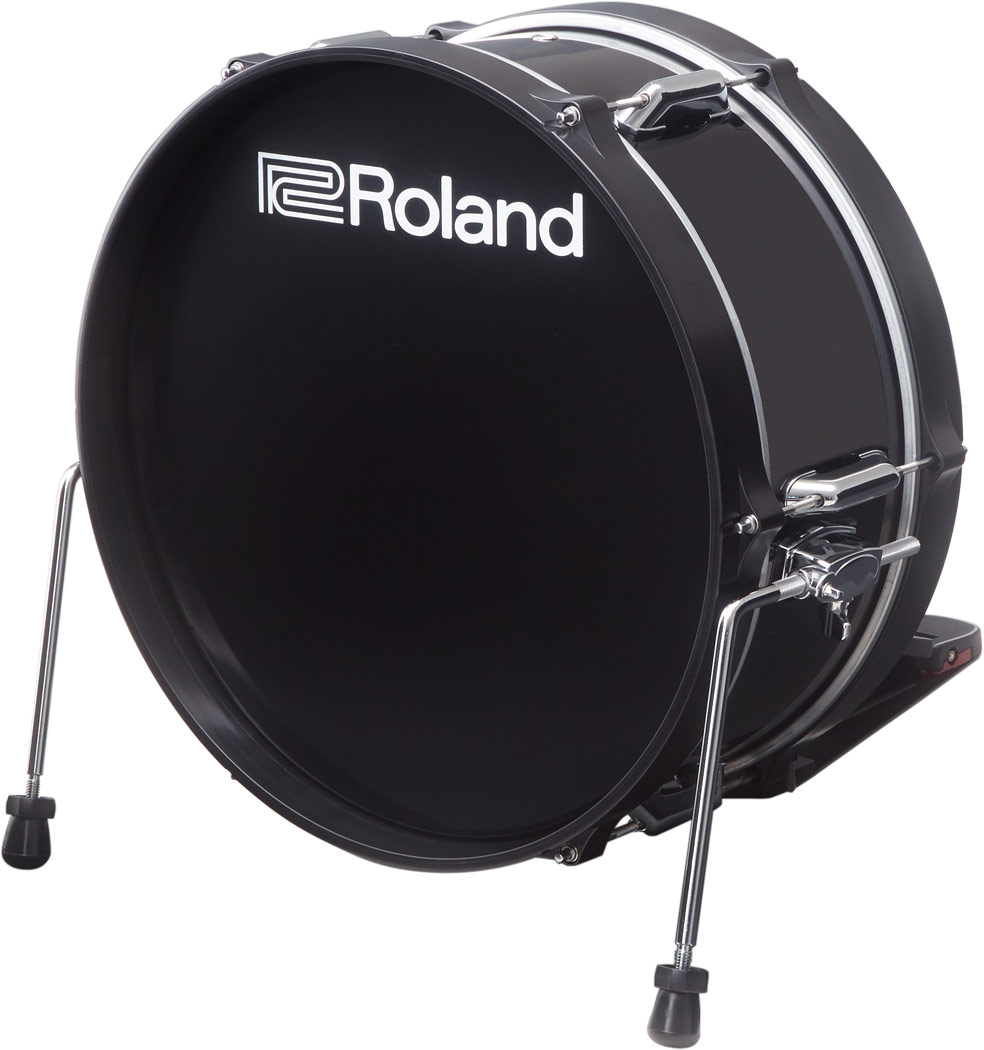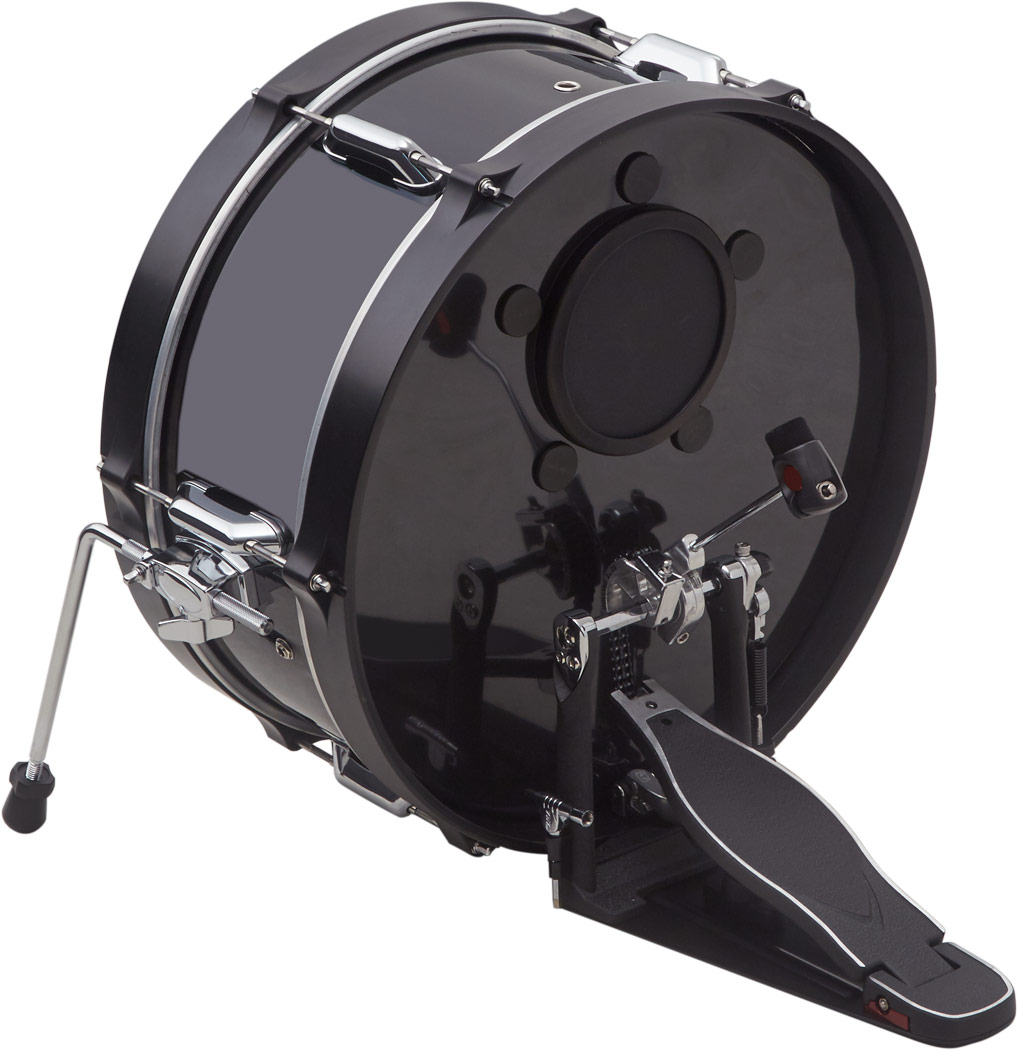 Adding More Pads
There are two additional trigger inputs, one labeled "Crash2" and one labeled "Aux" on the TD-17 module. Both can be used to add additional pads to the kit. You can also use cable splitters on the other dual-zone pad inputs to split up inputs and add more single zone pads.
The Rack
There is no rack with this kit, instead you are getting drum and cymbal stands. The double-braced, chrome DCS-10 stands are very nice quality. They don't look cheap and they don't feel cheap. The stands, along with the wood shell design, are what make this look more like an acoustic kit on first glance.
There are three cymbal/drum stands included, each designed to both mount a cymbal and a tom. They are pretty sturdy stands, which is great. The pads move/bounce slightly like acoustic drums would when mounted on the same types of stands, so that helps keep the feel of everything close to an acoustic kit.
There is also an included APC-33 mounting clamp which is used to mount the drum module to one of the stands.
This kit DOES NOT include a hi-hat stand or snare stand, so you will need to purchase those separately. It would have been nice to get some matching stands for the hi-hat and snare in the box with this kit, but that's one of the drawbacks of keeping the overall price of this kit from getting too high.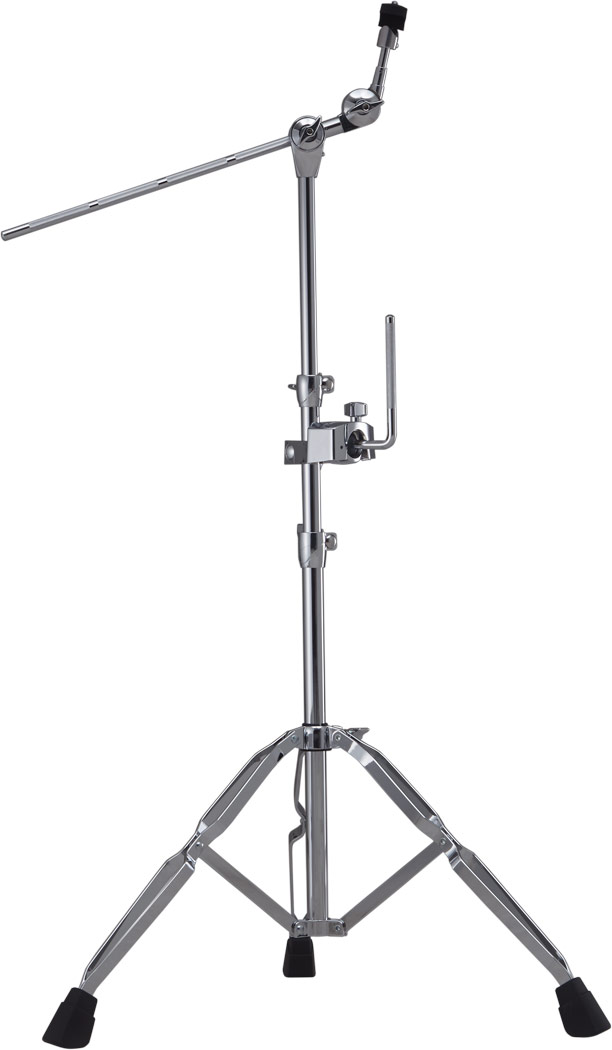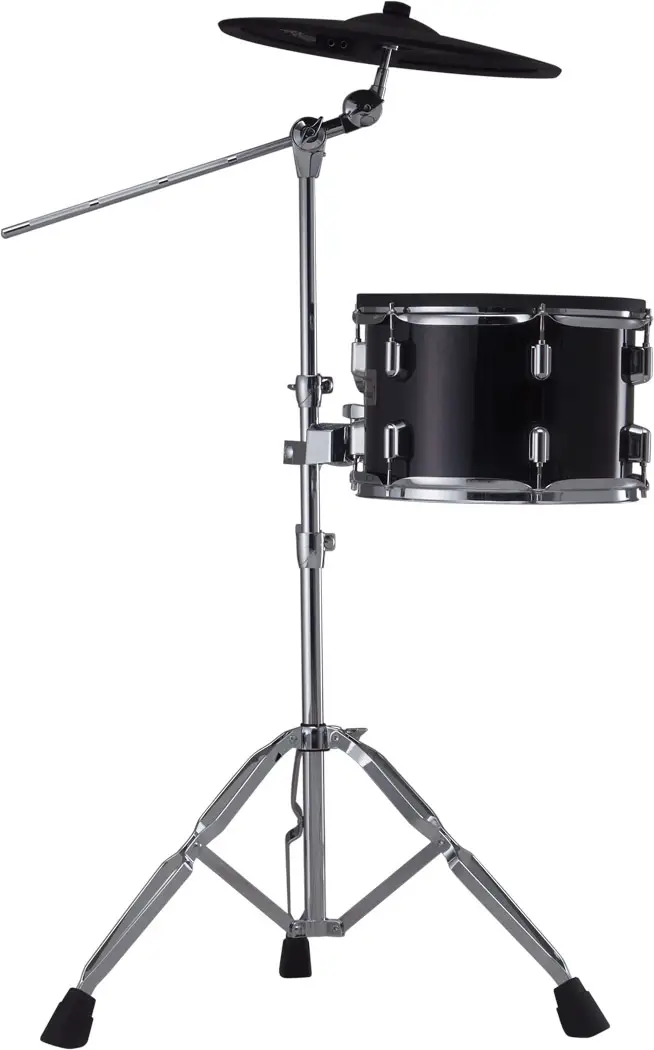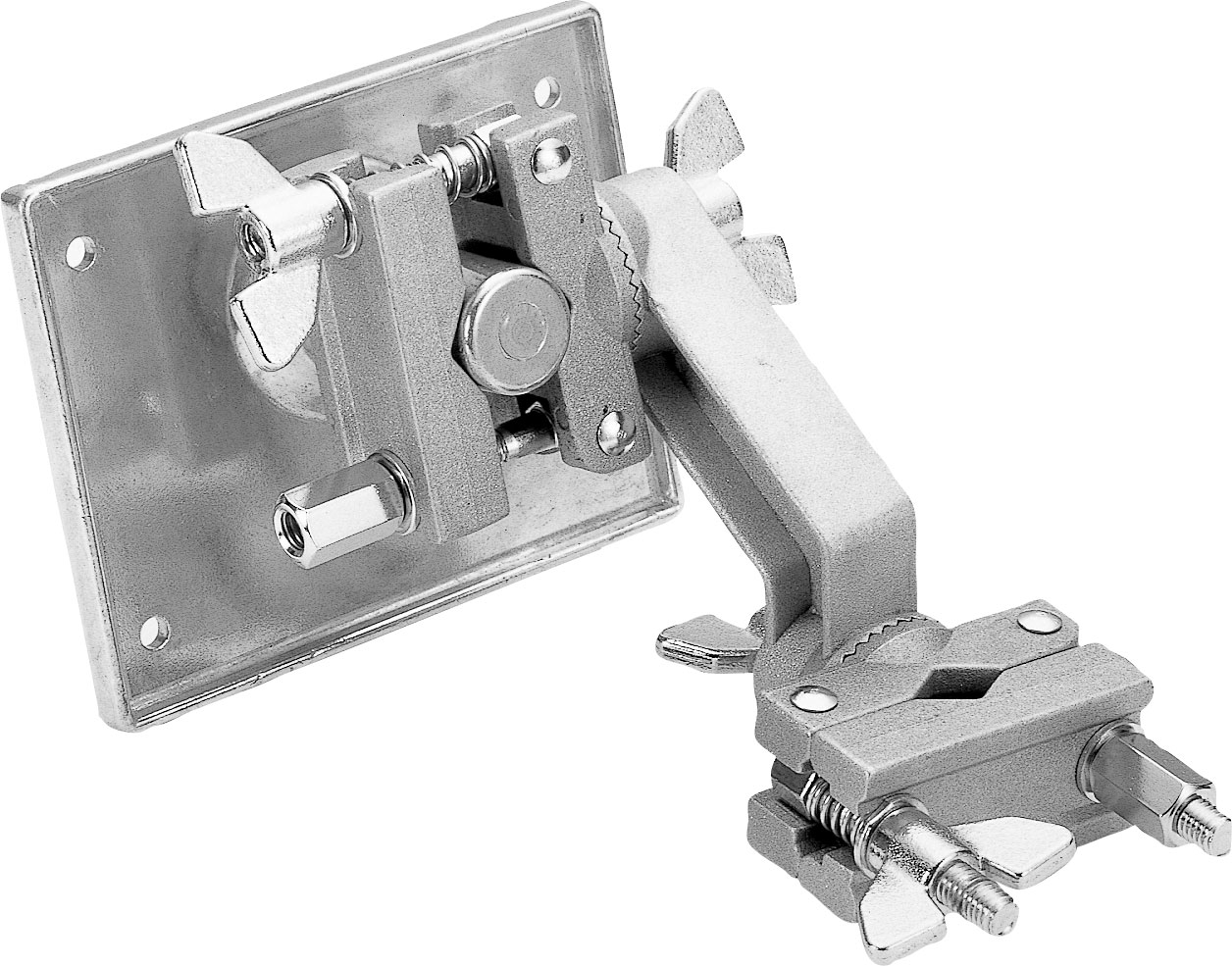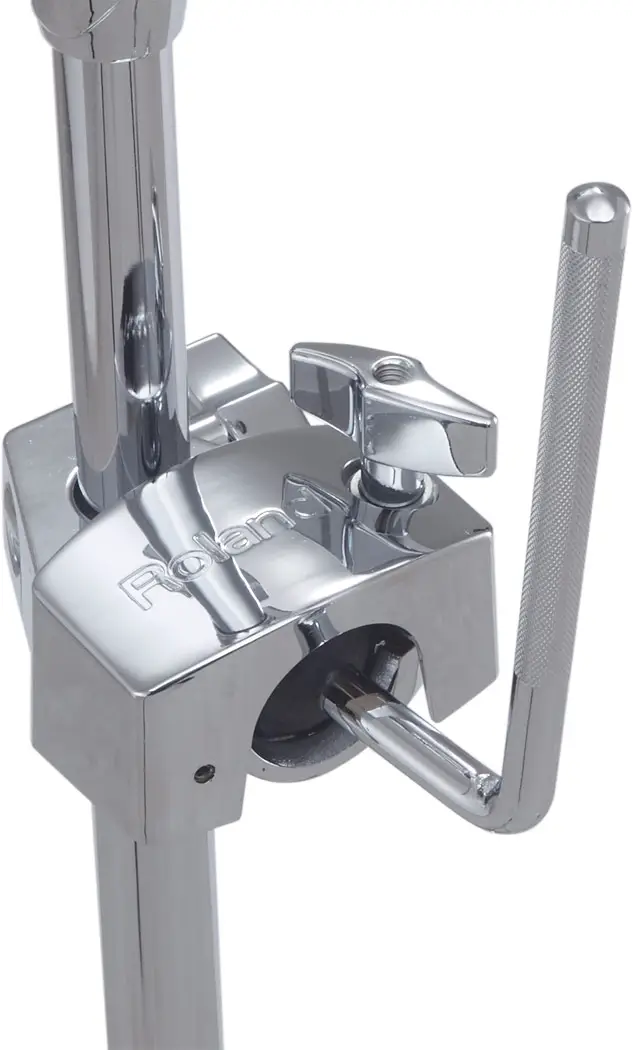 Sturdiness
Overall, the sturdiness of this kit is about the same as a smaller acoustic kit. There is no single rack that everything mounts to, and having each piece essentially on it's own stand helps keep everything very solid and sturdy when you are playing hard.
The weakest point, in terms of sturdiness, is probably the kick drum. The pad is smaller and seems to bounce a little when playing it hard. It does stay in place though and has a great feel during play, so it's not a huge drawback.
Feel & Playability
This kit is very fun to play, and although the pads around the kit are still smaller than traditional acoustic drums, playing on this kit will translate decently to a full acoustic setup. This could make a good home practice kit for drummers who also play acoustic kits for other situations.
The snare and tom pads are the highlights on this kit in terms of pads that feel great to play. The mesh heads and the sizes of the drums, along with the smooth response across the heads makes for a natural feeling play experience.
The crash/ride cymbal pads are good and play with a good response and feel. The sounds that can be made when playing the cymbals are quite dynamic due to their response and multi-zone capabilities. However they are kind of small and it might have been fun to see some of Roland's larger cymbal pads used here, especially for the ride.
The hi-hat pad is the best cymbal pad on this kit. It plays and sounds so closely to an acoustic hi-hat. It's just fun to play. Plus, it's mounted on a traditional hi-hat stand and gives you that natural pedal action that an acoustic hi-hat would provide
The kick drum, while small, has a very similar feel to an acoustic kick drum head. This is mostly due to it's design with the kick sensors mounted onto a drum head. When playing, it feels pretty close to an acoustic drum. You can adjust the head tension on the batter head, which helps you dial in your preferred feel. This a huge plus for playability over kits that use less flexible kick pad towers.
The TD-17 Sound Module
This kit employs the TD-17 drum module. Overall, the TD-17 module is good and useable – but it's not Roland's greatest. It's designed more with practicing in mind, but is good enough to be used for live performances if called upon.
This module has a total of 100 drum kits, with 70 built-in preset kits and 30 custom user kit slots. The sounds are not the same as the TD-50 module, but there are 310 built in sounds and voices that are utilized throughout the preset kits. This module also allows you to load up to 100 of your own WAV samples via SD card.
Interface
Like other Roland modules, this one is pretty easy to dive into and use without even reading the manual. Buttons do what you expect and the typical module options are all there. Let's take a closer look.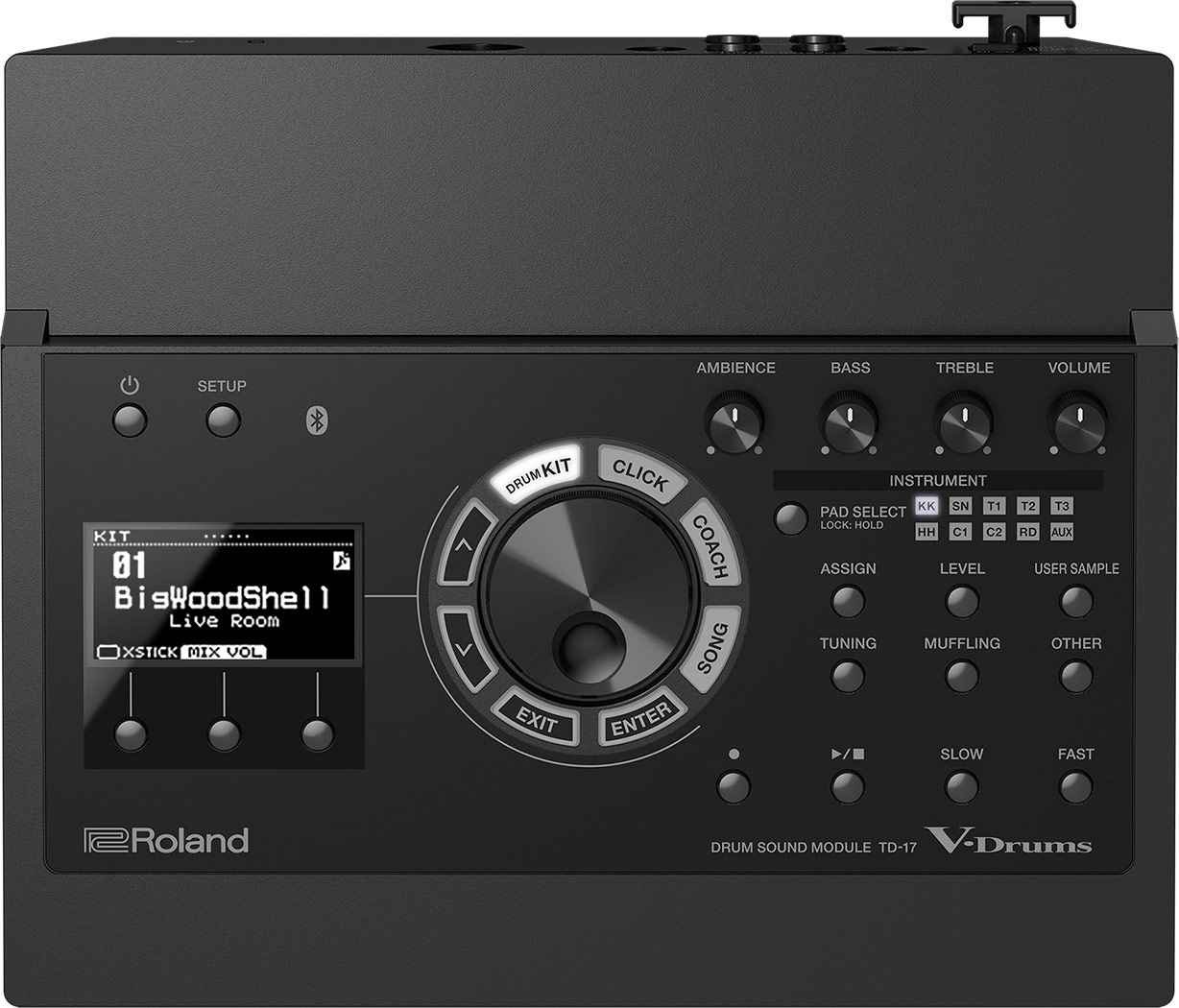 Power Switch
Setup Button – Brings you into general configuration settings for the kit
Digital Display – Shows kit, instrument and other settings during use
Function Buttons – Correspond to options on the digital display
Exit/Enter/Arrows/Dial – Used to navigate menus and select options
Record/Play/Stop buttons – Used for song mode to record your performances
Click Button – Enter click mode and settings
Coach Button – Enter coach mode and training features
Song Button – Enter Song mode and play along with songs
Ambience Knob – Adjusts kit ambience
Bass/Treble Knobs – Quick adjust instrument or kit EQ
Volume Knob – Master volume level of the module
Pad Select – manually select a pad or hit a pad to select
Assign Button – assign a new voice to the pad
Level Button – change level for selected voice
User Sample – load a user sample to selected pad (from SD card)
Tuning – Tune the selected pad voice up or down in pitch
Muffling – Add or remove muffling from selected pad or voice
Other – Select deeper pad settings

DC In Jack for Power Supply
Headphone Jack – 1/8″
Master Outputs – Stereo 1/4″
Mix In Jack – 1/8″
(2) Trigger In – For additional pads
MIDI Out

Cable snake connection which includes cable connectors for all pads included with the kit.
Setup & Configuration
This module has a single button for Setup. Entering setup mode allows you to adjust all of the typical configuration options you'd expect to find on a drum module. From here you can do things like:
Select a different type of hi-hat pad (if you upgrade from the included VH-10 pad)
Adjust how the Bass/Treble knobs control frequency ranges
Edit pad settings such as setting the type of pad used for each instrument and pad sensitivity
Backup/load the module data to/from an SD card – includes module settings and custom kits
Edit MIDI settings
Enable auto-off which automatically turns off the module after a period of inactivity
Adjust display contrast
Display the system info
Do a factory reset to bring the module back to factory defaults
Selecting a Kit
To select a kit, simply press the Kit button and start turning the dial to choose the kit you want to play. Easy enough.
Saving a Custom Kit
If you start to modify the sounds of a kit, or load in new samples to replace sounds on a kit, you can save the new kit to one of 30 user slots. The kit saves all the sounds and effects settings along with it.
Tweaking Sounds
This module doesn't have a ton of sound design options like more expensive modules, but it does allow you to tweak the sounds quite a bit to get things to your liking.
Individual voices and instruments can be changed by adjusting the Volume, Panning, EQ, Tuning and Muffling.
You can create space and ambience through the kit by adjusting the Ambience settings, which are more or less advanced reverb settings. Rather than just changing basic reverb parameters, you can select options such as room size, room type, wall materials and more. Pretty slick.
You can assign one or more of the internal multi-effects to the kit. Once multi-effects are assigned, you can adjust how much effect is on each of the pads around the kit.
You can assign pads to specific MIDI notes – this is useful if you are using this drum kit as a controller for sounds on a computer.
PureAcoustic Ambience Technology
We have to mention this specifically, since it's unique to Roland sound modules. This basically is just Roland's way of letting you adjust the ambience around your kits. Many of the settings available for kit modification involve adjusting room and overhead mic placement and room type/size. This is Roland's way of putting a name on that.
Playing Along With Songs
This module includes built-in songs if you just want to plug and play. Most drummer will want to play along with songs they like though.
To play along with the built-in songs, you can simply enter song mode, choose a song and start playing.
To play along with your own songs, use the Mix-In input or the Bluetooth option to connect a device like a smartphone or tablet. Once the device is connected, you can play the audio through the main mix on the module. You can then adjust volumes of the music or the kit independently.
Recording Songs
This module allows you to record your performances in different ways.
You can record your performances along with songs while playing along with built-in songs or songs that are saved to the SD card. The module allows to record up to 60 minutes total if you have an SD card, or about 3 minutes if you are using internal memory.
You can record along with aux input by playing audio through the Mix-In or Bluetooth inputs while recording. This records both the input signal and your playing along with it.
You can output MIDI or audio from the module to a computer via USB. If you use these options, you can record the MIDI tracks or the audio tracks giving you some flexibility for post-production.
Overall, it's nice to have a few recording options like this. They are somewhat basic recording features but they are useful. If you don't have a recording setup at home but want to be able to hear and analyze your playback, the built-in features will be just enough to get you by.
Practice Modes & Coaching
This module contains plenty of practicing and coaching options, so it can be very good module for drummers in training. Let's take a quick look at the various practice features.
Time Check mode allows you to see on the screen how well you are playing in time with a click track. There are visual meters what will show you if you are in-time, early or late with your strokes.
Quiet Count mode will play a click track – and then while you are playing, the click track will drop out for a short period of time. This helps you to learn how to develop your internal sense of timing.
Warm Up mode takes you through some exercises that include changing up rhythms while you play, gradually raising/lowering tempo while you play and then a time-check to see how your timing is stacking up.
Create Songs with Guide Tracks to help you learn how to stay in time while practicing with songs. A guide track is basically a separate audio file that is an isolated click track. So you can basically load a song as a WAV file, a click track as a WAV file, and then play along with them together to practice.
Setup & Assembly
The instructions included with this kit are enough to get you going in the right direction. It's arguably about the same difficulty to setup as similar kits with rack systems. There's going to be less rack hardware to assemble here, obviously. It will feel more like setting up an acoustic kit, with the additional work of cabling everything up.
You're probably looking at about an hour to get this unboxed and setup, which isn't too bad.
What's Included?
What all do you get in the box when you purchase this kit?
(3) Combination Stands
A Module Mount Clamp
Snare Pad
(3) Tom Pads
Kick Drum Pad
Ride Pad
Hi-hat Pad
(2) Crash Pads
Cable Snake
Power Supply
TD-17 Module
Drum Key
Manuals
What's Not?
Here's what you will also need to get that isn't included with this kit:
Drum Throne
Hi-Hat Stand
Drum Sticks
Kick Pedal
Heavy Rug
Headphones
Warranty
Roland offers a standard 1 year warranty for parts and 90 days for labor. This is meant to cover any issues with defects in manufacturing or assembly. It's enough to cover you if you have any short term issues. Roland has a good reputation for quality products so I wouldn't be too worried about not having a long term warranty for their drum kits.
Pros
Great feeling multi-zone, mesh snare and tom pads
The kick drum pad has a good feel compared to kick towers
Uses traditional stands rather than a rack for more flexibility in setup
Looks very slick visually
Cons
Doesn't include a hi-hat or snare stand
Uses the TD-17 module whereas many drummers might prefer the TD-27 for this level of kit
The cymbal pads are small all the way around
The Verdict
If you are looking for a more affordable version of an acoustic style electronic drum kit, the Roland VAD306 is well worth taking a look at.
The use of traditional stands vs a rack makes this more flexible to setup and gives it a more traditional visual look. The drum pads play as nicely as they look. The cymbal pads are full featured but smaller.
The fact that this kit uses the TD-17 module vs the TD-27 could be a drawback for some drummers. The sounds aren't super realistic but definitely usable for practicing. And you always have the option of using this as a controller for software based drums with better sounds for recording.
Drummers who own this kit are very happy with it and rarely regret their purchase. This kit will give you Roland quality and an acoustic look for a reasonable mid-level price – and you'll have a lot of fun playing on it.