The Sennheiser HD 569 closed-back headphones are a very nice option for electronic drummers due to how they are designed and how they sound. They are designed to offer high noise attenuation and a good amount of comfort. Let's take a look at the details.
Sound Quality
For the price range these headphones are at, they sound pretty good. While maybe not ideal for mixing/mastering, they are great for casual listening and for tracking or playing instruments such as electronic drums. The sound manages to stay mostly neutral and pleasant.
The highs are less present and not as sharp as some other headphones. This also helps keep the highs from feeling overly harsh and they are rather smooth and easy to listen to. That is not really a negative here and could be more of a subjective preference thing.
The mids are the best part of the sound on these headphones. They are nicely detailed and clear enough to differentiate between what's going on in the sound spectrum.
The lows are punchy and full but they don't stay powerful in the low sub ranges. You will get a present bass without the super low thunder. The bass is also really clear and comes through nicely in the mix.
Spaciousness is pretty good for these headphones considering they are closed back. They do a good job of representing a wide sound stage and can be good for gamers due to the ability to pick up on where sounds are placed from left to right.
Overall, the sound is nice to listen to and provides good detail and clarity. And when combined with the noise attenuation of the closed-back design, they can bring out a lot of detail in what you are listening to.
Closed Back Design
The closed-back design is something that we find to be important for electronic drumming. These headphones are some of the better in their price range for providing noise isolation. They will help keep the sounds of your sticking on pads to a minimum and let you focus more on the sounds of the drum module, helping you to get lost in the sound of your drum kit.
Comfort
Comfort is a huge plus for these headphones and even the most picky headphone users who have a hard time finding comfortable headphones end up liking these. The lightweight construction helps to keep them from feeling too heavy. They have large, thick ear cups with a soft padding that makes them fit very comfortably over your ears and even is comfortable for those who wear glasses. The headband is also padded nicely and you won't feel any fatigue from the top. The only negative is that they might get a little warm over longer sessions due to the closed design.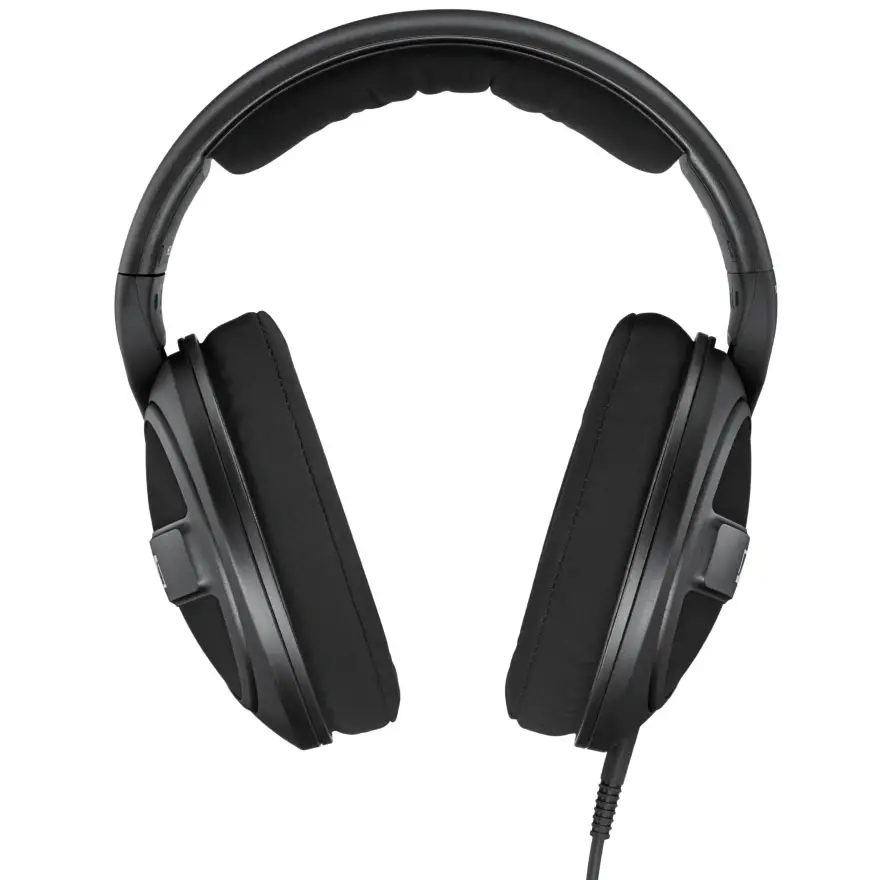 Build Quality
While these headphones do feel lightweight and use a lot of plastic in their construction, Sennheiser is known to make products that last and stand the test of time. People who use these headphones find them to be quite durable and long lasting, as long as they are taken care of. The padding on the ear cups and headband doesn't wear out quickly like some other headphones. They can be flexed quite a bit without breaking. The cord is removable, so if you run into any issues there you can just replace it.
Overall, they feel a little cheap and lightweight in hand, but they will hold up well if you take care of them.
The Cable
These headphones come with two cables. The first is a longer 3 meter cable with a 1/4″ jack. The second is a shorter 1.2 meter cable with a microphone and volume control and a 1/8″ jack.
The longer cable looks to be intended more for studio use with it's longer length and 1/4″ jack. The shorter cable is more for those that are using these headphones on the go with their smartphone.
Tracking, Casual Listening, Gaming
3 m cable with 1/4″ jack, 1.2 m cable with 1/8″ jack and mic controls

Pros
High level of environmental noise reduction
Soft and comfortable padding
Good sound throughout the spectrum
Detachable cable
Includes mic functionality
Cons
Can feel warm during longer sessions
Plastic construction overall
Feels a little weak in the high frequency ranges
The Verdict
The Sennheiser HD 569 closed-back headphones sound really nice overall and have enough comfort to allow them to be worn for long periods of time. People that use these headphones really like them. They are going to be a great option for closed-back headphones for just about anything but mixing/mastering.
If you are looking for a pair of headphones that can double as usable for both strolling around town listening to music on your phone and also for using them on your electronic drum kit during practice – these are a great option.