The Prologix Green Logix practice pad is designed to feel like a traditional practice pad while also providing the presence of a rim. Let's take a closer look at this one.
Feel and Playability
This practice pad provides what drummers would consider a traditional rubber-surfaced practice pad feel. The top surface is a proprietary rubber blend from Prologix with a thickness of 5.5mm. It has a sharp rebound similar to a fully tightened snare head and the rebound could be described as medium-high. It feels similar to a RealFeel pad, for example.
The Poly Tech rim adds the ability for you to work on rim shots or cross-sticking during your practice routines, which is something that not all practice pads provide. The rim has a hard plastic feel and it feels similar to hitting the rim on a drum.
The bottom of the pad also has a slightly harder rubber type of surface to give you another option for practicing. The bottom feels a little harder with less rebound.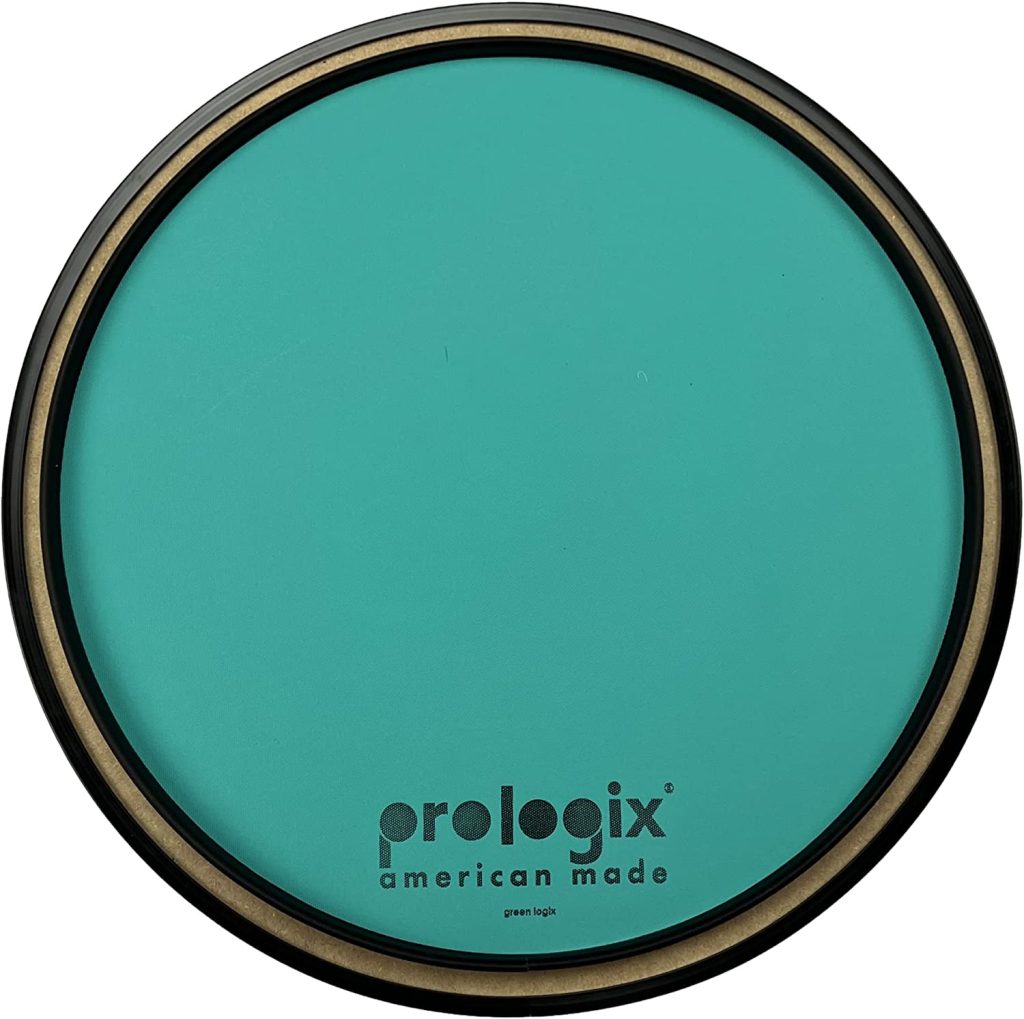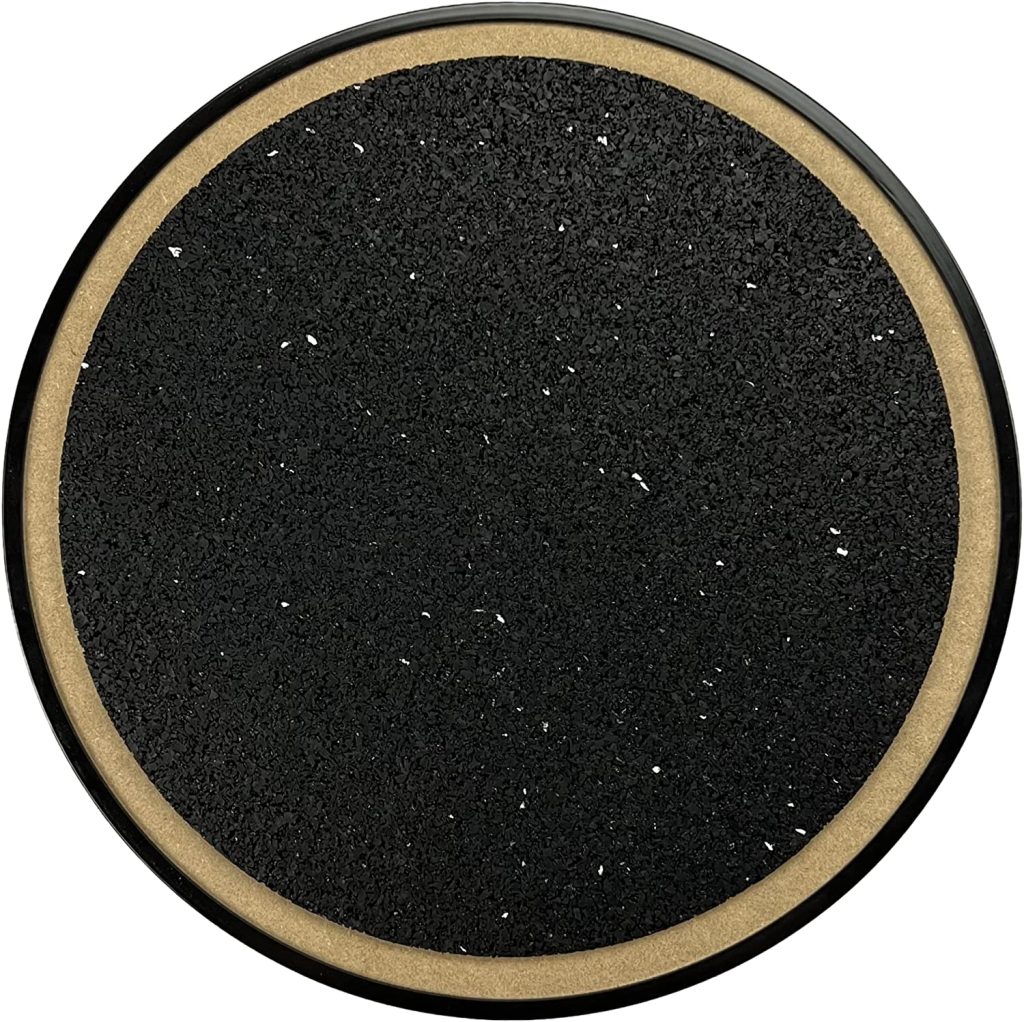 Noise
The top pad is pretty quiet during light to medium level strikes. Harder strikes on the top pad start to make a little more noise, but it's not unreasonably loud and still pretty quiet overall. The biggest factor for noise on this practice pad is the rim. It is designed with a very durable plastic material and it sounds like you are striking hard plastic when you incorporate rimshots into your playing. But it's still not too bad and still much more quiet than practicing on a snare drum. The bottom surface is a little harder and makes a little more noise when playing on it.
Check out this demo video which gives a pretty good idea of what type of noise this pad will produce.
Portability and Design
This pad appears to be currently available in 8 inch and 12 inch sizes. There is also a 10 inch version listed at some retailers but we haven't seen any in stock, so it might be discontinued.
The 8 inch version is the most portable, weighing in at just under 2 lbs. If you are looking for a portable pad, the 8 inch version is the way to go. It will carry easily in a backpack or drum bag without adding too much bulk.
The 12 inch version is larger and heavier, and it weights in at just under 4 lbs. It's not as portable as the 8 inch version and would be a little more annoying to carry in a backpack. But it has a larger playing surface and feels a little closer in size to an acoustic snare.
Neither version of these pads have practice pad stand mounts on the bottom. If you want to mount them on a stand, a snare stand will probably work best.
NOTE: We have seen some listings for this pad where the photo and details describe a pressed birch base with a plastic outer casing around the base. We have also seen some listings where the pad has a natural birch base without the plastic casing around the base. Most people seem to receive the version with the natural birch base when they purchase this pad, but it's good to be aware there could be two version out there at the moment. Either way, the top rubber pad, bottom rubber pad and rim are the same, which is what matters. It might be best to check with the particular retailer you are purchasing from if you need clarification on which version they are selling.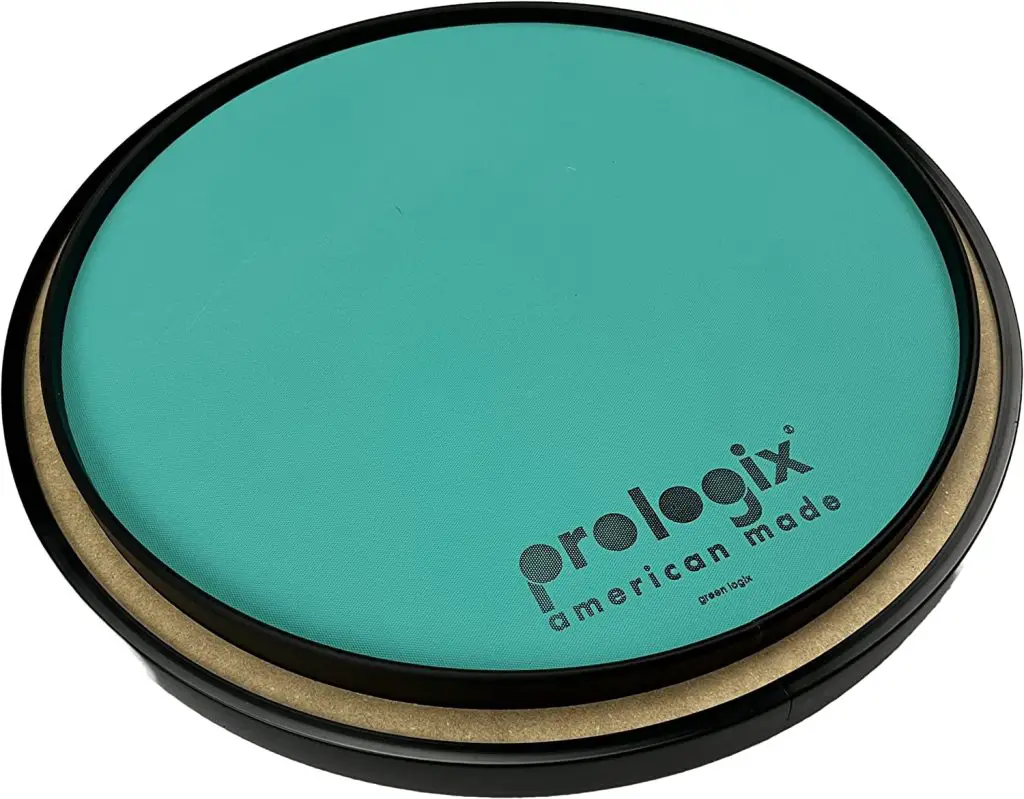 Durability
This pad is built to last and provides excellent durability. The materials will hold up for a long time even if you practice a lot. Like many other practice pads out there, it would be a real challenge to wear this thing out.
Pros
The rim is a nice feature
Very durable
Not too heavy or too light, just right
Great playing feel with good rebound
Made in USA
Cons
Not the most silent pad available
The Verdict
The Prologix Green Logix practice pad is a good option for people who want the feel of a traditional practice pad with the added feature of a rim for rimshots. This isn't the most quiet pad available, but it's by no means loud either. The two size options are great so you can pick a smaller version for more portability or the larger version for a more traditional drum surface size representation.