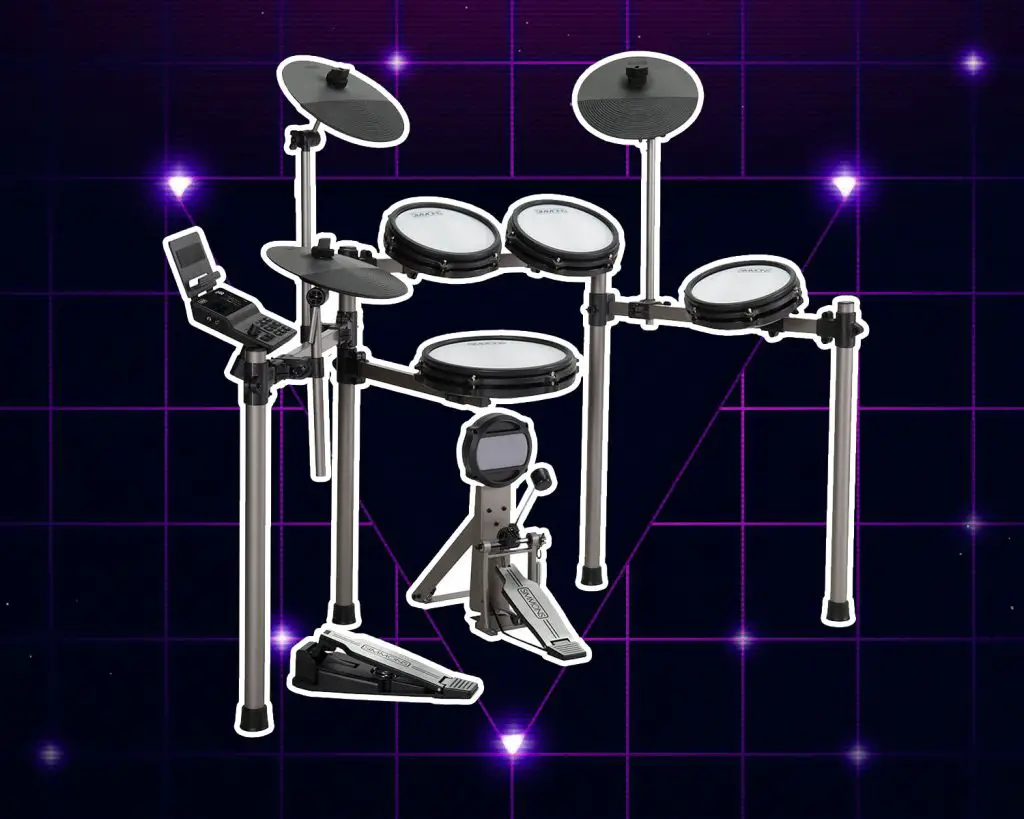 The Simmons Titan 50 is one of Simmons entry level drum kits. This kit has a nice set of pads and features and can be a good kit for those on a budget or beginners. There's some really nice positives as well a few negatives regarding this one. Let's take a closer look.
Drum Pads & Cymbal Pads
Simmons offers a nice lineup of fairly basic pads for this kit with the highlights being the mesh snare and tom pads. The pads are good enough for beginner to intermediate level playing and should be serviceable for most drummers working in this price range.
Snare Pad
The snare pad is a 10 inch dual zone pad with a mesh head. The mesh head is 2-ply which is pretty standard for kits of this caliber, and it feels great to play. Tension on the drum head can be adjusted with the tension rods. The rim can generate sounds and has rim shot detection to more naturally represent rim shots while playing. The rim also sits at about the right height for playing and doesn't feel unnaturally high or restrictive in comparison to the main drum head like some other kits on the market.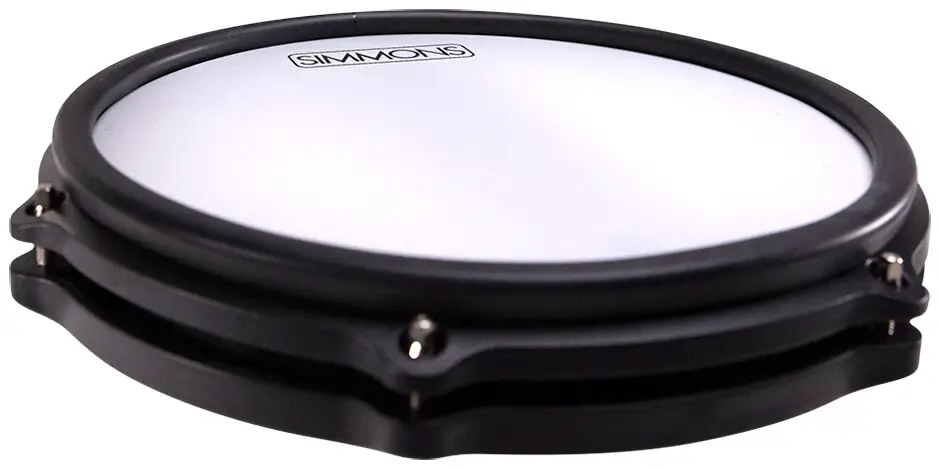 Tom Pads
The tom pads are all 8 inch mesh pads, once again with a 2-ply mesh head. Tension can also be adjusted on these pads, like the snare. These pads are only single zone and won't generate sounds on the rim, just the head. The 8 inch size makes them a decent hit target and they don't feel overly small for a budget kit, which is great. While this kit comes with 3 toms, there is room on the rack and module to add another tom pad.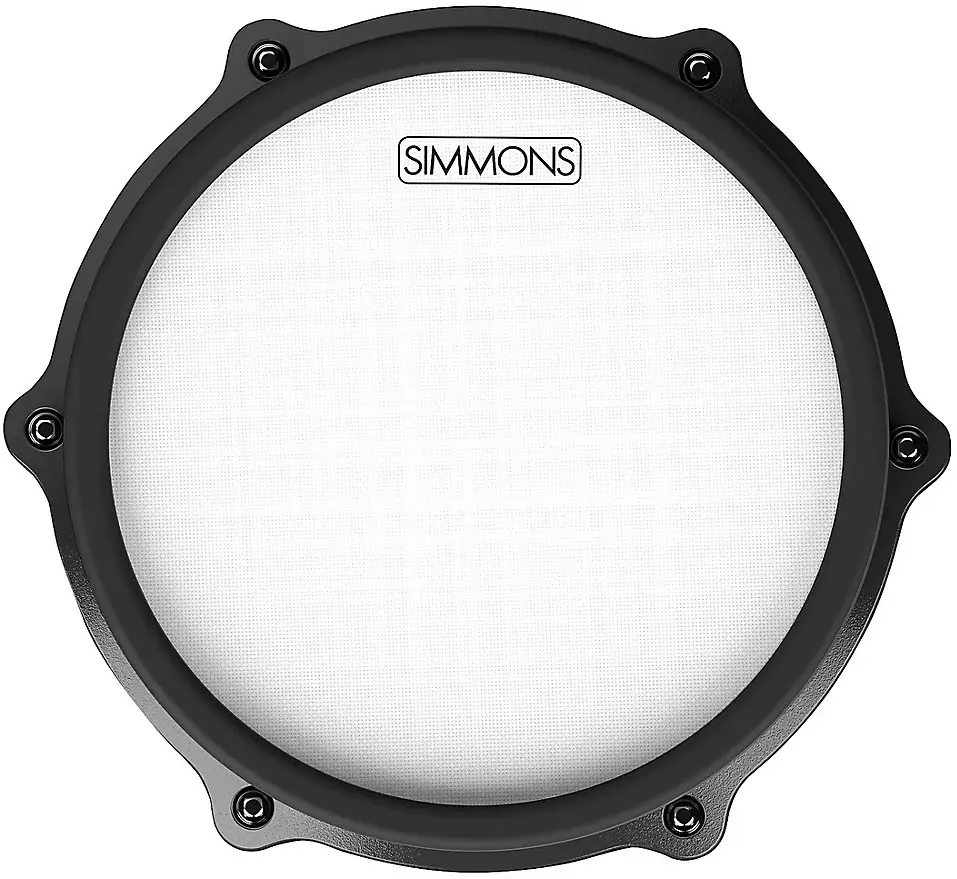 The Cymbal Pads
The cymbal pads on this kit are pretty basic and aren't anything overly special. They get the job done and are decent for a budget kit, but are the most noticeable lacking part of this kit.
The crash cymbal and the ride are basically both the same single zone cymbal pad but the crash has a choke. There's no multi zone pads with any of the the cymbals. The hi-hat cymbal is able to do open and closed with a half-open in between.
The cymbals are ok response-wise and when played they can get some decent dynamics out of the sound module. However, don't expect anything too magical coming from the cymbals here.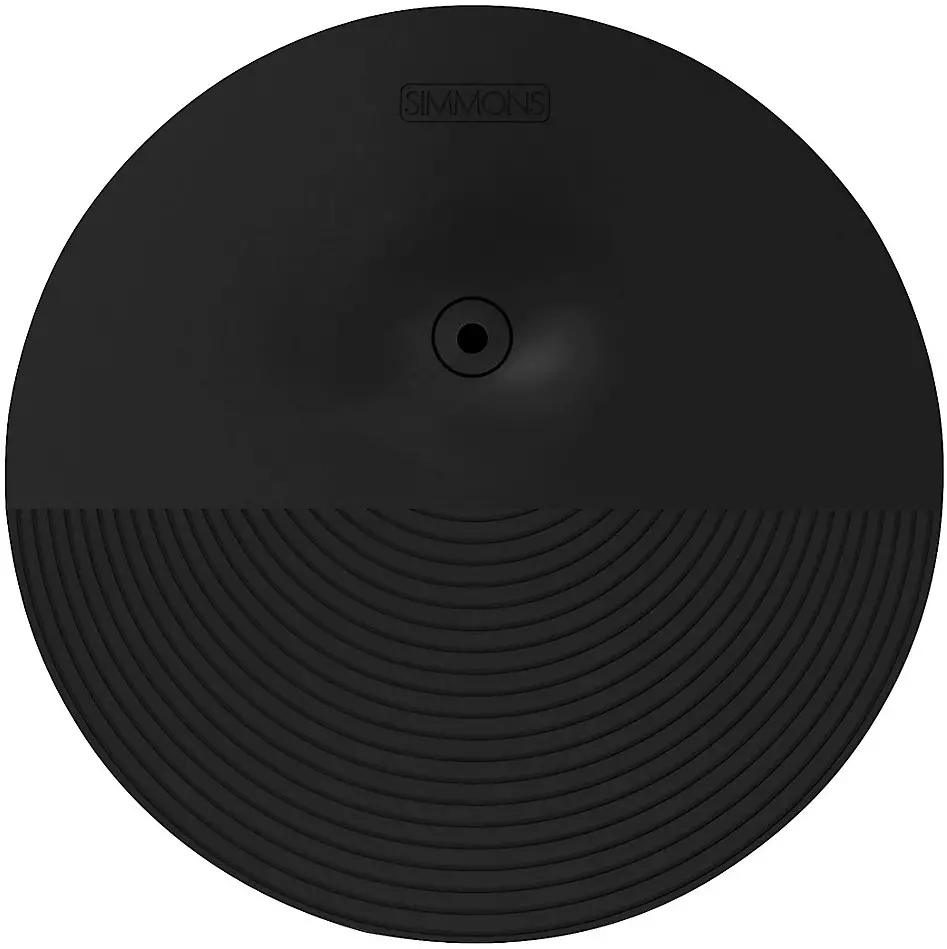 The Rack
The rack on this kit is pretty nice and it actually comes pre-assembled in the box. All you need to do is take out the rack, unfold it, and start attaching the cymbals during setup. This is great!
The rack itself is made with round supports on the vertical parts and rectangular supports on the cross-bars. The rectangular supports are nice since they can help keep the drum pad mounts from rotating unexpectedly like they can on some racks with round bars. It just helps keep things in place a little better.
The rack posts are made from metal and the joints and connectors are plastic.
Overall, the rack is compact, fairly sturdy and easy to use. Not much to worry about here.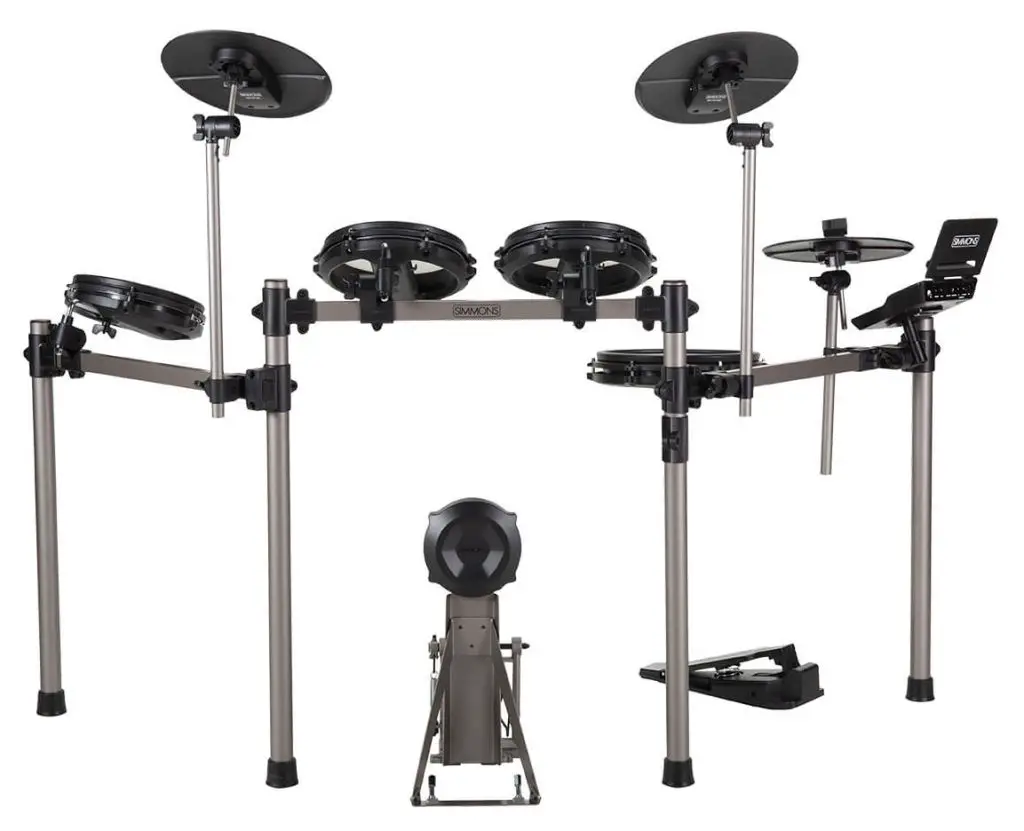 Sturdiness
The kit overall, when everything is assembled, is pretty sturdy. There isn't much for wobble other than the movement you'd expect from normal playing. The pads stay in place and generally everything holds well when the rack and all the clamps are tightened down properly.
Feel & Playability
This kit plays fine but it feels like a budget kit overall. The highlights when playing are the mesh pads and the kick pad.
The snare pad feels great during play. It sounds pretty expressive with the sound module and you can do nice ghost notes, rolls and other techniques without sounding unnatural. The ability to do rim shots helps it feel more like an acoustic drum when you get into your grooves.
The tom pads feel as good as the snare but are lacking that second zone on the rim. Overall they feel good to play and compliment the snare pad nicely.
The kick pad also feels pretty good for a budget kit. It's got a practice pad type of feel to it but the rebound is good and it responds to faster styles of play.
Double Kick Bass
The kick pad on this drum kit is easily large enough to fit a double bass pedal. The response of the pad is good enough to handle double bass so this can be a good budget kit for beginner metal drummers.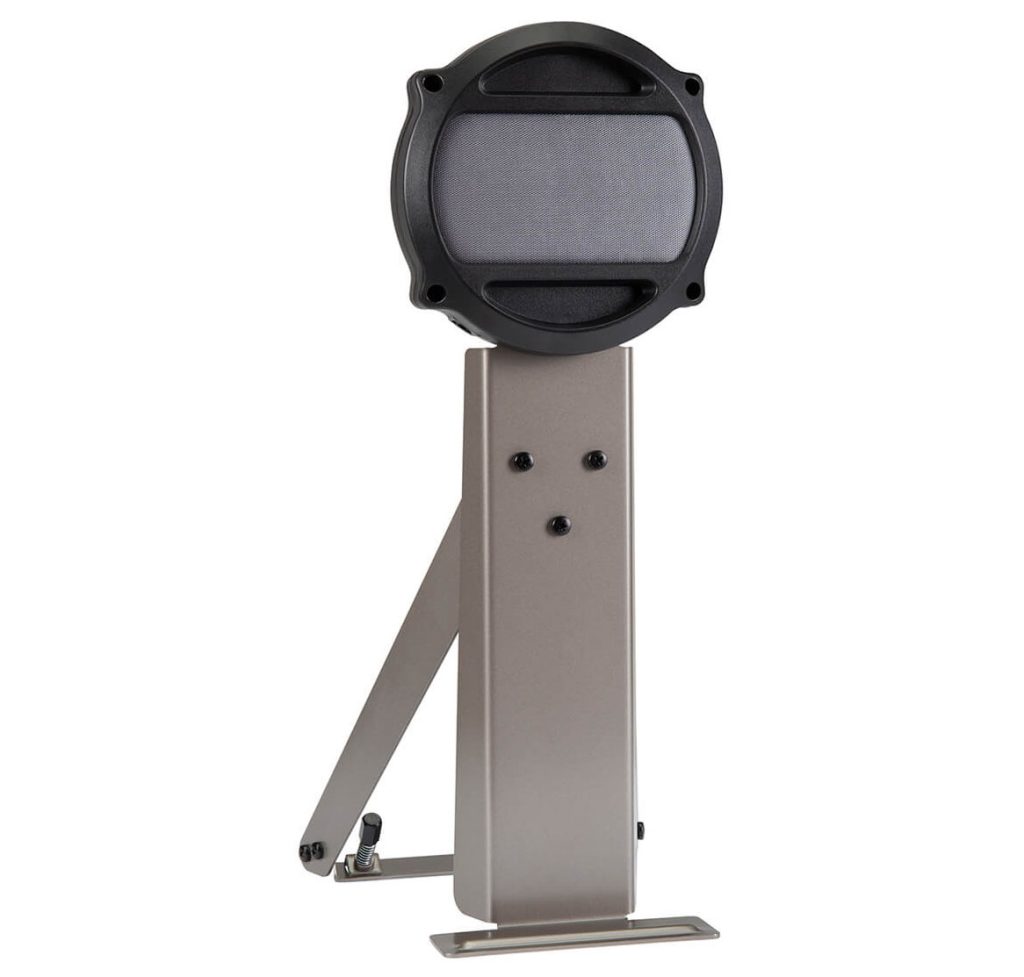 The Simmons SD1250 Drum Module
The Titan 50 drum module is pretty straightforward and doesn't go very deep. However, it's plenty serviceable for a budget kit like this. It has enough built in sounds and features to get you playing along with your favorite types of music with little effort.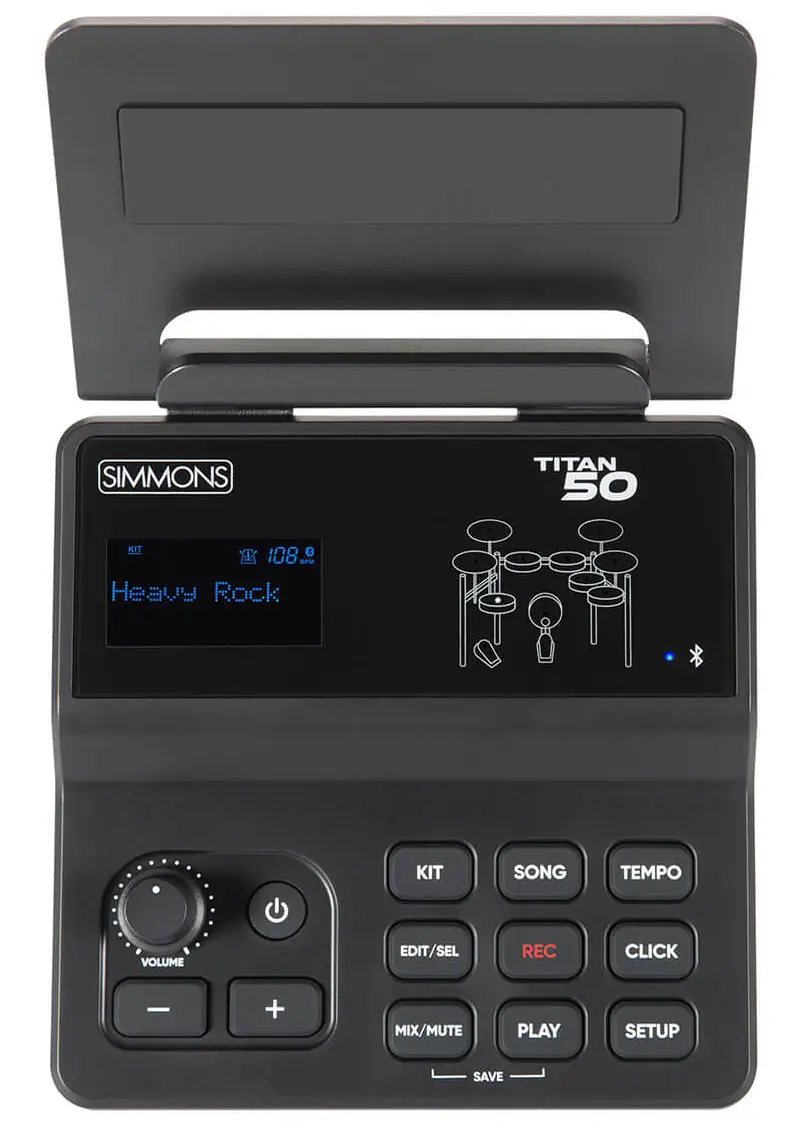 Interface
The interface on this module is designed to be easy for beginner drummers to use. The clearly marked buttons do what you'd expect for the most part and many will find this module usable without even having to look at the manual.
Here's what you'll find on the top panel:
Volume Knob – controls both line and headphone outputs
Power Button
Plus and Minus Butttons – for adjusting values in settings
Kit Button – Enter kit mode to select a kit to play
Song Button – Enter Song Mode or Practice Mode to play with songs
Tempo – Change metronome or song tempo
Edit/Sel – Edit drum kits or change song settings
Rec – Enter Record Mode to record a MIDI performance
Play – Start playback of a song, also works as stop button
Setup – Enters global settings like trigger sensitivity and MIDI settings
Save – Press both the Mix/Mute and Play Buttons at the same to time to save kit edits
LED Display – shows which kit you are playing, tempo and level
Drum Display – Lights up drums to identify which drums have been hit
Bluetooth – Indicates if Bluetooth is connected
Inputs & Outputs
Inputs and outputs are fairly well organized on this module. A 25-pin snake is used to connect the bulk of the pads to the module, and the connector plugs in on the bottom of the module. On the back you get most of the rest of the connections.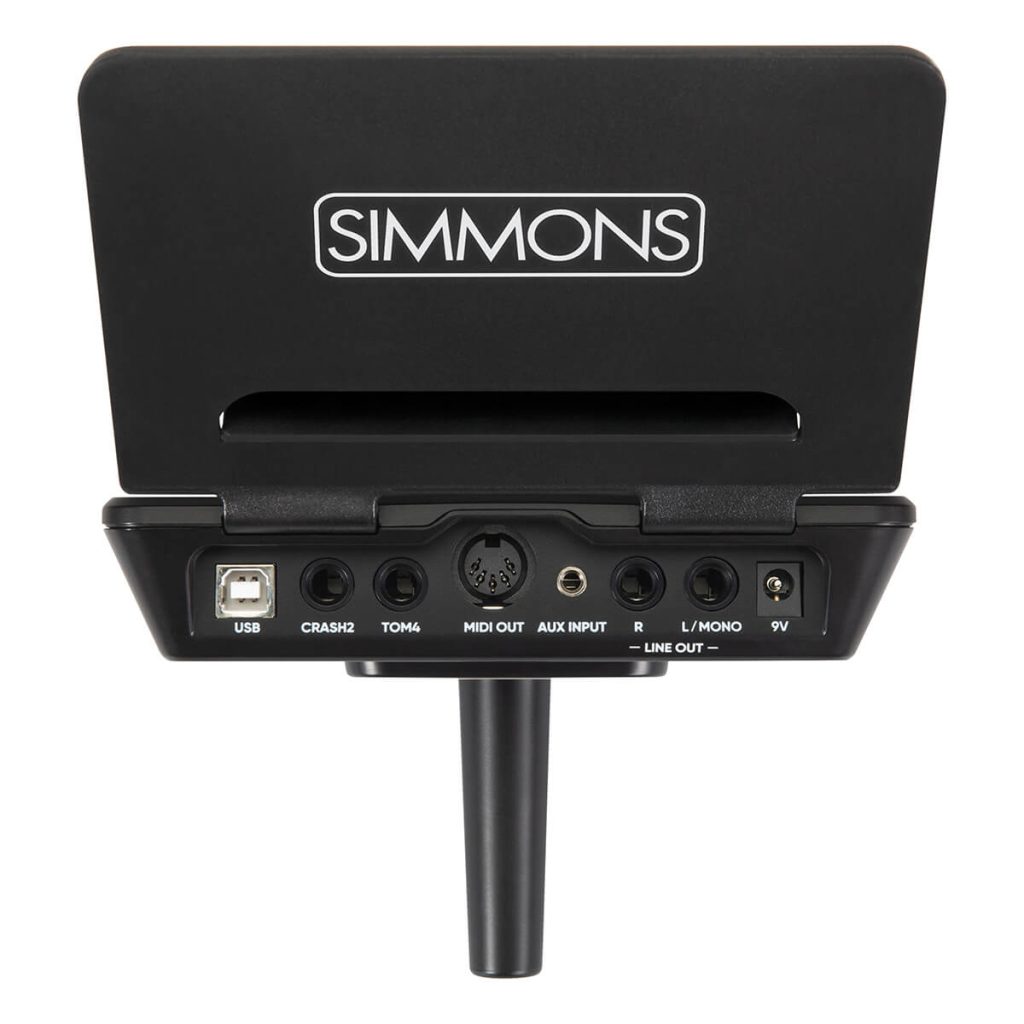 Stereo Outputs – Unbalanced 1/4″ Jacks
Aux In – 1/8″ Stereo Input Jack
Crash 2 and Tom 4 pad inputs
MIDI Output
USB Connection
9v Power Adapter Input
Headphone Output – 1/8″ stereo jack
Scope & Quality of Sounds
The Titan 50 drum module offers a nice set of sounds that have been produced specifically for this module. Simmons used the London Bridge studio in Seattle and brought in Don Gunn to engineer the drum recordings and sounds. Don has experience working with popular music acts such as Soundgarden and Peter Frampton.
The result is a pretty nice set of tightly focused drum kits that revolve around common popular music styles. For example, there are drum kits that mimic Metallica's Black Album drum sound, the 70's drum sound, country and modern pop drums. Most drummers will likely find a kit that they really like within this lineup, depending on the styles they play.
There are 187 drum voices overall and 25 preset drum kits. There are also 10 user kit slots for custom drum kits.
Bluetooth
This module has Bluetooth built-in, and it can be used for audio and MIDI operations. You can only use either the audio or MIDI feature alone, not both at the same time.
It can be used to input audio into the sound module from an external device like a smartphone. While doing this, you can play along with audio from your Bluetooth devices.
The module can't use Bluetooth for wireless headphones, due to limitations with latency and delay, so keep that in mind. You can only use wired headphones with this module.
Selecting Kits
This is pretty easy to do on this module. Simple press the kit button and choose a kit. The digital screen will show which kit you have selected.
Adjusting & Editing Kits
Kits can be edited and saved as a new custom kit with one of the 10 custom kit slots.
There are some more advanced kit editing features available on this module, which are flexible enough to tweak the sound of your kits to your liking.
For editing drum sounds – you can change the drum sound assigned to each pad, change the pitch and change the decay time.
Editing kits has a few more options. You can change the level and panning of any of the sounds around the kit. There is a Reverb feature that allows you to send each sound to the reverb send individually, which helps dial in very specific reverb usage around the kit. There is a compression feature allows you to apply compression to the entire kit sound. There is also a high/low EQ feature which affects the overall kit sound.
Song Mode
This mode allows you to play along with audio files or MIDI tracks. You can record your performances along with the songs and play them back, which is helpful for practicing and analysis.
Practice Mode
Practice mode on this module is an extension of the Song mode. Practice mode allows you to play along with the songs and the module will score your accuracy along several difficulty levels.
You can change between a few different practice mode options. You can play along with the song with a click or no click. You can play along with the song with intermittent clicks, which help you get used to playing with no click. You can also play along with the song and click track intermittently cutting out, so that you can get used to keeping time when the music drops out.
Setup Mode
Setup mode is basically the utility settings mode on this module. This is where you'll adjust things like pad sensitivity and trigger settings. For as basic as this module is, it has a pretty good set of configuration options. The options you can adjust include:
Hi-hat Mode – allows you to set the high hat to normal settings or an always-closed sound
Time Signature – changes time signature of the metronome
Sensitivity – adjusts input level for each individual trigger
Retrigger – helps you adjust the kit to avoid double-trigger hits on the pads
Threshold – adjusts how softly a pad can be played before a hit is registered
Curve – adjusts how dynamically the pad will respond to hard vs soft hits
Crosstalk – helps keep pads from triggering other nearby pads when hit
MIDI Number – adjust the corresponding MIDI note number for each pad
Local MIDI – let's you choose if the MIDI control is coming from the module or a DAW
Click Record – metronome settings for recording
Bluetooth – is always on but can be turned off
Auto Power Off – turns off the kit automatically when it's sitting idle for while
Tom Type – if you upgrade to dual zone tom pads you can change the setting here to make the drum module work with the pads
Ratio – adjusts the sound ratio of dual zone pads
Metronome
The metronome settings are pretty standard, and there isn't really anything flashy going on here. You can change volume, tempo and time signature.
What's Included?
When you purchase this kit, here's what you'll get in the box:
Rack with mounting hardware and boom arms
Kick Pad
Kick Pedal (Single)
Snare Pad
3 Tom Pads
1 Crash Cymbal Pad
1 Ride Cymbal Pad
1 Hi-hat Pad with Foot Pedal Controller
Titan 50 Drum Module
Cable Snake
AC Adapter
Drum Key
Drum Sticks
What's Not?
Here's what's not included with this kit that you will probably want to pick up:
Drum throne
Better sticks (the included sticks are cheap)
Headphones
Heavy rug
Setup & Assembly
This drum kits is pretty easy to setup compared to some other. This is mostly because the rack comes pre-assembled in the box and you simply need to take the rack out and unfold it to get started. With the rack assembly out of the way, which can sometimes be the most tedious thing with a new electronic drum kit, all you need to do is start attaching the pads and cabling everything up. It's possible to have this up and running in less than a half hour.
Warranty
Simmons offers a 2 year warranty to cover defects in workmanship and material. This is one year longer than some other brands offer, which is nice.
Pros
Mesh pads and drum heads feel good
The rack is sturdy and comes already assembled
Includes a kick pedal
Drum module has good sounds for the price
Drum module can do audio and MIDI over Bluetooth
Cons
Scope of sound design on the module is limited
Cymbal pads are basic and only single zone
Tom pads are only single zone
While the drum sounds are good, the sound library is limited
The Verdict
The Simmons Titan 50 electronic drum kit is a pretty nice beginners or budget kit even if it's lacking in features on the pads. The mesh pads and dual zone snare give it a good feel during play. People who want more multi-zone pads or better cymbals might be disappointed. The sound module sounds good and has some good configuration options, but it limited in sound design. Overall, this should be a good kit for drummers who are working in this budget range and it's arguably better than other competitors options at this price range.