The Alesis Nitro Max drum kit is the latest version of the Nitro series of drum kits. This update offers a larger snare drum pad and some other neat features that makes it more appealing than previous versions of the kit. Let's take a look at how this kit performs.
The Drum Pads & Cymbal Pads
This drum kit has four mesh drum pads for the snare and toms, and three rubber cymbal pads. The use of mesh drums heads has become pretty common on budget level drum kits and this one is no different.
The drum pads have a thin profile but you can see a red drum shell between the top and bottom rims. The design of the pads looks pretty sharp in my opinion. The bottoms of the drum pads are open.
The Snare Pad
The snare pad has been upgraded to a 10-inch dual zone snare, which is bigger than previous Nitro Mesh kits which had an 8 inch snare. This newer, larger snare pad is welcome for sure. The mesh head feels good, but can be a little bouncy like most mesh heads are. I dialed in the tension to be much more tight than how it was out of the box and that makes it feel more like a mylar snare head in my opinion.
The snare pad is the only dual zone pad on the kit, and it can generate sounds from the rim and the head. This pad can do rim shots as well, which I like. Cross sticking can be done by laying the stick across both sides of the rim, it simply triggers the rim sound. It felt like some kits in the module had rim shot sounds built into the sound set, while other kits sound like they simply play both the head and rim sounds together for rim shots. Either way, it can be a pretty expressive snare pad to play for a budget kit, which is nice.
The snare pad has three sensors right in the center of the pad, and it has better sensitivity around the middle area of the pad as a result. I noticed while playing the snare that the sensitivity rolls off as you get further from the center towards the rim. If you want to get solid strikes on this pad you need to keep towards the center.
The Tom Pads
All of the tom pads on this kit are 8-inch single zone pads. The mesh heads feel good and tension can be adjusted. The design of the tom pads is different from the snare. The rims are about the same height as the drum head itself, which I think is a great idea for single zone pads. I hate it when smaller, single zone pads have a deep rim that makes them harder to strike cleanly, so I really like that they made this change to the tom pads for the Nitro Max kit.
The tom pads have a single sensor which is different from the snare pad. The single sensor in the tom pads is towards the front of the pad, or the part of the pad that is closest to the drummer. The sensitivity is better towards the closer part of the pad, and is still pretty good on the center of the pad, and rolls off a bit as you get further towards the back of the pad.
The Cymbal Pads
All three cymbal pads are 10-inch, single zone pads with rubber trigger zones all facing the drummer. The pads all the look the same across the kit.
The hi-hat pad is a single zone pad and works along with the included hi-hat controller pedal. I was surprised by this foot pedal and how it works with the module. It works better than I expected for a budget kit. The hi-hat sounds respond well to pedal movements and I haven't noticed any annoying delays or latency with foot pedal work. You can also do foot tap and foot splash sounds with the pedal.
The crash cymbal pad is a single zone pad with a choke. It plays just fine but it's basic for sure. The choke works well on this one, and it's the only pad on this kit that has a choke feature.
The ride cymbal pad is also a single zone pad. It can generate a bell sound on the module though by playing it harder. So harder strikes will make a bell sound while softer strikes will make a typical ride cymbal bow sound. No choke feature on this one either. Once again, this is a pretty basic pad for a ride, so it gets the job done but it's nothing special.
Kick Drum Pad & Pedal
The kick drum tower has a 5 inch pad and the center of the pad sits about 13 inches off the ground. There are a couple adjustable-depth spurs to help keep in place on carpet, and a small Velcro strip as well for additional grip. It works great for a single kick pedal. I find it to be a fairly quiet kick pad in terms of acoustic noise. It has a padded feel to it with a softer surface, it's not a hard rubber pad with a hard surface.
This kit does come with a kick drum pedal. It's a fairly cheap pedal, but it's not the worst budget pedal I've used. The spring tension and beater height is adjustable which is great, but I couldn't find a way to adjust the beater angle which was a little disappointing. Either way, it's a decent starter pedal that will work for beginners until they decide to upgrade to a better kick pedal. And having one packaged with the kit helps cut down on the accessories you'll need to buy if you don't have a kick pedal already.
Double kick drummers may have mixed results with this kick pad. The hit target is fairly small. I can tell just by looking at it that it might not work with many types of double pedals. My Axis long boards, for example would be too wide for this pad and the tower. Drummers who have had good luck using double pedals with this pad are usually able to position their beaters closer together and get them both as close to the center as possible. You may also need to turn the sensitivity on the pad up much higher to account for not being centered on the pad.
Feel and Play-ability
For a budget kit I think this kit feels pretty good to play. The snare drum is pretty nice and I like the 10-inch size, it doesn't feel as restrictive as previous versions of the kit with the 8-inch snare. The toms feel good as well and as I mentioned earlier I like the lack of the rim on the single-zone tom pads – it makes them easier to play and there is no rim to get in the way. The mesh pads allow you to adjust the tension so it gives you some flexibility in dialing in the feel that you prefer.
The cymbal pads feel like basic rubber cymbal pads, and they're nothing special. But they get the job done and they provide good response during play. The hi-hat pedal feels better than I thought it would and I like using it when I'm playing this kit.
The kick drum pad feels really good for a budget kit. It has a nice rebound doesn't feel so much like a hard, solid rubber pad. It has a little bit of padding and feels a little more natural than some other budget kits do.
The Nitro Max Drum Module
This kit comes with the Nitro Max Drum Module, which has some new features when compared to the previous Nitro drum module. The physical design is a little different and there are some nice upgrades overall. It's a really easy to use module and it's not very deep, so I was able to start using it without reading the manual. But as always, a manual read-through is recommended just so you don't miss out on any less than obvious features.
This module has a total of 32 preset drum kits that cover most popular music styles, along with an additional 16 user slots for saving custom kits. The sound library contains a total of 441 percussion sounds that are used in the preset kits and that can also be used in custom drum kits.
This sound module can work well on it's own, or it can work as an output controller for another sound module or virtual drum software.
Connections
Here's what the module has for inputs/outputs and connections:
The cable snake input – Connects to a cable snake which then has connectors for all the pads on this kit.
The Tom 4 and Crash 2 outputs – Add another tom or crash cymbal pad. I'm sure there will be an expansion pack for this kit with another tom and cymbal pad soon, if there isn't already.
USB connection – Transmits MIDI over USB.
1/8-inch Headphone jack – Stereo headphones output.
1/8-inch Aux Input – For plugging in MP3 players or devices to play along with music.
Left/Right 1/4-inch Stereo Monitor output – The main stereo audio outputs.
Power Adapter Connection
Bluetooth – Connect a Bluetooth enabled device to play along with music wirelessly.
This module does not have a standard MIDI output, which is something we'll start seeing on more modules moving forward. The only way to transmit MIDI from this module is over USB.
Another feature that is lacking on this module is the ability to send audio output via USB. The USB connection can only transmit MIDI. So if you want to record the audio output from this module you need to use the main stereo audio outputs.
Sound Quality and Sample Library
The Nitro Max drum library uses drum samples from BFD, which is a popular drum player for computers. The drum samples are pretty nice, with some kits and sounds standing out to me more than others. You also get a free version of the BFD Player with this kit, so you can install that on your computer, connect this kit, and get access to more sounds if you like.
I like many of the sounds in the module and I find them fun to play. There's lots of good snare and kick sounds. Some snare sounds respond to ghost notes and dynamic playing better than others. Tom sounds are pretty good as well but at default levels they are loud, I find myself lowering the volume of the toms on most kits. There are a nice variety of cymbal sounds but many seem to lack sustain. Overall though it's a nice set of sounds and nice variety for a budget kit.
One thing I don't really like about the module is that on the display it only shows you the number of the kit or the sound you are currently using rather than the name. So if you want to know the name or style of kits and sounds you'll need to reference them in the manual. The manual does list them all out along with their names, so it's probably a good idea to print out at least the sound and kit reference pages and keep them nearby.
Editing Kits and Sounds
Sound design is limited but not overly restrictive for a budget module. There are ways to tweak sounds and effects and you can save any changes you make to preset kits by saving to the custom kit slots.
Editing sounds and making your own kits – 16 of the 40 drum kit slots in this module are for saving custom kits, meaning you can change the sounds of each of the pads to any of the sounds available in the module, and save your changes to these kits.
Reverb settings – You can adjust the amount of reverb for each pad around the kit. You can turn reverb on/off for the entire kit as well. There is only one type of reverb and the reverb settings can't be adjusted other then the amount used in the mix.
Pad settings – For each pad you can adjust the volume, pan, pitch, and EQ. You can also change the MIDI note of any pad.
Settings
This module includes the typical utility functions for adjusting the responsiveness of the pads. These settings can be useful when dealing with triggering or sensitivity issues around the kit.
Sensitivity – responsiveness of the pads, or how hard to have to hit it to make it play louder.
Threshold – how hard to have to hit the pad to make it make a sound at all.
Crosstalk – pads can sometimes be triggered if a nearby pad generates enough of a vibration when hit, tweaking the crosstalk can help fix this.
Velocity Curve – you can select different force curves, to make it easier or harder to play dynamically on the pads.
Rim Sensitivity – this controls how sensitive the rims of the pad are when hit.
Hi-hat Splash Sensitivity – adjusts how responsive the hi-hat splash sound is during quick release foot taps.
Local MIDI Mode – turn this off to only trigger sounds via MIDI over USB.
General MIDI Mode – allows you to use general MIDI percussion sounds.
Songs and Internal Recording
The Nitro Drum Module includes 60 built in songs to play along with. There are songs within a lot of genres, such as jazz, funk, reggae, latin, swing, big band, pop, etc. The quality of the songs is actually pretty good, even though they do have that generic-built-in-song feel to them. The songs can work great as practice tracks to hone your skills with various styles.
You can turn off the drum parts on the songs and jam along with any of them. You can also record your own drum playing along with the songs, so you can listen to and analyze your own playing.
Learning Mode
There are some features built in for practicing and learning. You can play along with beats, rhythms and patterns that a preset in the module to practice keeping time and working with different types of tempos and time signatures. The module shows a visual display of accuracy while practicing to help you learn how to stay in time.
The Metronome
The metronome is a standard feature on all drum modules and this one works pretty much as expected. It's easy to turn on and off and adjust the settings quickly. You can change the tempo, time signatures and subdivisions, which gives you lots of flexibility for practicing and keeping time. The volume and sound can also be changed, which is nice.
Accessories
In addition to the rack, the pads and drum module, here's what else is in the box:
Connectors and hardware – all the stands and hardware that you will need to mount your pads to the rack
Bass drum pedal – having a kick pedal included with the kit is great since kick pedals can be kind of expensive on their own
High-hat pedal – the pedal connects to a cable to electronically control the high-hat open/close sound
The cable snake – to connect all your pads into the module
Cable wrap strips – for clean cabling aficionados
A drum key – used to adjust the rack clamps and drum heads
Drum sticks – hey it even comes with sticks!
Power supply – to power up the drum module
Module user guide – the built in user guide is ok, see our note below about more detailed, unofficial user guides
Kit assembly guide – an outline of the hardware parts and how to connect them all together
Safety and warranty info
What's Not Included?
The only things that aren't included that you'll still need are a drum throne and headphones. Picking up a different bass drum pedal might be a good idea too if you want more adjustability or prefer a different style of pedal. You might also want more drum sticks. You might also want to get a drum rug, a 4×3 foot area rug is about the right size for this kit.
Expansion
This kit can be expanded with another tom and crash cymbal pad. There is an expansion pack available with both of those pads and it costs about $99. It can be found at places like Amazon and Guitar Center, or wherever this kit is sold.
In my opinion, after playing this kit and working with the rack to find the best way to make it more stable, I don't think I'd want to add an extra tom pad to the right side of the rack. There's barely enough room for the one floor tom pad on the right crossbar when I have the sides of the rack turned inwards to make the whole kit more stable. I wouldn't have any problem adding another cymbal pad on the right side though, and that would fit just fine.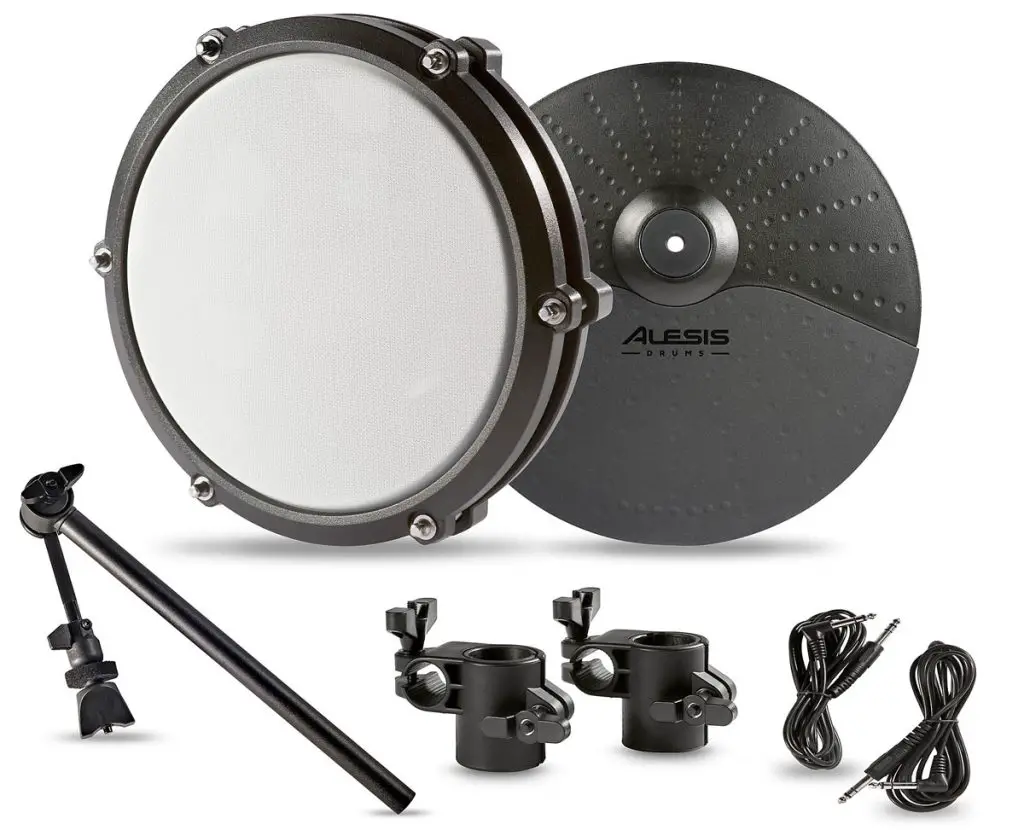 Portability
This kit very compact and lightweight, and it's easy to port around. When I took it to the studio to get some photos I realized just how lightweight it is. I was able to fold it up and slide it into the back seat of my car after removing the cymbal arms, and it was super lightweight to carry around.
The box it comes in is fairly small for an electronic kit too, which I appreciated. I was able to slide the box into the back seat of my car to haul it home. Usually with new kits I have to unbox the entire kit at the store and throw all the parts into my trunk to haul them home since the boxes are so big.
Setup & Assembly
There's a few parts to put together here before you'll be up and running. The manual that comes with the kit isn't exactly a super-detailed step-by-step guide, but it will help you get the job done. Pay really close attention to how the connectors and joints for the stand are mounted, and you should be ok.
When I first set up the kit I wasn't sure which direction to attach some of the clamps for the drum pads and cymbal pads. I found that it works best to keep the openings for the arms and pad mounts on the back side of the rack poles, and the wingnuts to tighten facing downwards so they can be reached easily when adjusting things around the rack.
Pros
Affordable price for what you get
Mesh pads feel great and the 10 inch snare pad is nice
Low rims on the single zone toms don't get in the way
Sound module has a nice variety of kits and decent kit editing features
Very playable for a budget kit
Kick tower feels good and is fairly quiet acoustically speaking
Kick pedal included
Cons
The rack is a little wobbly
Some sounds in the module lack sustain
All the cymbals are single zone pads with no bell zone on the ride
Drum pads have weaker response as you get further away from the sensors under the heads
No audio output over USB, only MIDI
The Verdict
Overall I think the the Alesis Nitro Max kit is a good value and a nice step forward for the Nitro name. This will be a very popular sub-$500 kit, that's for sure. This can be a good budget kit option for beginners and kids.
The drum module has some nice kit editing features and the BFD drum sounds are a nice change of pace for Alesis. The pads play nicely even though they are pretty basic and have some hot spot issues. The 10 inch snare pad is really nice and gets this kit more in line with what other kits in this price range are offering. This is fun kit to play for its price point.