The Sennheiser HD 206 headphones are very much budget headphones but the sound quality is decent for their price. There are some sacrifices being made in overall build quality that we'll get into, but nothing is a huge drawback if you just need a good sounding pair of headphones for cheap.

Sound Quality
Listeners who have used these headphones are somewhat split on the sound quality. Those that are expecting a high-quality pro sound are usually the ones that are disappointed, as these headphones just won't be able to deliver the higher quality sound that more expensive headphones are capable of.
Casual listeners or people who have used other cheap headphones tend to find the sound ok for the price point. The sound isn't great, but not terrible either.
Let's take a quick look at the frequency analysis.
The sound that I experienced when listening to these was represented well in the frequency analysis.
The highs are there, but don't sound very crisp. The high end feels rolled off and it keeps things like hi-hats from sizzling like they should. Looking at the frequency analysis it does look like the highs get rolled off a bit.
The mids are ok and sound a little subdued. When listening to music, they sounded a little muddy in the mid range. When used to monitor instruments they sounded ok and the mid range wasn't as much of an issue. I think they just struggle with clarity when there's a lot going on in the sound stage.
The low end is punchy and a little boomy, but it lacks sub bass presence. You can hear what's going on in the low end just fine when using these as monitors, but once again they struggled with clarity when listening to certain types of music or when there's more going on in the low end with a mix.
Due to the audio qualities, these are going to be more suited for monitoring or casual listening on a budget rather than critical studio mixing. There isn't a whole lot of clarity and crispness for those with more demanding audio production needs.
These headphones are also a little quiet in terms of overall volume and loudness, and some listeners find they aren't able to get the volume out of them that they would prefer when plugged in directly to various devices. I found this to be true as well in my experience. I thought they sounded better with my drum module when I cranked it up a little louder than normal. To get a louder sound from these it's best to use a headphone amp that allows you to push them a little harder.
Closed Back Design
The closed-back design of these headphones helps to passively filter out environmental noise during use. While they do block out some environmental noise, the effect isn't overly strong. They do fit over the ear, but it's a loose fit. The ear cups are shallow and not very snug, which has a negative effect on the noise reduction capabilities.
Comfort
The ear cups are shallow and don't have very thick padding. The size of the ear cups is smaller and they aren't very deep either. They just barely fit over my ears. I found the ear cups to be decently comfortable though since these headphones don't put a lot of pressure onto the sides of your head. If they had a tighter fit they might be more uncomfortable.
I found the top part of the headband to be the most uncomfortable after a while. The padding isn't all that great. And it created a hot spot right on top of my head after 20 minutes or so.
Overall, these are somewhere in the middle of the pack in terms of comfort when I compare them to other similarly priced headphones I've tried. There's both better and worse options out there in terms of comfort.
Build Quality
The overall construction of these headphones feels pretty cheap. There is a lot of plastic in the construction. The ear cup forks, for example, feel like they could easily be broken if they are dropped or crushed with the right amount of force.
For the price, this is hard to complain about. You will be getting some of Sennheiser's most budget minded construction and design with these headphones.
If you are careful with them, you should be able to get some decent life out of these. However, if you tend to be the type that drops or abuses headphones more, or carries them uncased in the backpack, these might not be right for you.
The Cable
These headphones are outfitted with a 3 meter (10 foot) cable that attaches to both the left and right ear cups with a forked style cable. The longer cable is nice on a pair of headphones this cheap. The cable feels pretty lightweight and the attachments to the ear cups feel a little flimsy.
Having a longer cable like this is great for electronic drummers. I didn't need to use my headphone extension cable when playing drums with these. The cable is easy to keep behind your head and out of the way as well, which is another plus for drummers. So these headphone have that positive point going for them.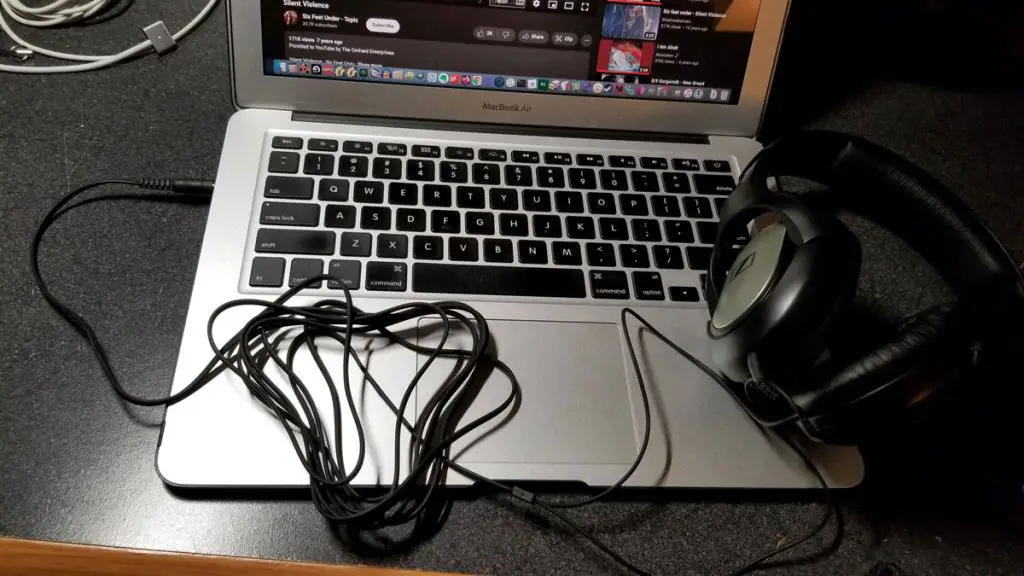 Monitoring, Casual Listening, DJ

3 m straight cable, forked to both ear-cups

Pros
Affordable price
Decent sound for the price
Lightweight
Long 10 foot cable
Cons
Cheap construction with lots of plastic
Uncomfortable headband for longer sessions
Noise attenuation isn't very strong
The Verdict
Headphones like this can be somewhat hard to review. For the price, they aren't that bad. If you need some cheap headphones that sound decent for their price they can be worth the buy. However, in this price range I prefer the Audio-Technica ATH-M20x, which I think have better sound and better comfort. They can usually be had for just around $10 more than the HD 206.