The Audio-Technica ATH-M20X studio monitor headphones are an affordable, good quality option for studio headphones that won't overpower you with excessive bass. They employ and over the ear design and are fairly comfortable for longer sessions. Let's take a look at the details of these particular headphones.
Sound Quality
First off, do they sound good? The overall response from people who own these headphones is that they have a really nice, even sound throughout the frequency range and they feel like they have a little less bass than they maybe should have. This is a good thing for studio environments where clarity of audio is more important than sweetening of the sound. With a little bit higher impedance on these headphones, you may find that you need to turn your devices up a little louder to keep levels where you want them.
If you are looking for a clear, accurate sound – these headphones should be sufficient for your expectations. You will be able to hear a lot of the nuance in the sounds you are recording, monitoring or mixing.
If you are using these on an electronic drum kit – they will give you a good clear sound but might not over-amplify the low-end sounds of the kick drums or toms if you are expecting more "thump".
Closed Ear Design
The ear cups on these headphones are designed to cover your ears completely. They aren't noise cancelling, but the over the ear design does help cut down on some of the noise in your immediate environment. The foam is comfortable enough to make these wearable for longer sessions for most people. People with larger ears or heads might find these to be a little small or uncomfortable.
The closed ear design can make these somewhat uncomfortable if you use them in hot or humid environments, due to the lack of airflow in the ear cups. So keep that in mind if you will be using these in a hotter environment.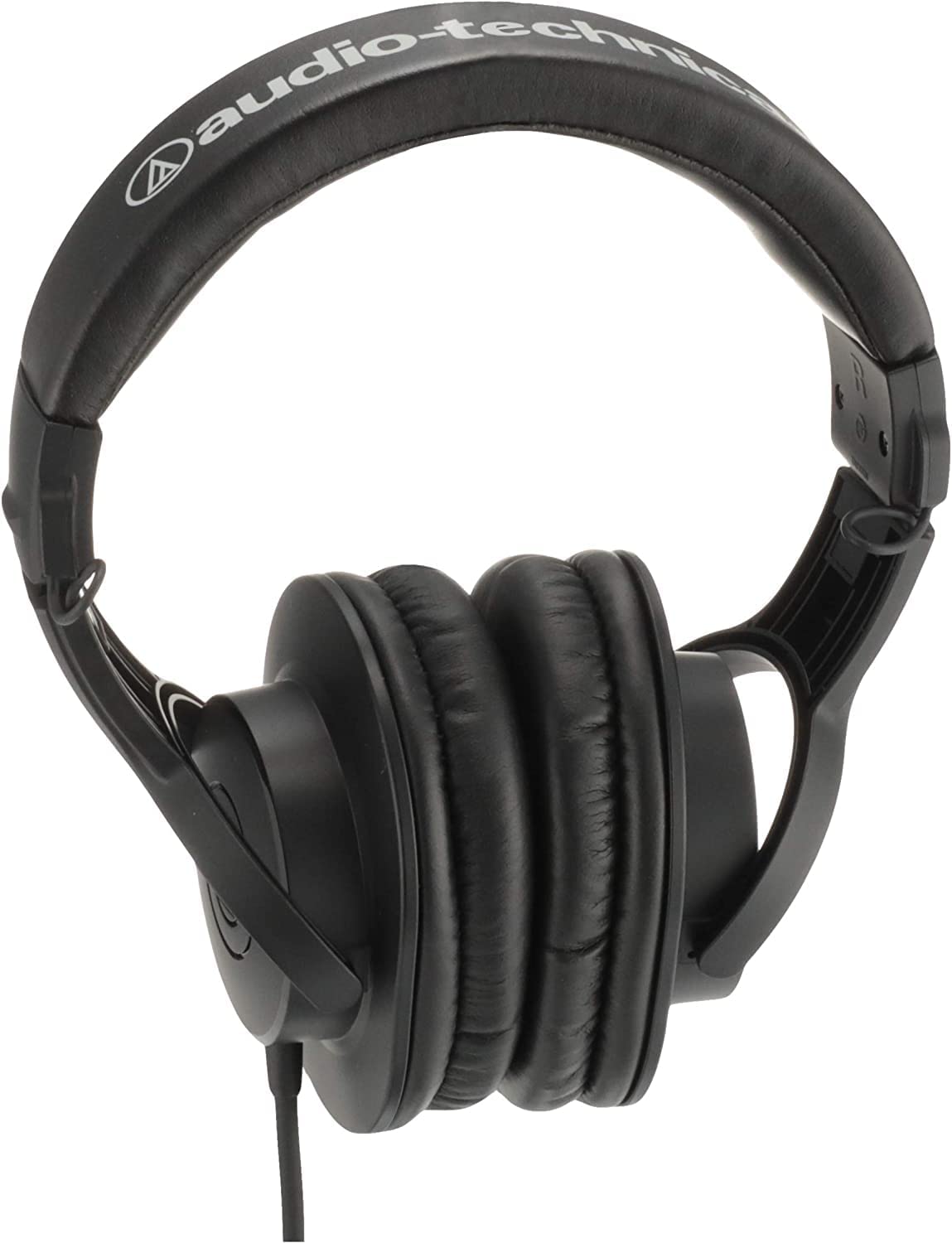 Comfort
The reviews are mixed regarding how comfortable these headphones are. For sessions of use that are an hour or less, most people will find these to be more than comfortable enough, especially after a short break-in period.
There are some people though that will find they feel to tight if they have larger heads or  wear them over hats. People with larger ears also can find these uncomfortable as the ear cups might not be large enough to fit over their ears.
The foam on the ear cups and the head band can wear out and harden over time – which has happened to people who use these extensively in hotter or sweatier environments. The ear cup foam can be replaced, but the foam padding on the headband part can't be replaced. People who have run into this issue find it to happen after a year or two of very consistent use.
Build Quality
These headphones are built well enough for their price point. They are assembled with a lot of plastic but they hold up well if you don't abuse them. They are designed to be used in studio, and if you put them into a backpack or carry them around without a case quite often the covering on the foam parts might be subject to wearing out more quickly. For studio use though you should be able to get a couple years or more out of these with regular use.
Long Cable
The cable on these headphones is a good length at 3 meters or almost 10 feet in length. For studio use, the length of the cable is great. For people that want to use these as casual headphones with their smartphone, the length of the cable might feel like too much. The cable has a 1/8″ plug and includes a 1/4″ adapter. The cable cannot be removed and is permanently attached to the headphones on the left ear cup.

In-studio recording, tracking, mixing
3.0 m (9.8′), straight, left-side exit
Pros
Very affordable price
Excellent sound quality for price range
10 foot long cable
Over ear design with some noise isolation
Cons
Can be uncomfortable for people with bigger head or ears
Foam and padding can wear out over time
Less bass than some would prefer
The Verdict
The Audio-Technica ATH-M20X headphones are a good pick if you need a solid pair of headphones for the studio but don't want to spend a lot of money. At their price point they are quite good. They aren't going to blow you away with features, but they sound clear and crisp in a studio environment. These can also be excellent low-cost headphones to use if you need headphones for an electronic drum kit. Just keep in mind that the bass won't thump as much due to their intended mixing/monitoring usage.