The Audio-Technica ATH-M30X headphones are designed to be an affordable option for closed-back studio headphones. They are less expensive than some of Audio-Technica's more acclaimed headphones, and they can be a good pick due to their price. Let's take a closer look.
Sound Quality
These headphones offer a decent, balanced sound that can work for tracking and mixing in the studio. They offer a little more clarity in the mids and highs than the ATH-M20X headphones but less clarity overall than the ATH-M40X headphones. Their frequency response is fairly flat but does have a spike in that 6-8kHz range that can color the sound a bit.
The highs are nice and clear. Nuances in the high end come through well and it's easy to hear separation between sounds even though the sound stage feels a little narrow. Hi-hats sound nice and crisp and cymbals are smooth. Some distorted guitars in heavier music sounded a little harsh in the lower high end, probably due to that spike in the 6-8kHz range. I didn't experience this harshness in the same way with the other M series headphones.
The mid range is clear and well defined. Especially for a less expensive pair of headphones. The mid range feels like the best part of the sound spectrum on these headphones. Snare drums come through very well and they sound clear when there's a lot of mid-range action going on with a drum kit.
The low end is decent but nothing to get overly excited about. It sounds less boxy than the ATH-M20X headphones, but it feels like it's lacking a little bit in clarity. When there's a lot going on in the low end and mid range with toms and the kick drum it can sound a little more muddy.
The closed back design helps to keep room noise and other environmental sounds to a minimum, and it works well when playing electronic drums. These headphones have a decently tight fit that keeps the cups pressed against your head so there's minimal sound leakage.
For mixing in the studio – these can work for those on a budget. They are less clear than the ATH-M40X headphones but they can be a decent mixing option for those who want to spend less.
For casual listening – these are pretty nice casual listening headphones and they can work well if you prefer more of a neutral sound with some emphasis in the lower high end. These have a more natural than colored sound, at least to my ears. So if you like very bass heavy headphones for casual listening these might come up short.
Are These Headphones Good For Electronic Drummers?
These are a good option for electronic drumming headphones, especially if you can find them for closer to $50. For that price they have a lot to offer.
The noise attenuation is decent so you can focus more on the sound module than the tapping on the pads. The sound quality is nice when plugged into a drum module. The fit is comfortable and firm. The cable is nice and long. These headphones have a lot of good things going for them.
Closed Back Design
These headphones offer a closed back design that fully covers your ears when you are wearing them. The ear cups are just large enough to fit over your ears, but can feel a little shallow and potentially might feel small for people with larger ears. The closed back design helps with noise attenuation and blocking out environmental sounds. As far as passive noise reduction goes, these are somewhere in the middle ground, offering some decent reduction without being overly strong. The noise attenuation is plenty good for electronic drumming and other studio usage.
Comfort
These headphones are decently comfortable for headphones in their price range. They are lightweight and not as heavy as more expensive Audio-Technica headphones. The headband has decent padding and is rounded well enough to prevent hot spots. The ear cups feel good but are a little shallow. Upgrading the ear cups on these could make them a lot more comfortable. Overall, though, these are pretty comfortable when compared to other headphones in the same price range.
I was able to wear them for at least an hour without any issues with discomfort while playing drums. The get a little warm, like pretty much any closed back headphones if you are active, but they remain comfortable.
Build Quality
These headphones feel somewhat cheap and lightweight when in hand. They have a lot of plastic just like most other budget headphones. They are built fairly well when considering the price.
Some people have issues with wires leading to the ear cups wearing out after a couple years. Same with the hinges on the folding ear cups, which can break over time if you fold them up and transport them a lot. I personally haven't run into any of these issues yet, but based on my experience with other headphones I'd expect that to eventually happen to these with a lot of use.
Long Cable
These headphones come with a long cable, which is great for electronic drummers. The cable is a straight, 10 foot cable with a 1/8″ jack and an included 1/4″ adapter. The cable is not detachable and exits from the left ear cup. The lack of a detachable cable is a negative, but for headphones in this price it's not a huge deal.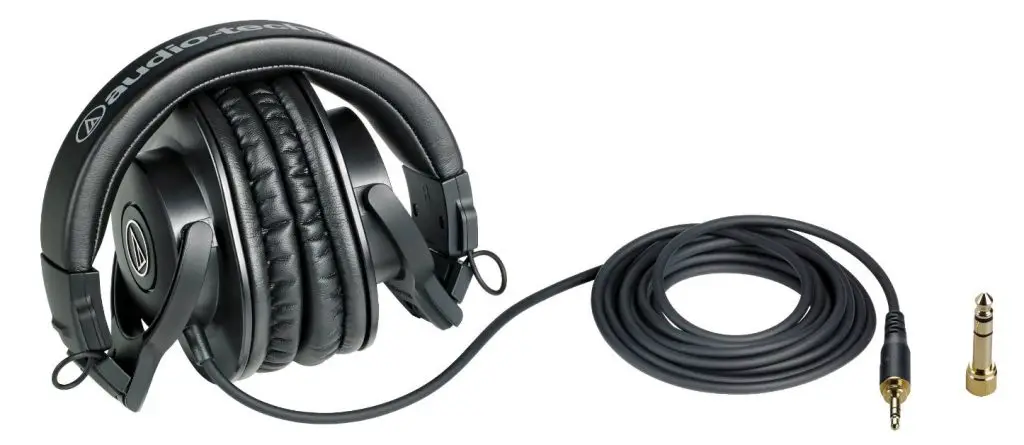 Mixing, Electronic Drumming, Casual Listening

10 foot straight cable, non-detachable

Pros
Good sound quality for the price
Excellent for people who need clear mid range on a budget
Long cable
Collapsible
Affordable
Cons
Padding on headband and earcups could be better
Collapsible hinges and wiring can wear out over time
Not overly spacious sound
Can get warm during longer sessions of use
The Verdict
The Audio-Technica ATH-M30X headphones are a good option for studio headphones when considering their price.
They have nice sound that is flat enough and clear enough to be useful for studio purposes. They are a little more lightweight and feel like they are lacking the build quality of more expensive Audio-Technica headphones. They can be a good option for electronic drummers due to their sound, noise attenuation and fairly comfortable fit.