The Roland VMH-D1 headphones are designed specifically with electronic drummers in mind, which is something we don't see that often in the headphone space. They offer good noise isolation and the sound has characteristics suited more for electronic drumming. Let's take a closer look.

Sound Quality
I've used these for a few sessions now and swapped between some of my other headphones to try to compare the sound. These headphones sound pretty good in my opinion, and they certainly are geared more towards drumming than studio mixing after trying them out.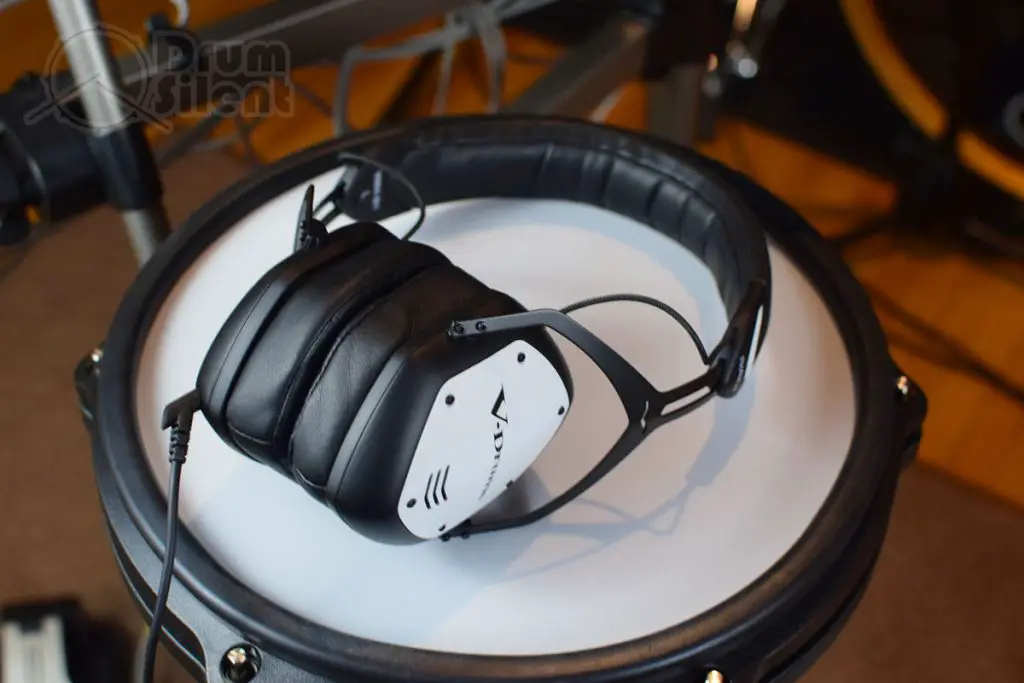 The highs seems very present and cymbals feel slightly emphasized. I especially noticed that the sizzle on certain high hat sounds really stands out. Cymbal tones that are more harsh aren't exactly subdued by these headphones. I found some crashes to be a little too loud on these and was needing to dialed them back in the mix a bit to get them under control.
The mids sound good and it felt like these brought out the presence of snare drums more than studio mixing headphones. The sound was pretty clear in the mids and I was experiencing good separation of sounds around my kit.
The low end feels punchy but is more resonant and a little boomy in the upper lows. The kick drums had good low end and sub bass came through very well.
They have a fairly spacious sound overall, with a good stereo field. They seem pretty similar to mid-level studio mixing headphones in terms of how they separate the sounds and place them left to right.
I find the sound to be fairly crisp and clear through the spectrum. Depending on what I was listening to it was sometimes a little too emphasized in the sizzling highs and in the low end resonance. On electronic drums these headphones sound very clear and the drum sounds are all very present. Hip-hop and electronic music sounds especially good on these headphones, maybe since it's more beat and drum oriented music. Some heavy metal I listened to sounded a little too resonant once again in that upper low end range.
Overall, the sound is nice to listen to and provides pretty good detail and clarity. I did like how they sounded on my drum kit and that's where I would recommend using these. So Roland hit the mark there.
Closed Back Design
These headphones employ a closed back design and they use a thick memory foam padding on the ear cups to help provide a firm fit. They feel kind of like the type of over-ear hearing protection you'd wear in shop while working with power tools. They just barely fit over my ears. They provide good noise attenuation and they blocked outside noise quite well. To me the Roland VMH-D1's felt like they blocked noise about as good as my Sennheiser HD 280 Pro's, and those are rated at -32 db of passive noise isolation.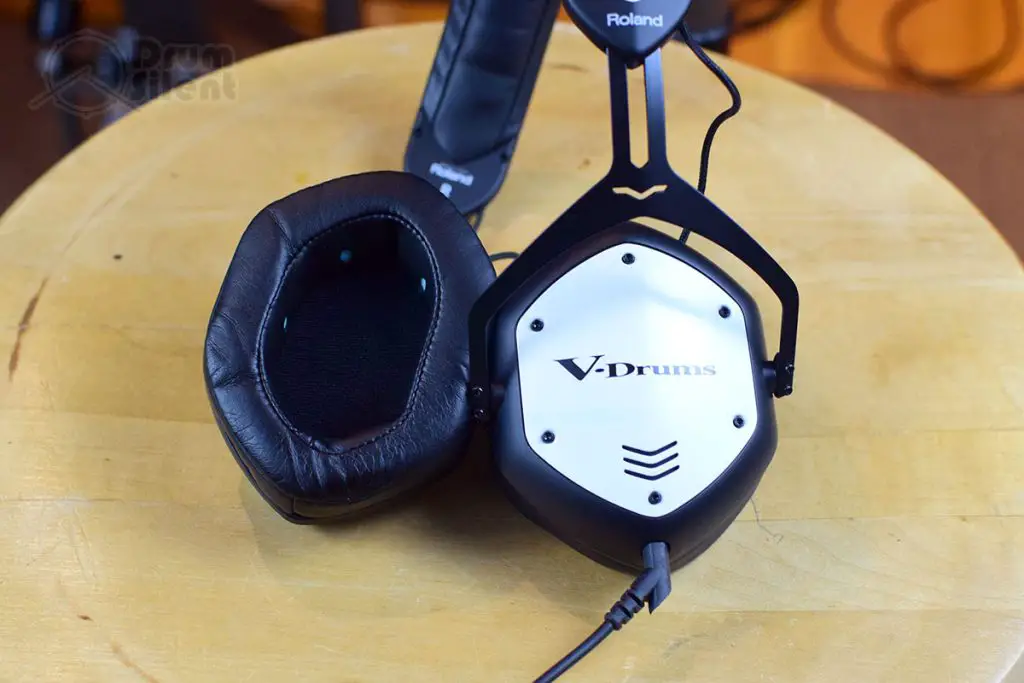 Comfort
I found the headphones to be pretty comfortable and can wear them with no discomfort for longer drumming sessions. They get a little warm but that's to be expected with closed back headphones design for noise isolation.
The headband doesn't look like it has much padding but the shape must be just right for my head since I didn't feel any discomfort in the headband. The ear cups were just big enough to fit over my ears, and they were tight enough on my head to keep noise out but still comfortable.
I personally had to extend the forks to the maximum to fit me, and these headphones were slightly too small for my head when I was wearing a hat. I have a feeling that there's going to be people that buy these and find they are too small. I wish Roland would have added just a couple more clicks of range to the size adjustment on the forks.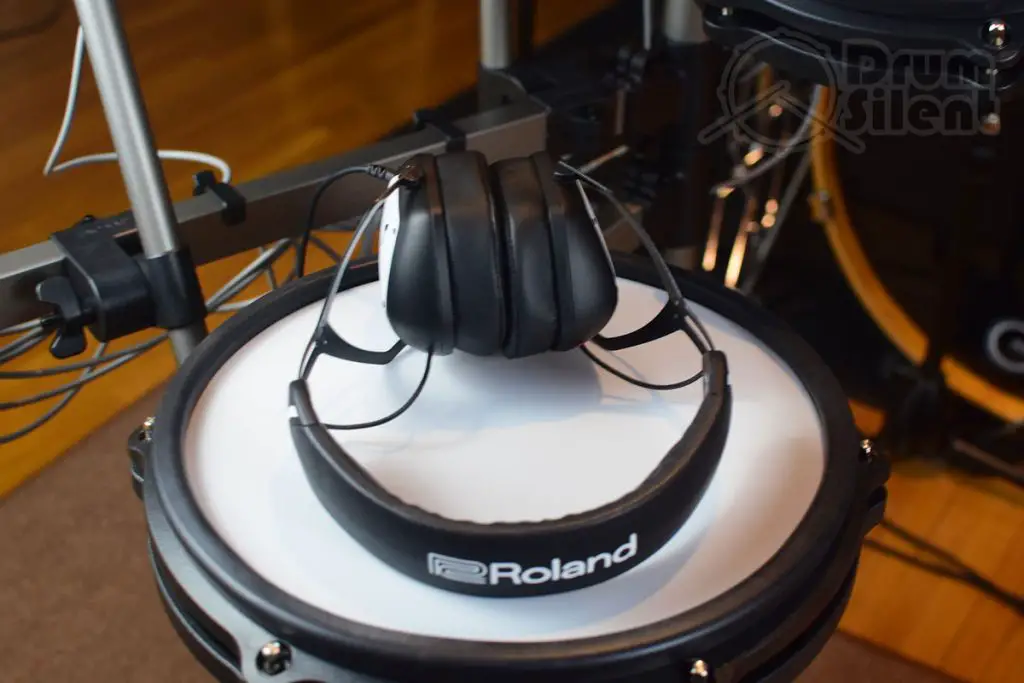 Build Quality
I think these headphones feel very well built. They have some noticeable weight to them and don't feel like a cheap pair of headphones. The materials feel good and there's no creaking. The headband has a lot of flex to it, but stays tight when your wearing them. The forks are made from metal, not plastic, and they feel like they'd stand up well to getting dropped or sat on. Even though they don't fold up, I feel very confident throwing these in my backpack to carry around, like I don't have to worry about them getting crushed.
They really do have that Roland quality feel to them. Even though they have a premium price, you're getting what feels like a premium build. Just like Roland's drums.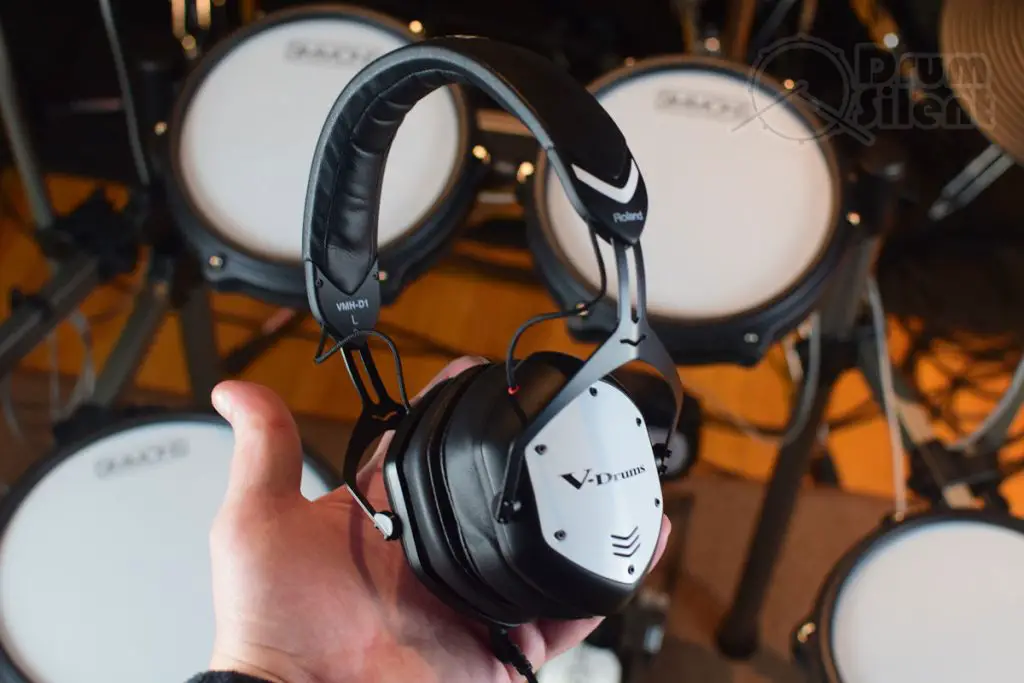 The Cables
Two cables are included – a longer 10 foot cable with an angled jack to direct the cable, and a shorter 5 foot cable designed more for uses away from the drum kit. The longer cable worked fine on my kit, and I didn't have any problem with keeping it out of the way when playing. I didn't even use the cable retainer, but that could be useful for people that really like to keep their headphone cables behind them at all costs. Both cables worked fine for me and I haven't run into any issues.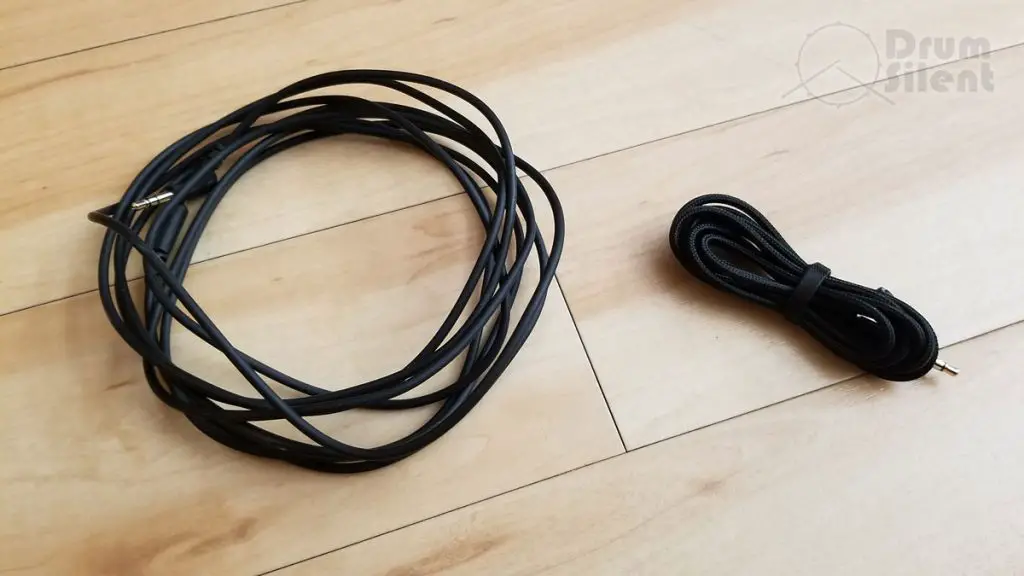 The Accessories
Roland includes some extras with these headphones to sweeten the deal for drummers. These could potentially be useful, but they're not anything too crazy.
The cable restraint is used to hold the cable of the headphones out of the way and behind your back. It can be a little awkward to put on the headphones when in use, but it does help. I could see more active players finding this to be more useful if you find that cables are always getting in the way.
There is a basic headphone holder hook that clips onto a drum rack. I found this to be the most useful when I'm trying out more than one pair of headphones on the kit, since it gives me a place to hang the unused headphones while I'm playing. Otherwise I'm normally just putting headphones on top of one of the cymbal pads when I'm not wearing them and not playing which works just fine.
The storage bag is pretty basic but it large enough to keep all the accessories and the headphones in one place. It's ideal to use the bag when transporting the headphones to keep them from getting damaged.
The shields on the ear cups can be customized with new shields with specialized designs. If you are into customizing the look of your gear this could be appealing for sure. For more on this, check out V-Moda customization.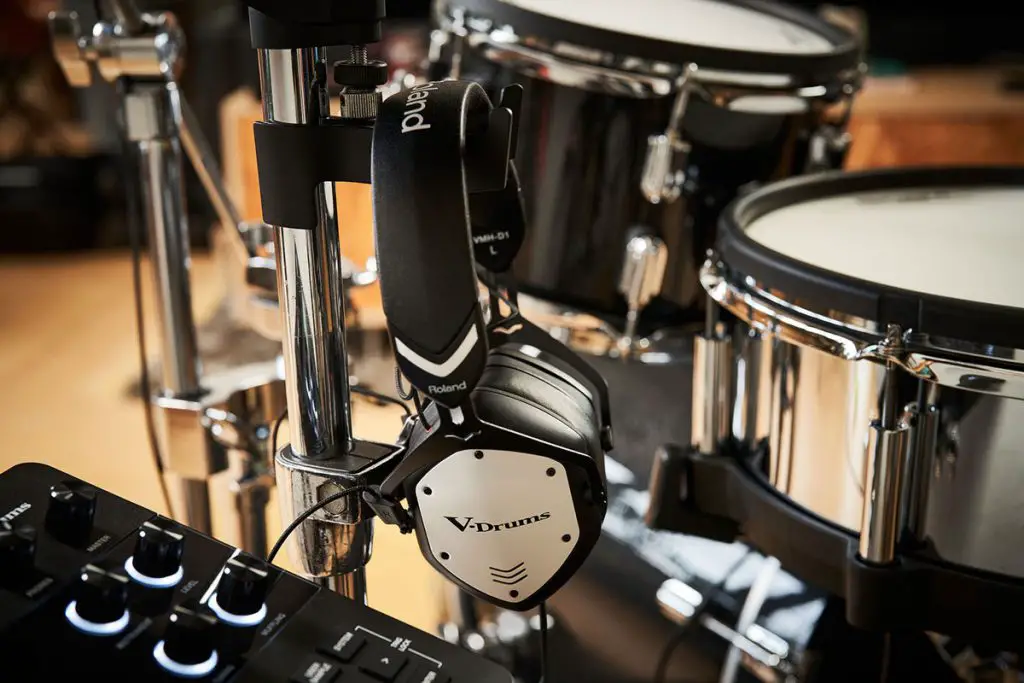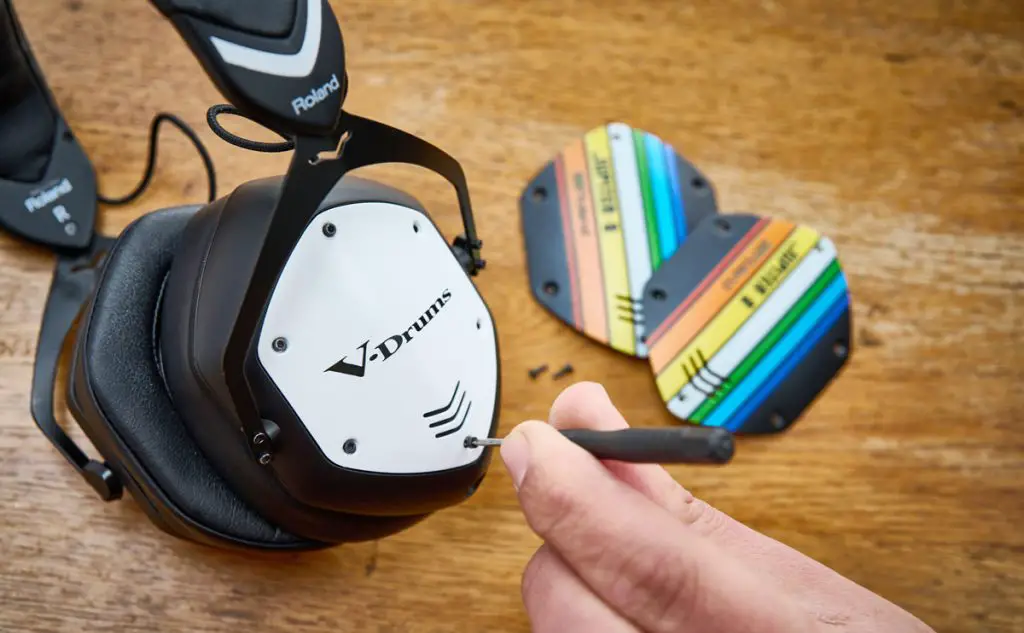 Electronic Drumming, Casual Listening

5 ft cable with 1/8″ jacks, 10 ft cable with 1/8″ jacks, (1) 1/4″ adapter

Pros
Good noise attenuation
Punchy, bright sound on electronic drums
Removable cables
Useful accessories for drummers
Good build quality
Sleek look and design
Cons
Can feel warm during longer sessions
Can't be folded or collapsed
Might not fit larger head sizes
Highs can get a little harsh and lows feel a little resonant
Price seems a little high
The Verdict
The Roland VMH-D1 headphones are designed with drummers in mind but have a premium price tag that might make them not worth it depending on your budget.
They sound pretty good on an electronic drum kit and that seems to be what they are tuned for. When using them to listen to music in general you start to notice how they emphasize certain parts of the spectrum which might not be as pleasant for casual listening. The accessories are a nice bonus but don't justify the premium price on their own. I'd recommend these as a good pair of headphones for electronic drummers, they're a perfectly fine pick, but there's also cheaper options out there that are just as good.