The Alesis Strike Pro Special Edition electronic drum kit is one of the better kits available from Alesis. This kit employs an amazing design which includes wood shells for all the drums.
This is a new iteration of the original Strike Pro kit, which was a little rough around the edges in terms of total quality. This new version is great though and drummers who own this new version of the kit love it.
Drum Pads & Cymbal Pads
The pads included on this kit are some of the best that you can get from Alesis. They really went all out here to make sure that everything is as playable as possible and feels as natural as it can for an electronic kit with rubber cymbal pads.
Drum Pad Sizes
The drum pads included in this kit are all dual zone pads which means they can play different sounds both on the head and from the rim.
The pad sizes on this kit:
14 Inch Snare (same as a standard full size snare)
20 Inch Kick Drum
8, 10, 12 and 14 Inch Toms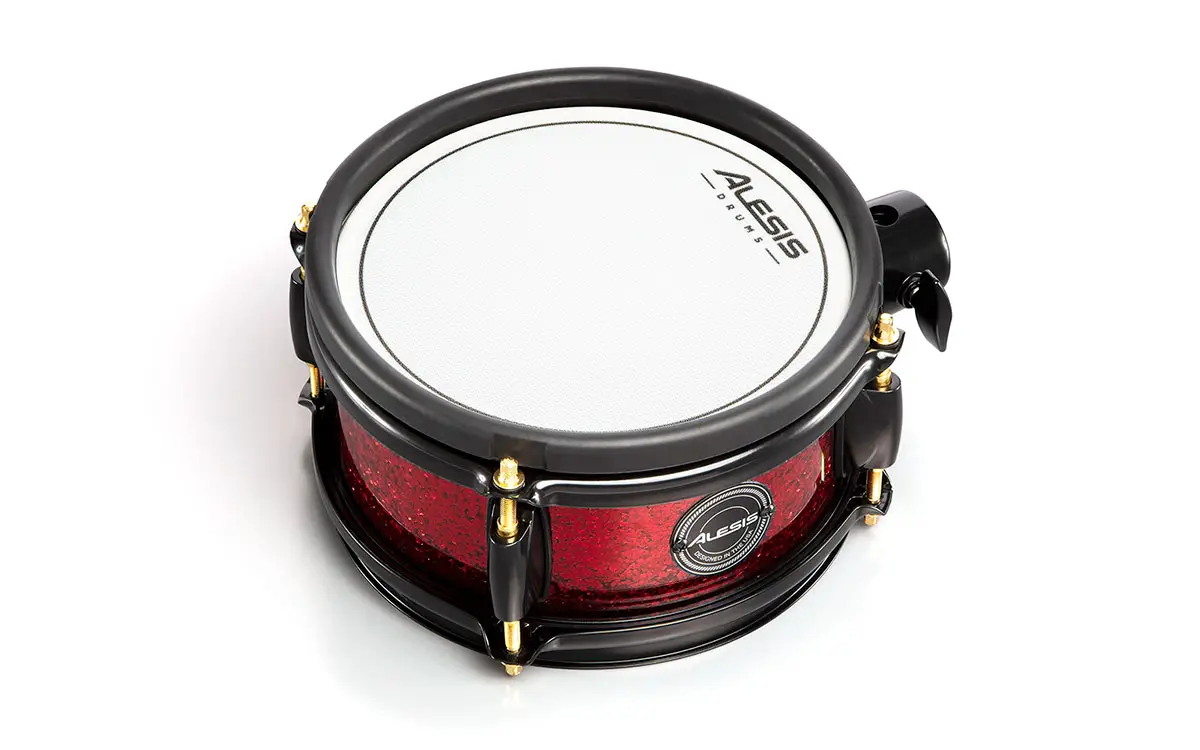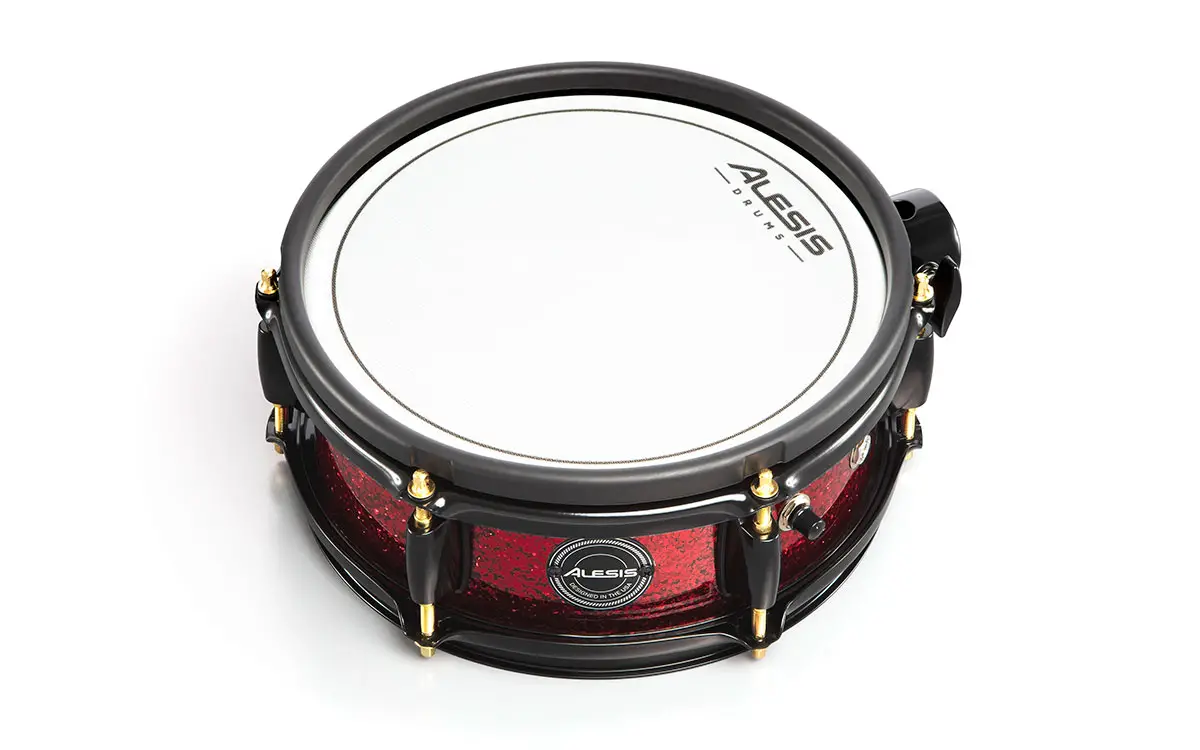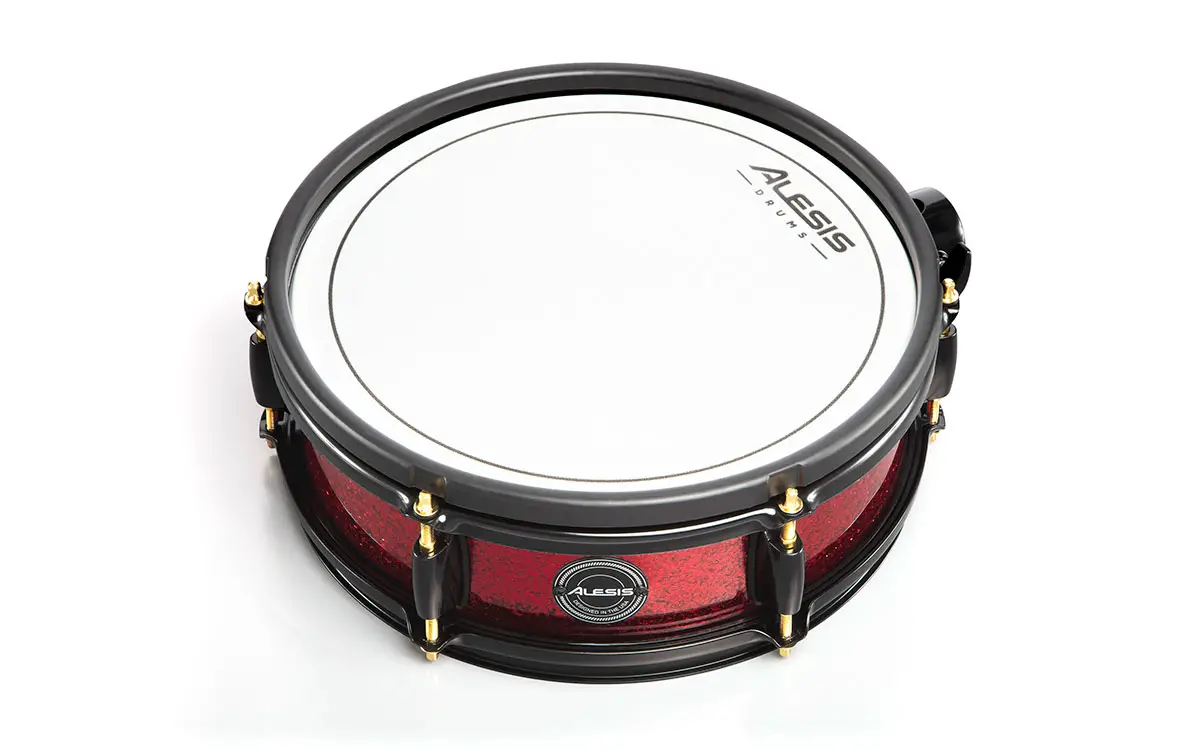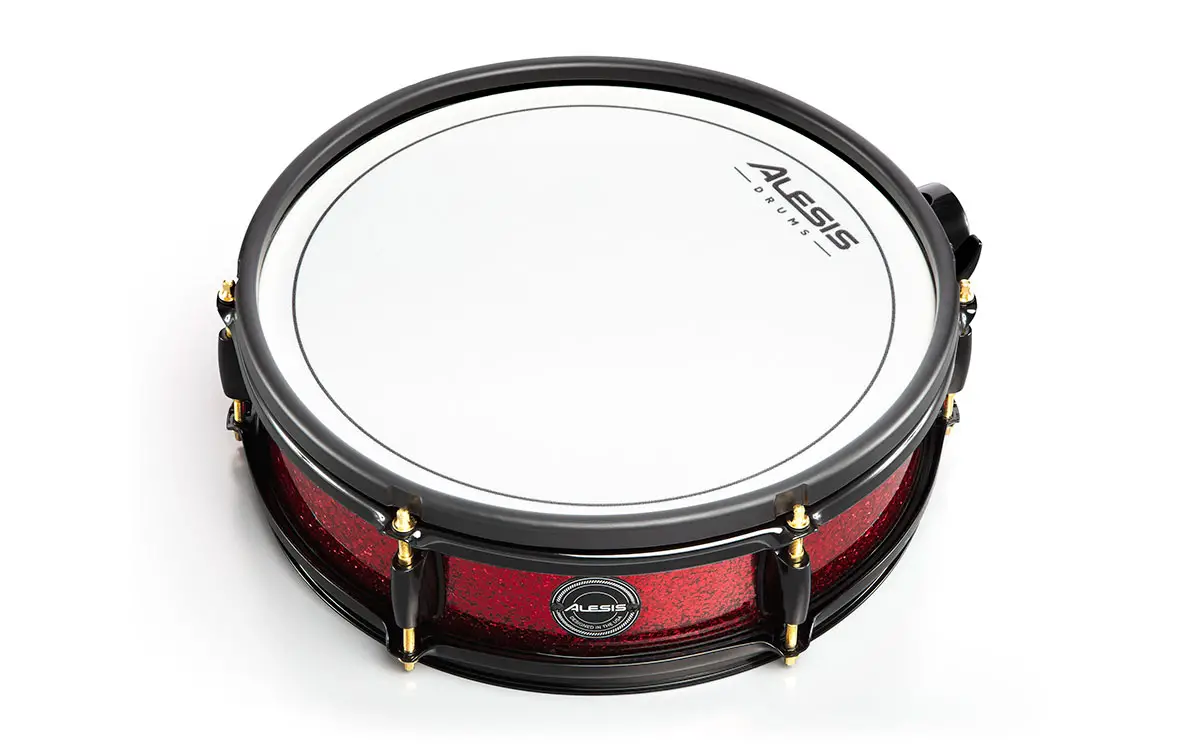 Wood Drum Shells
All of the snare, tom and kick drum pads on this kit use wood shells. The shells are a hybrid of birch and cottonwood and look like a typical drum shell with a nice deep red sparkle finish. The shells for the toms are more shallow than an acoustic drum, and the shells for all of the toms and the snare have the same depth which is slightly less deep than a traditional snare drum. The kick drum shell has a typical kick drum depth. The wood shells really make this kit look great.
Mesh Drum Heads
The head on all of the drum pads are the latest in mesh drum head technology from Alesis. They provide a very natural response and feel much like a typical drum head. The mesh heads are two-ply and feel a little thicker. They aren't as bouncy as some other mesh heads and have more of a firmer touch and feel. The drum shells have tension rods that can be adjusted to further tighten or loosen the feel of the mesh heads, so you can dial in the exact feel that you prefer.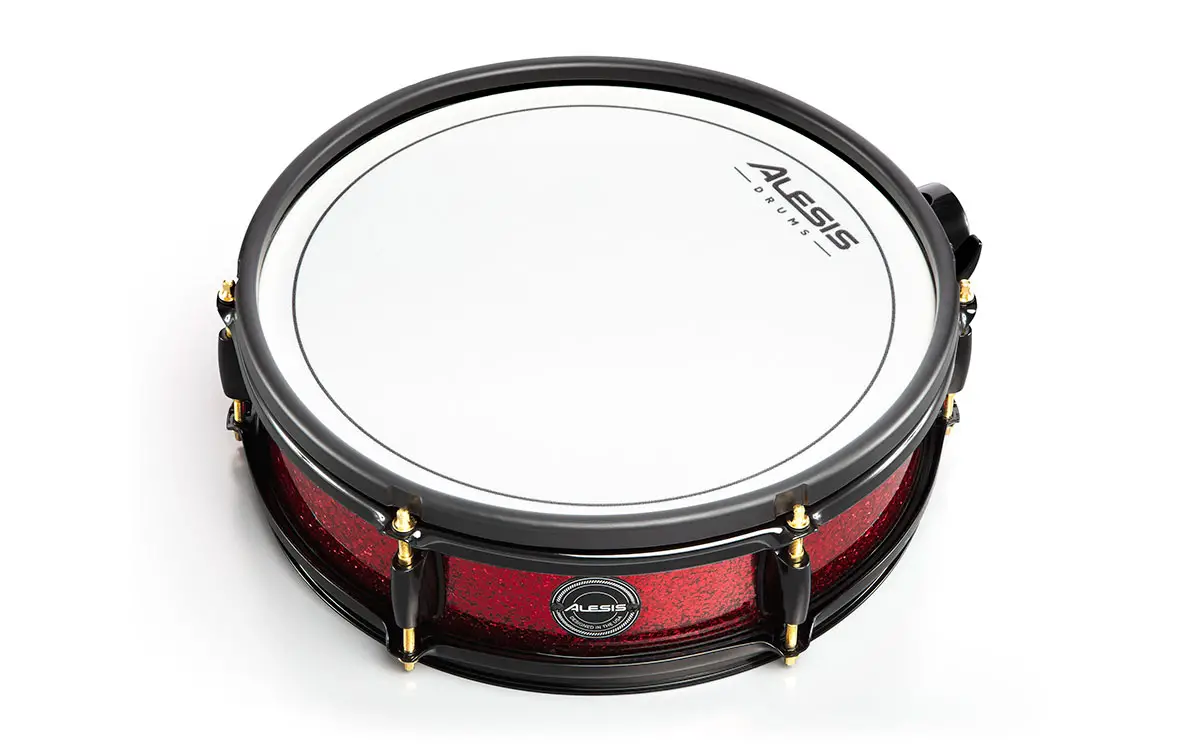 The Cymbal Pads
These are pretty good cymbal pads, more than sufficient for a kit at this price range. The pads are fully active all the way around the cymbal. They also have a textured hammered look to them. They are just a little smaller than what you might play for a typical cymbal on a traditional kit, but they feel great when sitting behind the kit and sizing everything up.
The ride and the crashes are triple zone pads with chokes – so you can play them very dynamically and generate lots of sound variation from them during play.
The hit-hat cymbal is also unique in design. It's designed to be mounted on a standard hi-hat stand so it will feel a lot more natural to play. There is a spring mechanism built into the hi-hat pad that registers the up/down movement of the hi-hat in a much more natural feeling way than some of the electronic hi-hat pedals on lower budget kits.
The sizes of the cymbal pads are:
14 Inch Hi-Hat
3x 14 Inch Crashes
16 Inch Ride
All three crash cymbals are the same size at 14 inches. The ride feels a little small at only 16 inches. The hi-hats at 14 inches are excellent though, as that is the typical size of acoustic hi-hats.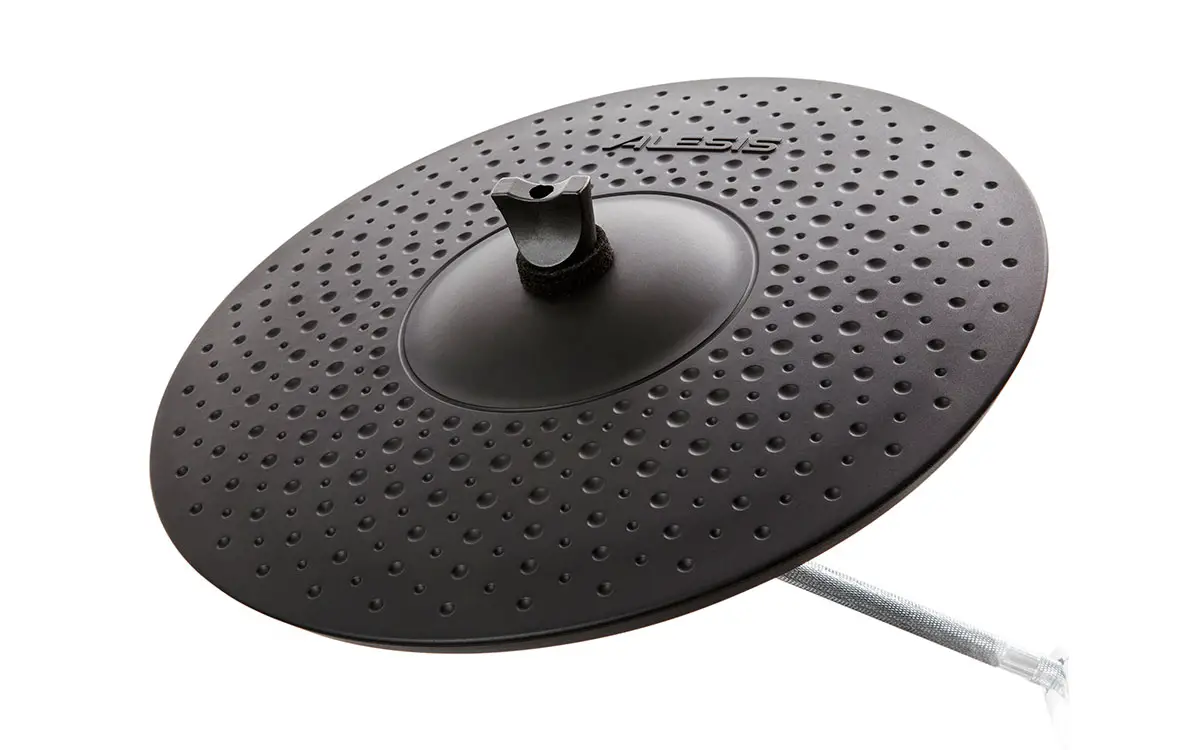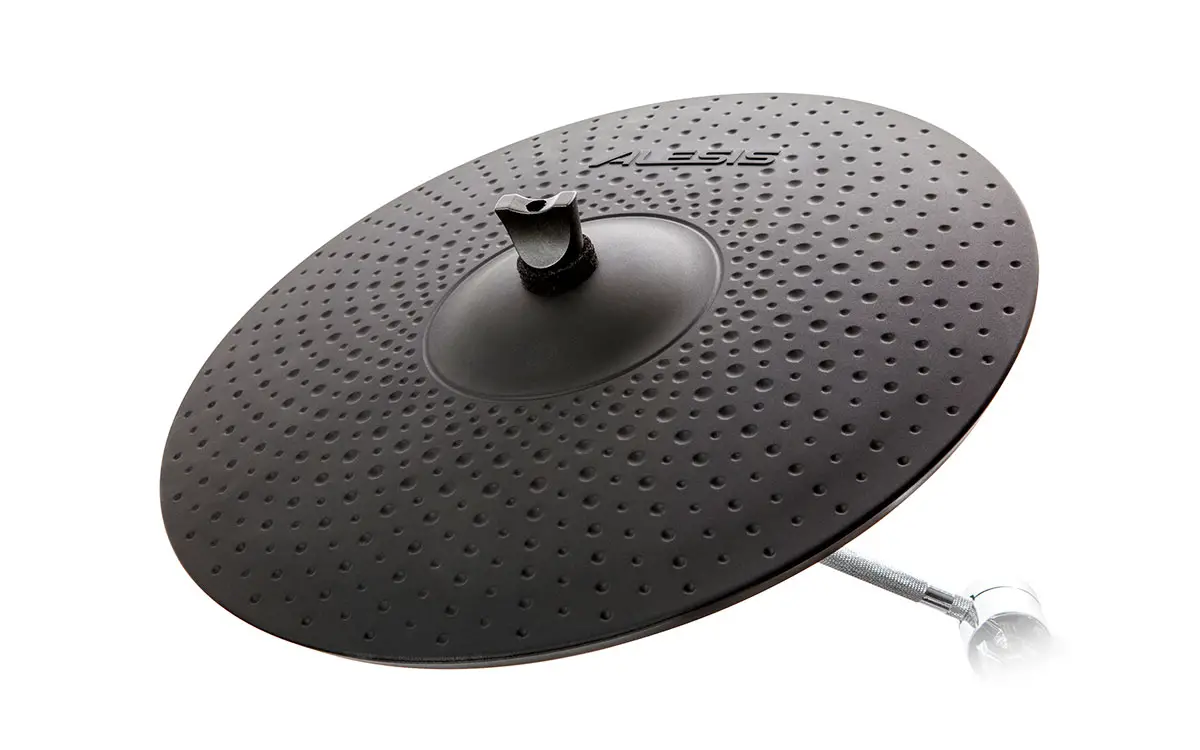 The Rack
This kit includes a full size chrome rack with enough space to mount all of the hardware that comes with it.The biggest thing we like about this rack is that it allows you to really set up this kit how you prefer and there's plenty of space for it. You can easily fit a couple more cymbals or other pads as well if you get creative.
The rack is a 4-post type of system with a smooth black finish. The mounting hardware works well and it easy to tighten and adjust. When everything is tightened up properly everything stays solidly in place while playing.
The rack itself is quite sturdy and when everything is fully tightened up it doesn't really move or wobble unless you really play the kit hard. Overall, it feels like a solid, professional rack.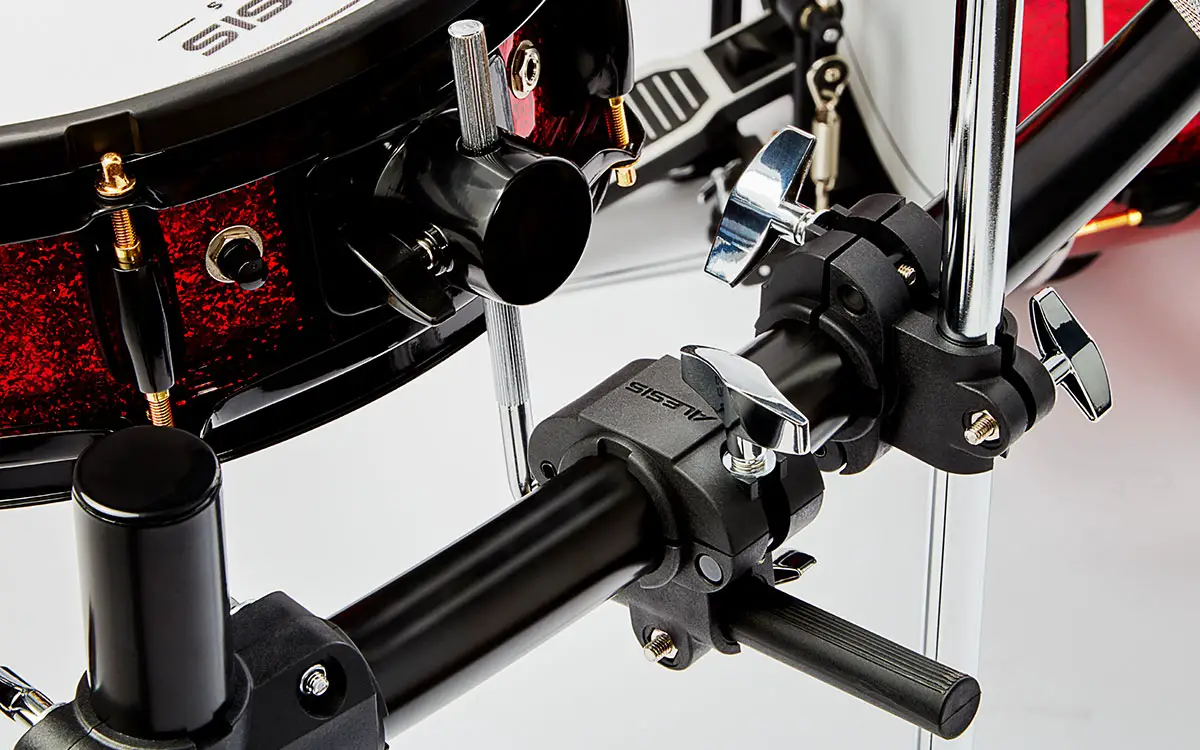 Sturdiness
As a whole, this kit has a pretty sturdy feel during play. It doesn't move any more than a traditional drum kit would. And the pieces that do move, such as the sway of the cymbals during play – they play and feel more natural because of it. The weight of the full-shell drums give them a very sturdy feel as well.
The snare is mounted on a standard snare stand rather than mounting to the rack, which we really like as well, so playing the snare doesn't impact the rack.
Same with the kick drum – the weight of the full size kick drum keep it from moving around during play and the kick doesn't attach to the rack in any way so it's isolated from the rack as well.
Overall, this rack is about as sturdy as you would expect for an intermediate level kit. It's not quiet on the level of a serious pro-level rack for touring or stage use, but it's sufficient for use in this particular kit.
Feel & Playability
This kit really tries hard to make everything feel as natural as possible – and it succeeds. If you want electronic drums but have been turned off by how some of the more budget friendly kits feel, a kit like this might be right for you.
The feel of the snare and the toms is incredible due to the mesh heads and the ability to tighten them to your preference. The full 14 inch diameter on the snare makes you forget sometimes that you are playing and electronic drum.
While the toms are slightly smaller, they feel great. We like to dial in the toms a little looser on the tom heads and keep the snare tight, which really makes the drums feel real.
The kick drum has an amazing feel as well and is leaps ahead of the kits that just have hard rubber kick pads. Having a mesh head mounted inside a 20 inch kick drum shell, with a proper rim to mount a kick pedal on, is amazing to put it lightly. The rebound of the kick pedal on the drum head feels great. And you can adjust the tension of the kick head with the tension rod as well.
The cymbals play nicely as well, even though they are still using a hard rubber surface. The slightly larger size over other electronic kits is nice. The crashes and ride have three zone along with a choke, so you can play them like a traditional cymbal with different sounds on the edges, top and bell. The cymbal mounting can be adjusted to move and sway to your preference. They have a natural sticking feel and you won't be disappointed in how they respond to all types of sticking.
Double Kick Bass
This kit can mount any normal kick pedal, so all of the various double bass pedals out there will fit this kit just fine.
The natural feel of the drum head and the ability to adjust head tension will also be a huge plus to discerning double bass players who like to really dial in the rebound settings for faster double bass or for their specific play style.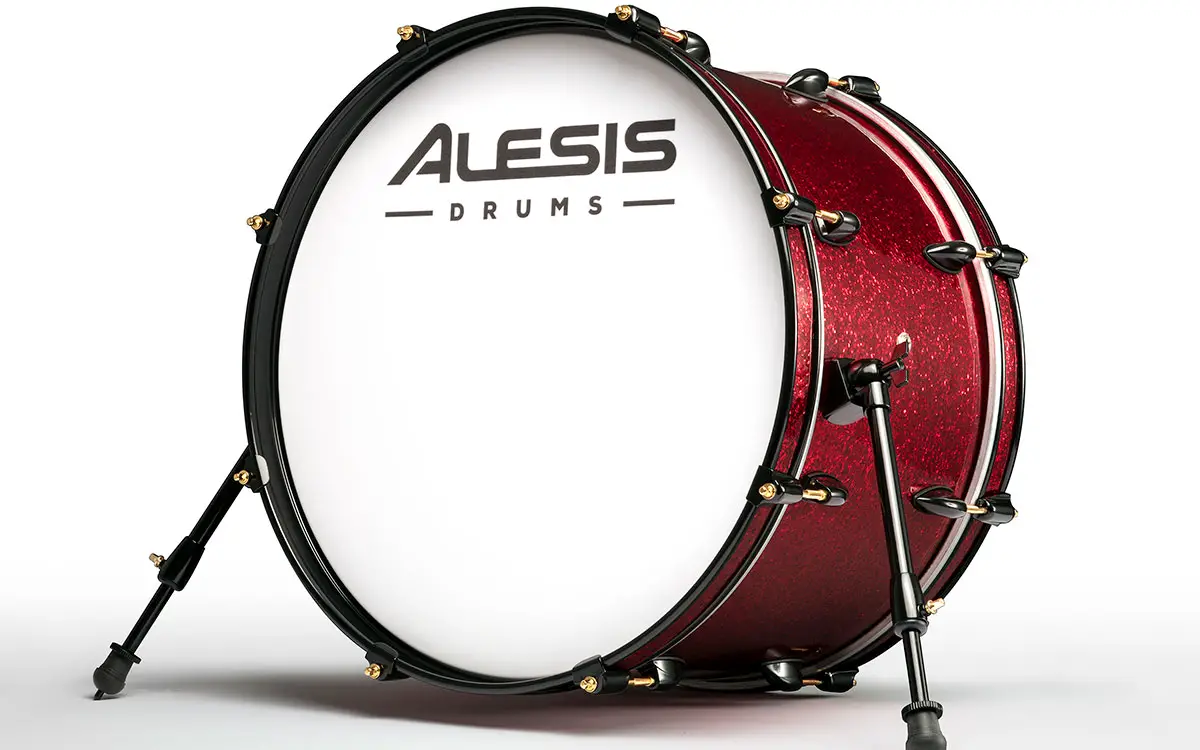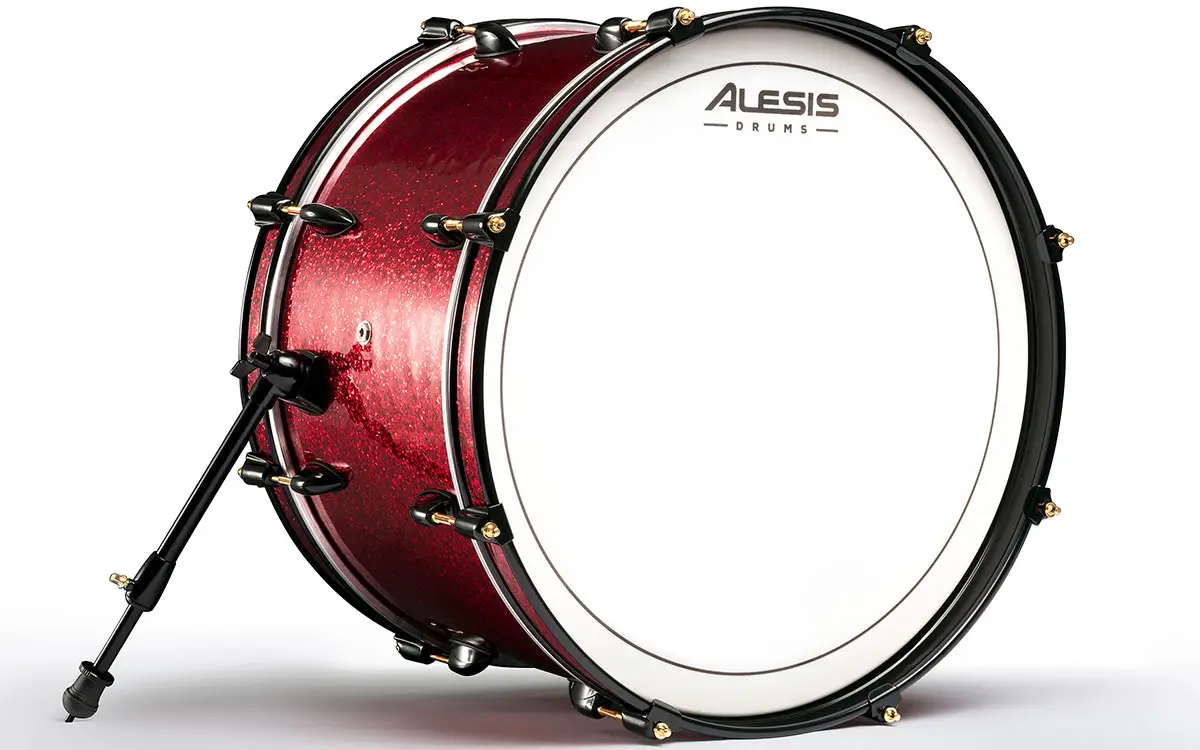 The Strike Pro Drum Module
The drum module packaged with this kit is designed specifically for this kit. The sound module is excellent and includes a lot of great features and sounds. It's about the same as the previous generation Strike Pro module in terms of physical design but it has a new firmware version for the new generation. 
Interface
The interface is intuitive and pretty easy to figure out. Even without the manual it's pretty easy to understand what it all does, especially if you just want to mostly plug and play with this kit and not be a power user right away. However, this module is pretty deep where you need it to be once you try to do more with it.
You can control a lot things quickly and dive into important settings directly through the buttons and controls on the front.
There are controls for: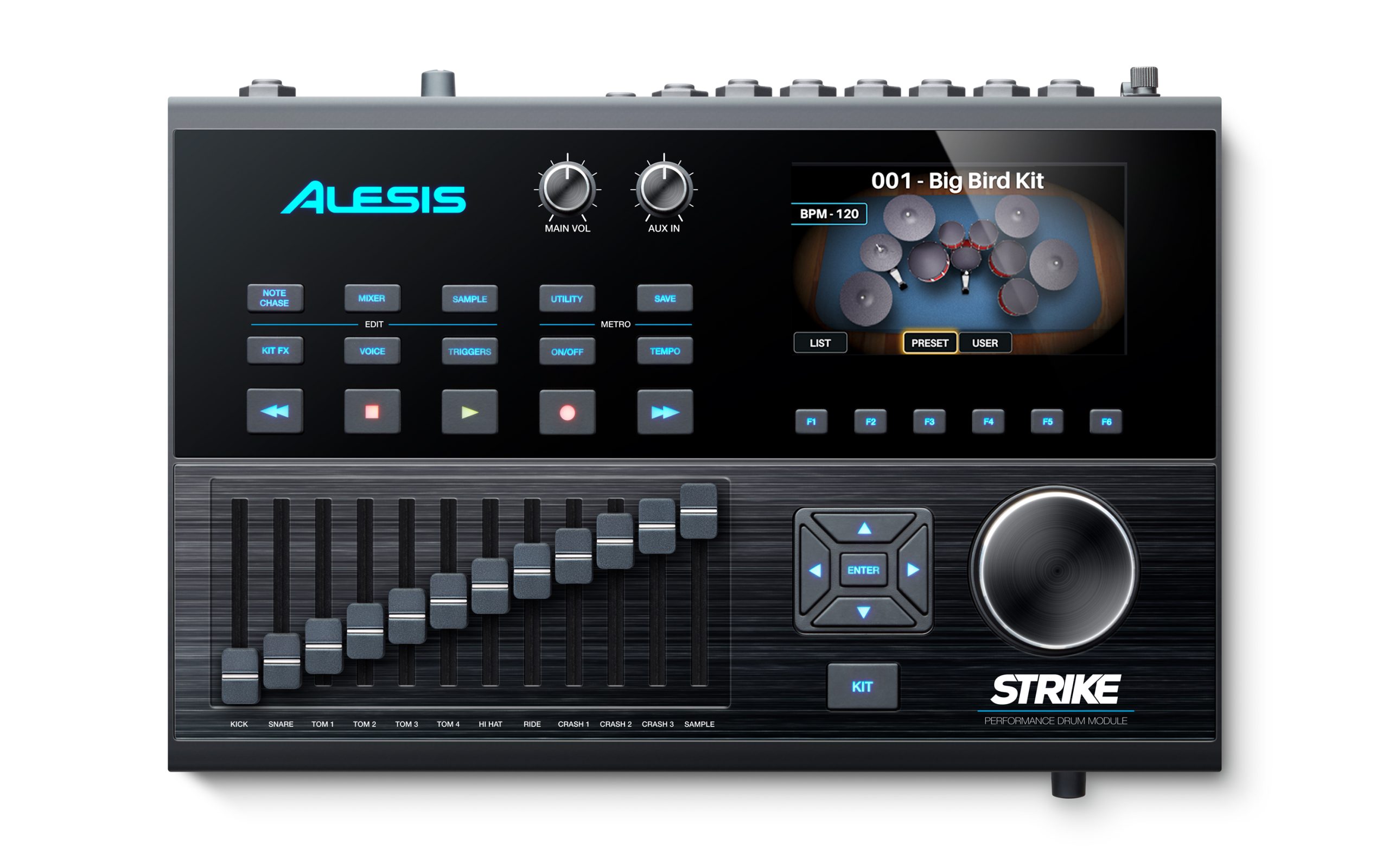 Selecting different functions that are displayed on-screen
Data dial for scrolling through options quickly
Cursor arrows to move around the options on the screen
A Kit button to bring up the kit menu quickly
Main volume knob
Headphone volume knob
Sliders for mixing the individual sound levels around the kit
Note Chase button – allows you to select kit pieces in the module by hitting the piece
Mixer button to go into mixer mode
Sample button to go into sample edit mode
Utility button to bring up settings menus
Save button to save kits during editing
Buttons to enter editing modes for FX, voices and trigger settings
Metronome controls
Playback transport controls
Inputs & Outputs
All of the inputs and outputs for this module are on the back panel, except for the headphones output which is on the front. There are individual inputs for each pad or instrument on the kit, as opposed to a single cable snake input like some other kits use.
There are trigger inputs for all of the pads.
There are individual outputs for direct audio. These are great for when you want to mix your drums externally. These outputs are organized to send out individual audio output for:
Kick
Snare
Hi-hat
All toms on a stereo pair
All crash cymbals on a stereo pair
There are standard MIDI inputs and outputs, as well as a USB input to connect to a computer.  There is an SD card slot and the power supply input is also on the back.
The aux input is a 1/8″ or 3.5mm TRS.
The main outputs are two 1/4″ TRS.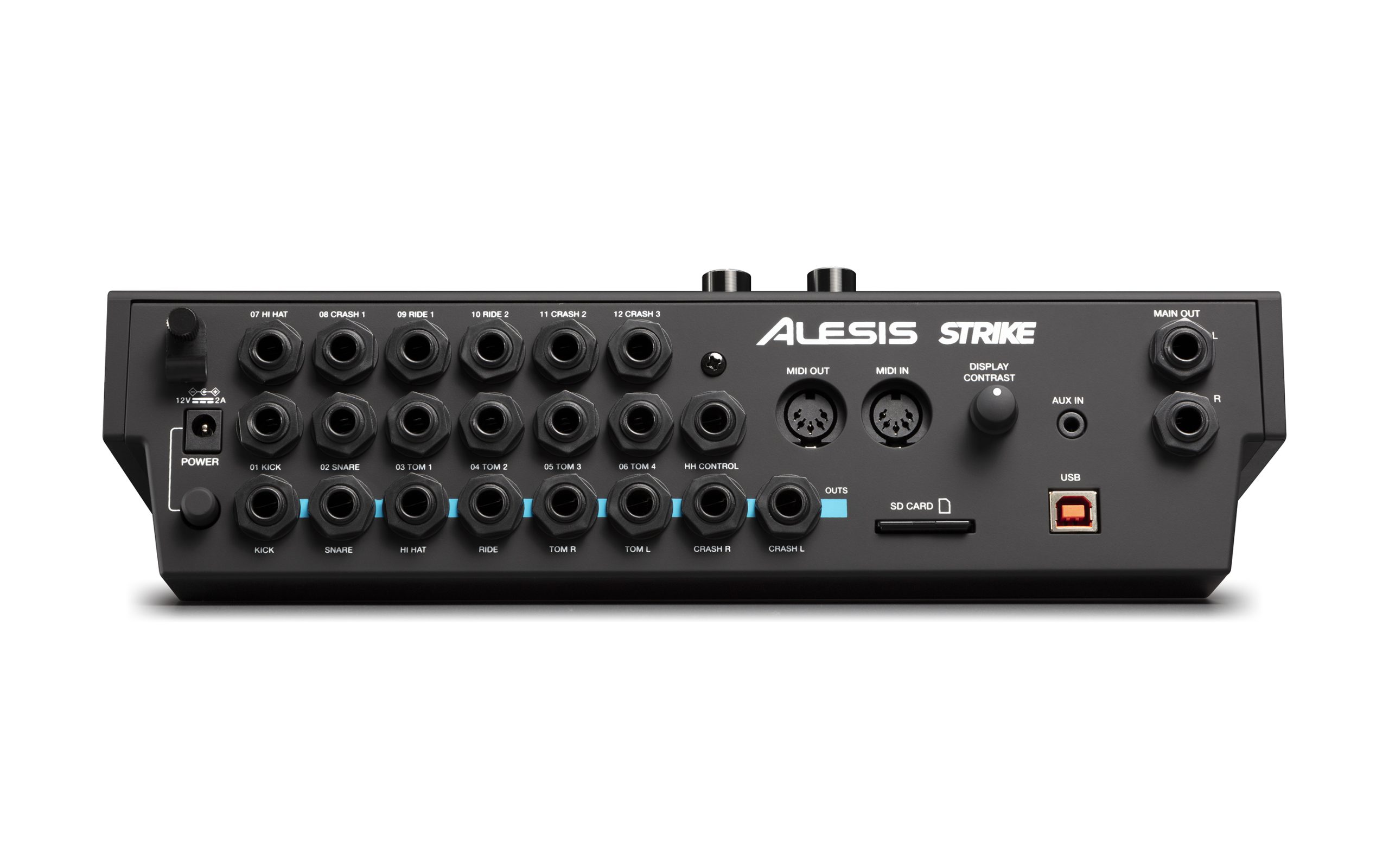 The Full Color Display
The display on this module is pretty great. You don't see full color displays on drum modules very often, and it's implemented nicely here.
The first thing you'll notice is that you can visually see the kit on the screen and the drums and pads are highlighted as you play. It's pretty fun to watch and also helps you visually match up which pads are corresponding to which drums and cymbals on the kit. It reminds me of something you see on e-drum software on computers.
Diving into settings is intuitive. The controls that are displayed on the screen are easy to interact with. You use the cursor buttons to move between various controls or values on the screen and change them with the data dial. Pretty much what you'd expect if you've used any type of modules or drum machines before. 
Kit FX Mode
There is a mode specifically to assign and tweak sound effects on your instruments around the kit. You can adjust reverb, eq, compression and also any multi-effects you have assigned to either of the two effects processors.
Voice Mode
This is where you can adjust the various voice settings for the kits you are playing. Voice settings include decay, pan and level settings. You also have the ability to adjust those settings for each layer of the sound.
Trigger Mode
Trigger mode lets you tweak the behavior of the trigger settings for each pad. You can use the Note Chase feature to select a pad by striking it, then quickly move to change it's trigger settings with the on-screen controls. You can adjust typical trigger settings like sensitivity, threshold, velocity curves, crosstalk and other pad specific settings.
Mixer Mode
Mixer mode simply shows the mixer levels on the display.
Sample Mode
This mode is pretty neat. You can record samples from the internal outputs or from the aux inputs. Once a sample is recorded, it can be edited and used to loop or assigned to a pad as part of a kit.
Samples must be saved to an SD card, and can't be saved internally. After samples are saved, they can be assigned to kits.
Samples can be played as loops when assigned to pads as well. This is a neat feature. When a sample is set up as a loop, hitting the pad will start and stop the loop, allowing for some creative playing approaches.
Drum Kits & Sounds
This module comes stock with 136 different drum kits and more than 1,800 multi-sampled sounds. If you include all the individual samples used for each sound, this module has something like 45,000 samples in it from the factory.
You can edit and create new kits easily. You can change instruments on each layer of the triggers, change effects and edit trigger settings as well as part of a kit. Editing and saving new kits requires use of an SD card, new kits can't be saved to the internal memory. The built-in, internal kits won't ever be overwritten.
You can also load your own sounds and samples via and SD card and create your own drum kits from scratch.
Metronome
The metronome is pretty self explanatory. There are options to manually set BPM or tap for tempo.
What's Included?
All of this is in the box when you purchase this kit:
All of the included drum pads
The sound module
The rack and all mounting hardware for the pads
A snare drum stand
A cable snake
Power supply
Cable wraps
A pair of drumsticks
A drum key
Assembly guide, module user guide and warranty manual
What's Not Included?
Here's what's not included with this kit, but you will probably also need:
SD cards
Headphones or a speaker/amp
A flat, heavy rug to set up the kit on – if you don't have carpeted floor
Setup & Assembly
The setup of this drum kit is pretty reasonable. Obviously, it's a bigger kit with a few more parts, but you will likely get it up and running in under an hour.
The setup guides are decent, but not overly detailed. There is just enough info and diagrams to get you through setup correctly.
We suggest to take a very close look at the direction the various mounts on the rack are supposed to go as you work through each step. Also, don't overly tighten all the clamps and hardware at first while getting things generally setup. You will want tighten the clamp just enough to hold things into place until you get every properly adjusted and in place just how you prefer. After you get everything placed to your liking, then go through and tighten down all the clamps more to solidify the setup.
Warranty
Alesis drum kits are covered under a standard parts and labor warranty for one year from date of purchase. Some sellers offer their own extended or additional warranties for these drum kits, depending on where you might buy them from.
Alesis support is decent. Some customers have had issues with getting things resolved quickly but for the most part they will take care of you if you are detailed about your issues and contact them through their official support channels.
Pros
Sound module is excellent and has a color display
The feel of the drum heads is great
The nearly full size kick looks great on the kit and is fun to play
Tons of great sounds and excellent drum kits ready to go
Looks sharp visually
Cons
Crash and ride cymbal pads feel slightly small
The rack could be a little more sturdy
The Verdict
The Alesis Strike Pro Special Edition kit is a very solid kit for it's price range. Alesis has fixed the things from the previous generation of this kit that garnered negative feedback and has put out this new Special Edition that drummers love to play and own. If you want to get out of the budget to intermediate kit range but not ready to go for the more expensive pro level kits yet, this should be a kit that you take a serious look at. If you decide to pick up this kit, you will likely not be disappointed.