Roland has released a new line of entry level electronic drum kits, and the TD-02KV is the model with the most features. This kit is highly playable for it's price, and it has a little different look to it compared to some of Roland's other drum kits. Let's take a closer look.

Drum Pads & Cymbal Pads
Roland is using a combination of rubber and mesh drum pads on this kit, with the only mesh pad being the snare pad. For a cheaper kit, the pads feel pretty good and they respond quite well to expressive styles of play.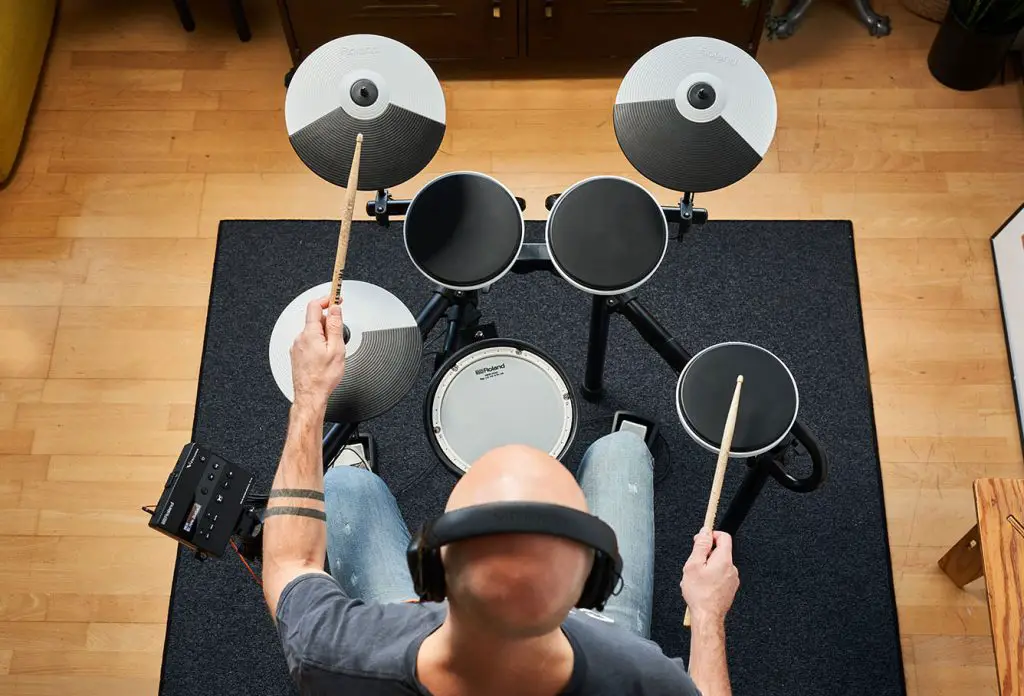 The Snare and Tom Pads
Roland includes the PDX-8 snare pad with this kit, which is a very nice snare pad for a budget drum kit. The PDX-8 is a dual zone pad that can trigger sounds from the head and the rim. Striking the rim with a softer hit will produce a cross-stick sound, and striking the rim harder will produce a rim-shot sound. Also, striking the head and the rim at the same time with a harder hit will produce a rim shot.
The ability to do rim shots on the snare goes a long way to making it feel more like an acoustic drum when you're really getting into a groove. The mesh head is responsive around the surface with no dead spots. The tension can also be adjusted, so you can dial in a tighter or a looser snare head feel depending on what you prefer.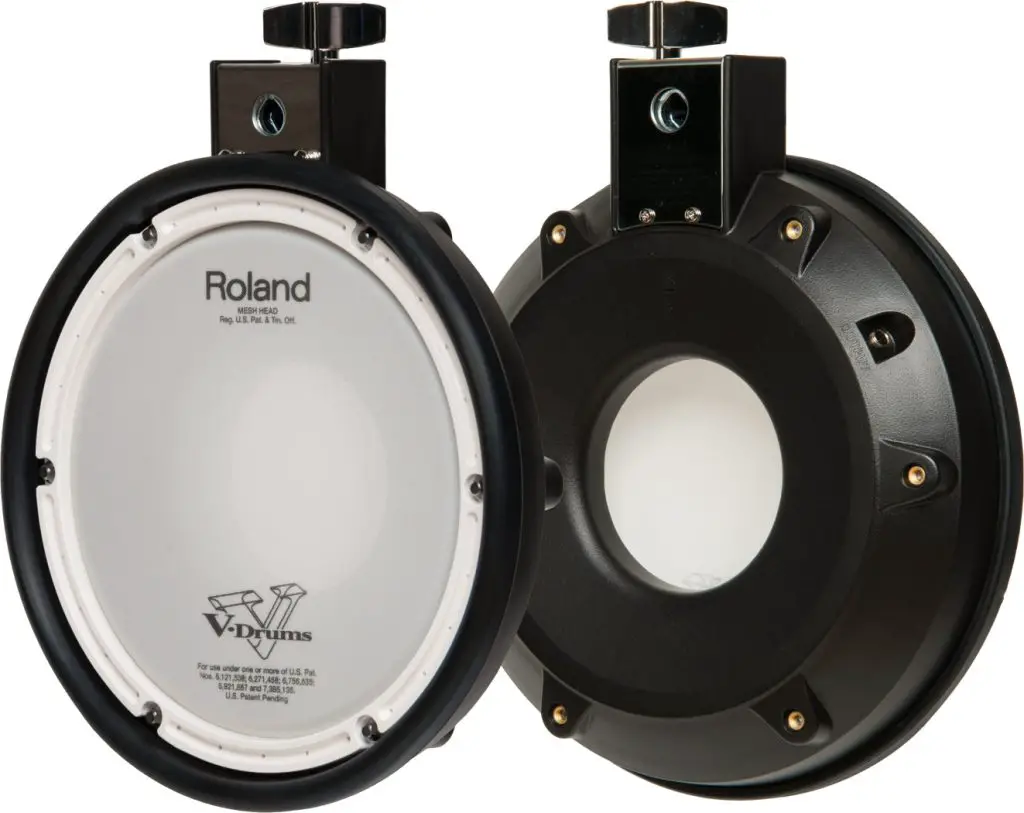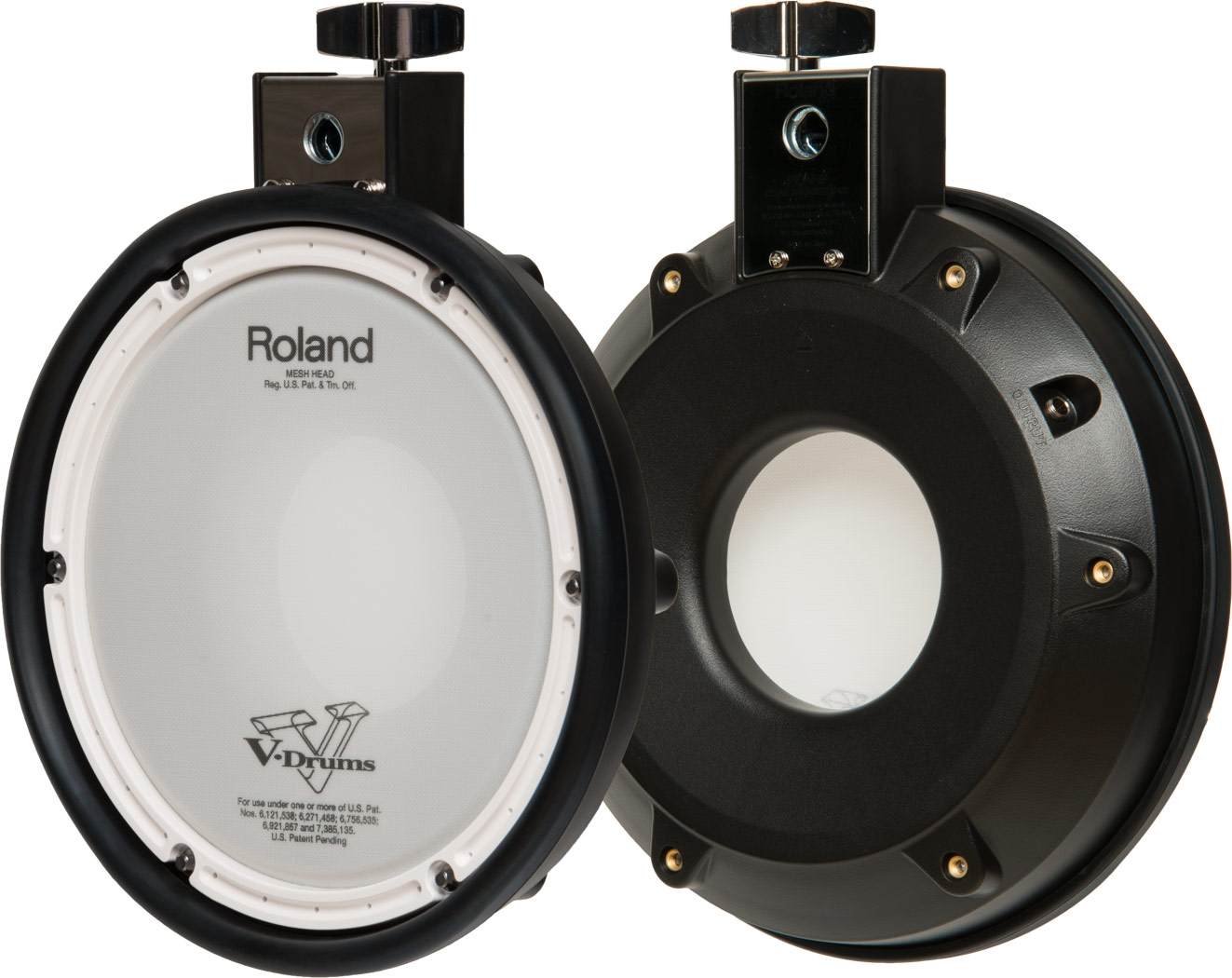 The three toms are using Roland's PD-4 drum pads, which are pretty basic single-zone rubber drum pads. These pads are designed specifically for this new line of TD-02 drum kits, and they have a white plastic shell with a black rubber pad on top. They are designed specifically to mount on Roland's round, 1 inch rack bar. The pad feels pretty good when playing, and feels similar to a practice pad. They don't generate a lot of acoustic noise tapping unless you play them harder, which is nice. There is no rim or rim-zone on these pads, so you'll only be able to play one sound on each of the toms.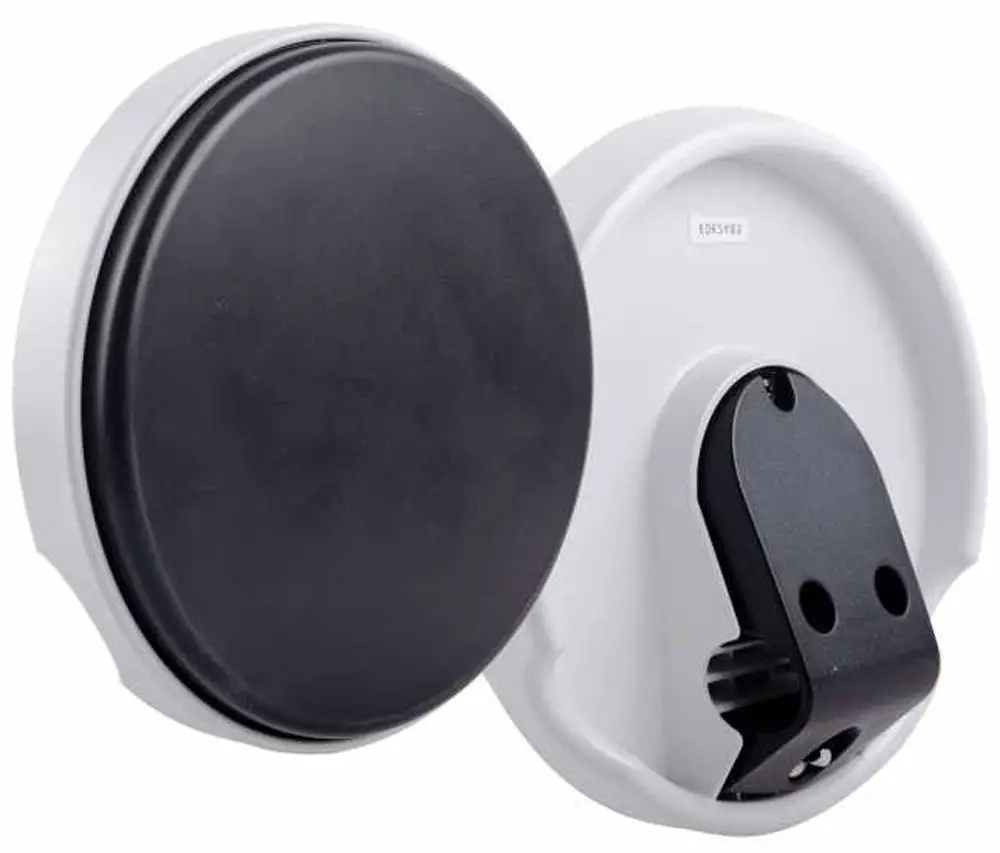 Dual Zone Cymbal Pads
This kit uses Roland's CY-5 cymbal pads for all three cymbals, which are pretty common among among their various budget kits.
The CY-5 is a dual zone, 10 inch pad that can generate sounds from both the edge and bow. They also have a choke feature and on this kit you can choke the crash. There is no bell zone on the ride cymbal, which is a typical drawback for budget kits.
As a hi-hat cymbal, the Cy-5 feels pretty basic but it gets the job done. It works well in conjunction with the included FD-1 hi-hat control pedal. The hi-hat pad has closed, open and halfway in between sounds, which is good enough for a budget kit but it lacks the nuanced sound generation that more expensive kits tend to have.
The pads feel pretty good for cheaper cymbal pads, and they are designed to swing a little during play to help them feel a little more like an acoustic cymbal. At the end of the day though, they are pretty basic rubber cymbal pads that are perfectly fine for a budget kit but might not live up to demands of more serious drummers.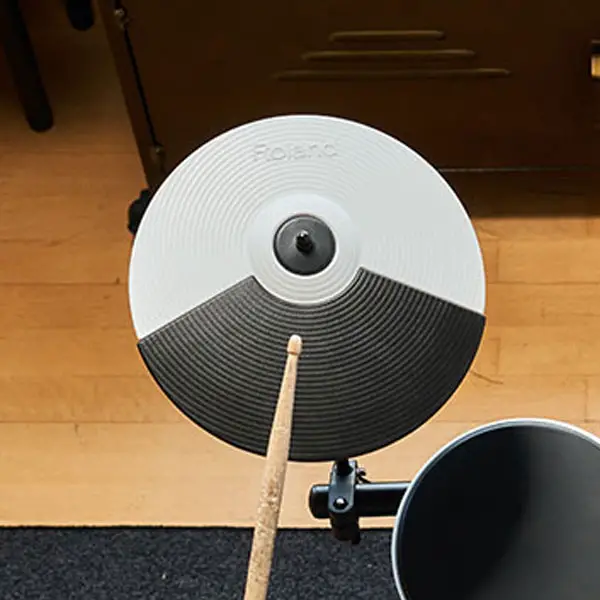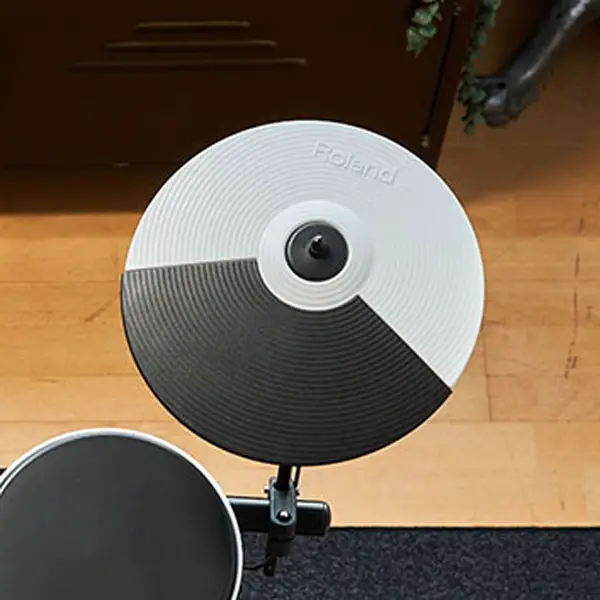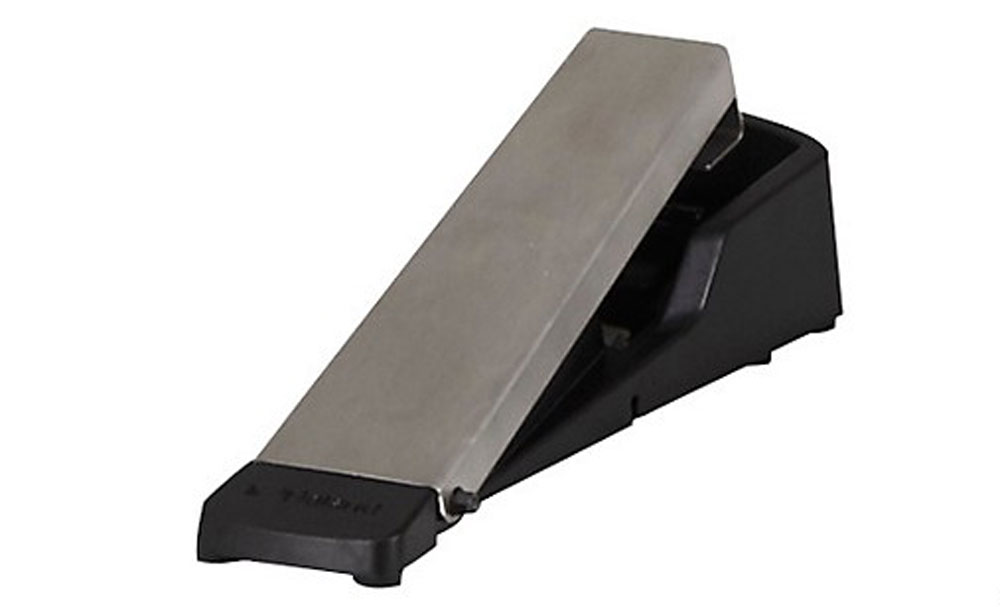 The kick pedal on this kit operates electronically without a pad or a beater. It's basically the same as the hi-hat pedal in terms of how it works. The pedal is the KT-1 pedal from Roland and it's the cheapest kick controller that they offer.
It works better than you might expect it to, and responds fairly well to most styles of play. It feels different since there is no beater swinging and hitting a pad, but that's not too big of an issue to get over if you are wanting to use a budget kit like this one.
The style of kick pad can also help to keep the acoustic noise down since there's no beater hitting a pad and thumping away on the floor.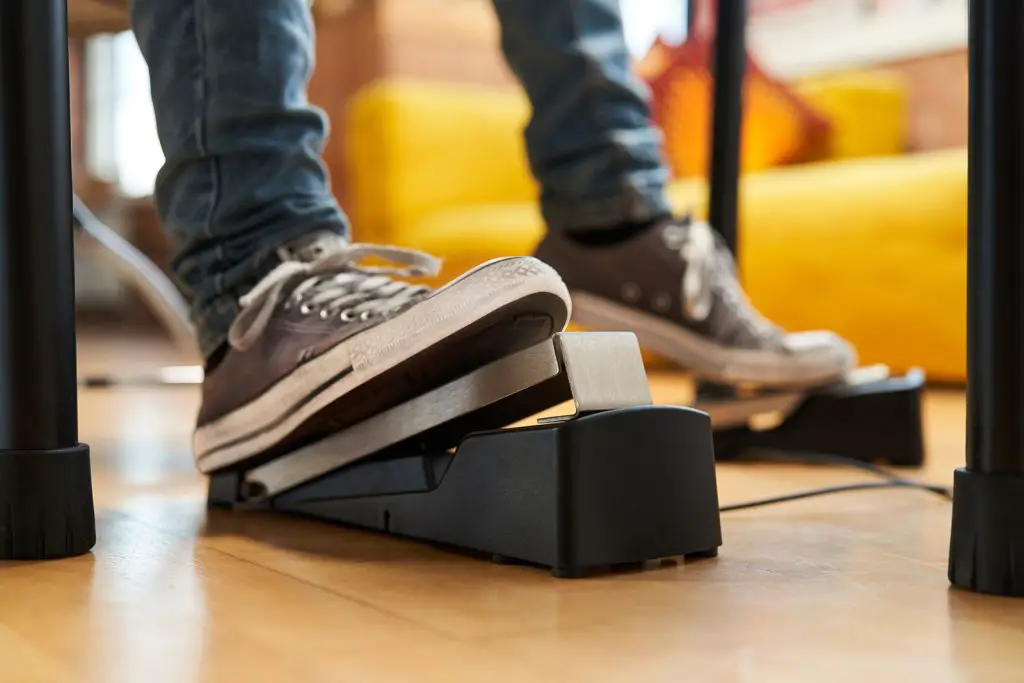 Double Kick?
This kit isn't able to do double kick bass with the limitations on the kick pedal. For all intents and purposes, this is a single kick pedal kit. However, if you upgrade to another one of Roland's kick pads, such as the KD-9 kick tower, you can use a double kick pedal. Looking through the manual, it looks like the TD-02 module can support many of Roland's more premium pads, including their kick towers. Upgrading the pads is an extra cost, but it can be worth it if you want to play double bass on this kit.
Feel & Playability
For a budget kit, the whole package plays pretty well. The snare pad stands out as the more playable pad on the kit with it's multi zone and rim shot capabilities. The tom pads and cymbal pads feel pretty basic during play but they work just fine. The dynamics on the sound module are good enough that even with the basic pads you can get some fairly expressive sounds out of them. There really aren't any major issues with the pads and how they play around the kit outside of lacking more zones and functionality, which is hard to complain about on a budget kit like this.
Adding More Pads
The options for expansion are limited, but there are some options with this kit. There is one additional trigger input, labeled "Crash Cymbal 2". You can use this additional input to add another crash cymbal to your kit.
Additionally, you can upgrade pads around the kit to use Roland's more advanced drum and cymbal pads if you want to go that direction. The manual for the TD-02 module lists all the compatible pads, which is a pretty sizeable list. So for example, if you want to use the Roland CR13-R ride cymbal pad, which has a bell zone, you can do so. Also keep in mind that particular pad will use up the additional Crash Cymbal 2 input since it transmits the bell zone through the additional input.
The Rack
This kit comes with a rack that is designed specifically for the TD-02KV kit. If you look at pictures, it's pretty obvious that this rack is a little different than what you typically see. It has rounded 1 inch bars mounted onto the main rack posts to hold the tom and cymbal pads.
The ability to adjust height is a little more limited with this style of rack. Cymbal and pad placement is also a little more restricted. It's workable but it could be a limitation for some drummers.
The rack is pretty easy to setup, which is good. It's also fairly sturdy and doesn't feel overly wobbly. Some of the pads might need to be tightened down pretty hard to keep them from rotating on the posts, depending on your play style.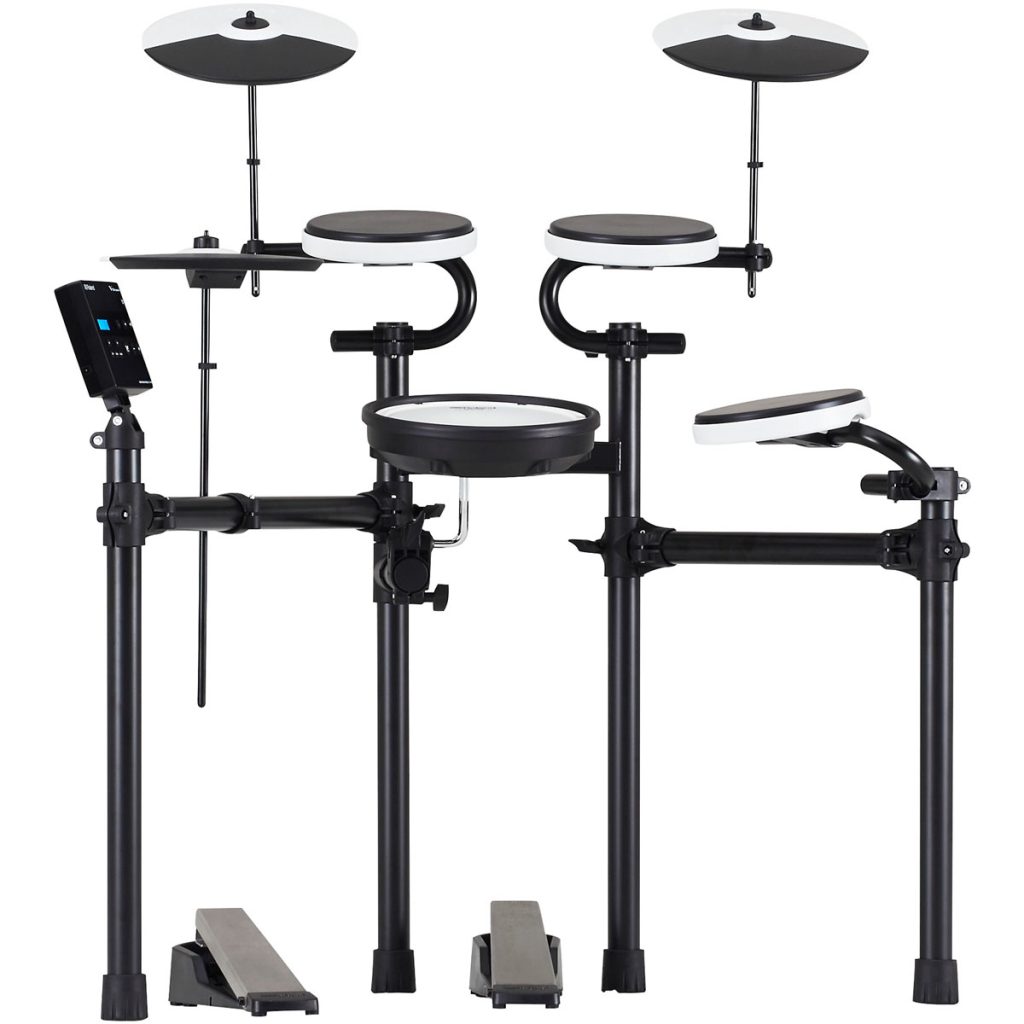 The TD-02 Sound Module
The TD-02 sound module is a new entry from Roland with these TD-02 kits. It's designed to be a very easy to use module and it doesn't have a ton of depth. However, it's quite good for a budget module.
This module has 16 built-in drum kits that cover a wide range of styles. There are no user kits so you can't save any custom kits with this module. There are also no sound design or sound mixing options such as EQ or multi effects. So yeah, it's pretty basic. However the sounds that are in the module are pretty nice for a budget module.
Acoustic Jam
Home Studio
Big Rock
Rock Star
Classic Rock
Metal Beast
Funky
Funk Soul
Jazz Lounge
Jazz Legend
Pop Club
Hyper Attack
Stadium
House Party
Electronic
Percussion
DrumtechTV has a great video that shows off all the kits and sounds built into this module. Check this out to hear what this kit sounds like.
Interface
This is a pretty easy module to use, and you might not even need to crack open the user manual in most cases. The interface is straightforward and doesn't leave much to the imagination.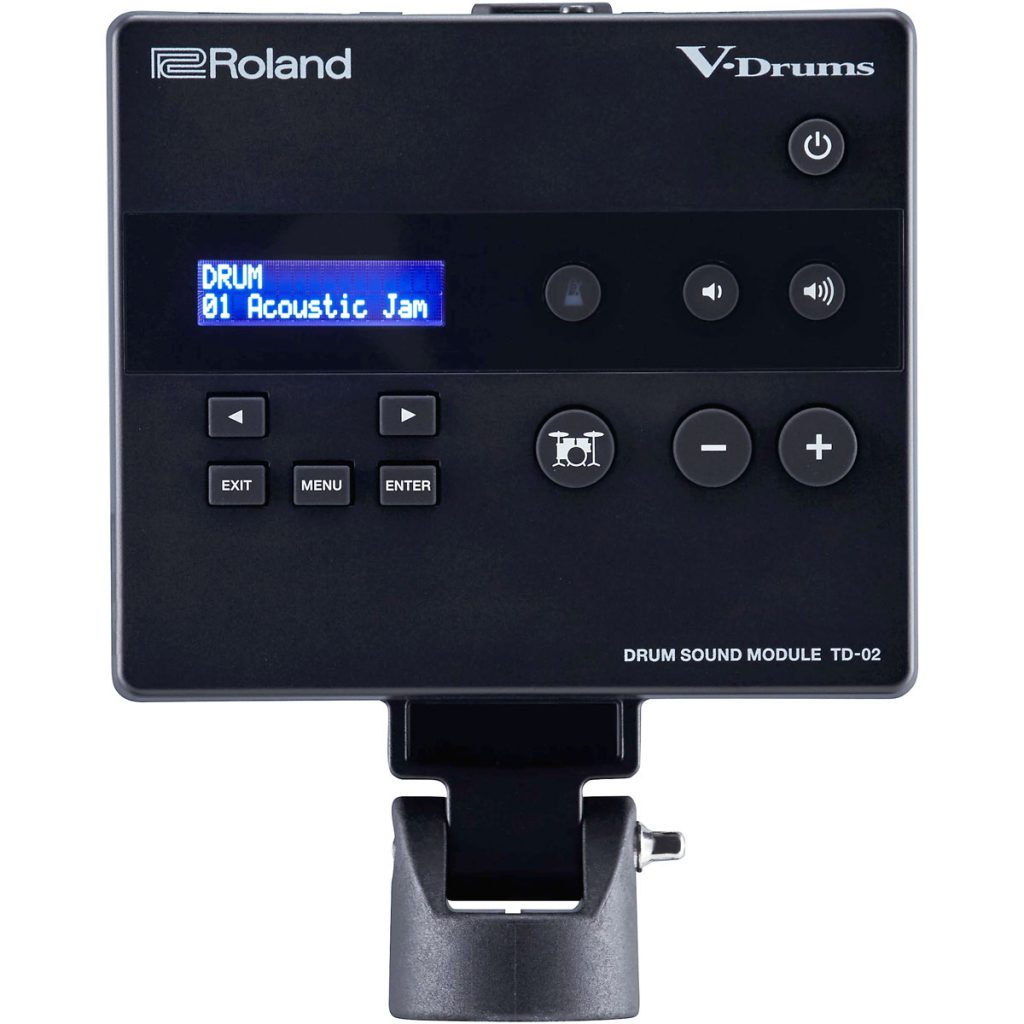 Power Button
Drum Kit Button – Select which kit you want to play
Menu Button – Enter coach mode or find the config settings for this module
Digital Display – Shows kit, instrument and other settings during use
Exit/Enter/Arrows- Used to navigate menus and select options
Metronome Button – Enter metronome mode and settings
Volume Buttons – Master volume level of the module

Main Output / Headphones Jack – 1/8″
USB Connection for connecting to computer
DC In Jack for Power Adapter
Cable snake connection which includes cable connectors for all pads included with the kit.
Setup & Configuration
You can use the Menu button to enter configuration options. Even though this module is pretty basic, it has the typical setup and config options that you'd expect from an electronic drum kit. Here you can adjust the following:
Select pad type – choose specific types of pads based on model number if you change or upgrade pads around the kit
Sensitivity – adjusts how the volume of the pad responds to hard or soft hits
Threshold – adjust how much force is required to trigger sounds with the pad
XStickSens – adjust how much force is needed to trigger cross stick sounds on the rim
CR2 Usage – choose how to use the additional crash cymbal input depending on what pads you're using
FootSpSens – adjust the sensitivity for foot splashes on the hi-hat pedal
VH Set – adjust settings related to the VH hi hat pads if you upgrade to use one of them on your kit
Curve – change the velocity curve for pads around the kit
Rim Gain – adjusts the sensitivity of the rims independent of the head of the pad
H/R Adjust – adjusts how hard you have to strike the pad to play a rim shot
Retrig Cancel – adjusts how quickly the sounds on a pad can be re-triggered and can help deal with double-strikes
XtalkCancel – adjusts how each pad responds to potential vibrations coming from hitting other pads
Scan Time – adjusts how the pads respond to the rise time of various triggers and pads around the kit
Mask Time – adjusts how the pads respond to sticks or beaters hitting the pads in quick succession, helps reduce double-triggered sounds
Selecting a Kit
To select a kit, simply press the Kit button and start turning the dial to choose the kit you want to play. Easy enough.
Tweaking Sounds
There really aren't any sound design options with this drum module and you won't be able to do anything with the sounds like changing EQ or adding effects. This is one of the limitations of this drum kit and module.
USB Connections to a Computer
This module can connect to a computer via USB and transmit both audio and MIDI over USB. Having both options on a budget kit is pretty great, and really opens up the sound capabilities since you can play drum apps or drum VSTs on your computer using this kit as a controller.
The MIDI connection can be used for controlling drum software, and the audio connection can be used to record the sounds from the module into whatever DAW you're using.
Wireless Bluetooth Connections
This module has the ability to input audio via Bluetooth, however you need to purchase an additional piece of hardware to make it work. So even though the feature is there, it's not immediately available without an upgrade.
The part that you need to make this work is the Boss BT-Dual adapter, which can be found at most retailers that sell Roland drum gear. This adapter installs onto the back of your TD-02 sound module and once it's installed it opens up the Bluetooth features on the module. You can pair your smartphone or other bluetooth device with the module and play music into the module, which you can then jam along with.
You can also use the Bluetooth connection to transmit MIDI, which is pretty neat. If you have an app on your phone that can record MIDI, you can capture it with this feature.
Playing Along With Songs
There are no built-in songs on the TD-02 module, but you can connect any audio device via the Mix In input jack to play along with anything you like.
Recording Songs
There is no way to record internally with this sound module. However, you can output to any recording device and play along with any audio you are routing through the Mix-In input, which opens up some external recording options.
Practice Modes & Coaching
This module contains plenty of practicing and coaching options, so it can be very good module for drummers in training. Let's take a quick look at the various practice features.
Time Check mode allows you to see on the screen how well you are playing in time with a click track. There are visual meters what will show you if you are in-time, early or late with your strokes.
Quiet Count mode will play a click track – and then while you are playing, the click track will drop out for a short period of time. This helps you to learn how to develop your internal sense of timing.
Auto Up/Down mode takes you through some exercises that include changing up rhythms while you play, gradually raising/lowering tempo while you play and then a time-check to see how your timing is stacking up.
Change Up mode changes the rhythm you are playing to every couple of measures. This helps you get used to keeping up with changing rhythms while you play.
Setup & Assembly
Roland includes good setup and assembly instructions, and overall this isn't a very hard kit to setup. It's pretty easy to figure out what goes where just by looking at photos of the kit. Experienced electronic drummers won't have any issues getting this kit setup quickly, and new drummers or beginners will be able to get it up and running quickly as well.
We found a good assembly video from Roland that shows what it takes to get this one setup. You'll probably have it up and running in an half hour or less.
What's Included?
What all do you get in the box when you purchase this kit?
The rack and mounting hardware
Snare Pad
(3) Tom Pads
Kick Pedal Controller
Ride Pad
Hi-hat Pad
Crash Pad
Cable Snake
Power Supply
TD-02 Module
Drum Key
Manuals
What's Not?
Here's what you will also need to get that isn't included with this kit: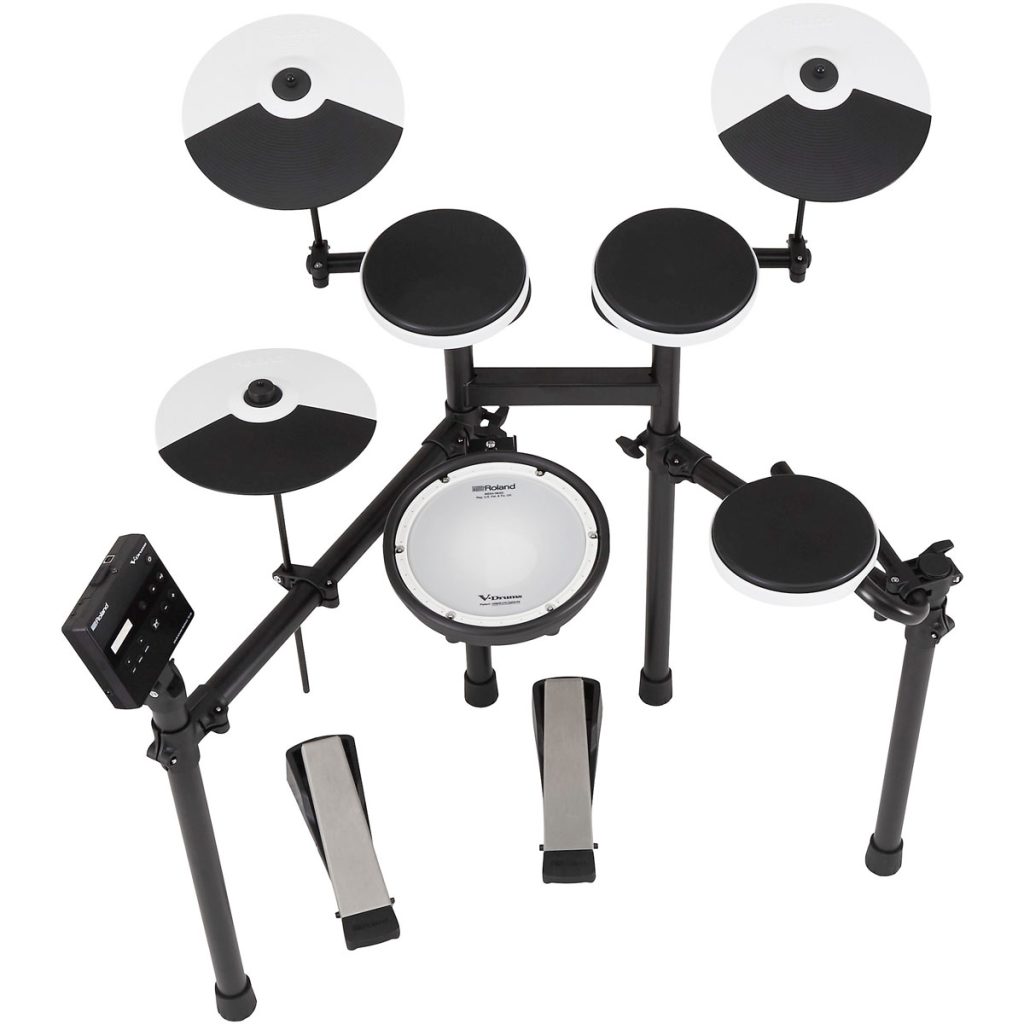 Warranty
Roland offers a standard 1 year warranty for parts and 90 days for labor. This is meant to cover any issues with defects in manufacturing or assembly. It's enough to cover you if you have any short term issues. Roland has a good reputation for quality products so I wouldn't be too worried about not having a long term warranty for their drum kits.
Pros
Compact rack that can be folded and moved easily
Small footprint for smaller practice spaces
The PDX-8 snare pad is great for a budget kit
Good sounding built-in kits in the TD-02 module
Audio and MIDI over USB
Bluetooth capabilities if you purchase the BT-Dual adapter
Pads can be upgraded if you want to add pads with more features
Cons
The overall size of the pads is small, especially the 8 inch toms
The tom and cymbal pads are some of Roland's most basic pads
The rack can be restrictive for pad placement
Need to buy a BT-Dual adapter to use Bluetooth features
No saving custom kits or sound design with the TD-02 sound module
The Verdict
The new TD-02 kits from Roland are a pretty fun option for a budget kit and the TD-02KV is a better pick of the two, unless you're buying a drum kit for a kid.

The PDX-8 snare pad plays nicely on this kit and makes it feel more expensive on it's own. The rest of the pads are basic but get the job done and feel decent during play. The sound module is very limited in features but the built in kits sound good and the ability to connect to a computer and use it as a controller opens up a lot more external sound design capabilities. The bluetooth features are nice but it kinda sucks that you have to buy an additional part to use those features.