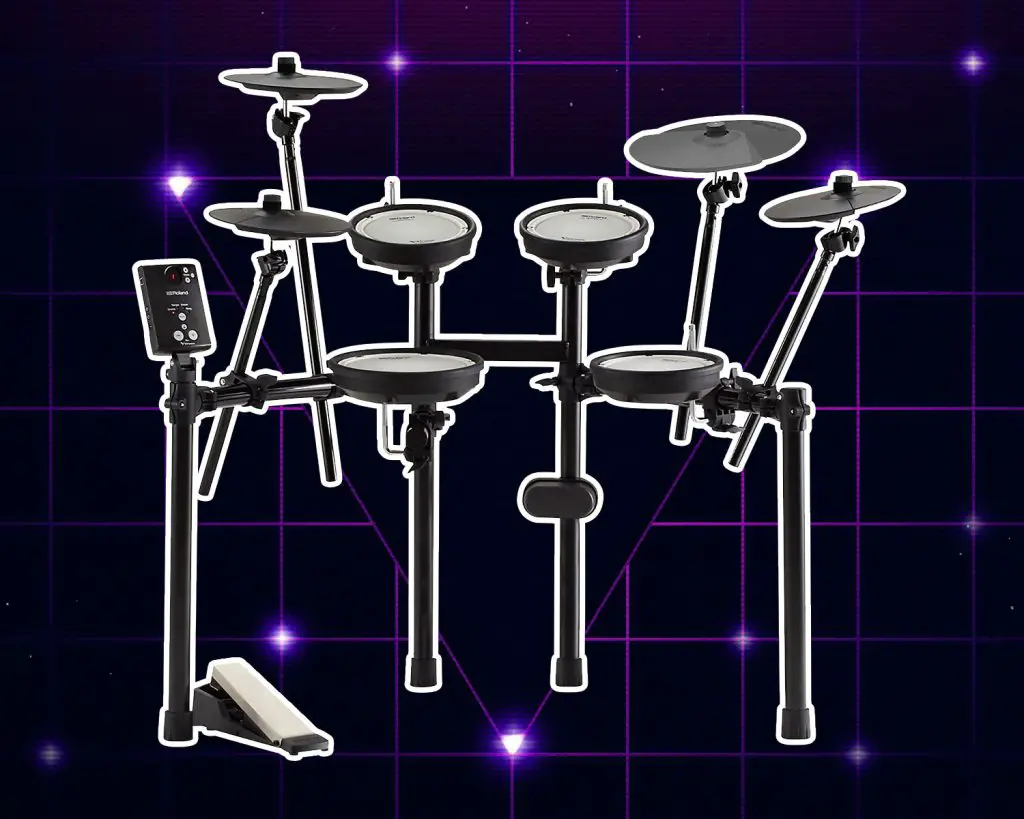 The Roland TD-1DMKX electronic drum kit is an excellent budget kit for beginner drummers. This version offers a larger ride cymbal and an extra crash cymbal, otherwise it's the same as the TD-1DMK drum kit. This version doesn't cost much more and the upgrades with the cymbals really makes a big difference in playability. Let's take closer look.
Drum Pads & Cymbal Pads
The size of the pads are smaller on this kit, but Roland is including some really nice feeling mesh drum pads here. These are about as basic as you can go in terms of pads from Roland, but that doesn't mean they don't feel good during play. The drum pads are the double mesh PDX pads, which have a great feel. The pads used for the crash and hi-hat are all the same 10-inch diameter but Roland also includes a 12-inch cymbal pad for the ride.
Multi-Zone Drum Pads
The PDX double mesh drum pads feel great to play. The mesh heads are 2-ply, giving them a little more thickness and stiffness for a more realistic sticking feel. The heads can be tension adjusted. The tension rods are located inside of the outer rim, which is kind of odd and makes the actual playing surface feel just a little smaller. But it works and you get used to it during play.
The snare pad is a PDX-8 pad which is dual-zone and can trigger separate sounds from both the head and the rim. This pad is 8 inches in diameter which is playable but small. This drum pad is featured as a tom pad on some of Rolands other more expensive kits, but it's used for the snare on this kit. The pad feels good to play and works well as a snare on a budget kit.
The tom pads are all PDX-6A pads which are single-zone pads that can only generate sounds by hitting the head. The rims won't trigger sounds on these pads. These pads are smaller than the snare at 6 inches in diameter, so they are a pretty small hit target. They feel good to play though, due to the mesh head design.
Multi-Zone Cymbal Pads
The cymbal pad lineup is a little different on the TD-1DMKX version of this drum kit. The CY-5 pad is used for the hi-hat and both crash cymbals. It's a smaller pad at 10 inches in diameter, but it's playable enough and helps keep the kit compact.
As a hi-hat cymbal the CY-5 work well. It moves and responds well enough to not feel too unnatural. It works with the included control pedal. The pedal is decent, and has a fairly smooth and natural feel to it. It's not as bad as some cheap hi-hat trigger pedals on other budget kits, so that's a good thing. When playing the hi-hats, it sounds like there's basically just open/closed sounds and not much in between.
As a crash cymbal the CY-5 is probably where it should be as it seems to be designed mostly as a smaller crash cymbal pad. It offers two zones, the bow and edge, and also has a choke. It feels and plays like a smaller crash cymbal, so it's the most natural feeling implementation on the kit.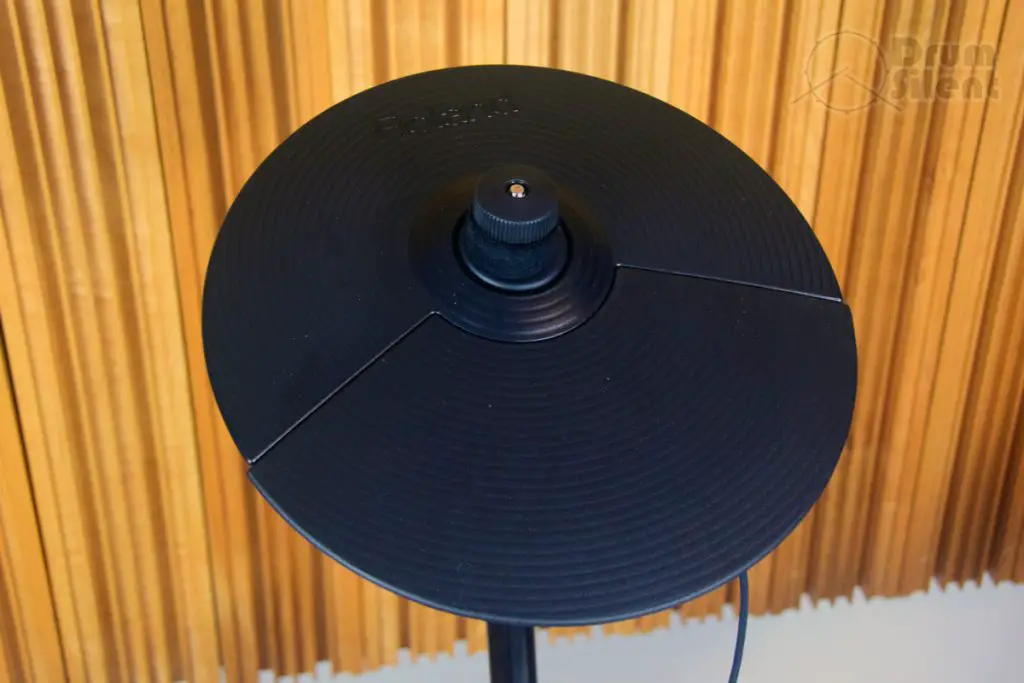 The ride cymbal is now using the CY-8 pad. The CY-8 is a 12-inch pad that is actually designed to be more of a crash cymbal pad, but on this kit it's implemented as the larger ride cymbal. This pad has two zones, the bow and edge. There is still no bell zone on this cymbal, so this kit is still lacking a proper ride cymbal with a bell zone even in this expanded version.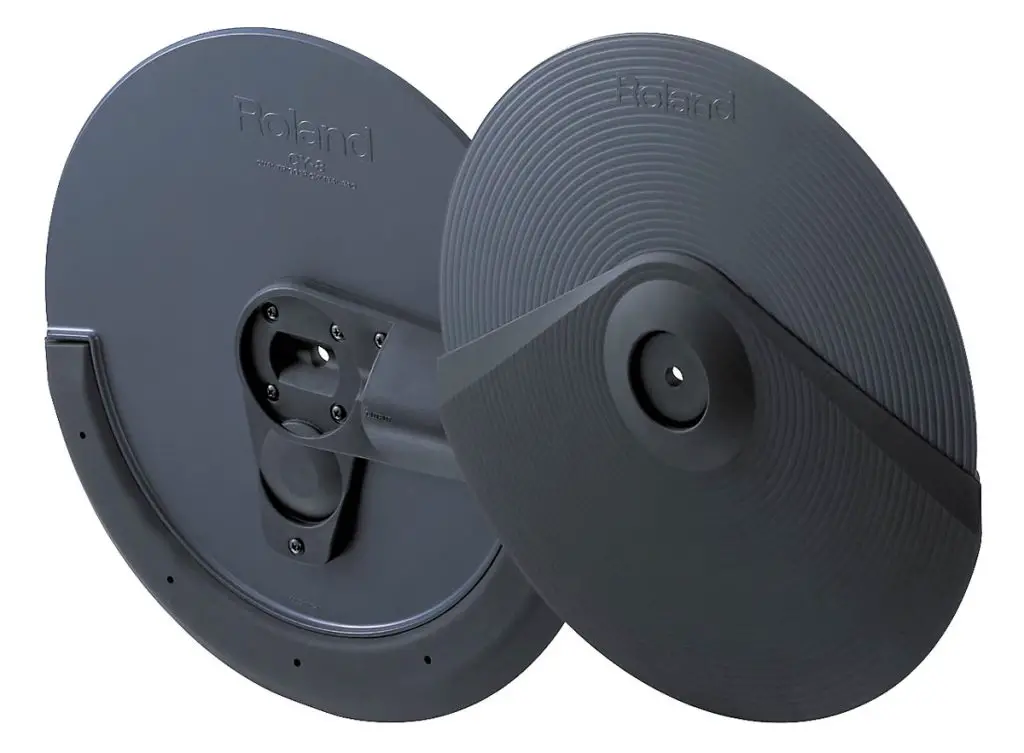 Even though the additional cymbal pad on the TD-DMKX kit is lacking a bell zone, it's really nice to have that larger pad in place. The larger size of the ride pad makes it stand out visually as the pad to go-to for ride sounds.
The same goes for the extra crash pad for the right side of the kit. The extra crash on the right side makes it easier to hit a crash cymbal after doing a fill down the toms and just overall makes the kit feel more enjoyable to play.
Kick Tower Pad
The kick pad is mounted directly on the rack. This is a little unique, as most budget kits use a kick tower. It works well on this kit though. It helps to keep the total amount of hardware to a minimum. The pad can be adjusted up/down on the rack pole and is wide enough for a double bass pedal, which is great. The pad itself feels pretty standard in terms of kick pads. It generates a little bit of acoustic noise but it's not terribly loud. The volume responsiveness of the pad is also pretty good and you can play some dynamic kick drums with it.
Feel & Playability
Overall, considering this is a budget kit, it's quite playable. What makes it feel good is the overall dynamic sound that can be generated from the pads, even though the pads are some of Roland's most basic options. The pads are small hit targets, but the snare and toms feel great due to the mesh heads. The cymbals probably are the weak point in terms of pads, and they will feel the most unnatural during play.
While you can't adjust a whole lot in terms of sound design, the kits that come with this module sound pretty good when you are jamming out. The pads are all dynamic enough that you can do nice ghost notes and rolls on the snare and even get dynamic with the kick volume. The sounds themselves don't have a whole lot of variation other than volume, so sometimes rolls of notes at the same volume can get the machine gun effect.
The TD-1 Drum Module
The TD-1 is one of Roland's most basic drum modules and it shows. It's a good enough module for this kit at this price level, but will leave some drummers wanting more. There aren't any differences between the sound module on the TD-1DMK and TD-1DMKX. They use the same module.
This module includes 15 built-in drum kits, with no custom user kits slots. There are 15 built-in songs to practice along with and some coaching settings. You can adjust some basic settings for the pads. There are no multi-effect settings, no sound design options, and no expansion features.
Interface
There's only a few buttons up front on this module, but that's all you'll need as the options aren't very deep.
Digital Display
Power Button
Volume Buttons
Metronome Button
Select button for modes
Value selection buttons
DC In Jack
Output/Phones Jack – 3.5mm
Mix In Jack – 3.5mm
USB Computer Port
Trigger Input Jack – For connecting the cable snake that includes the majority of the trigger input cables.
The Digital Display
The digital display will show you very basic info and is mostly used to just select various numbered options in the settings.
Selecting Drum Kits
Selecting a kit is easy with this module. You simply press the Select button until the Drums LED is lit up, then hit the plus or minus buttons to cycle through the kits. There's only 15 kits and no option for user kits, so there's not a lot of scrolling to do here. The kits sound pretty good for a budget module. This video from drumtechTV shows what the kits on this module sound like.
Tweaking Kit Sounds
There really is no way to tweak the kit sounds with this module. What you hear is what you get. That is one of the major limitations of this module.
Pad Settings
Pad settings are pretty limited on this module, but you can adjust a few things. Outside of the options listed here, there's not much else you can adjust.
You can change the pad sensitivity for each pad. We recommend going through your kit after setup and adjusting the pad sensitivity for each pad to best fit your playing style.
You can change the midi note for each of the pads. This is useful when you are using this kit to control midi based drums on your computer, for example.
You can also toggle the pad type being used for the snare and kick. This module can support either the PDX-8 or PDX-6 pad for the snare. It can also support the KD-9, KD-10, KT-9 and KT-10 kick pads. Keep this in mind if you don't like the included kick pad and want to try something different.
Playing Along With Audio
There is an auxiliary input that you can use to connect an audio player such as a smartphone or whatever you listen to music with. This is great for practicing as you can jam along with your favorite music. There are no recording features built-in, so you'll only be able to play along with the input audio and not record with it.
Built In Songs
There are 15 built-in songs that you can play along with. This is nice if you just want something to play along with quickly, but most will probably prefer to play along with their own favorite music.
Practicing & Coach Mode
This kit is designed with beginner drummers in mind or those that will be using it for practice. For that reason, the module does have some of Roland's typical coaching features built-in.
Time check allows you to play along with a click and then rates how well you were able to stay in time.
Change-up lets you play along with a changing rhythm so that you can get used to changing tempos and rhythms during play.
Auto Up/Down will ramp the tempo up or down while you play along with it.
Quiet Count will play a click and then randomly drop it out for certain intervals to help you develop an internal sense of timing.
Tempo Check allows you to play without a metronome and then shows you how well you are keeping in time.
Multi-Effects
There are no built-in multi-effects on this module, which is one of it's limitations.
Setup & Assembly
Due to the simplicity of this drum kit it's fairly easy to set up, but there are a lot of parts to put together. I found that I spent about as much time unpacking the parts as putting it together. We recommend reading the directions, as they point out a few specific things about how to attach the smaller hardware pieces when setting up the rack.
This kit seems to require a little more tightening of the hardware pieces to get everything to stay in place properly. We don't recommend over-tightening right away though. Tighten up all the hardware clamps with a snug fit at first, and then only tighten more as much as need to keep things from moving if they do start moving on you.
Overall, you can probably get this kit up and running in about 1.5 hours or less.
What's Included?
Here's what you get in the box with this kit:
The Rack & Hardware
Snare Pad
(3) Tom Pads
(4) Cymbal Pads
Kick Pad
Power Supply
Cable Snake
TD-1 Sound Module
Manuals
What's Not?
Here's what you will need to purchase in addition to this kit if you don't already have them:
Warranty
Roland offers a standard 1 year warranty for parts and 90 days for labor. This is meant to cover any issues with defects in manufacturing or assembly. It's enough to cover you if you have any short term issues. Roland has a good reputation for quality products so I wouldn't be too worried about not having a long term warranty for their drum kits.
Pros
Mesh pads on the snare and toms
Includes a larger ride cymbal pad for a total of 4 cymbal pads
Compact and lightweight
Affordable price
Dynamic playability
Cons
No bell zone on the ride
Pads feel small all the way around
TD-1 module is very basic and lacking sound design features
The Verdict
The Roland TD-1DMKX drum kit is a better version of the TD-1DMK in that it offers an additional 12-inch cymbal pad to use for the ride.
The ride cymbal is still lacking a bell zone, but the extra cymbal pad offers a more fun playing experience. The mesh pads for the snare and the toms feels good, although a little small at 8 inches in diameter. The sound module is pretty basic but it works well for a budget kit. This is a neat option from Roland for beginner or intermediate drummers. It has enough pads to keep things interesting, but is still cheap enough for beginners.