Evans dB One low volume cymbals are an excellent option for drummers who need a more quiet kit at a very fair price. The sound quality is very usable and they play like traditional cymbals. Let's take a look at the details to see how they stack up.
Feel & Playability
The Evans dB One cymbals are designed to feel as close to a traditional cymbal while also taking the volume down as much as 80%. The sticking feel is great and the rebound when sticking the cymbals feels very natural.
With the amount of holes drilled and overall material reduction, they are a bit lighter. However, the cymbals mount like any other traditional cymbal on your stands, so you can set them up to swing and sway to your preference to get the feel that you are used to.
You will be able to swap these in for your existing cymbals and retain much of the feel you are used to.
Volume
The volume reduction on the Evans dB One cymbals is around 80%. This is comparable to the Zildjian L80's and is among some of the strongest volume reduction on low volume cymbals. If you need the most volume reduction from your cymbals, these are worth trying out.
The main volume complain with the cymbals, much like other low volume cymbals, is that the bell can be a little weak to many drummers tastes.
These might be loud enough for low-volume live situations, but will be more quiet and not as bright as the Sabian Quiet Tones or the Agean Regular R's.
Tone
Drummers really like the tone of the Evans dB One cymbals. They are very quiet, but provide a nice sticking sound and a nice wash from all the cymbal types. Like most other low-volume cymbals they do sound thin when compared to normal cymbals – but that's the goal to be fair.
The crashes provide a nice wash and fade fairly quickly. Even when hit with more force they don't sound harsh at all.
The ride has a distinct sticking sound and also provides a crash-ride type of wash when hit on the edges, and the sound fades slower than the crashes. The bell tone on the ride is fairly weak, which is a typical drawback of most low-volume cymbals.
The hi-hats provide a very crisp hi-hat sound with a nice wash when open and a really nice chick when closing or playing closed.
Build Quality & Durability
These cymbals are made with a nano-plated stainless steel alloy. The materials have a quality feel even though they are noticeably more light than traditional cymbals. The holes are punched in a spiral pattern and overall the cymbals are smooth and very well constructed.
With the alloy construction, these cymbals will hold up well to long term use. Of course, if you play harder or abuse your cymbals a little more than most, you may find that these won't hold up as well to that type of playing long term. It's to be expected since they are made with so many holes punched through them. However, you won't feel like you need to be careful with them either.
As with most low-volume cymbals, we recommend treating them like a medium or thin traditional cymbal in terms of the abuse they can take.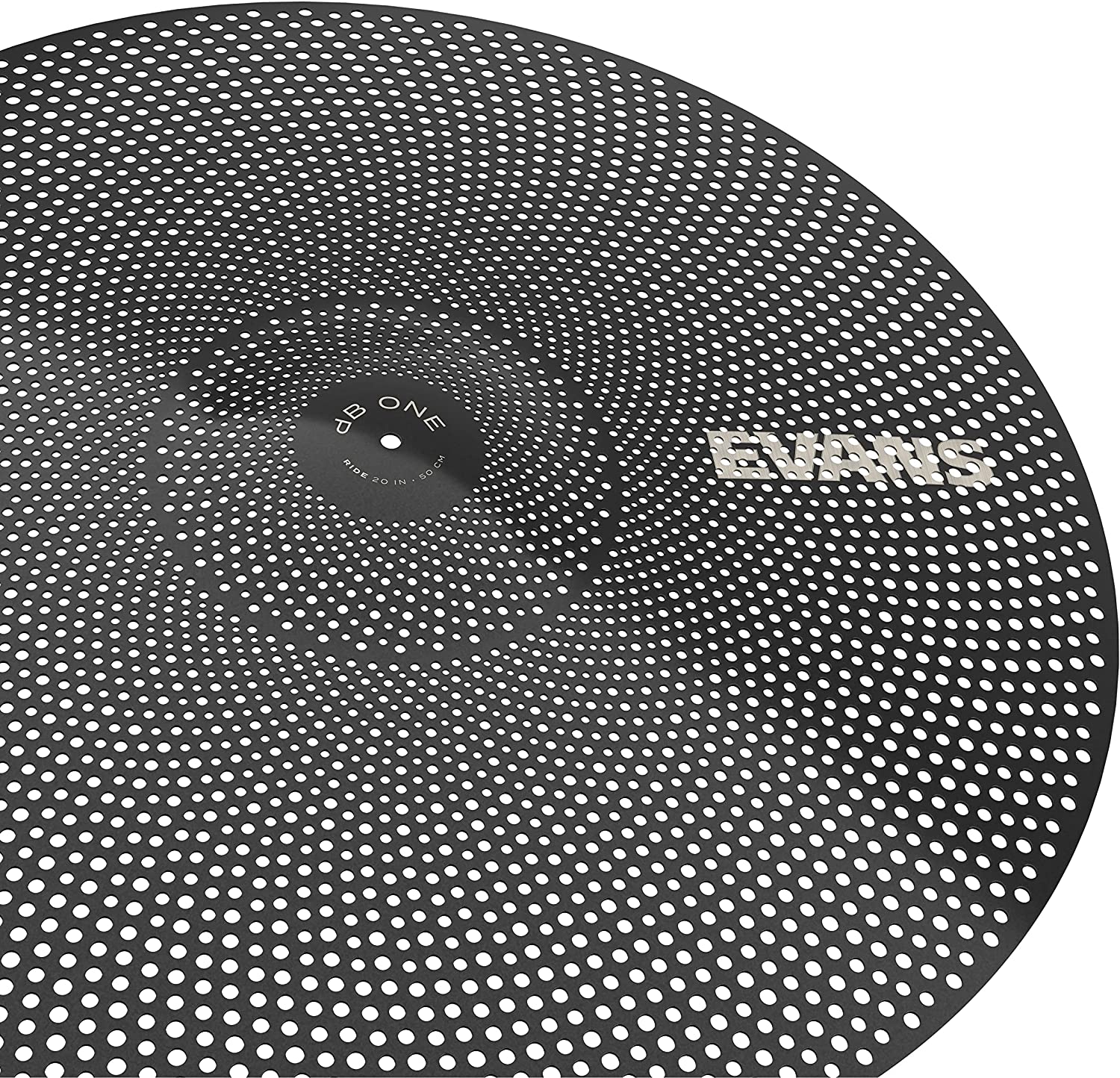 Playing Live
These cymbals can certainly be used in low-volume live situations like coffee shops, house venues or other tight spaces where volume might be an issue. They have a good enough tone to work live, but the 80% volume reduction might be a little bit too much depending on your requirements.
Cymbal Types and Cymbal Packs
The Evans dB One cymbals probably have the least amount of variation in cymbal types and sizes from the low-volume cymbals we've looked at. Here's what they currently offer.
14 Inch Hi-Hat
16 Inch Crash
18 Inch Crash
20 Inch Ride
The following cymbal packs are available:
14 Inch Hi-Hat, 16 & 18 Inch Crash, 20 Inch Ride with a Cymbal Bag
Combination Evans dB One Cymbal Pack and Drum Head Set
Pros
Very good price for the quality
Excellent tone and feel for a low-volume cymbal
High volume reduction at 80%
Cymbal pack comes with a cymbal bag
Cons
Might not be ideal for low-volume live situations
No splash or china is available
Not much available for size variations on the cymbals
The Verdict
The Evans dB One low volume cymbals are probably one of the better options available for the price. You can get a set of these with a bag for around $300. The tone is excellent and pleasing to the ears and they have a great feel during play. The steel alloy materials should be durable enough as long as you don't abuse them too hard. The black finish looks very nice and is a little different than the typical cymbal color.
If you need a full set of low-volume cymbals and can go without a china or splash – we recommend these in a heartbeat.