The Roland VAD507 is a new refresh of the previous VAD506 drum kit. The "VAD" in the name stands for "V-drums Acoustic Design". This new version of the kit includes some hardware upgrades and a nice upgrade to the hi-hat pad. There's also some new features and sounds in the latest version of the TD-27 sound module, which was also recently updated. Let's take a quick look at this kit and what's changed for this new version.
Drum Pads & Cymbal Pads
The drum pads around the kit remain the same as on the previous VAD506 kit. They are designed to look like wood-shell acoustic drum. They have all the same visual characteristics including top and bottom heads and adjustable tensions rods on the top and bottom. The wood shells are designed to look like acoustic drums, but at the same time are less acoustically resonant so that vibrations don't interfere with the electronic triggering.
Multi-Zone Drum Pads
The snare pad is fully featured and has a great feel to it. The snare included with this kit is Roland's PD-140DS pad, which is a digital snare pad loaded with sensors that work together to bring all aspects of the pad to life. The response all over the head is very even. There is more middle ground between head strikes, rim-shots and rim strikes to help make those sounds feel more natural during play. You can do cross-sticking techniques on this drum just like an acoustic snare. And to top it off, it's 14 inches in diameter, so it's the same size as a traditional acoustic snare. If you are looking for a snare drum that will get you very close to feeling like you're playing on an acoustic snare – this is it right here.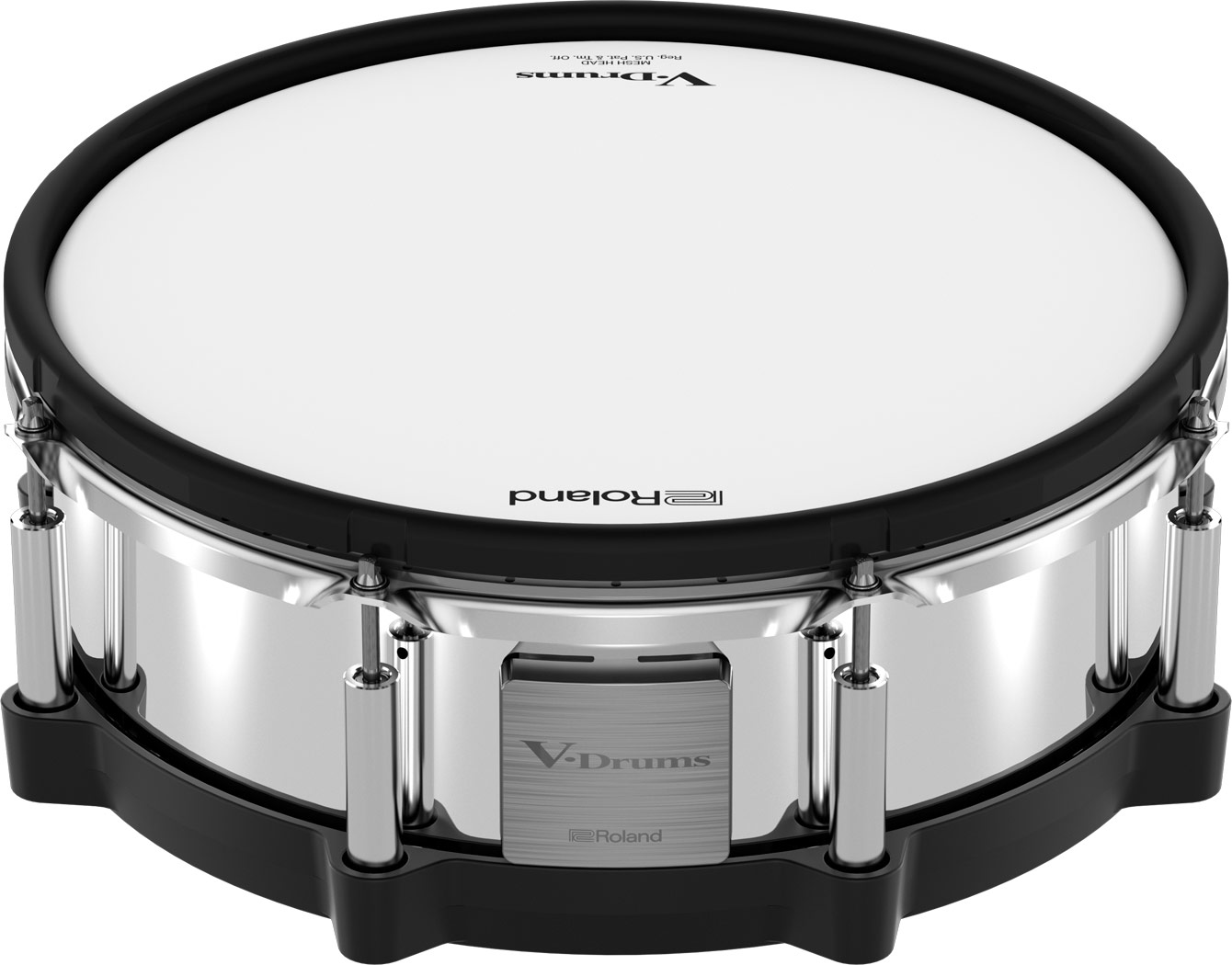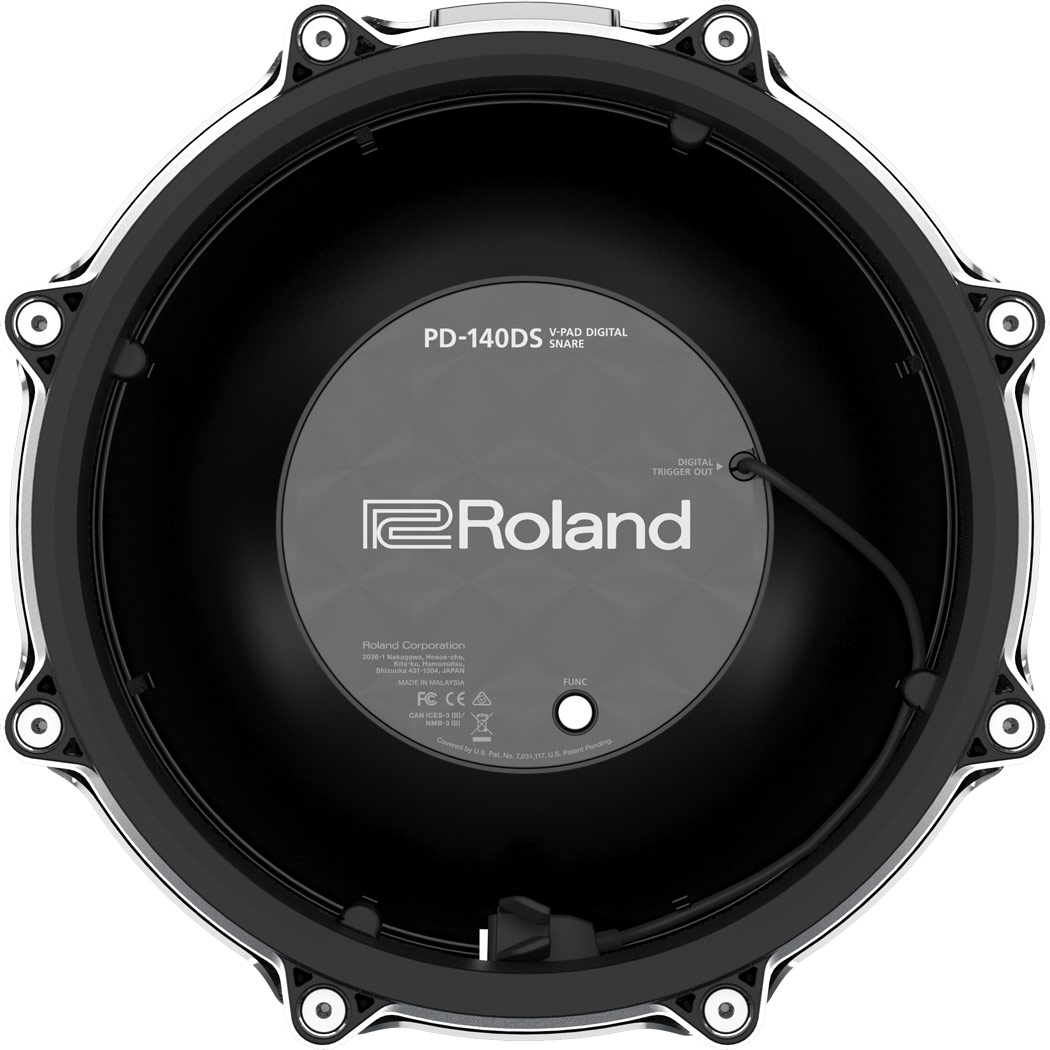 The tom pads are designed to look and play like an acoustic tom. The toms around the kit are all different sizes – 10-inch (rack tom), 12-inch (rack tom) and 14-inch (floor tom). Many acoustic kits have a standard size of 12/14/16 inches for the toms, so the toms on this kit are slightly smaller than a typical acoustic. The tom pads are all "PDA" Roland pads – PDA100 (rack tom), PDA120 (rack tom) and PDA140F (floor tom). They have heads and tension rods on both the top and bottom, so they look fully acoustic in design. The head response is great and produces an even response all over the head. The rims are a separate zone and can generate different sounds than the head.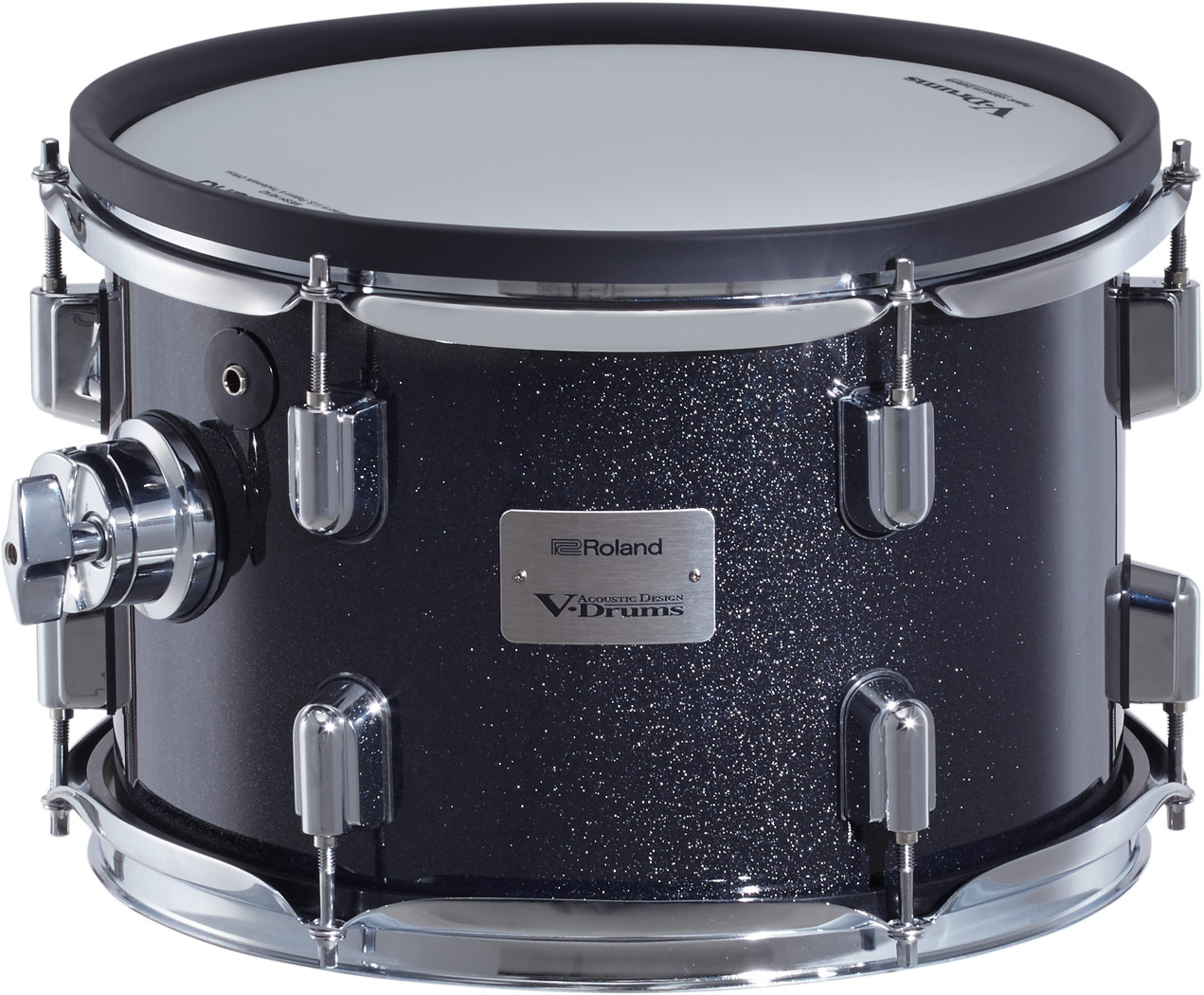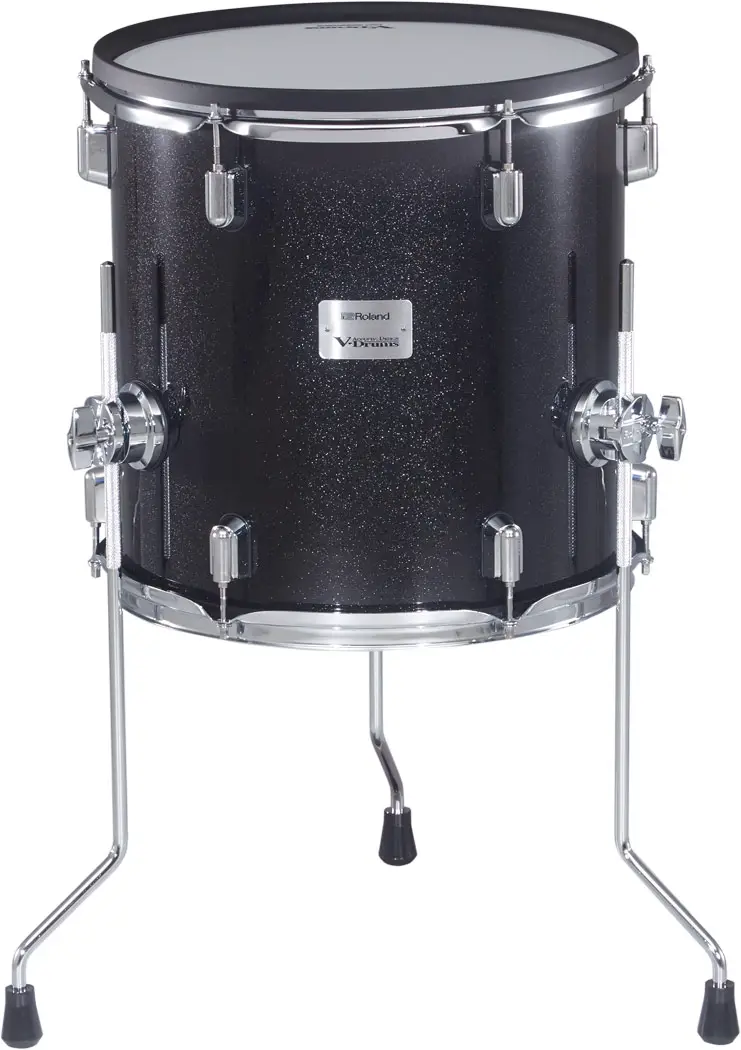 Multi-Zone Cymbal Pads
The cymbal pads look more like electronic pads of course since they are still black rubber in design, but they are some of Roland's best cymbal pads available right now and they feel very similar to acoustic cymbals during play. Roland has also added the VH-14D digital hi-hat to this kit, which is a great upgrade over the previously included VH-10 hi-hat.
The ride cymbal is a large multi-zone cymbal pad that makes for a great ride cymbal. This kit uses the CY-18DR ride pad, which is a premium digital ride pad from Roland. It's designed to give you a very expressive feel during play, and can generate sounds from the edge, bow and bell. The zones mesh and blend together a little better than the non-digital pads from Roland, which is a plus for this pad. The large surface area feels better than a smaller ride cymbal pad.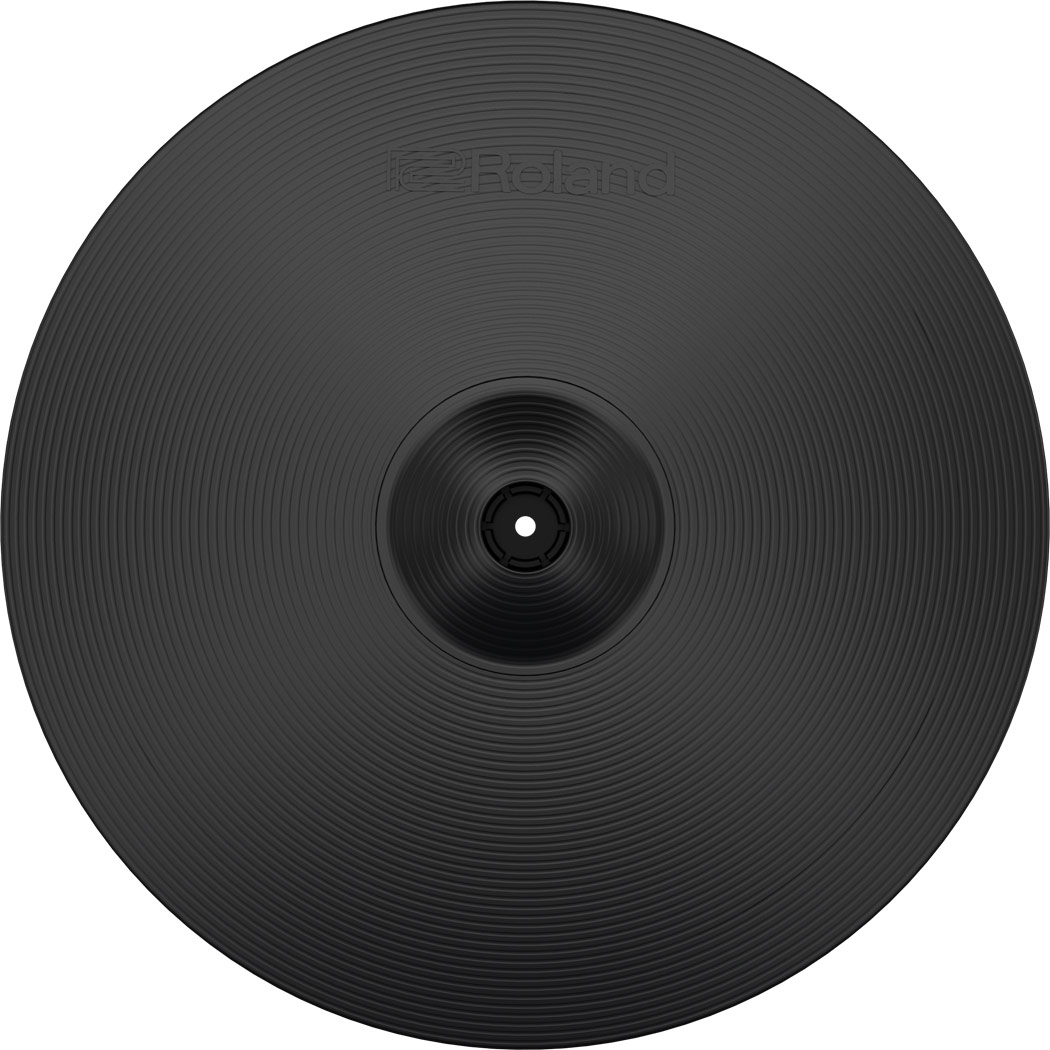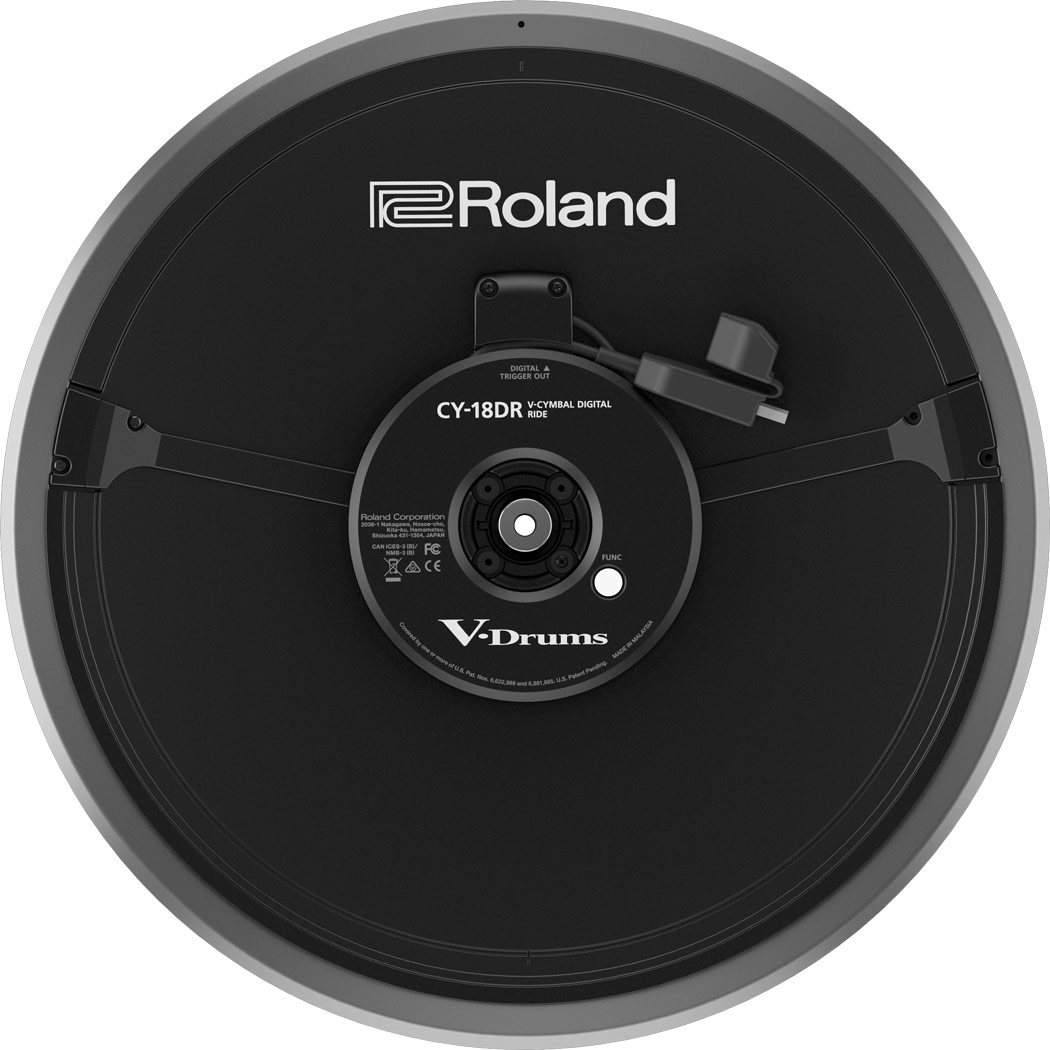 The smaller crash cymbal uses Roland's new thin cymbal pad design. The CY-14C-T is designed specifically for use as a crash cymbal, with dual zones (edge and bow) and and pretty decent size at 14 inches in diameter. This pad plays very well and it swings and flexes more like an acoustic cymbal with it's thinner design.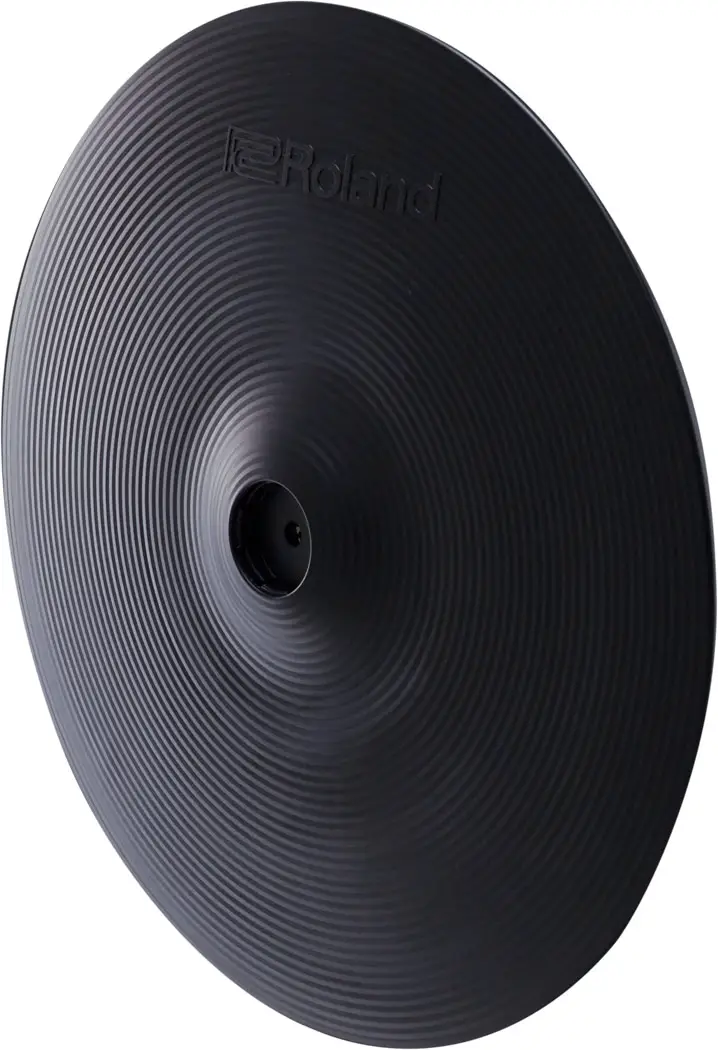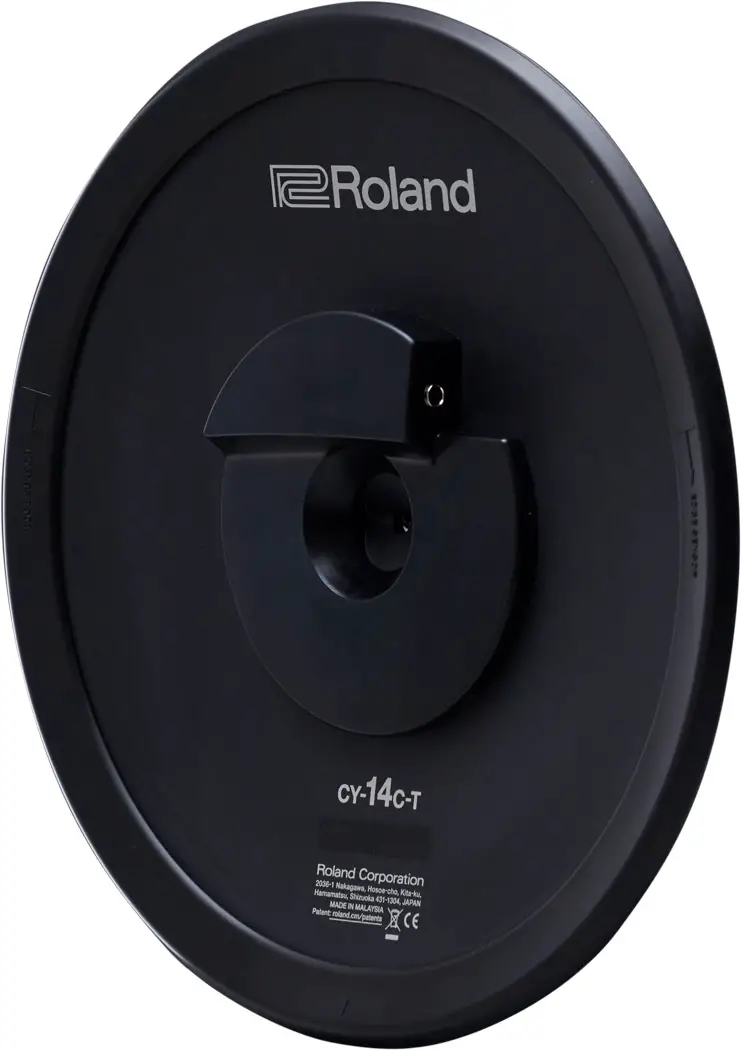 The larger crash cymbal is actually one of Roland's thin ride cymbal pads. The CY-16R-T is designed as a ride cymbal, even though this kit employs it as a crash. This pad has three zone – edge, bow and bell with two outputs. If you connect it to your drum module with one of the outputs you can use two of the zones at a time, but if you connect it with the dual outputs, you can use all three zones including the bell. This is possible with the TD-27 module, which is what's included with this kit. Having a crash cymbal that can play like a ride is a nice feature on a kit like this and further expands it's play-ability.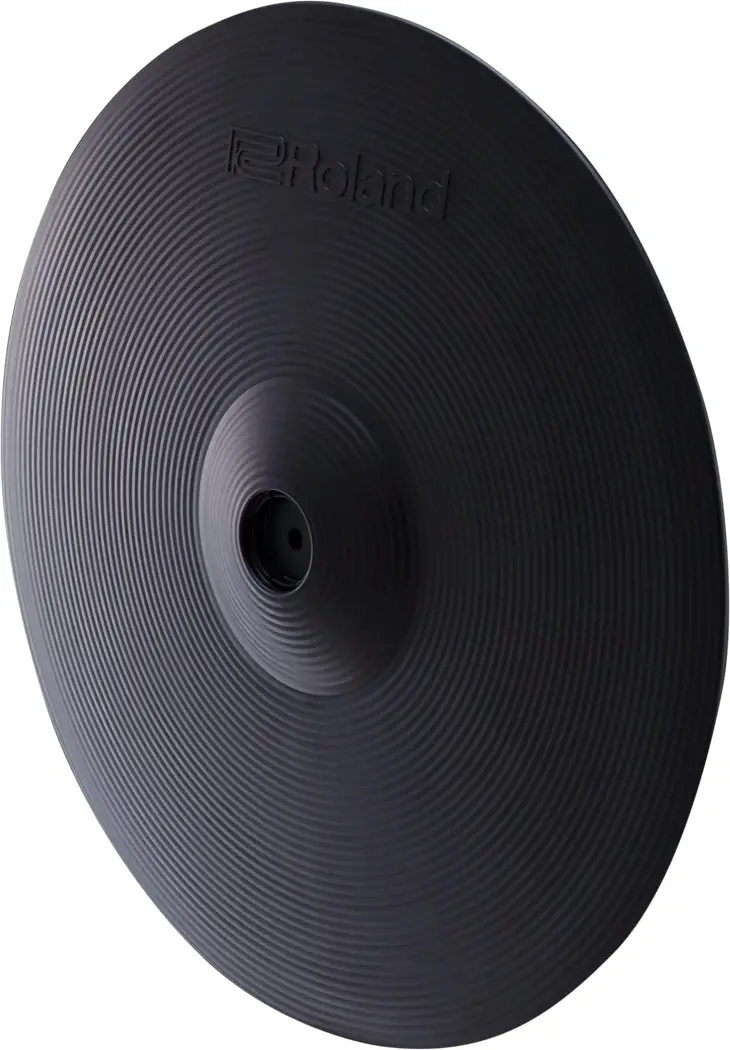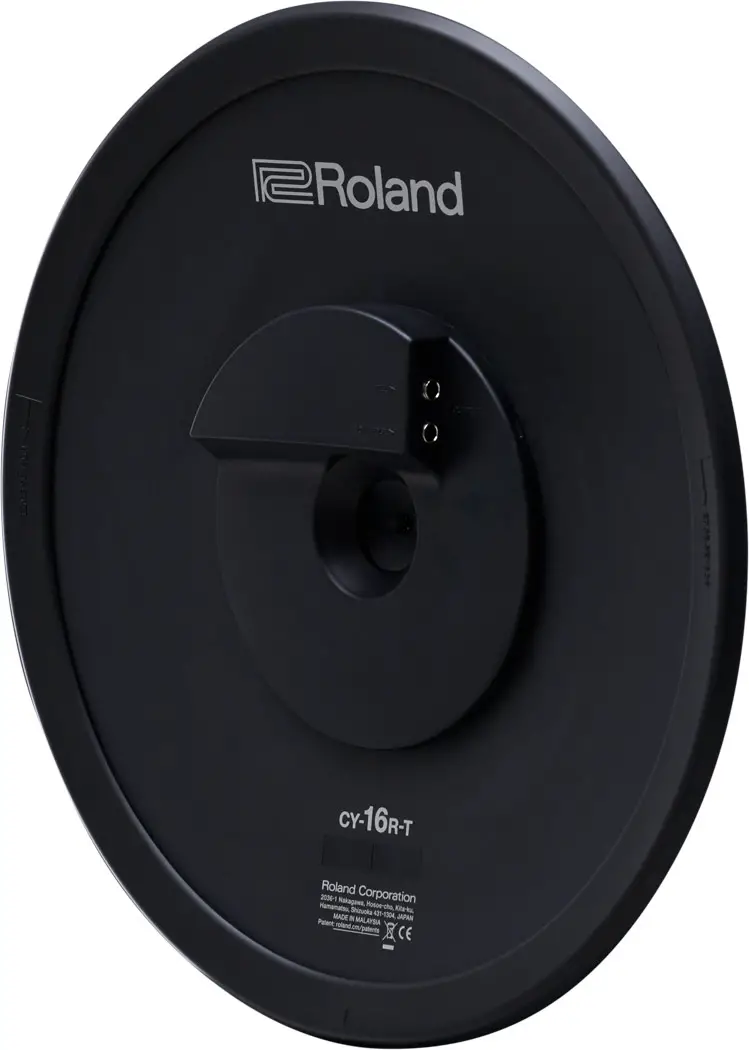 The hi-hat pad has been upgraded to one of Roland's best digital hi-hat pads. This kit includes the VH-14D digital hi-hat, which is a step up from the VH-10 pad. The digital pad offers better sound dynamics and resolution, and helps the hi-hat on this kit feel even closer to an acoustic hi-hat during play than before. During play you will notice small things like how the sound is a little different from the center of the hi-hat to the edge while playing the bow, or how the hi-hat can sound like you are pressing down pretty hard to squeeze it tightly. The digital VH-14D hi-hat pad works great with the TD-27 module, and overall is an awesome hi-hat experience for an electronic drum kit. Drummers who play this pad love it.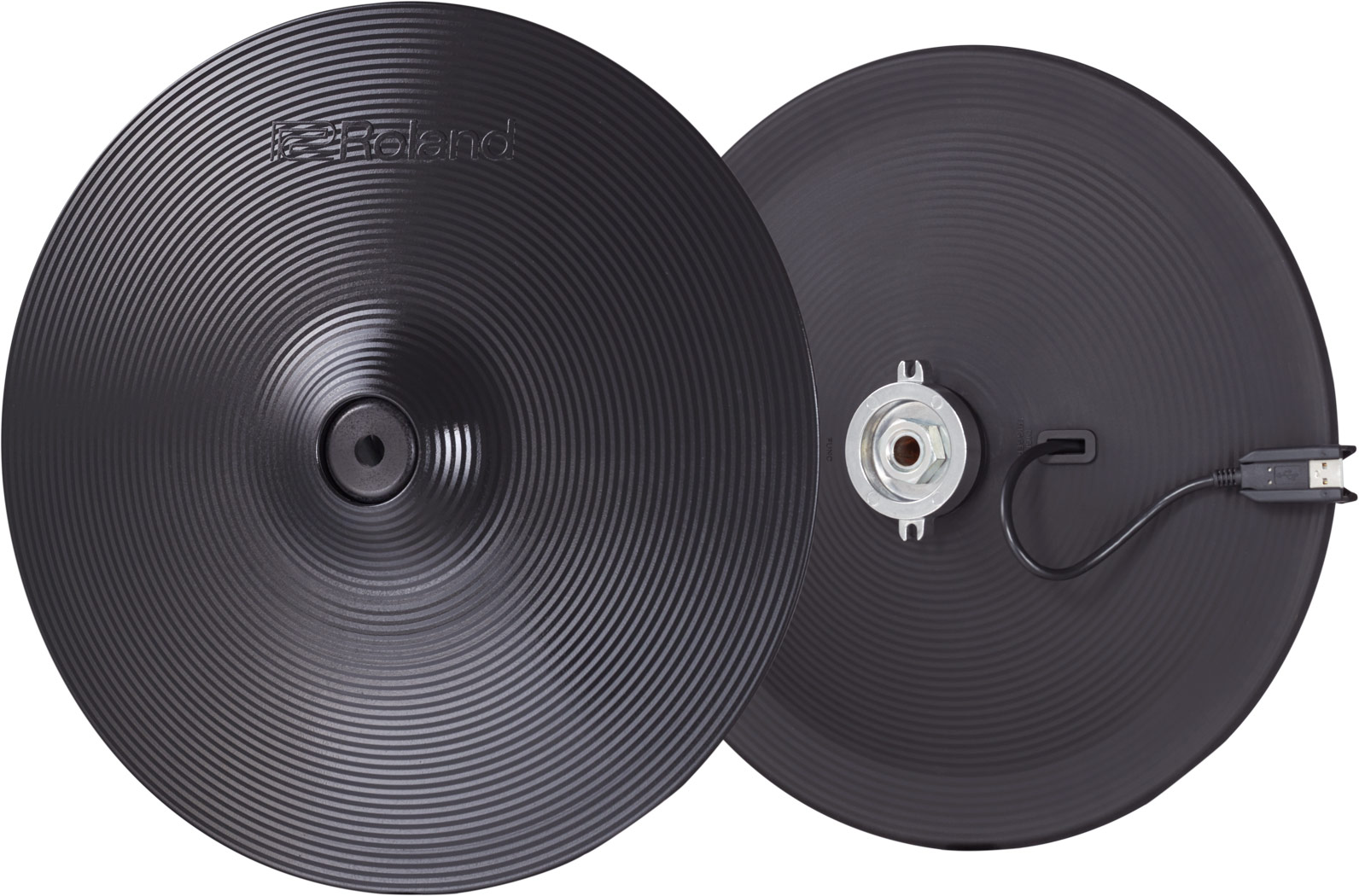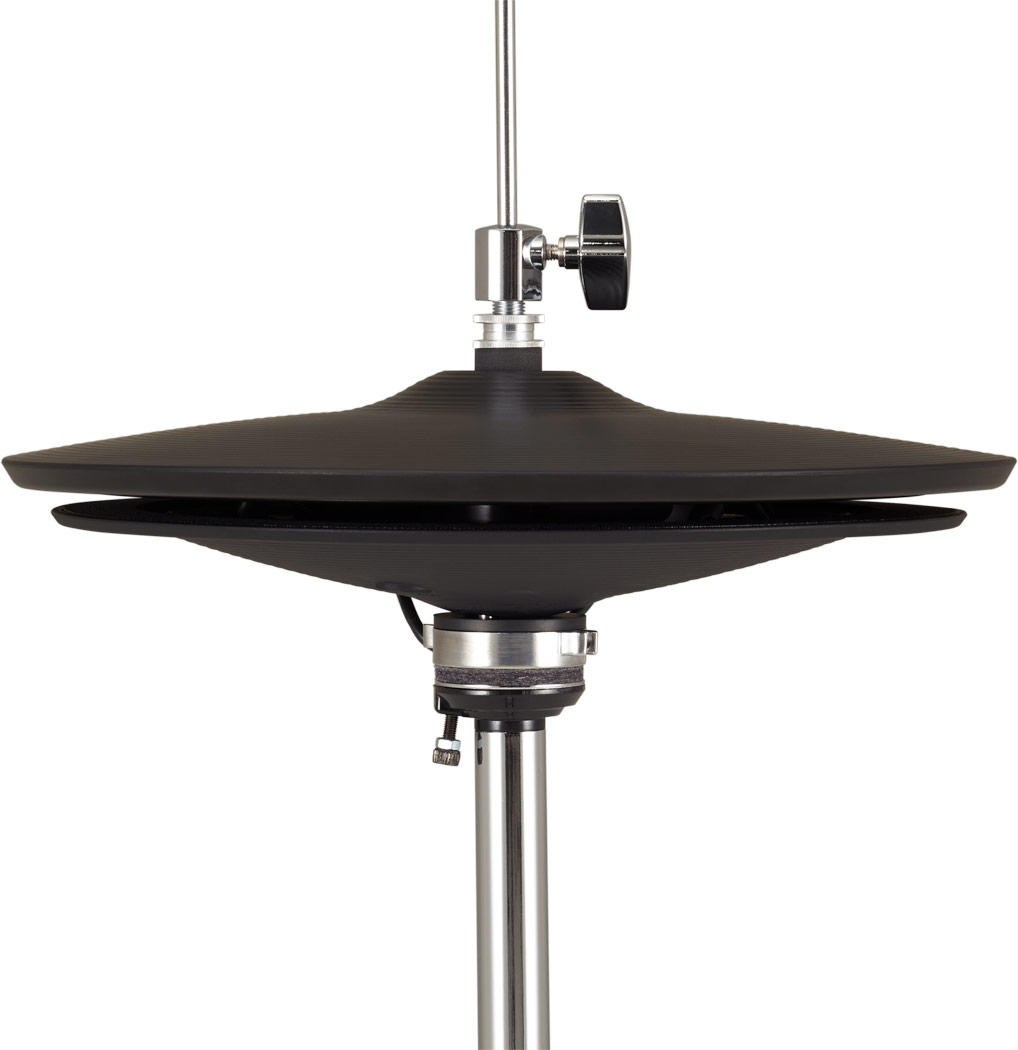 The Kick Drum Pad
The kick drum pad on this kit is a full size 20 inch kick drum, which is pretty awesome. The KD-200-MS kick drum is one of Roland's premium kick drum pads, and it really does look like a normal kick drum. This is really neat since on many other budget acoustic design kits the kick drums still look noticeably smaller. But not in this case! This kick drum essentially mounts a Roland kick pad onto an acoustic-style drum head. Having drum heads that move air and respond to air behind the beater head makes them feel so much more natural than the kick tower pads out there. You can adjust the tension heads to dial in your preferred feel, which is another advantage over kick tower pads. This kick drum will also fit single or double pedals.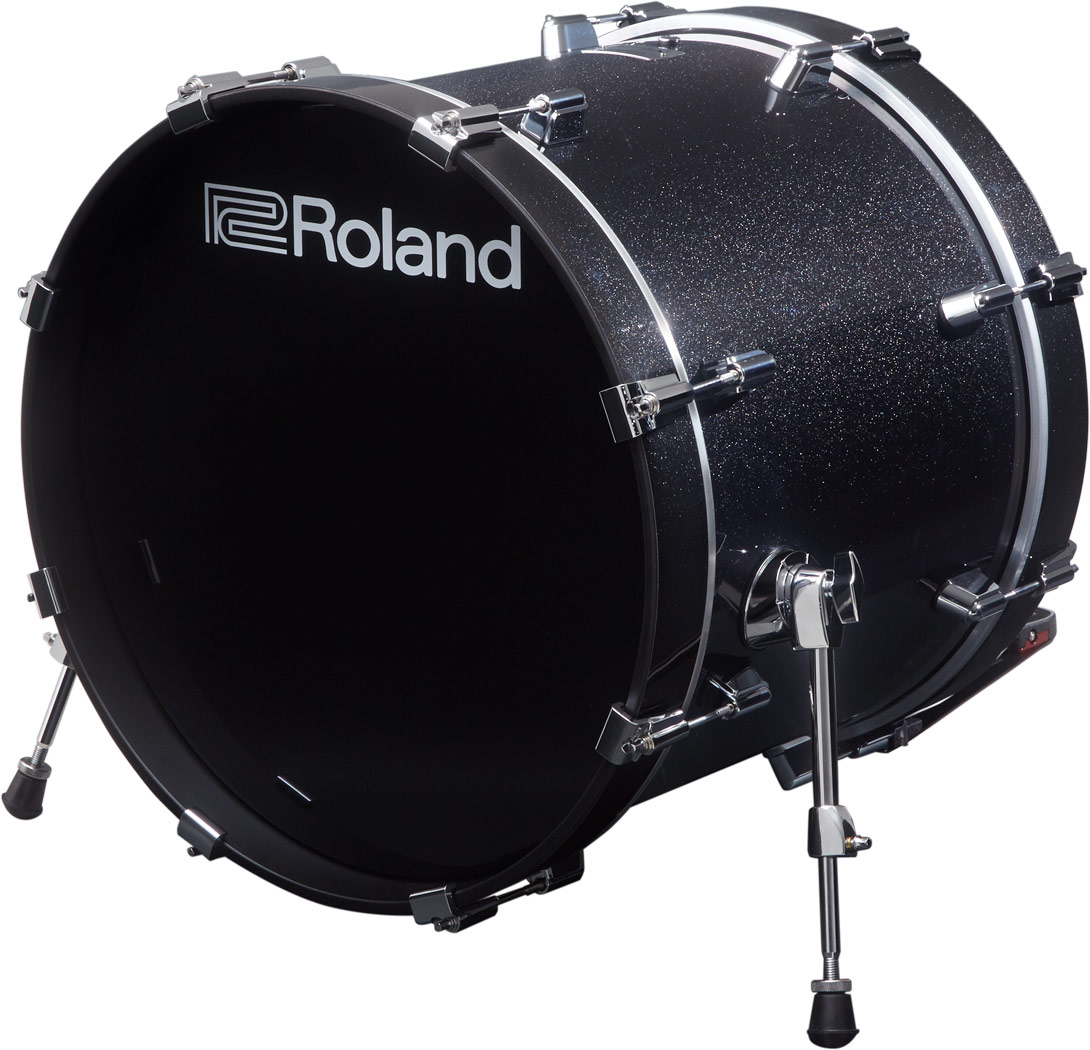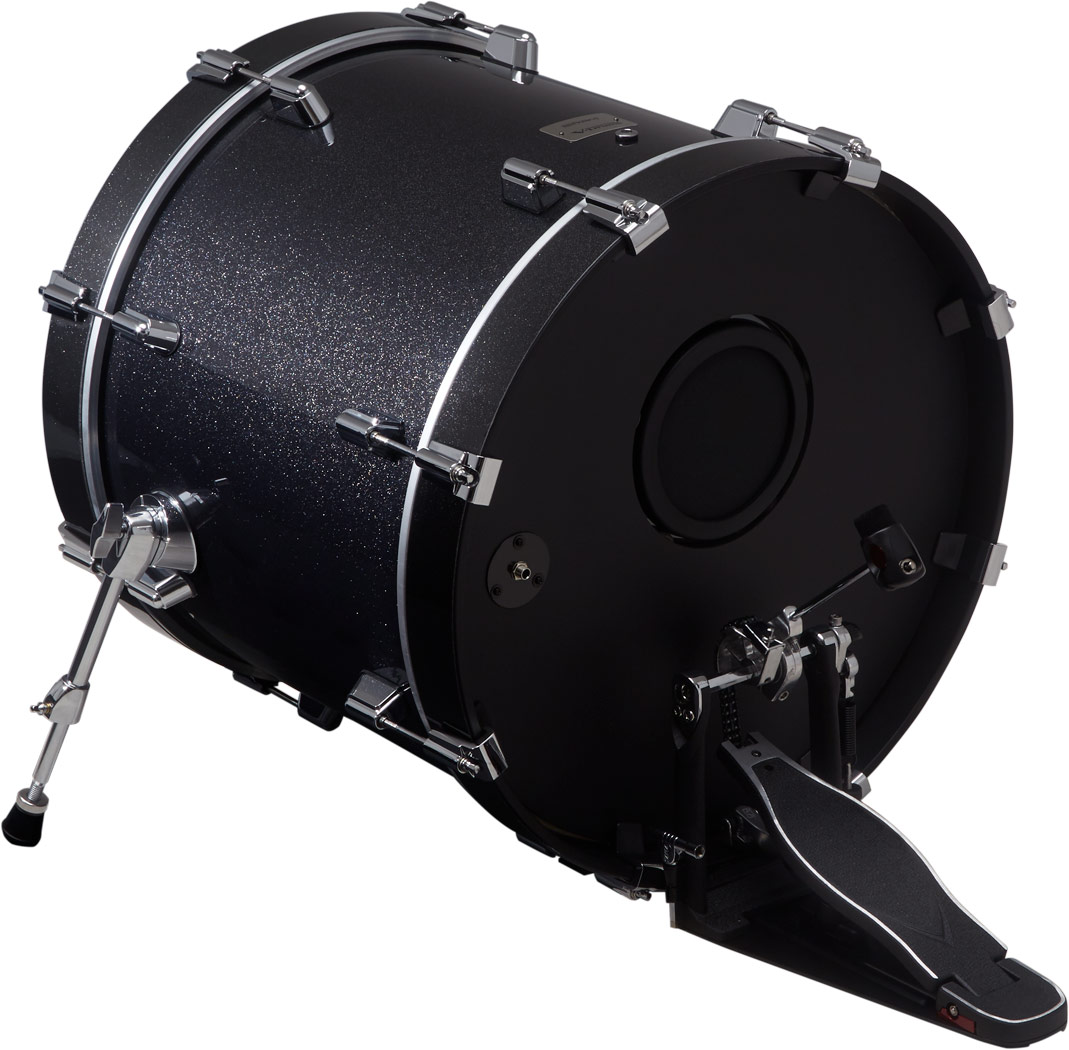 Adding More Pads
There are four additional trigger inputs – Aux 1, Aux 2, Aux 3 and Crash 2. These inputs can be used to add more analog pads around your kit. You can also split the dual zone inputs to add more single zone pads as well. Overall, if you feel you need to add some more pads, the TD-27 module has you covered.
The Rack
There is no rack with this kit, included instead are acoustic cymbal/drum stands. Roland has upgraded the stands on this kit to a more heavy-duty version of their double-braced stands.
There are three stands included, two of the DCS-30 combo stand for mounting cymbals and tom. Since this kit uses a floor tom, the third stand is a DBS-30 cymbal stand rather than a combination stand. These stands are excellent quality and can be used for acoustic cymbals and drums as well as electronic drums.
There is also an included APC-10 mounting clamp which is used to mount the drum module to one of the stands.
This kit DOES NOT include a hi-hat stand or snare stand, so you will need to purchase those separately. It would have been nice to get some matching stands for the hi-hat and snare in the box with this kit, but that's one of the drawbacks of keeping the overall price of this kit from getting too high.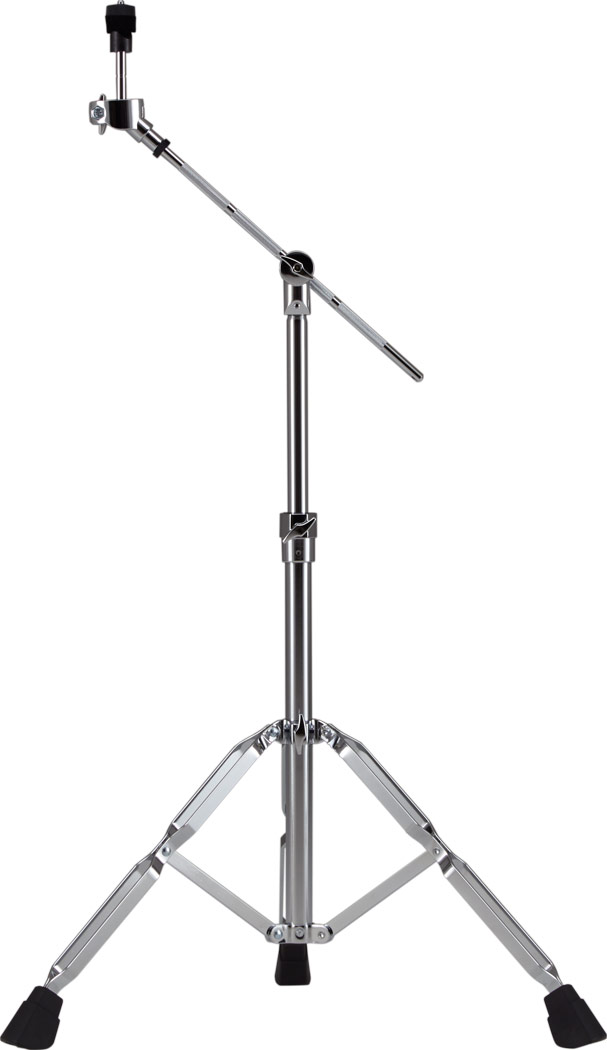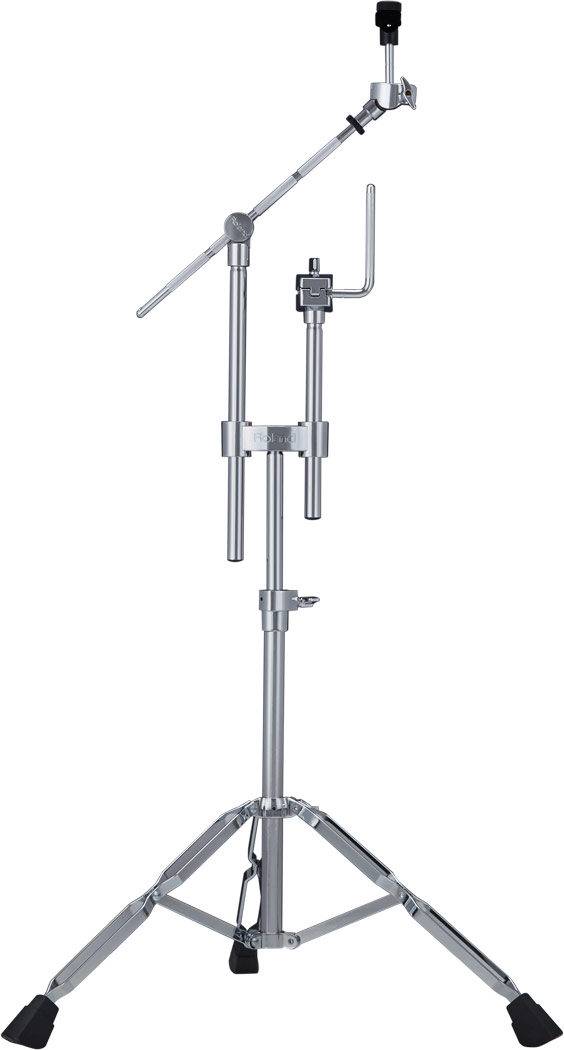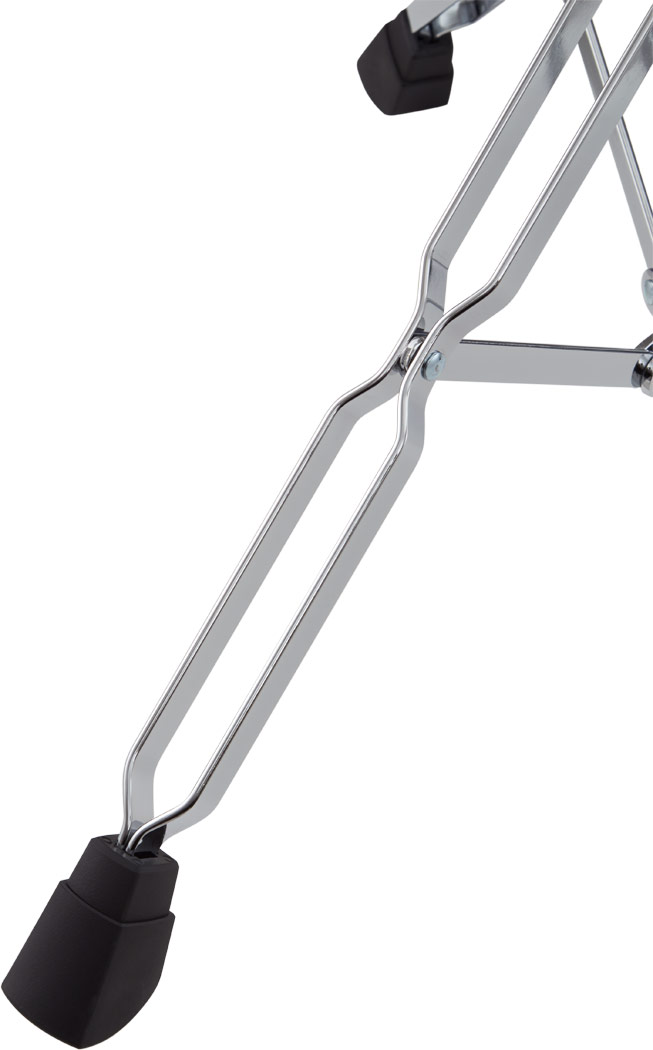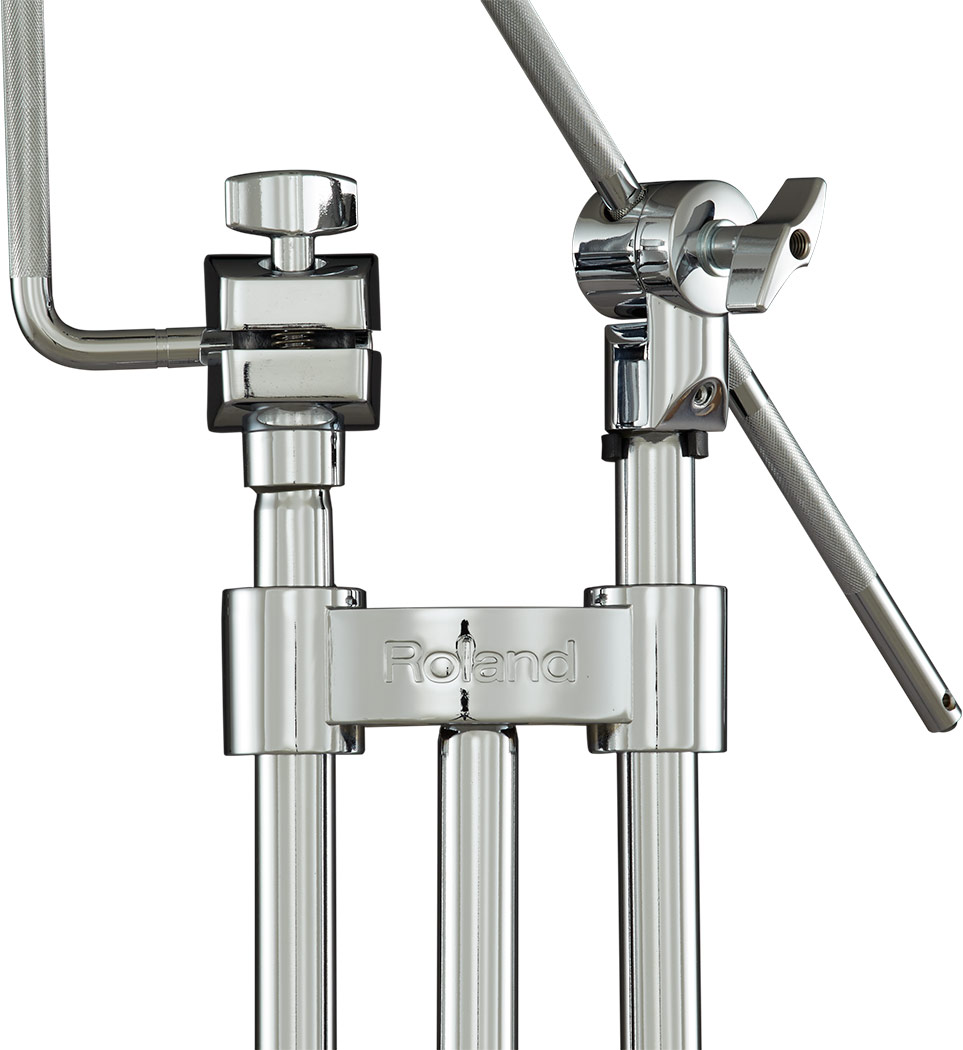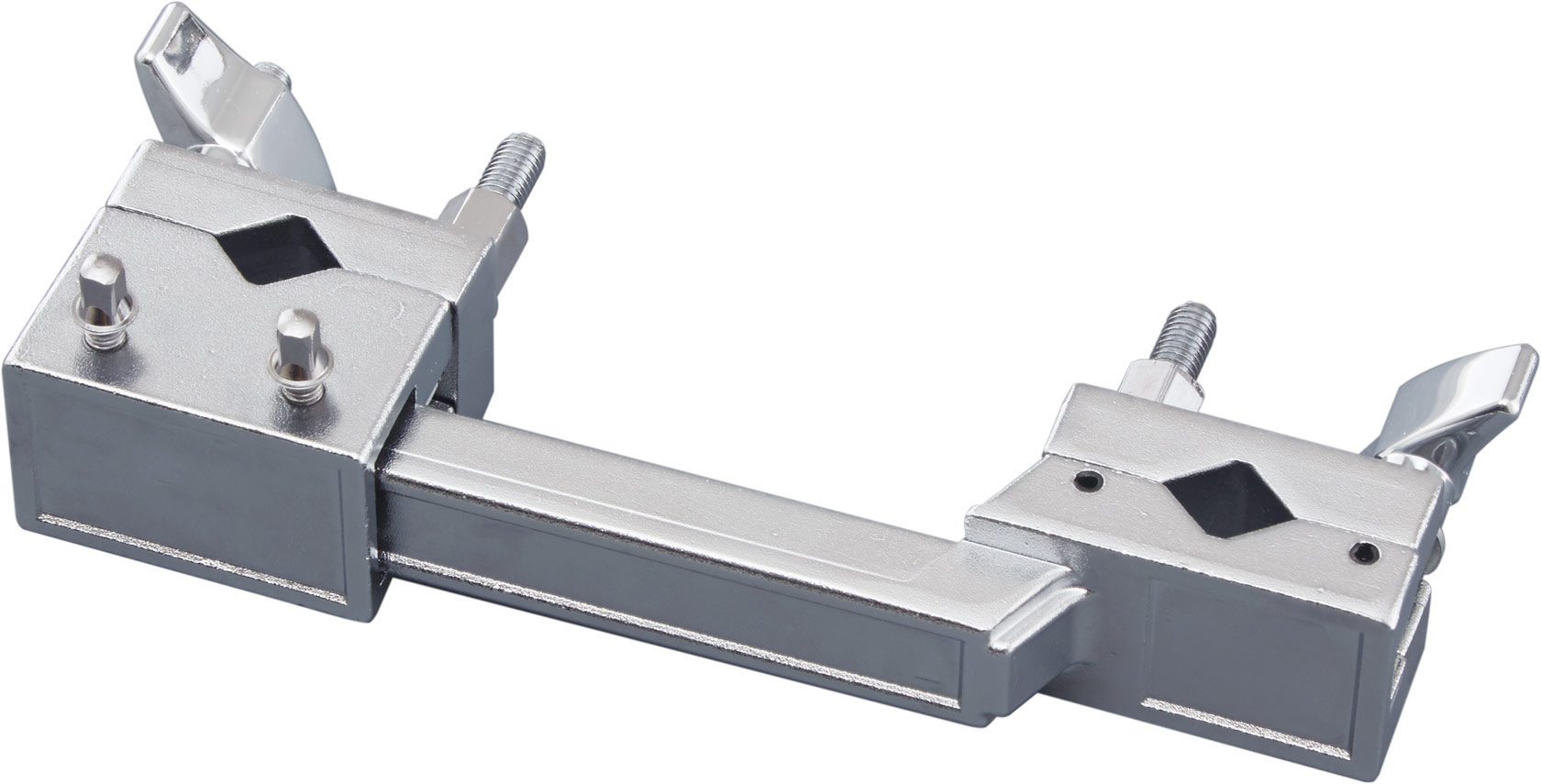 Sturdiness
Overall, the sturdiness of this kit is about the same as a smaller acoustic kit. There is no single rack that everything mounts to, and having each piece essentially on it's own stand helps keep everything very solid and sturdy when you are playing hard.
Having a full-size kick drum feels extremely sturdy and solid as well. Kicking against something with the full weight and size of a 20-inch kick drum is much better than some of the kick towers or smaller kick drum style pads on more budget kits.
Feel & Play-ability
Overall, drummers who own this kit love playing on it. There's not much really to complain about when you sit behind the kit and start playing. If you are used to acoustic kits, the size and feel of all the pads will translate very well and you won't have as much shock moving between the two.
The digital snare and ride cymbal are the highlights on this kit. The snare has such a good feel that you might forget you are playing a digital snare. Same with the ride cymbal.
The non-digital cymbal pads are also great. This kit uses the newer thin design pads from Roland, so overall they are pretty close in feel to an acoustic cymbal. Having a 14-inch and 16-inch crash cymbal feels better than some of the smaller pads on more budget kits as well. The expressiveness of how the pads can be played is what makes them noteworthy in this case.
The hi-hat pad is good but not top-tier. This kit employs the smaller VH-10 hi-hat pad, whereas some other kits in this price range employ the digital VH-14D. The VH-10 is good enough – it's a solid hi-hat pad that mounts onto a traditional hi-hat stand, so the feel is there. The size is a little smaller at 12 inches. It's not quite as expressive as the VH-14D but it's still pretty darn good and most drummers won't have any complaints about how it plays.
The kick drum is another highlight pad in terms of feel. The full size of the kick offers the full weight and stability of having a kick drum sitting on the floor in front of you. The ability to adjust head tension adds to the realism. The kick drum really does feel like a normal kick when you are sitting behind it and playing. Playing on this kick drum and then moving to an acoustic drum will feel pretty natural and be much less of a shock than moving between a budget kick tower and an acoustic kick drum.
The TD-27 Drum Module
The Roland TD-27 drum module is the highlight of this drum kit. This sound module will bring out the best of what the pads around this kit can do during play. It's a newly designed drum module specifically for this line of drums.
This module has 100 total drum kits which includes 65 built-in kits and 35 slots for custom user kits. There are 728 sounds or instruments that cover the usual range of drum types and styles that you'd expect from a modern drum module. You can also load your own sounds as WAV files via SD card.
Upgrades for Version 2.0
The TD-27 version 2.0 has a few key upgrades over the previous version. The most obvious upgrade is the addition of 10 new kits, which sound excellent. The additional kits also include an additional 26 new samples, which are included in the module. They also enhanced the sound of the three most popular kits on the module, which is a nice upgrade as well. They have also added more reverb and compression features, which help you dial in more specific ambience or dynamic compression around the kit. There's also 11 more multi-effects. In addition to all this, Roland has also added the ability to connect this module to the Roland Cloud where you can find more drum kits and expand your sounds.
Interface
Roland does a good job putting the likely most accessed features up front on this kit. You can tweak sounds and change a lot of settings just by hitting a drum pad and tweaking the knobs on the module, for example. Here's what's all on the interface of this particular module.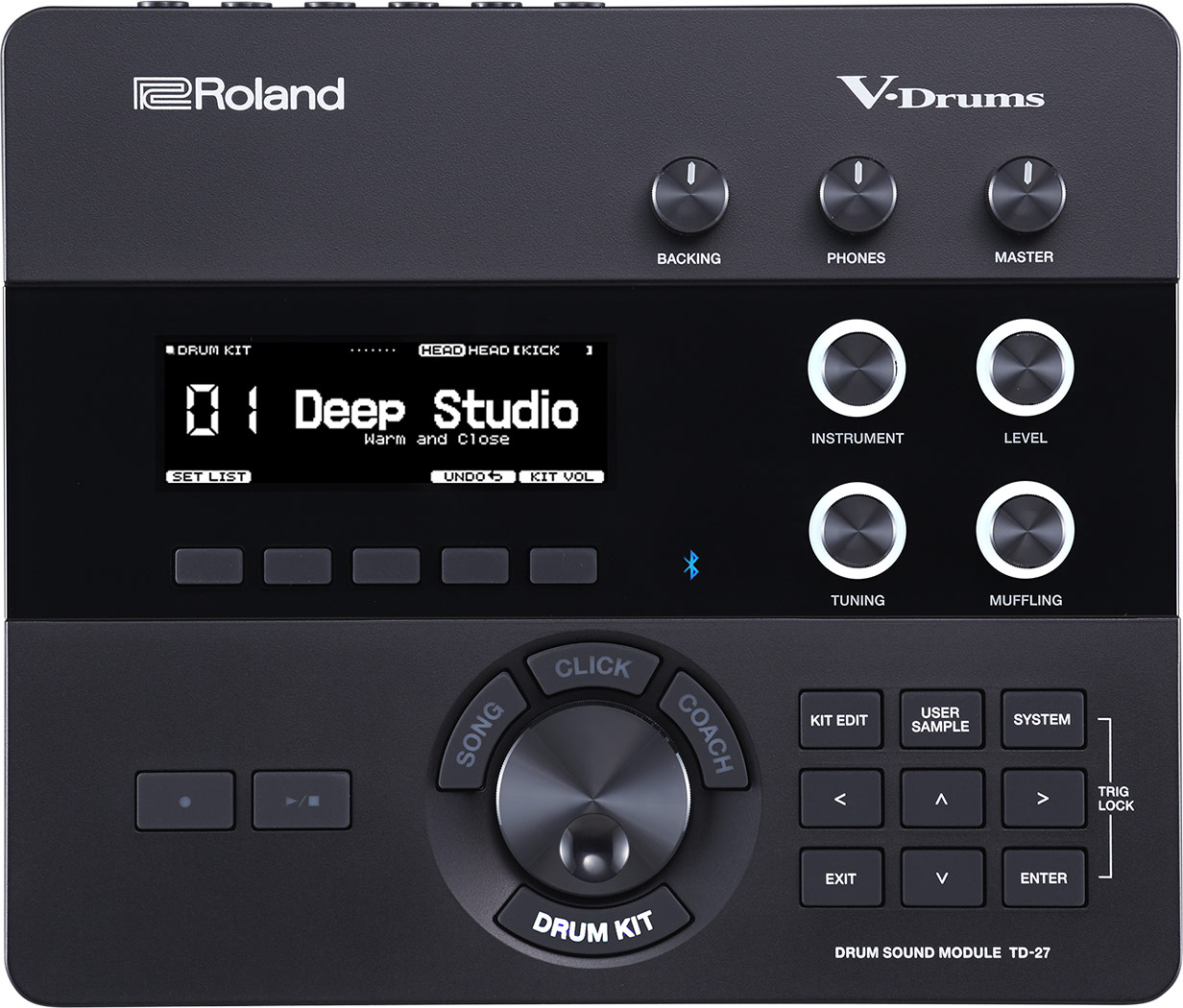 Digital Display
(5) Function Buttons – correspond to options on the display
Record/Play/Stop Buttons – for using recording/playback functions
Song Button – Enters Song mode
Click Button – Enters Click/Metronome settings
Coach Button – Enters Coaching mode
Drum Kit Button – Select/edit drum kits
Dial – Used to change values and make selections
Backing Knob – adjusts volume of song, click or audio input playthrough
Phones Knob – adjust volume of headphones
Master Knob – adjusts overall volume of the module
Instrument Knob – quickly select a new instrument
Level Knob – quickly change level of selected pad/instrument
Tuning – quick change tuning of selected pad/instrument
Muffling – adjust the muffling of selected pad/instrument
Bluetooth Indicator LED – lights up if Bluetooth is connected
Kit Edit Button – enters kit editing options
User Sample Button – allows you to manage/import your own sounds
System Button – enters the general system settings
Navigation Buttons – used to navigate through menu options

Power Switch
MIDI Input/Output
Mix In Jack – 1/4″
Direct Outputs – (2) 1/4″ Jacks
Master Outputs – (2) 1/4″ Jacks
Headphones Jack – 1/4″
(3) Digital Trigger In Jacks – For pads with digital connection requirements
Footswitch Jack – For connecting a Boss FS-5U or FS-6 footswitch
(4) Trigger In Jacks – For connecting additional pads

SD Card Slot – Supports SDHC cards up to 32 GB
USB Port – Connect the module to a computer
Trigger Input Jack – For connecting the cable snake that includes the majority of the trigger input cables.
The Digital Display
While it's not a full-color display, the digital display is bright and shows exactly what you need when you need it.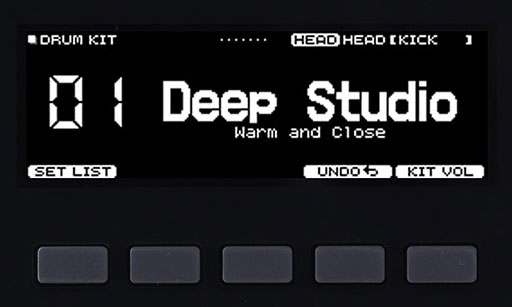 Selecting Drum Kits
Selecting a drum kit is easy. Just press the Drum Kit button and start cycling through the kits to select one of them for play.
There's 100 kit slots on this module, and 65 of them are preset kits. The remaining 35 slots can be used to store custom user kits.
One neat feature is the Set List function. This allows you to set up a successive list of kits that will be recalled in order while you play. This can be useful for live situations where you are changing the kits between many songs.
Tweaking Kit Sounds
It's super easy to tweak sounds around the kit with this module. The knobs right on the front for Instrument, Tuning, Level and Muffling can be used to instantly select a new sound or tweak the sounds you have selected. All you need to do is hit one of the pads to select it, and then start turning the knobs on the module.
Creating User Kits & Sound Design
There is a lot of sound design capability built into this module and it may not be obvious unless you dive into the module features. You can edit kits in many ways, such as by changing head types and shell depth of drums, choosing room types and more.
For each instrument – you can adjust the overall level, tuning and muffling. You can also adjust the attack/release transients, EQ and  compression for each pad/sound on the kit.
For the overall kit sound – you can adjust the amount of overhead and room mics in the mix, add multi-fx, and set master compression and EQ.
When designing kits you can layer multiple sounds on a pad. This allows you to build complex textures from the individual sounds available in the module by combining them together.
It's neat to see that Roland is approaching sound design in a way that makes you think more about mic placement and mixing overhead/room mics rather than just using ambience or reverb settings. For those that are used to drumming in a studio situation and micing up an acoustic kit, the sound design controls will feel very familiar.
PureAcoustic Ambience Technology
We have to mention this specifically, since it's unique to Roland sound modules. This basically is just Roland's way of letting you adjust the ambience around your kits. Many of the settings available for kit modification involve adjusting room and overhead mic placement and room type/size. This is Roland's way of putting a name on that.
Pad Settings
This module allows you to tweak all of the usual settings for how the pads respond to your playing. This includes options like sensitivity, re-triggering, cross-talk and the like. If you really want to dial in the feel of your kit, you'll want to spend some time in these settings to see how they make the pads react to your play style.
Adjusting Hi-Hat Settings
If you're using the included hi-hat pad, the settings should already be pretty close to where they need to be. Some drummers have had issues with the hi-hat triggering cleanly on rapid successive hits that switch between the edge and bow on the hi-hat pad. Tweaking the hi-hat sensitivity settings can help clean that up. So we'd recommend getting used to adjusting these settings if you aren't happy with how the hi-hat pad plays right out of the box.
You can also select specific settings for other types of hi-hat pads from Roland. You will need to do this, for example, if you upgrade to a different hi-hat pad such as the VH-14D.
Playing With Brushes
Do you play styles of music that use brushes? If so, this module has you covered. There is a setting that allows you to switch between using sticks and brushes. This is something you won't find on cheaper kits.
Playing Along With Audio
You can connect your Smartphone or another audio player via the Mix In jack on the back of the module or via Bluetooth, so you have both a wired or wireless option here. Volumes can be adjusted independently for the audio inputs, so you can dial in the levels between your drum kit and the songs you are playing along with.
One neat feature is the ability to load a separate click track (wav file) along with a song (wav file). You can then adjust the levels of the song and click independently, or mute one or the other while practicing.
Built In Songs
There are also built-in songs across popular genres to give you something to play along with. It's better than nothing, but most drummers will probably want to play along with music they like via the Mix In or Bluetooth inputs.
Practicing
For drummers that will use this kit to practice there are some useful built-in features.
The click track is the obvious one. Always practice with a metronome! For the click, you can adjust the sound of the click, the volume, the beat, the rhythm and tempo. The click settings are pretty nice on this module and it's easy to dial in a specific click to play along with.
The aux inputs are great for practicing along with songs you've previously recorded or your favorite bands and songs.
There is a coach mode to help you learn to play along with certain patterns at different speeds. This mode will help you analyze whether or not you are playing in time, how accurate you are playing and it will also help you improve overall drumming endurance.
Recording Performances
This module can record your performances and let you play them back for analysis or just to hear your awesome drumming. The recording features require the use of an SD card. This kit allows you to use SD cards up to 32 GB in size.
To record along with audio from your smartphone, you would connect the smartphone via the Mix-in Jack or Bluetooth and then you can play along and record the performance to the SD card.
You can also record without an audio track, and just capture the drum performance. If you use the click track during recording, the module can record your drum performance without the click track. You can also record playing along with one of the built-in songs on the module.
Advanced Recording & Studio Features
You can connect this module to a computer via USB and output 28 channels of multi-track audio to your DAW. This gives you an excellent amount of sound processing flexibility in a studio environment.
MIDI can also be output and captured via USB, which can be useful for capturing MIDI performances or tracks with a DAW as well.
You can also use the 2 direct outputs to organize the output of your audio channels and direct that audio to another device for capture.
Overall, this module has enough capability to be useful in a studio setting. Even though there's no individual 1/4″ outputs for each channel like some Pro modules offer, the USB output should be more than useful enough for most studio situations.
Multi-Effects
This module includes some of the typical multi-effects you'd expect to find. There are 3 multi-effects channels, with 30 multi-effects to choose from. The multi-effects include:
Delay
Reverse Delay
Pan Delay
Tape Echo
Chorus
Phaser
Step Phaser
Flanger
Reverb
Auto-Wah
Overdrive
Distortion
Saturation
Filters
Ring Modulator
Bit Crusher
Pitch Shifter
Isolator
Auto-pan
Lofi-compress
T-Scream
Setup & Assembly
Roland always includes decent setup instructions with their drum kits. Considering you're setting up more of an acoustic type kit here, most drummers shouldn't have much difficulty figuring it out. You won't need to assemble a rack, so that's nice. You'll spend most of your time mounting the drums/cymbals onto the stands and cabling everything up.
Overall, this kit will take about an hour to setup, with additional time to go through and tweak all the heads tensions and get everything in line with your preferred feel.
What's Included?
What all do you get in the box when you purchase this kit?
(2) Combination Stands
(1) Cymbal stand
A Module Mount Clamp
Snare Pad
(3) Tom Pads
Kick Drum
Ride Pad
Hi-hat Pad
(2) Crash Pads
Cable Snake
Power Supply
TD-27 Module
Drum Key
Manuals
What's Not?
Here's what you will also need to get that isn't included with this kit:
Drum Throne
Hi-Hat Stand
Drum Sticks
Kick Pedal
Heavy Rug
Headphones
Warranty
Roland offers a standard 1 year warranty for parts and 90 days for labor. This is meant to cover any issues with defects in manufacturing or assembly. It's enough to cover you if you have any short term issues. Roland has a good reputation for quality products so I wouldn't be too worried about not having a long term warranty for their drum kits.
Pros
Great feeling multi-zone pads all the way around the kit
The TD-27 module has lots of features and sound design capabilities
The acoustic style stands are more flexible for setup than Roland's compact racks
This kit has a very slick look to it overall
The digital snare and ride cymbal are very dynamic and playable
Now also includes the VH-14D Digital Hi-hat pad
The weight of the larger kick drum feels solid compared to some of the smaller kick drum pads on more budget kits
Cons
Doesn't include a hi-hat or snare stand
Price is pretty high compared to non-acoustic design kits with similar features
TD-27 module sounds might not be good enough for more discerning drummers or studio recording situations – especially those willing to invest in hardware of this level and price point
The Verdict
The Roland VAD507 is a nice update of the VAD506 drum kit. The addition of the VH-14D hi-hat pad is a great move on Roland's part.
The overall size of the drums and feel of the pads is pretty close to what an acoustic set will offer. The size of the drums makes them sit in place like acoustic drums as well, which can satisfy drummers coming from the acoustic world. The TD-27 sound module is pretty great, however some drummers might find the built-in sounds lacking compared to computer software for studio recording.
Overall, you can get kits that are just as playable as this one for less. However, if you really want to have a slick acoustic design, this is worth the price premium to get you there.