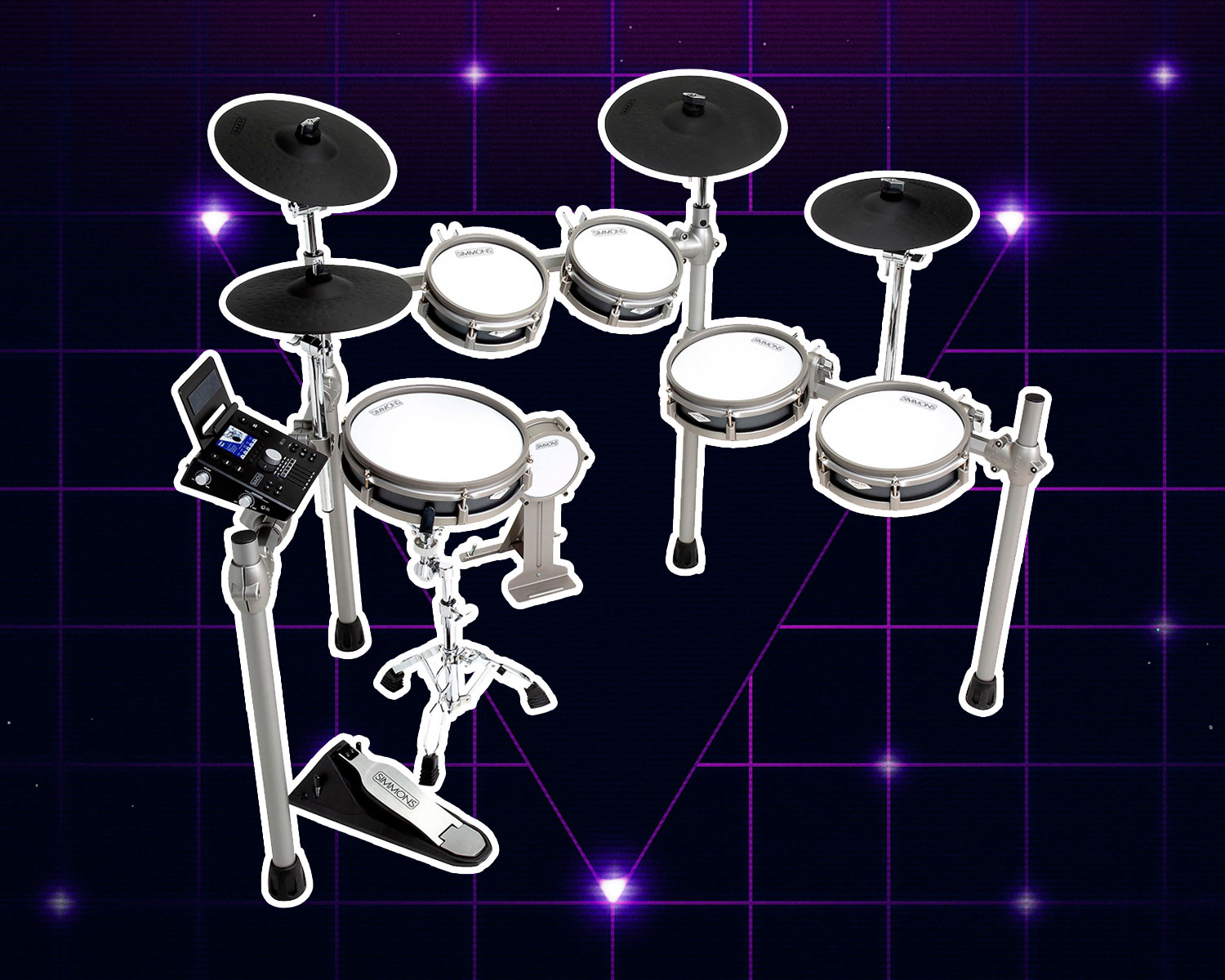 The Simmons SD1250 is the latest 1200 series kit from this long-time electronic drum manufacturer. The SD1250 is designed to offer a lot of multi-zone pads and a big rack, with some concessions in the sound module and overall build quality. Let's take a look at what this kit offers and what types of drummers it might be good for.
Drum Pads & Cymbal Pads
The pad lineup is probably the strongest point on this drum kit. For a kit in the $1200 price range, you probably won't find more multi-zone pads that this one has to offer.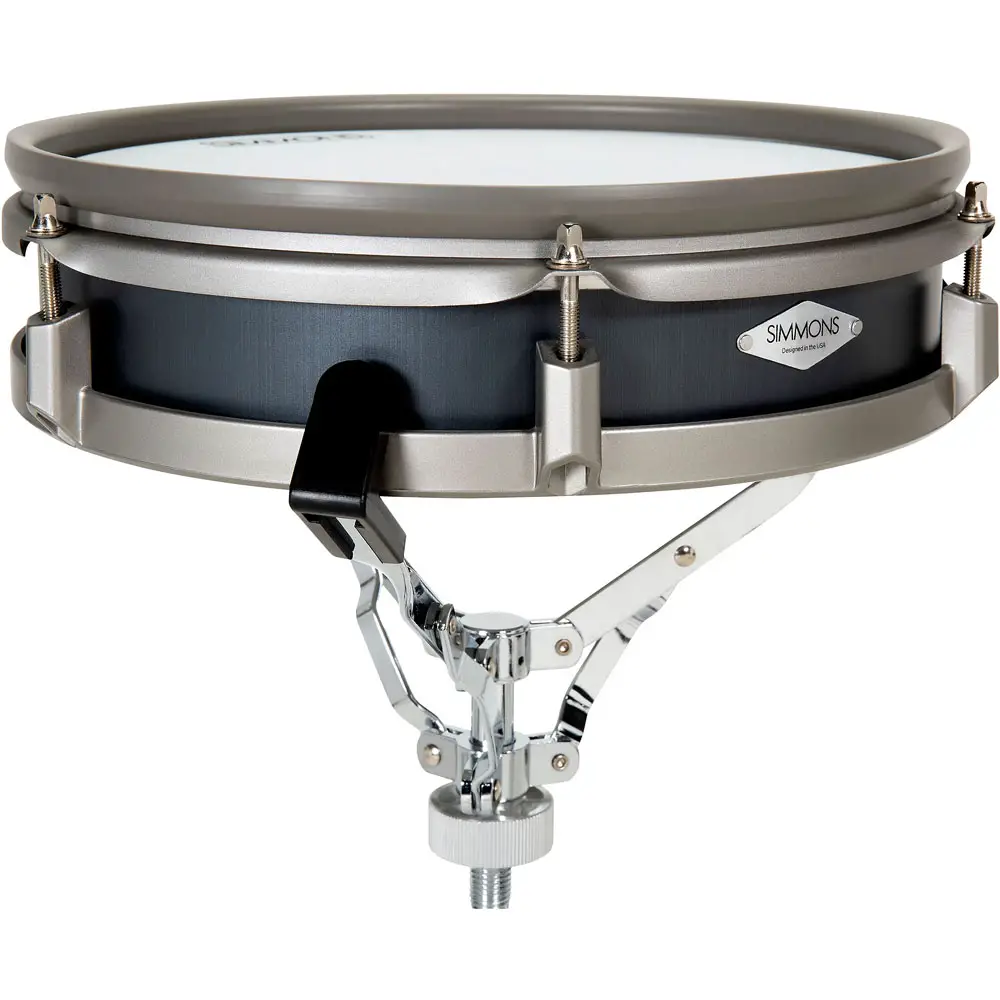 Drum Pad Types & Sizes
Let's start with the drum pads. Here's the drum pads that are included with this kit:
12 Inch Mesh Snare – with head and rim zones
(2) 8 Inch Mesh Toms – with head and rim zones
(2) 10 Inch Mesh Toms – with head and rim zones
6 Inch Mesh Kick Pad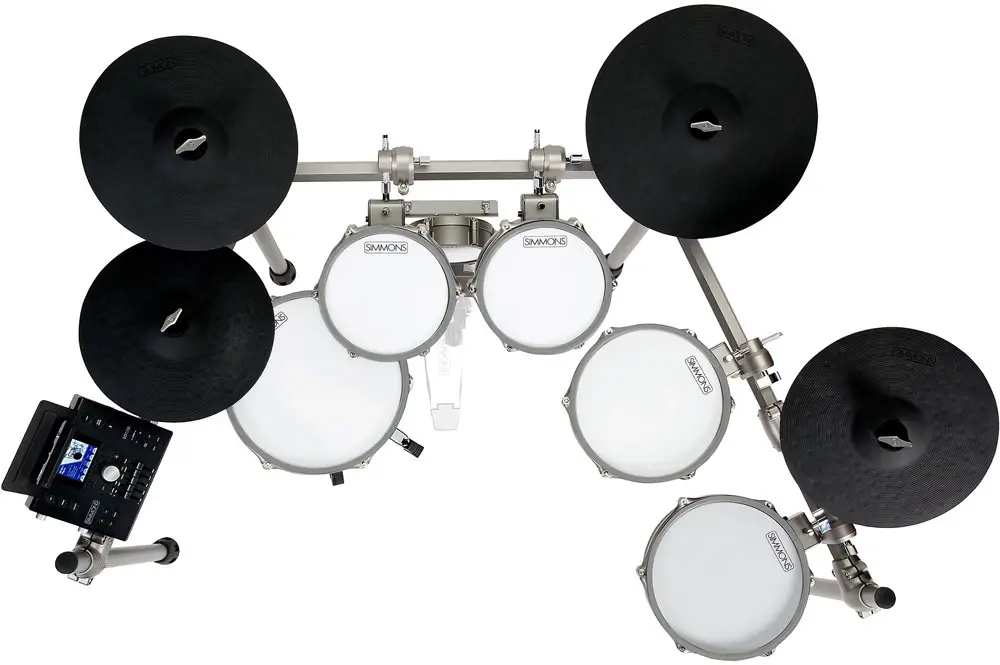 Mesh Drum Heads
The mesh heads on this kit are two-ply. They have a solid feel during play. They aren't super-bouncy, but they don't feel flat or dead either. They have a somewhat average response for mesh head kits. Tension can be adjusted with lug nuts to dial the the feel to your liking.
The Cymbal Pads
The cymbal pads are also pretty decent. They feel better than the cymbal pads on cheaper budget kits, but they also aren't as high-class as some cymbal pads on more expensive kits. The best way to put it is that these are good pads for this kit at it's price range.
All of the cymbals use a hex-shaped mount so that they don't spin or rotate during play, but they still tilt like a traditional cymbal will during play. This is nice since it keeps cables from getting spun up or stressed from spinning cymbal pads.
The ride cymbal is a 14 inch triple zone pad which can generate sounds from the edge, bow and bell. It also includes a choke function.
The crash cymbals are 12 inch dual zone pads which can make sounds from the edge and the bow. There is also a choke function on the crash cymbals.
The hi-hat cymbal is a 12 inch pad. It has two zones and generates sounds from the edge and bow. The hi-hat is controlled with an electronic pedal.
The Rack
This kit comes with a fairly large rack compared to other kits in it's price range. The rack is very wide and has a lot of room for all the pads that come with the kit.
The rack poles are hex-shaped and the mounting brackets work with the hex-shape to keep the pads from slipping easily. Material-wise, the rack poles are metal and most of the connectors and mounts are plastic. All of the pads mount on the rack except for the snare and kick pad.
The rack feels wobbly. While the large size is nice, it seems to make it more prone to wobbling and moving around. It's not as sturdy as a more professional rack would be. This rack could have benefited from some angle bar supports to keep it from wobbling.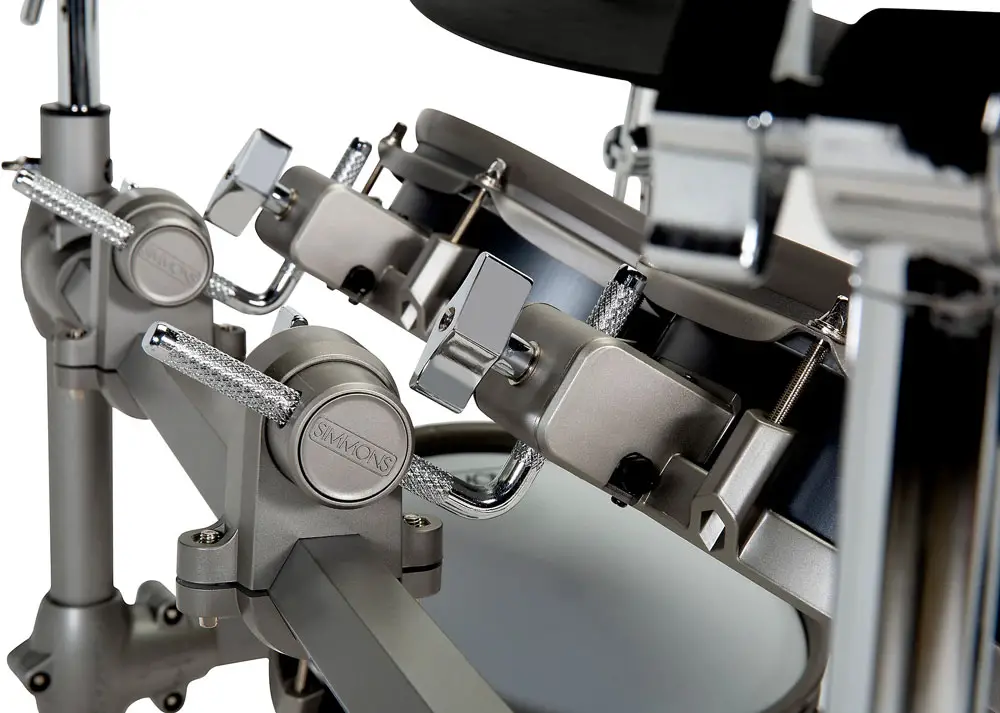 Sturdiness
Overall sturdiness of this kit is a weak point. It's one of the more wobbly racks and kits available. It's mostly due to the design of the rack and the overall large size. The pads move slightly and might wobble along with the rack while you are playing.
While this isn't a huge drawback for some drummers, it should be taken into consideration.
The rack can be made to be more sturdy with a little work. If you can find something that works to attach as angled supports between the legs and crossbars, you could tighten up the sturdiness of this a little more. However, you will need to go out and find some hardware that would work for that, as Simmons doesn't offer any types of angled supports made specifically for this kit.
Feel & Playability
The best way to describe this kit is that it feels like a beginner to intermediate kit with nice mesh drum pads.
The snare pad plays very nicely and the 12 inch size makes it feel close to a real snare drum. There are three sensors mounted inside of the snare to help pick up both head strikes, rim strikes and a combination of the two. Older versions of the 1200 series had trouble with the rimshot sounds, and this snare pad fixes those issues with a better blend of the sounds.
The tom pads also play nicely and have a good feel. The 8 and 10 inch pad sizes give you plenty of striking area. The rims can be assigned their own sounds, so you can use the rims for more cymbals, for example.
The cymbal pads feel average – they are not great, but not bad either. Decent rebound and the typical rubber cymbal pad feel. Pretty much what you'd expect a cymbal pad to feel like on a $1000 kit. A big plus for these cymbal pads though, in terms of playability, is the three strike zones on the ride, the 2 strike zones on the crashes and hi-hat, and the chokes on the ride/crash cymbals. They will generate a dynamic range of sounds depending on how you play them, and you can generally expect them to create sounds like an acoustic kit would.
The kick pad feels good – once again, there isn't anything that makes it jump out compared to competitors in this price range, but it's not a bad kick pad either. Maybe the only drawback here is the lighter weight of the kick pad. It still holds up well though when secured to a good kick pedal and mounted on a solid rug.
Double Kick Bass
The kick drum pad is only 6 inches in diameter, but it is big enough to fit both a single or a double kick pedal. There doesn't appear to be anything special that needs to be done to make a double kick pedal work or fit.
The biggest thing that drummers who use this kit will say is that you may need to play with the trigger sensitivity settings a bit to get them to work properly. Out of the box the sensitivity of the kick pad sometimes feels like it's too high and it might trigger just from bumping the kick pedal itself.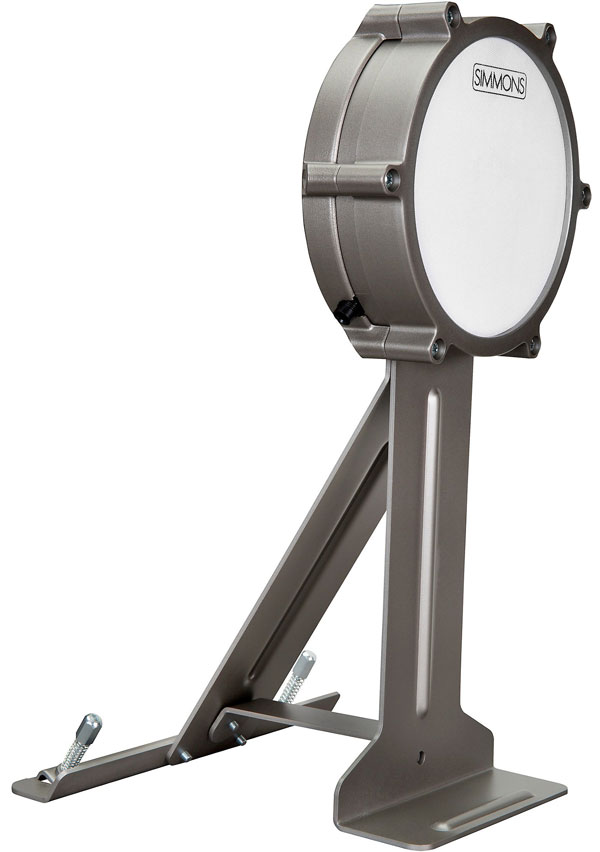 The Simmons SD1250 Drum Module
This isn't the greatest drum module in this price range, but it's good enough to get you up and running if you just want to set up this kit and play. Let's take a look at what features and sounds you can expect from this module.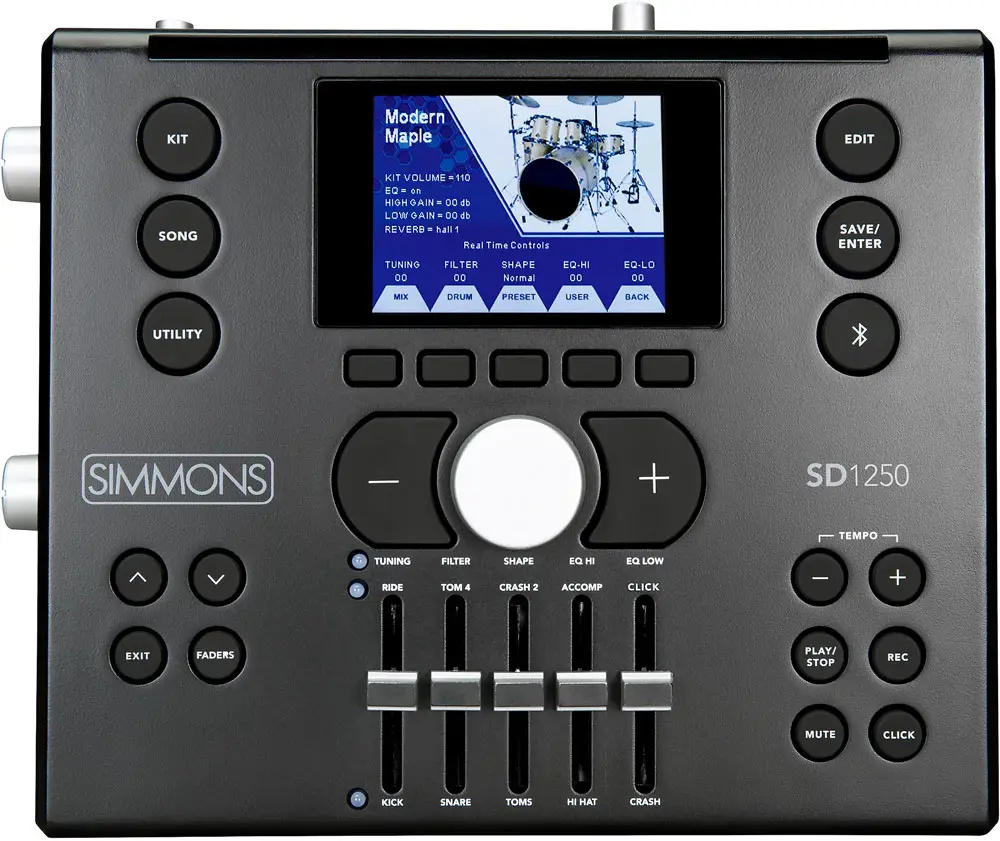 Interface
The interface will seem familiar for those who have used any other drum module before. A lot of the standard types of controls and options are readily available. Here's the controls you'll find on the top of this module:
Kit Button – enter Kit mode where you can select a kit to play
Song Button – enters Song mode
Utility Button – enters Utility mode
Edit Button – enters Edit mode
Save/Enter Button – used to save kits or select options
Bluetooth Button – enables Bluetooth
Increment Buttons – for changing values in settings
Value Knob – also for changing values in settings
Function Buttons – correspond to options on the digital screen
Full Color LCD display – for viewing settings and kit options
Cursor Buttons – allow you to navigate between fields in menus
Exit Button – the "back" button, essentially
Faders – can be used to control levels of sounds or change sound settings
Tempo Buttons – adjusts tempo and metronome speed
Rec Button – starts MIDI recording functions
Play/Stop Buttons – starts and stops songs when in Song mode
Click Button – Turn metronome on or off
Mute Button – Removes the drum track from the song
Fader LED's – indicate which options you are controlling with the faders
Inputs & Outputs
This module is what I like to call an Octopus approach. There are cable inputs/outputs on the back, left, right and bottom – and you'll have cables running from all of those sides when everything is fully connected. It's not a very clean look, but it gets the job done.
Stereo Outputs – Unbalanced 1/4″ Jacks
Aux In – 1/8″ Stereo Input Jack
Aux Level Knob – Adjusts level of Aux input
MIDI Input/Outputs
USB Connection
9v Power Adapter Input
Crash 2 Input – 1/4″ jack for extra crash cymbal pad
Tom 4 Input – 1/4″ jack for extra tom pad
USB Input – for flash drives for storage and loading sounds
Volume Control – the main volume for the main outputs
Headphone Level – the level control for the headphones output
Headphone Output – 1/8″ stereo jack
DB25 serial connector for the cable snake. The cable snake includes to the majority of the pad input cables.
Scope & Quality of Sounds
This module has a pretty good range of sounds, however drummers who own this kit find it debatable how good the sounds actually are. Some of the feedback on the sounds is that they sound old-school or not very well mastered or polished sounds compared to new modules from other brands.
The SD1250 drum module includes 50 preset kits and you also have the ability to create 25 user kits. Each  kit allows for 23 sounds in 10 different drums.
There are 750 preset sounds which cover the usual range of styles. In addition to the 750 preset sounds you can also load 128 user sounds to make your own, more unique drum kits.
The sounds that are included utilize Variable Attack Response, which includes multiple samples of each sound to create a more dynamic sticking a playing response.
Each sound can also be modified by using the built-in sound design controls. There is the ability to adjust low pass filter, pitch shift, velocity control of filter cutoff, resonance pitch shift and envelope length for the sounds.
Overall, there's enough sounds here to get you playing. However, many drummers who use this kit either find the sounds somewhat lacking. It's not uncommon to hear from a drummer that they use this kit as a controller for VST drums on a computer and forego using the Simmons drum sounds.
Bluetooth
While this module does have Bluetooth, it can only be used to transmit MIDI. It can't transmit audio, which is what most people think of when they see a Bluetooth option on a drum module.
Selecting Kits
This is pretty easy to do on this module. Simple press the kit button and choose a kit. The digital screen actually shows a visual, full color picture of the kit. Kind of a nice feature you don't see on many other modules.
Adjusting & Editing Kits
The overall sound of each kit can quickly be adjusted with the sliders on the module. The sliders correspond to Tuning, Filter, Shape, EQ Hi and EQ Low. These kit settings affect the sound of the entire kit, and not just an individual sound. Each kit can also have their own Reverb and EQ settings, which are adjusted via the main screen in Kit Mode. 
There is a Mix screen that allows you to adjust the level of each sound within the kit. You can also adjust the panning of each sound around the kit, and choose the amount of FX applied to each sound from the effect sends.
Saving drum kits saves all the settings that go along with it.
Adjusting Sounds
You can change the characteristics of sounds in this module by adjusting the sound parameters. These include such settings as Pitch, Velocity to Pitch, and Filter and Envelope settings.
Pattern Play
There is a Pattern Play feature that allows you to assign a pattern to a pad. When you strike the pad, the pattern starts or stops. This can be useful if you use the built-in drum patterns to practice along with. You can also record your own MIDI patterns to use with this function.
Song Mode
This mode allows you to play along with audio files or MIDI tracks. You can record your performances to a USB flash drive and play them back.
Recording and Playback
When recording your playing as Audio, you must save to a USB flash drive. If you record your playing to MIDI, it will be saved in the internal memory. MIDI songs are saved as MIDI files and can be loaded up and listened to any time after saving them.
Utility Mode
This is where you will find the majority of the settings such as trigger sensitivity, threshold, cross talk and re-triggering. You can also assign MIDI notes for the pads around the kit. The settings you would expect to find to tweak the feel of this kit and the pads are all here.
Metronome
The metronome settings are pretty standard, and there isn't really anything flashy going on here. You can choose the click sounds and volumes, and also change tempo, time signature and intervals.
What's Included?
When you purchase this kit, here's what you'll get in the box:
Rack with mounting hardware and boom arms
Kick Pad
Kick Pad Patch
Snare Pad and Snare Stand
4 Tom Pads
2 Crash Cymbal Pads
1 Ride Cymbal Pad
1 Hi-hat Pad with Foot Pedal Controller
SD1250 Drum Module
Cable Snake
1/4″ Cables for Tom 4 and Crash 2
AC Adapter
Drum Key
What's Not?
Here's what's not included with this kit that you will probably want to pick up:
Drum throne
Better sticks (the included sticks are light and cheap)
Headphones
Heavy rug
Kick pedal
Setup & Assembly
Overall, this isn't a very hard kit to put together. The instructions are good enough, although lacking in diagrams that show specifically how some of the smaller hardware pieces should be put together. As we do with most kits, we recommend taking a close look at the product photos to see how the pieces of the rack are mounted and make sure you match up with that. And also don't tighten everything down fully until you have everything generally in place and the positions of the pads adjusted to your liking.
Considering how many pads are on this kit, it might take up to an hour or more to get it all assembled and arranged to your preference.
Warranty
Simmons offers a 2 year warranty to cover defects in workmanship and material. This is one year longer than some other brands offer, which is nice.
Pros
Lots of multi-zone pads all the way around the kit
Mesh heads feel good
The rack is big and wide
Includes a snare stand
Price is good for the amount of hardware you get
Cons
The rack is wobbly
The drum sounds aren't as appealing as competing modules in this price range
The drum module overall is weak for this price range
The Verdict
The Simmons SD1250 electronic drum kit is an interesting kit for around $1000. It's very strong in what it offers for multi-zone pads, but the rack is a little wobbly and the sound module doesn't impress the way competing drum modules do.
While the drum module is usable – many drummers find that this is a great kit to pickup if you are more interested in the pads than the drum module. Pairing this kit up with MIDI controlled drums on a computer is a great way to get better sounds while taking advantage of the pad lineup.