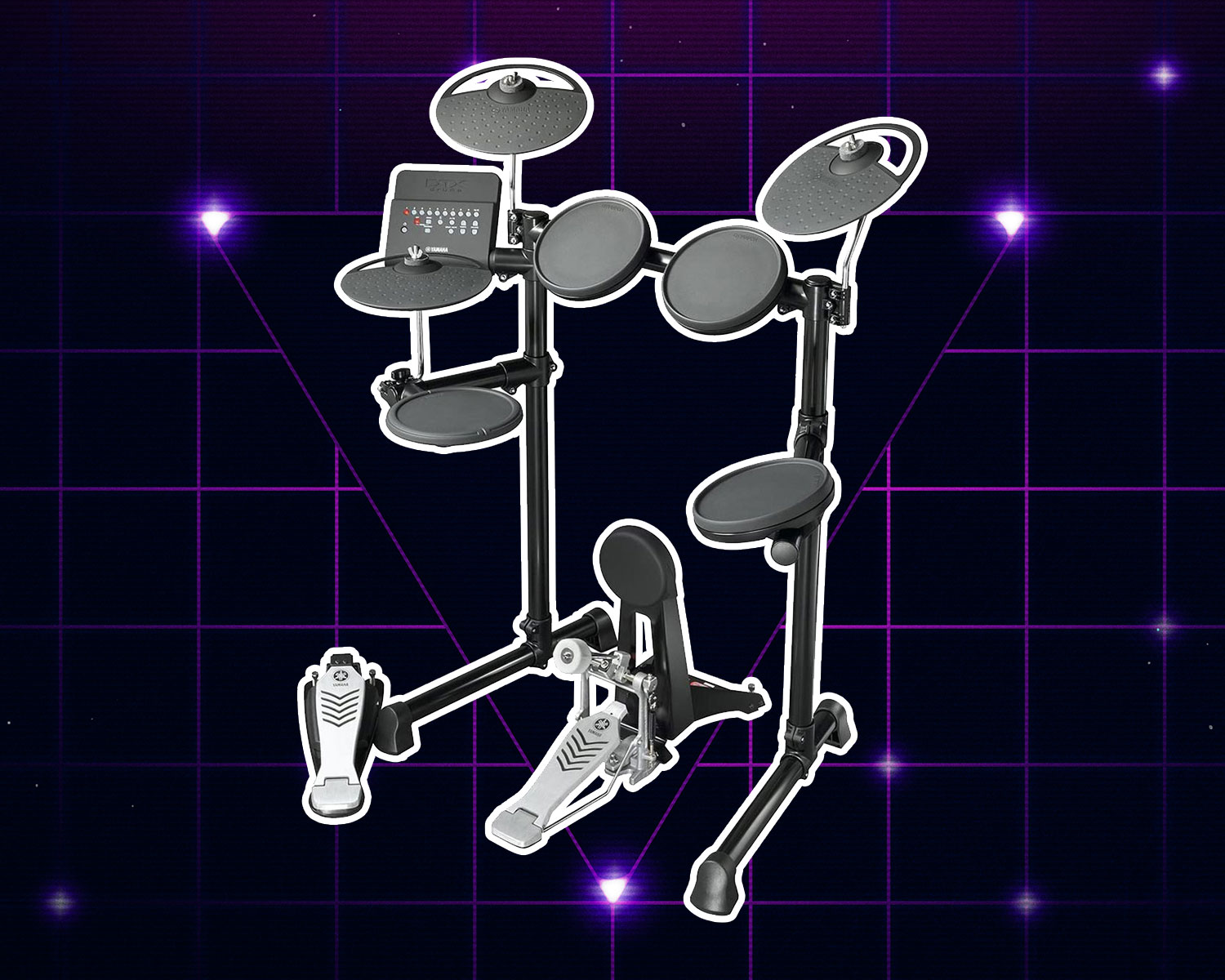 Yamaha is one of the leading names in audio and music equipment. You will see their brand name on home speaker systems, professional amps, guitars, and even electronic drums – such as the Yamaha DTX450K electronic drum kit.
With the DTX450K drum kit, Yamaha has put together a set that includes everything you need to play the drums. Unlike other electronic sets, this package has a drum throne, kick pedal, drumsticks, and headphones – for a complete electronic drum kit package.
While it is apparent that this kit is mostly intended for beginners, is it suitable for more experienced drummers and professionals? Find out by checking out the rest of this review.
Overview and Technical Details
What do you get when you purchase the Yamaha DTX450K electronic drum kit? As mentioned, you will receive everything that you require in order to start banging on the drums. This includes:
Ride and crash cymbals
Hi-hat cymbal
Remote hi-hat
Snare pad
Belt drive kick pedal and kick pad
Drum stool
Drumsticks
JVC full-size headphones
DTX400 Drum Trigger Module
As with any electronic drum kit, one of the biggest features is the drum module. The DTX400 Drum Trigger Module includes a library of 297 high-quality sounds. The module is pre-equipped with 10 preset kits that can be used to begin playing immediately or you can replace them with custom kits. By creating your own custom sets, you can tailor the sound as needed.
Additional features of the module include 10 training sessions for various skill levels and 10 play-along songs for practice. More songs can be added by downloading them through a USB connection to your computer. The kit is expandable, allowing you to purchase additional drum pads.
The Pros
The Yamaha DTX450K electronic drum kit comes highly rated, but what are the real benefits of this set? First off – it is affordable. The price tag is reasonable and offers a good price point for people that want a quality kit without having to spend a fortune. In addition to being an economical choice, you can also expect the following benefits:
Easy to setup and adjust drum positions
Quieter than using an acoustic drum kit
Quality Yamaha electronic drums
Comes with everything needed to start playing drums
This Yamaha drum kit is easy to setup, with an adjustable rack that allows you to position the drums however you want. Easily adjust the height of the drum pads to suit your comfort level.
Many people turn to electronic drum kits due to the fact that they are quieter than using an acoustic drum kit. This is very beneficial when practicing in your home or apartment. If noise is an issue, beating on electronic drums is much quieter, while still allowing you to play the drums and make music.
Thanks to the quality Yamaha electric drum pads, you can still get the feel and sound produced by a real drum set. The drum pads are sensitive and highly responsive. When looking at electronic drum kits, the quality and sensitivity of the drum pads should be your primary focus – as inferior drum pads will not offer the right sound and can impact your drumming.
The Cons
Are there any reasons why you should not buy the Yamaha DTX450K drum kit? When using this kit with headphones, you should notice a sound that is strikingly realistic and sounds like you are playing an acoustic set – as long as the drum pads function properly.
Most users should not notice any problems, but as with all electronics, there is the potential for defects or damage with repeated use. Some users notice that their drum pads begin losing their sensitivity over time or that the pads simply stop working. This is not guaranteed to happen, yet it is still a good idea to keep this in mind when considering this purchase.
What are Drummers Saying?
It is always a good idea to look at customer reviews and see what people have to say after actually using the product. The positive reviews all comment on the value of this electronic drum kit, while the lower ratings typically involve customers that have had issues with the drum pads. Sometimes the triggering stops and the pads need to be replaced.
As the drum pads appear to be the only issue that regularly pops up in customer reviews, it may be worth the cost to include a 2-year protection plan. A typical Yamaha warranty will include 1 year of parts protection from defect.
The Verdict
To put it simply – this is a beginner's kit. The sound quality does not quite match some of the higher-end electronic drums, but it is suitable for those learning how to drum or those looking for a simple practice kit. This is not to say that the Yamaha DTX450K electronic drum kit is an inferior product. Most users are very satisfied with the quality of the electronic drums and the sounds that they produce. Though, this may not be suitable for those looking for a professional setup or wanting to record.
What this electronic drum kit is good for is those wanting to practice, improve their skill, or teach someone else how to play the drums.