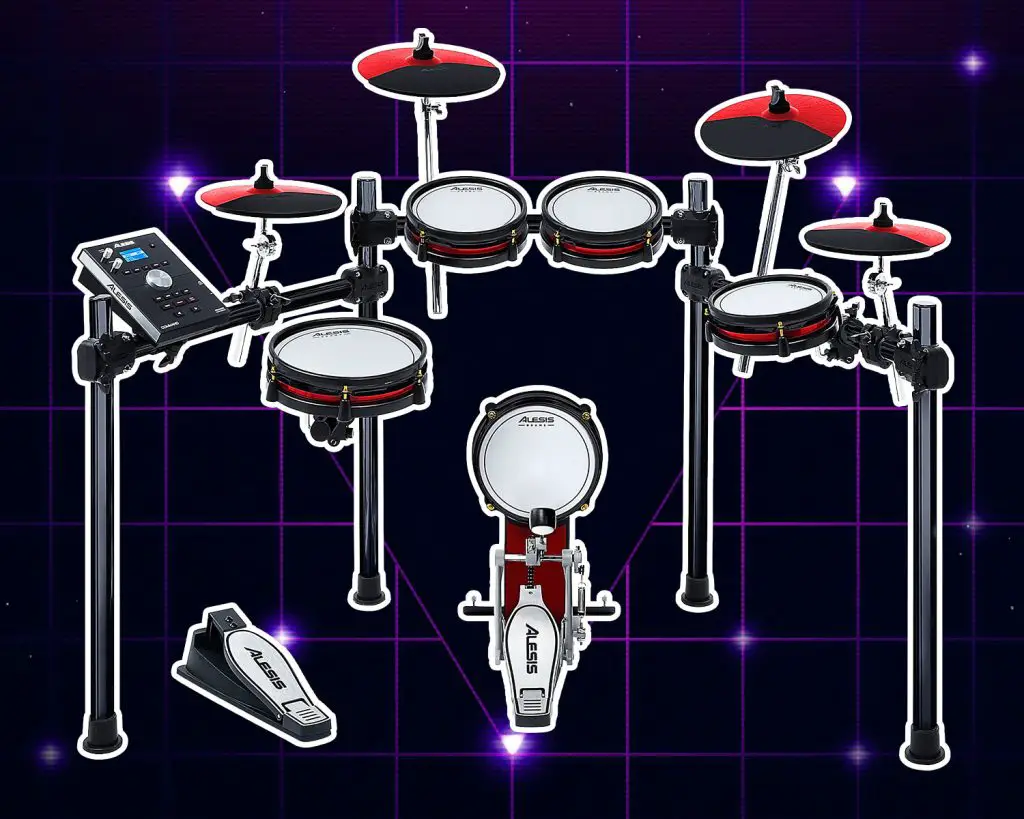 The Alesis Command X Mesh Special Edition (whew, that name is getting long) expands on previous versions of this drum kit with cosmetic changes and and an extra pad. The Command X has an extra cymbal pad when compared to the normal version of this kit. This can be a good kit for beginners who want more cymbal pads and mesh drum pads all the way around. Let's take a closer look.
What's New for the Command X Mesh Special Edition?
There are a few things that have changed from the previous version, mostly cosmetic.
Alesis newer white 2-ply mesh drum heads are being used on this kit, as well as most of their other newer kits. They feel pretty similar to the black mesh heads from previous versions.
The black finish on the rack is another change, the previous version had a chrome rack. The black finish is very sleek and it goes well with the other color changes on the kit.
The cymbal mounts are slightly different on the new rack, mounting on the cross posts rather than the vertical posts. This is more flexible for positioning cymbals.
The black finish on the pad rims, yet another cosmetic change.
The gold tension rod lugs around the kit are another cosmetic change.
There really aren't any major functional changes here. The kit does look more sleek though, in our opinion.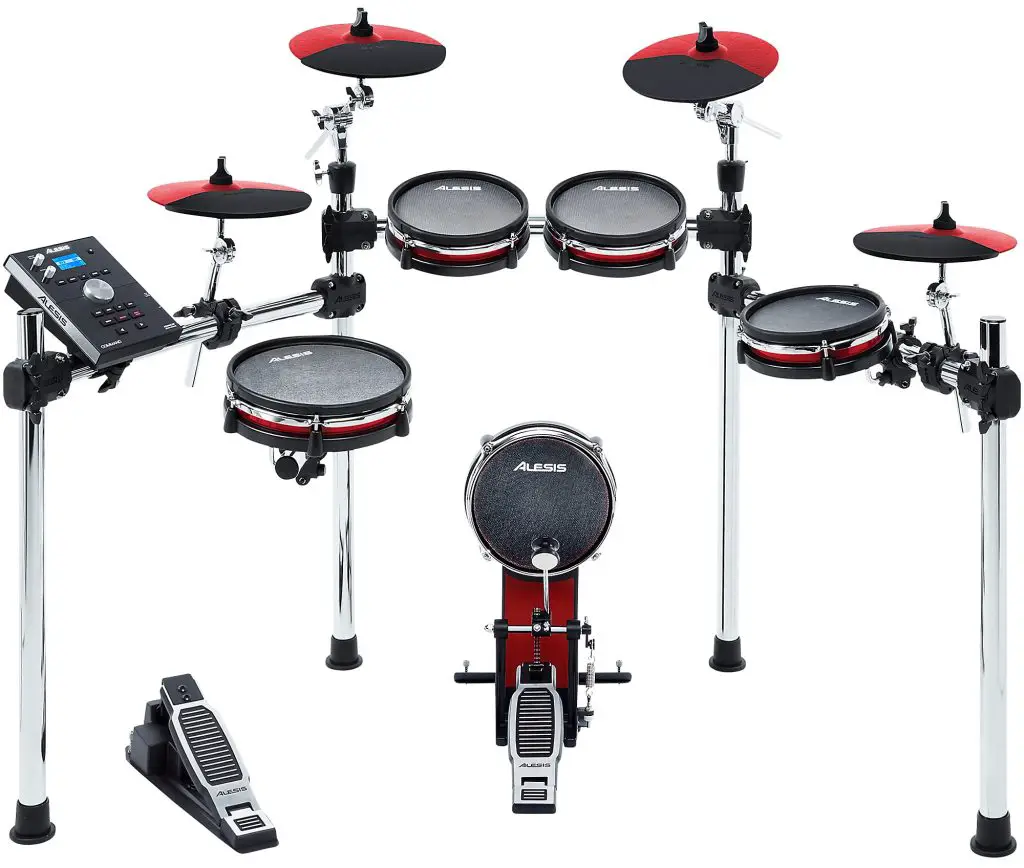 Command X Mesh (original version)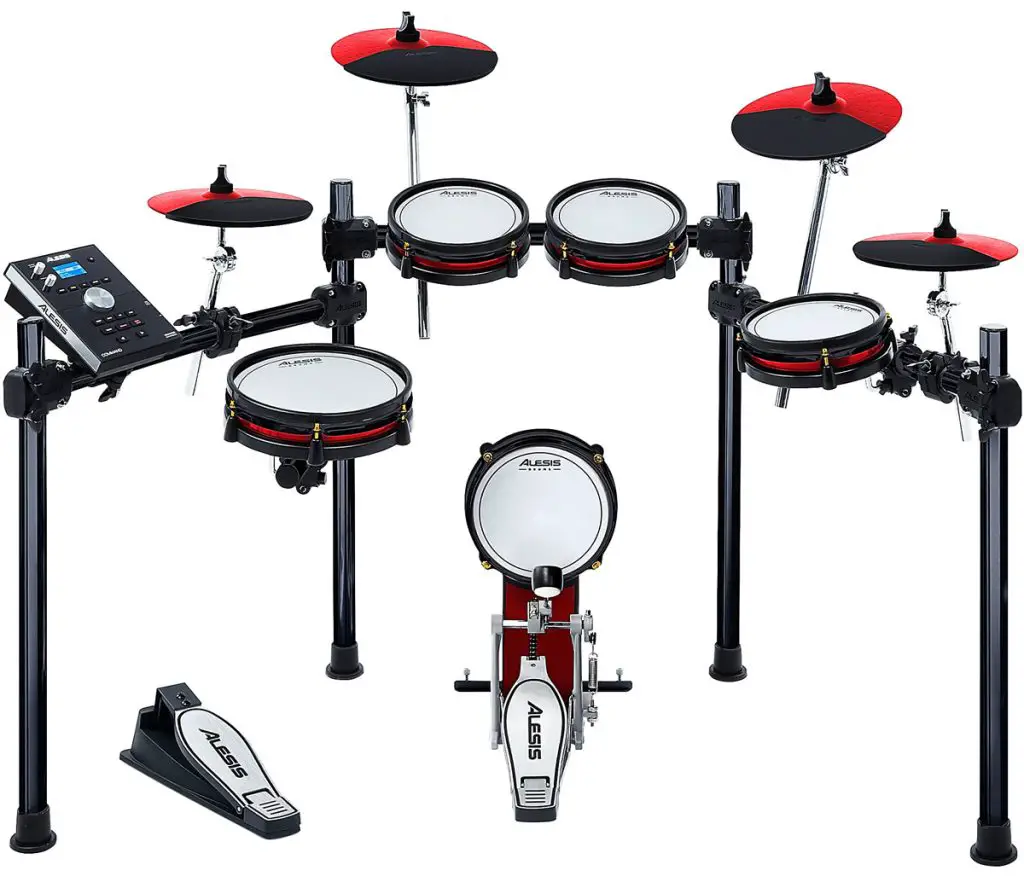 Command X Mesh Special Edition

Drum Pads & Cymbal Pads
This kit includes a nice mix of dual zone pads and mesh drum pads, except for the cymbals which are single zone. Unlike the cheaper Alesis kits, this is where you start to see more dual zone mesh pads all the way around the kit. The dual zone pads are pretty awesome, they allow you to assign different sounds to the rim and the head of the drum pad. This can be fun for things like adding more cymbal sounds to your kit by using the rims of the toms as cymbals.
The included pads:
10 inch dual-zone mesh snare pad
(3) 8 inch dual-zone mesh tom pads
8 inch mesh kick pad w/ stand
10 inch ride cymbal w/choke
(2) 10 inch crash cymbals w/choke
10 inch hi-hat cymbal
Snare Pad
The snare pad is a 10 inch dual zone mesh pad. The snare pad has a good feel for a smaller snare pad. It's limited in that it can't do things like cross sticking or true rim-shots. But it can make separate sounds from the head and the rim, so you can assign a rim shot sound to the edge and play it that way.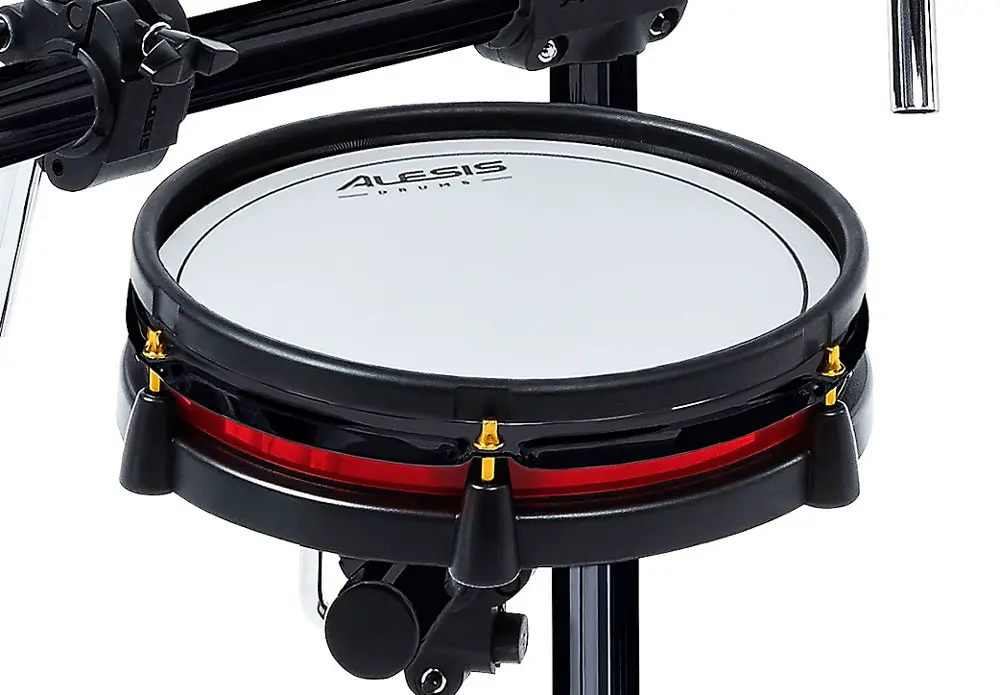 There are three tom pads and they are all the same size 8 inch pad. The toms are also dual zone, same as the snare. The inclusion of dual zone toms on this kit was a good move to make it more flexible in terms of overall scope of sounds you can play.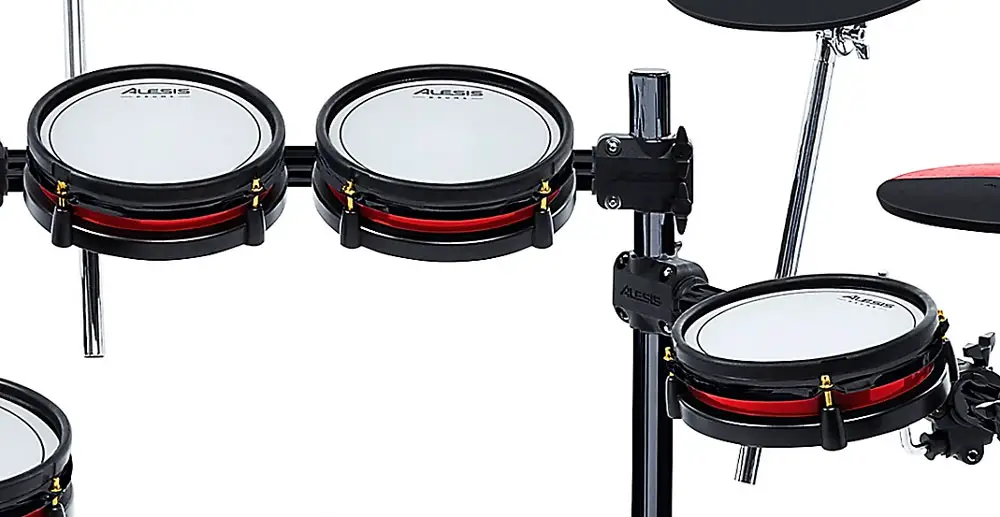 Cymbal Pads
The cymbal pads are one of the weaker points on this kit, but they aren't necessarily bad. The cymbals play just fine, it's mostly that are lacking in features when compared to other more expensive kits. They are also all smaller in size, all the cymbal pads on this kit are 10 inch in diameter. Some drummers have found that the cymbal pads are the first to wear out on this kit, and when they wear out the rubber might start to separate from the plastic.
The hi-hat pad is ok on this kit. It plays nicely in terms of physically sticking it and the rubber feel is about what you'd expect from an average rubber cymbal pad. The limitation on the hi-hat come in terms of sound generation. There's really only 3 positions in the sound range, from closed to half open to open. It still sounds good but there's not a lot of nuance in the positions.
There are 2 crash cymbal pads on the Command X version of the kit and both are single zone pads with a choke. They have a decent dynamic range when played but there's not a lot of variation in the sound.
The ride cymbal pad feels like it is lacking since there is no bell zone. It is also a single zone pad with a choke. It's basically the same as the crash pads.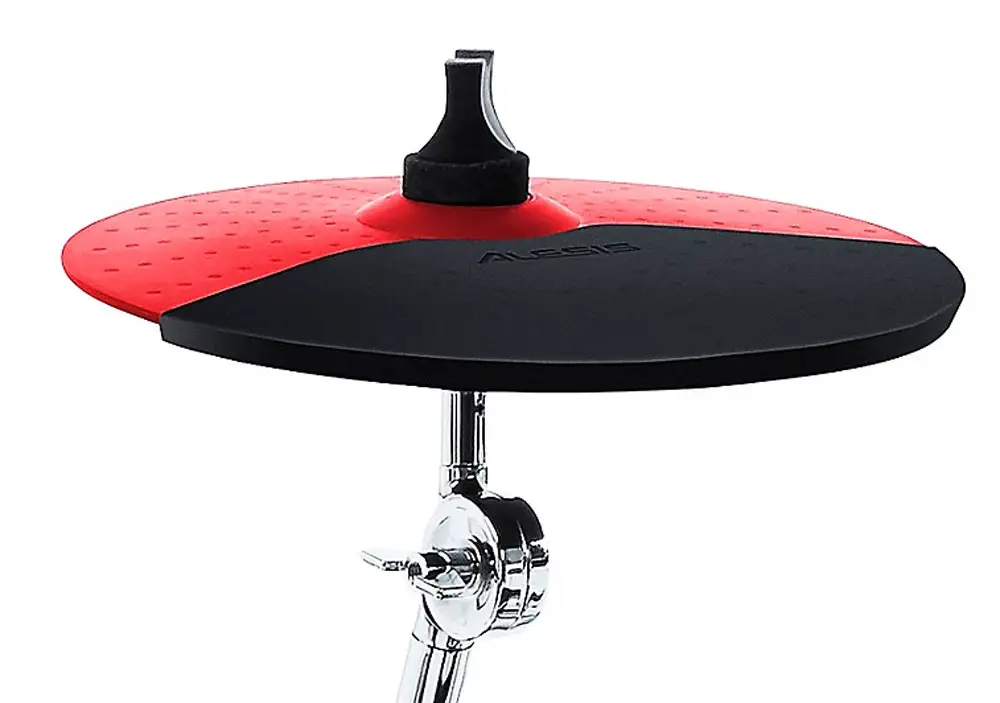 Feel & Playability
Drummers who play this kit like the feel of the drum pads. The mesh heads on the snare and toms are great and have a feel more similar to an acoustic drum head. Being able to adjust the head tension really helps to setup the kit to your preferred feel. The strike zone on the surface pads doesn't seem to have any weak spots, so you can hit from the center to the edge of the head and get a good sound response.
The quality of the cymbal pads is debatable. Most drummers find the cymbal pads to feel just fine when playing, they feel like any other basic rubber and plastic cymbal pad. The lack of different hit zones makes them feel less dynamic.
Most of the complaints about the cymbal pads are about the lack of dual zone sounds on the cymbals. They do have a choke features though, which is good. There is no bell zone or edge zone on the ride. You hit the ride cymbal pad harder to generate the bell sound.
The kick pad has a solid feel and also uses a mesh drum head. It still feels more like playing a practice pad than a real kick drum, but it's certainly very playable.
How acoustically loud are the pads? The drum pads are pretty quiet when hitting the mesh heads but louder on the rims. The cymbal pads are louder and sound like whacking on a hard practice pad. The kick pad has a little thump to it and it makes some noticeable noise.
The Rack
This drum kit includes a nicer rack than the cheaper Alesis counterparts. The rack is coated with a black finish and it looks pretty good. Two of the cymbal mounts have been moved off the vertical posts and to the cross bars. The rack is fairly solid and sturdy. The non-slip clamps for the rack are plastic and similar to the clamps used on the cheaper Alesis kits. They hold the pieces in place well, and can be tightened up enough to make the kit feel like one solid piece.
The rack remains somewhat compact while making enough room for all the pads around the kit. The Command X is already using up the extra cymbal input on the module and the extra space on the rack for a cymbal. You could still squeeze another tom pad on the rack and put that last tom input to use.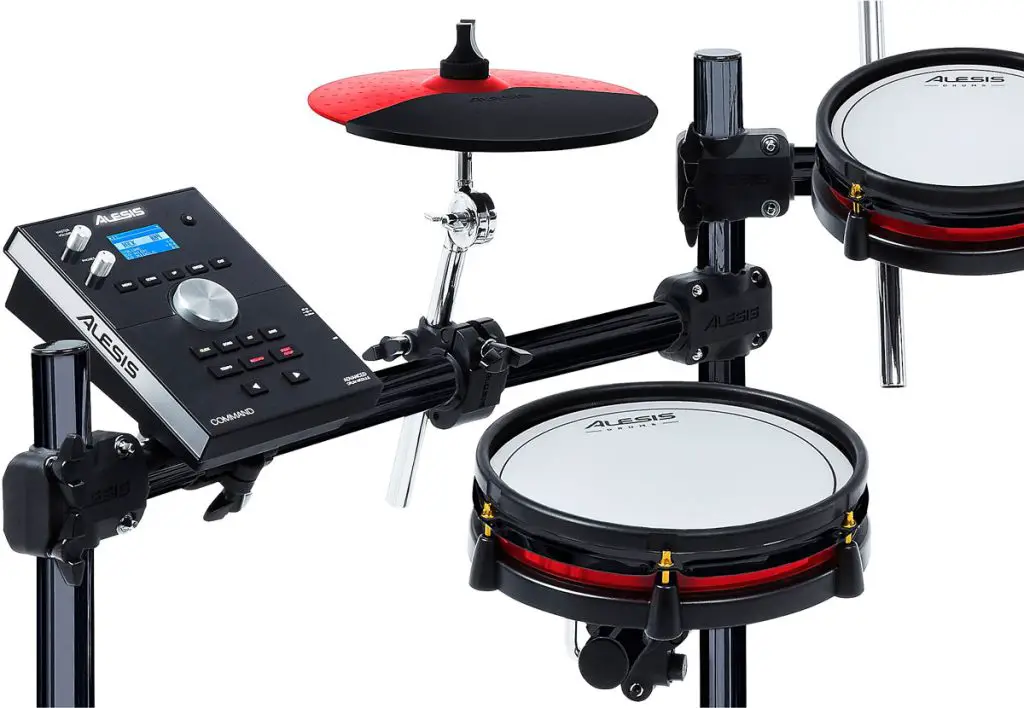 Sturdiness
For it's smaller footprint and budget minded approach, this is pretty sturdy kit. Many drummers feel like they need to play more lightly on electronic kits, but harder players who play this kit say they don't feel like they need to hold back at all.
The pads stay in place when the clamps are firmly tightened throughout the stand and nothing is going to move out of place while you play. The rack and pads might shake a little when you play them harder, but overall the kit has a solid, sturdy feel.
Kick Drum Tower
The kick drum pad on this kit is a tower-style piece of hardware. It's got some weight to it, and it sits solidly on the ground with big spikes to keep it in place on a rug or carpet. The kick pedal hooks up directly to it just the same as it would clamp onto a kick drum, so you can use any kick pedal with this kit.
The response is good and feels somewhere between a practice pad and and acoustic head. It's a decent sized surface and response seems pretty good around the surface area, but it's best to stay as centered as possible for the best trigger accuracy.
Also, make sure to use a beater with a smooth, hard beater surface to prevent wear on the mesh head. Using cloth beaters or textured beaters on mesh heads can wear them out faster.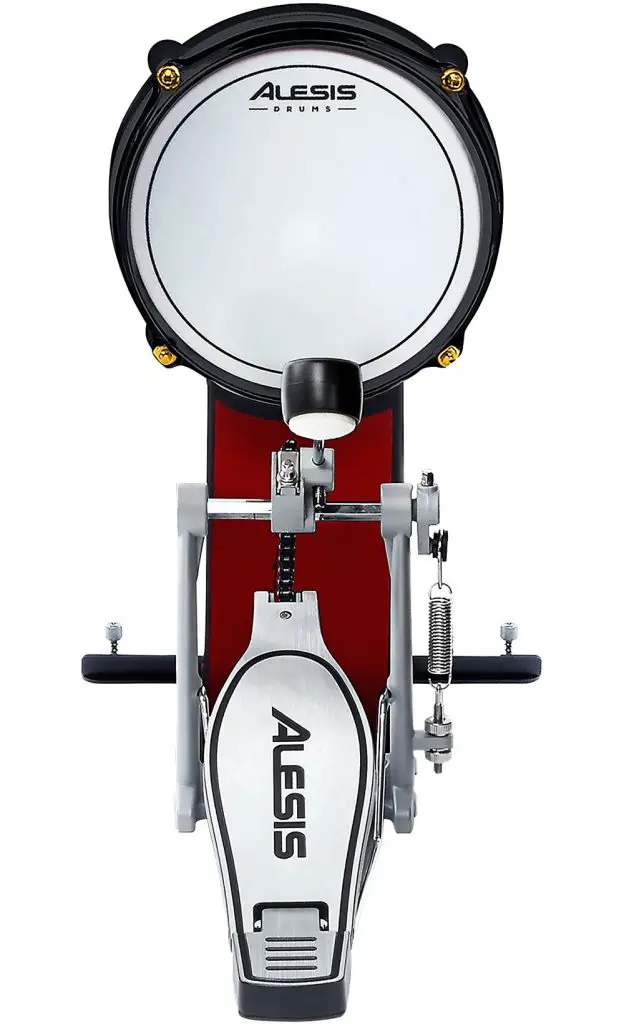 Double Kick Bass
The drum pad on this kit works great for double bass drum pedals. Drummers who want to play double kick haven't had any issues using their pedals on this kick pad. I've used both Tama Iron Cobra and Axis Longboard double kick pedals on this type of Alesis kick pad and they both worked well.
The Included Kick Pedal
This kit actually includes a kick pedal, which is a nice touch. If you don't have any drum hardware yet and need a basic pedal to get started, this can be a very good value to have this included. However, if you don't need the pedal, you might find the value of the kit to not quite be there since it'll be hardware that you won't use that contributed to the overall price.
It's a decent chain drive pedal that they have included here. It's nothing special, but not bad either. If you aren't sure you want to invest in a better kick pedal, give this one a try first before you upgrade.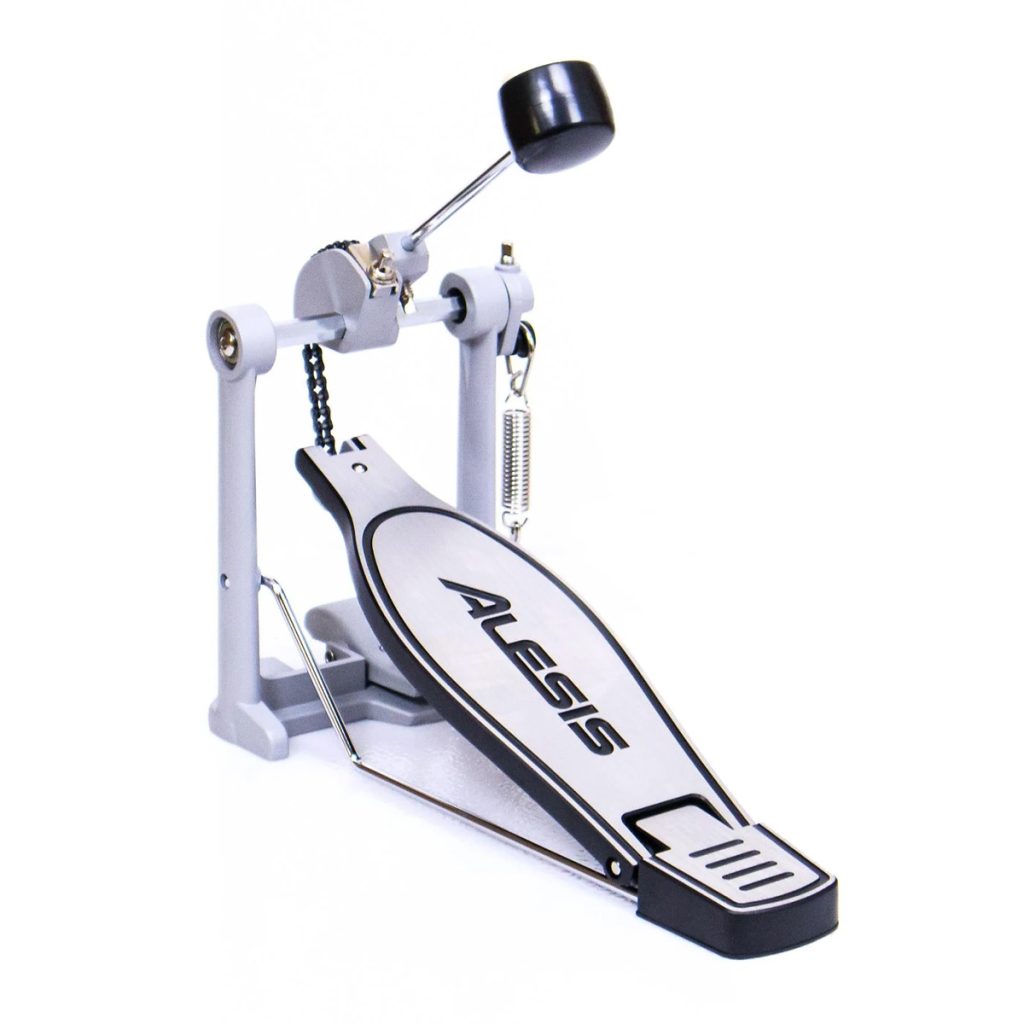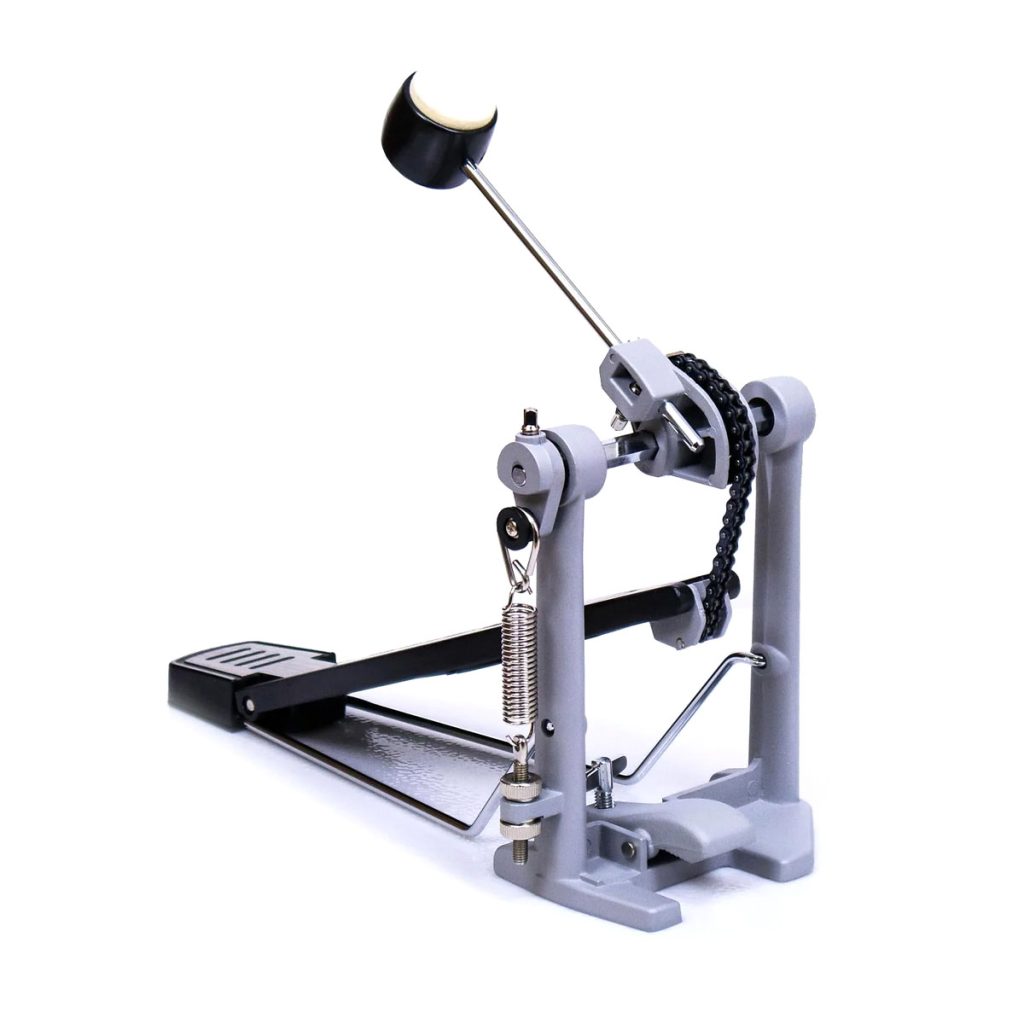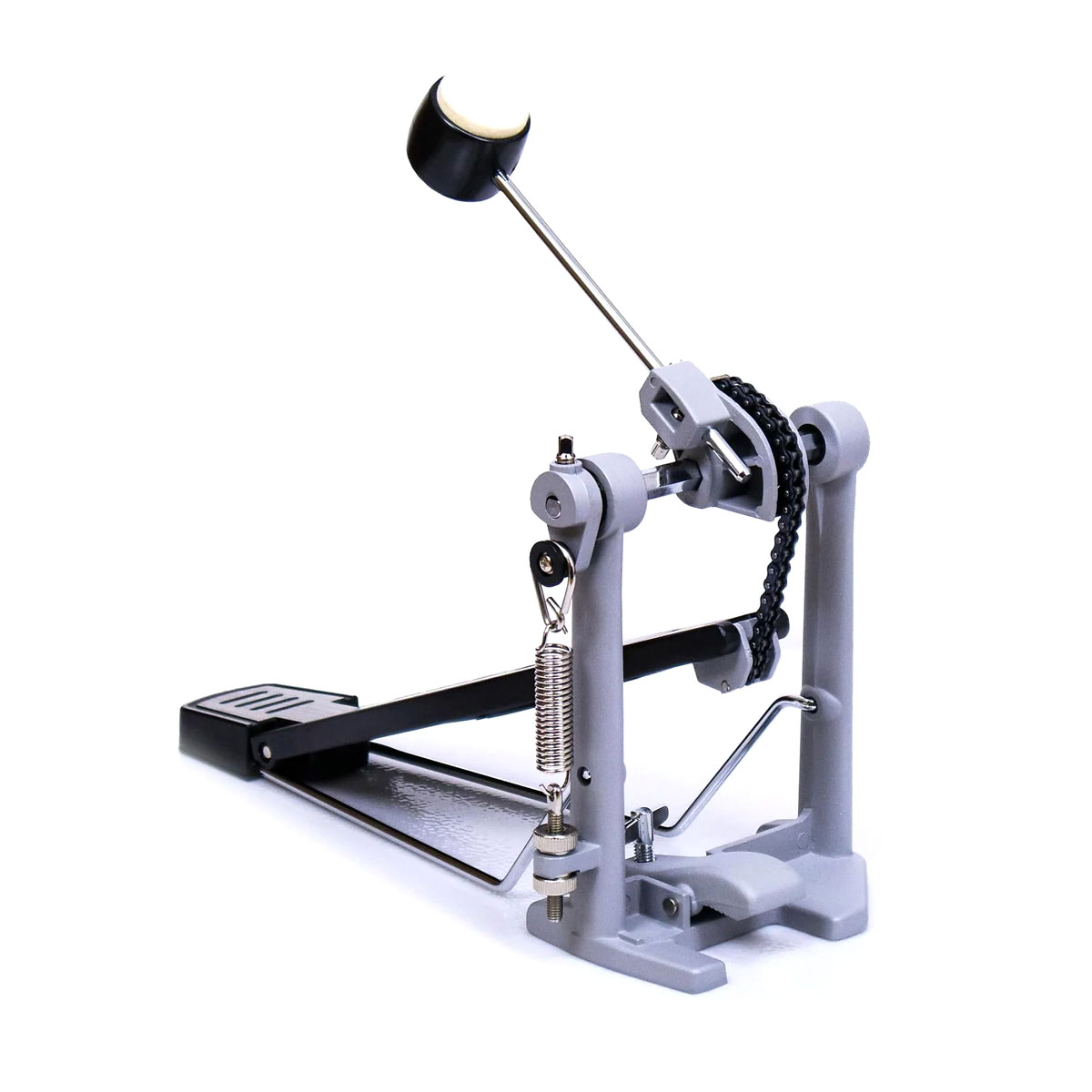 The Command Drum Module
The namesake drum module for this particular kit is the Command Drum Module. This is a more capable drum module than the cheaper Alesis kits will have. Let's go over some of the features.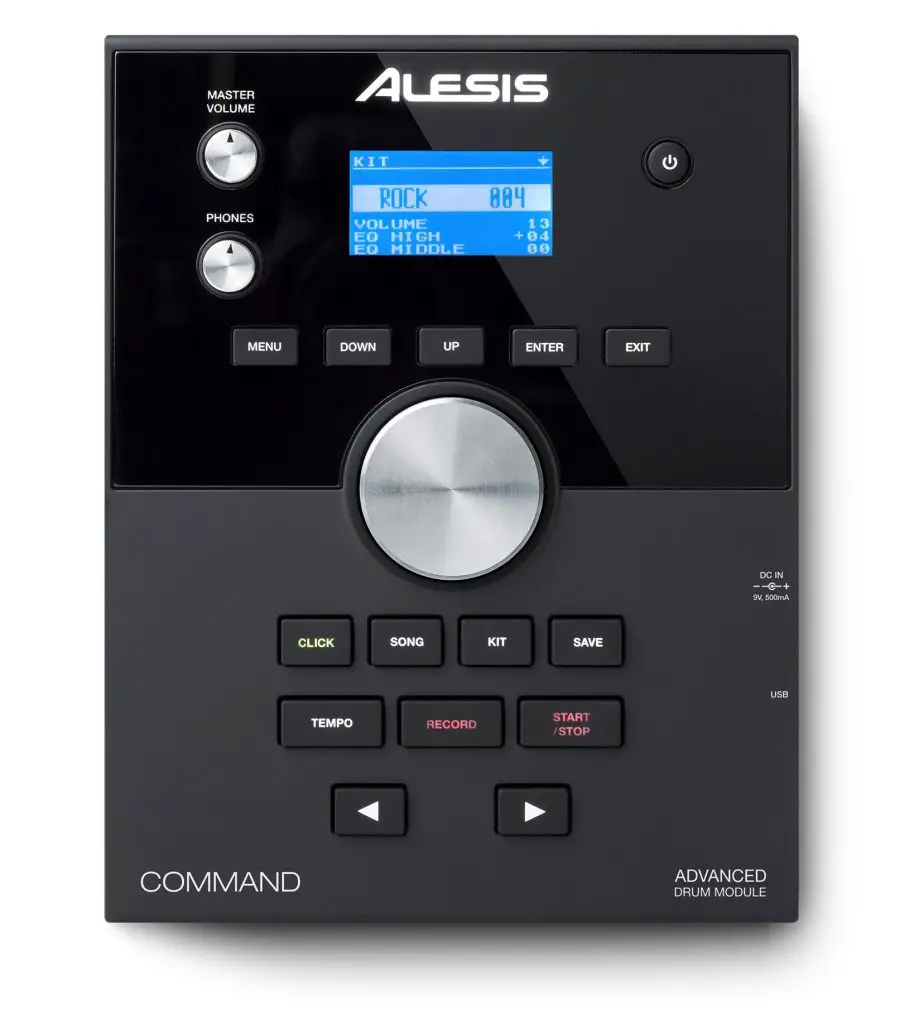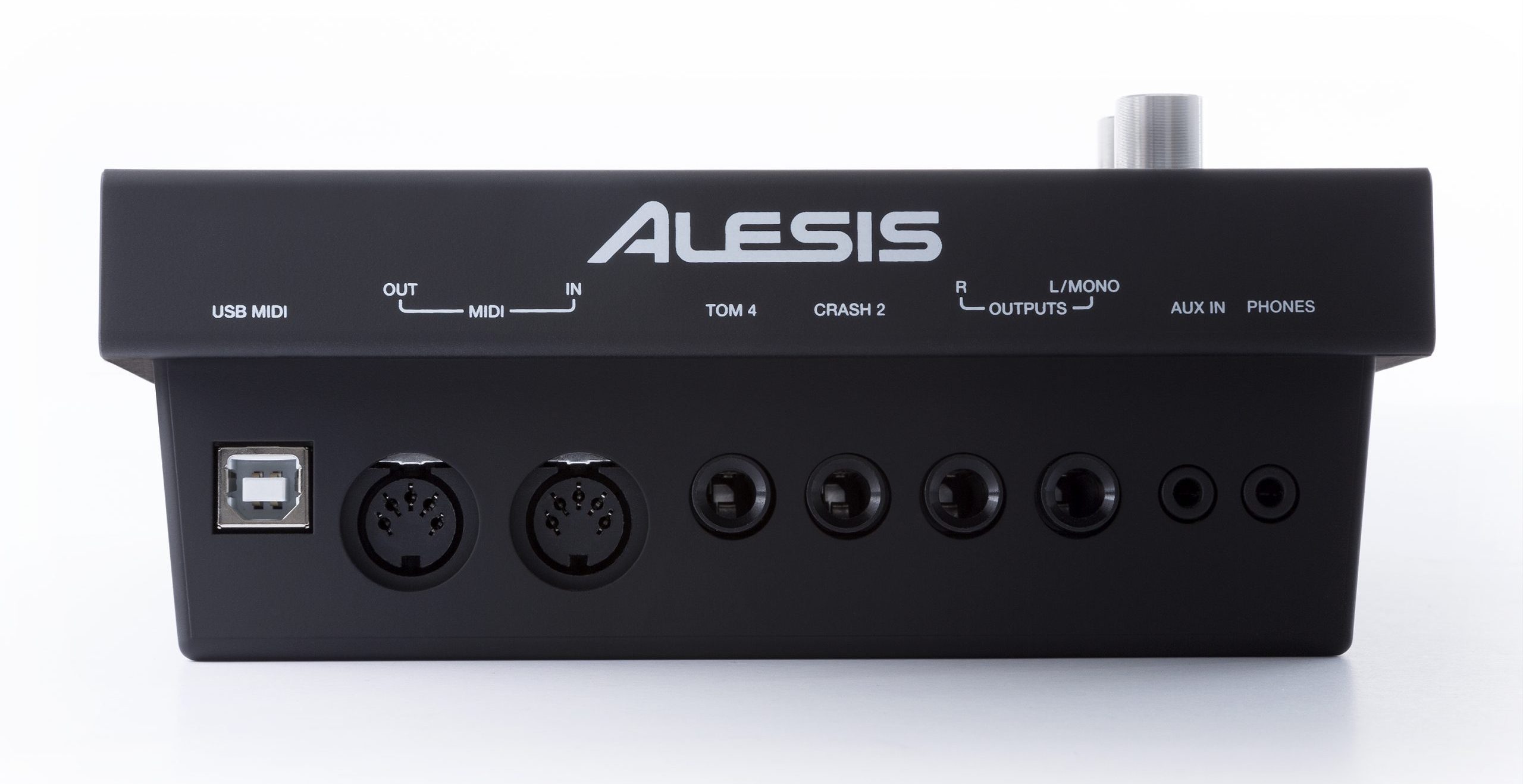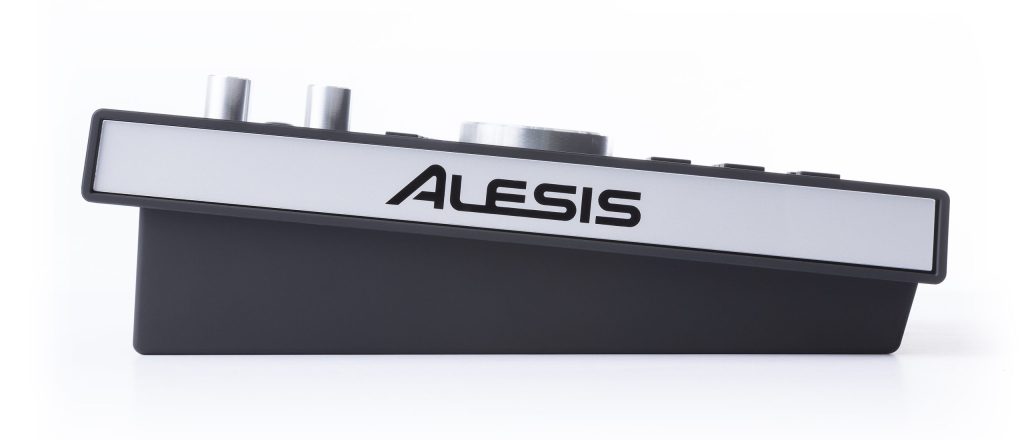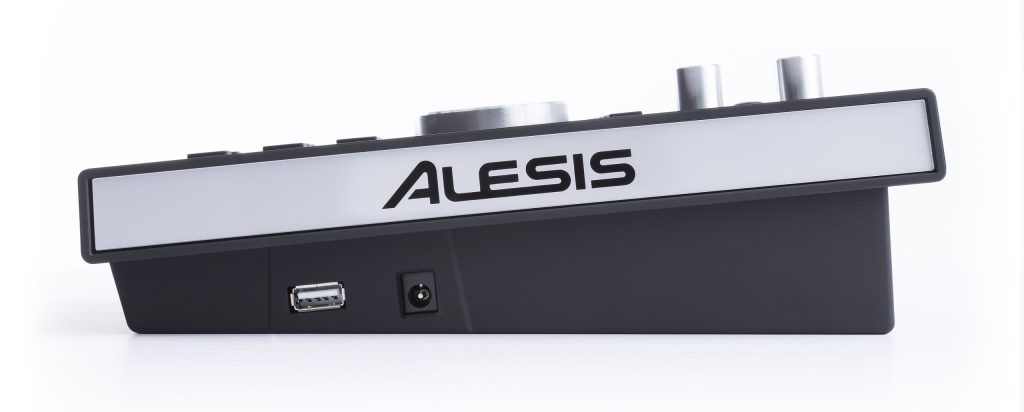 Interface
The interface is actually quite simple and straightforward, with a minimal amount of buttons. Things are named intuitively enough that you won't need to do a whole lot of guessing if you don't read the manual before trying it out. Many of the functions are accessed via navigating into menus in the screen display.
Inputs, Outputs and Connections
On the right side of the unit, you will find:
The power input for the power supply
The USB port where you can load sounds via a USB stick or drive
On the rear you will find:
3.5mm Stereo Headphone output
3.5mm Aux Input for connecting an audio player to play along with
Stereo 1/4″ TRS outputs
MIDI In/Out
USB MIDI Port
Additional 1/4″ crash trigger input for adding another cymbal pad to the kit
Additional 1/4″ tom trigger input for adding another tom pad to the kit
The thing that jumps out to me about this module is the addition of the USB port to load sounds. That is something you won't find on most of the cheaper kits out there. The expansion ports for additional pads are also nice to have if you want to grow your kit. Everything else is pretty standard.
Scope of Sounds
The Command module contains 54 preset drum kits and 20 user kit slots for saving your own drum kits. There are a total of 671 sounds according to Alesis. The kit/sound list published by Alesis shows 50 preset drum kits and 643 sounds in the reference list.
Overall, there is a nice mix of kit styles and sounds. There's kits for all types of music that you might want to play. And the ability to load your own sounds or make your own kits adds just that much more flexibility out of the box.
The sounds themselves are pretty good. These aren't top-tier electronic drum sounds by any means, but they don't suck either. You may find the sounds to be very workable for your needs. If you are very discerning about your drum sounds you may find the built in sounds to be lacking. No problem though, you are able to connect the module to a computer or other sound modules via MIDI to completely open up your sound options.
Editing Kits and Voices
The module allows you to edit kits and voices to tweak the sounds to your liking. You are able to choose different voices (the sounds) for each slot in the drum kits.
You can also further edit the voices and pad settings to modify the sounds to your liking. You are able to adjust settings such as: Pan, Volume, Pitch, Reverb and Decay.
You are also able to change the mode of each pad for playback. What this means is that you can choose from among Polyphonic (sounds overlap as you play them), Monophonic (Sounds silence each other when a new sound is played) and other settings like stopping all sounds or activating the metronome.
Metronome
This module contains a metronome, as most modules do. Always practice with a metronome!
Play Along Tracks
If you are looking for basic tracks to play along with, the Command module includes 60 practice tracks. You can play along with them or even record your performances along with them to help with practice.
Trigger Settings
This module offers ability to change the trigger settings for the pads. This is where you are able to dial in the "feel" of your kit, and change how sensitive the pads are.
You are able to change the following for most pads, even though not all these options are not available for all of the pads:
Sensitivity – How the pads react to stronger or lighter playing
Rim Sensitivity – How the rims react to stronger or lighter playing
Head-Rim Adj – Adjust the amount of cross talk between the head and rims – if you are hitting the rim and triggering the head, this setting can help tweak that issue, for example.
Threshold – The amount of force in general that needs to be applied to generate a sound
Xtalk – Cross talk settings allow you to control how much pads react to the vibrations coming from other pads being hit and triggered.
Curve – Adjust the velocity curves to control how dynamic the sounds are in reaction to lighter or harder playing
Retrig Cancel – Adjust the amount of time to produce two sounds. If you are getting a lot of double triggers from single hits, this setting can help with that.
Overall, the ability to tweak all these parameters will give you the ability to dial in specific settings to help the kit feel more natural to your play style. It's well worth it to take the time to explore these settings after you initially get your kit setup, especially if you are a more serious drummer and will be playing the kit a lot.
Lefty Mode
One other nice thing about this module is that you can put it in "Lefty" mode, which reverses the input of the pads on the modules, allow you to set thing up in reverse and still play it.
USB Drive and Loading Sounds
A standout feature for this module in it's price range is the ability to load sounds from USB and save kits to USB drives.
The ability to load sounds is probably the most interesting to most people reading this. You can load individual samples to replace voices in the user kits. There are some limitations, as outlined in the manual:
Each sample must be a 16-bit mono WAV file with a maximum size of 15 MB. It can have a sampling rate of 48, 44.1, 32, 22.05, or 11.025 kHz.
The sounds can't be deleted individually from kits after they are loaded, you only have the option to delete all samples from a kit at once.
In addition to loading sounds, you can save kits to USB if you run out of user slots on the module.
MIDI Settings
MIDI works as expected on this module, and doesn't do anything really crazy that you can't find on other budget modules. This module allows you to choose between either playing the sounds on the module or outputting to MIDI and deactivating the sounds on the module. You are able to change the MIDI notes for each pad, which gives pretty good flexibility in routing to external sound modules or devices.
Expandability
We touched a little bit on the expandability of this module. Here's what you are able to do:
Add another cymbal, with a dedicated input on the back for an additional cymbal pad
Add another tom, with a dedicated input on the back for an additional dual zone tom pad
Connect the module to external sound modules and devices via MIDI
Some drummers who use this kit have also found it easy to upgrade the hi-hat pads, the kick pads or other pads when needed.
What's Included?
When you purchase this kit, this stuff will be in the box and included:
The Rack with clamps and mounting hardware
Pads:

Kick pad with stand
3 Tom Pads
1 Snare Pad
2 Crash Cymbal Pads
Ride Cymbal Pad
Hi-hat Cymbal Pad

Kick Drum Pedal
Command Drum Module
Cable Snake
Power Supply
Cable Wraps
Drum Key
Drum Sticks
BFD Player
30 day trial of Melodics
User Guides and Assembly Guides
What's Not Included?
What's not included, but you probably will also want or need:
Drum throne
Headphones
Nylon tipped drum sticks (sometimes recommended for electronic kits)
A heavy, flat rug to keep the kit and pedals from slipping around
Setup and Assembly
Some people struggle to set up this kit easily, while others will find it easy. Most people who buy this kit seem to agree that the assembly instructions are lacking and can be a little confusing. Either way, you're probably looking at about an hour or less to get this assembled.
A recommendation we have is to study the directions of the clamps and mounting bars very closely before putting them together, this will help prevent backtracking. It also can help to simply look at photos of the kit already assembled, in addition to the instructions, to help see how things are connected and aligned. Don't rush assembly, take it slow and you'll be fine.
When setting up the kit, don't overly-tighten all the connectors and clamps right away. Only tighten things enough to hold them lightly in place at first, and then once you get the kit fully setup you'll be able to adjust positioning of everything a lot more easily before finally tightening everything down harder.
Support
People who own this kit have run into varying levels of support response from Alesis. Some have found it easy to get parts replaced, while others have claimed support isn't very helpful. Overall, as of recent, Alesis support seems to be pretty good and will help you out if you run into any issues. They are known for replacing parts as needed if parts fail or break.
Pros
Slick sound module for this price level
Ability to load sounds from USB
Rack is nice at this price level
Kick pad big enough for double kick
Includes a kick pedal
Includes an extra crash cymbal
Dual zone pads on the snare and toms
Cons
Cymbal pads feel like the weakest link on the kit
Hi hat pedal can feel a little sloppy if you are used to a real hi-hat
Price jump from previous version of this kit
The Verdict
Overall, the Alesis Command X Mesh SE is a decent pick for it's price. For the extra money over the non-X version you're really only getting an extra single zone cymbal pad and a red color finish.
You'll have a lot of fun with the Command Sound Module, it really does stand out when compared to the cheaper offerings from Alesis and other competitors in this price range.
The hardware on this kit is pretty good but the cymbals can come up short since they are only single zone pads. The inclusion of the kick pedal can be a value for beginners but is dead weight and extra cost for experienced drummers who already have hardware. This is a good kit for beginners who want a drum kit with more pads.