The Yamaha DTX6K3-X is an excellent intermediate level compact drum kit. It might look a little small compared to other kits around the $1900 price mark but it is packed with a lot of features and is a very playable kit, even for more advanced electronic drummers. Let's take a deeper look at what this kit has to offer.
Drum Pads & Cymbal Pads
Yamaha is using their latest generation of DTX drum pads on this drum kit. The DTX pads are NOT mesh heads, but they are extremely playable and some electronic drummers prefer these pads to mesh heads.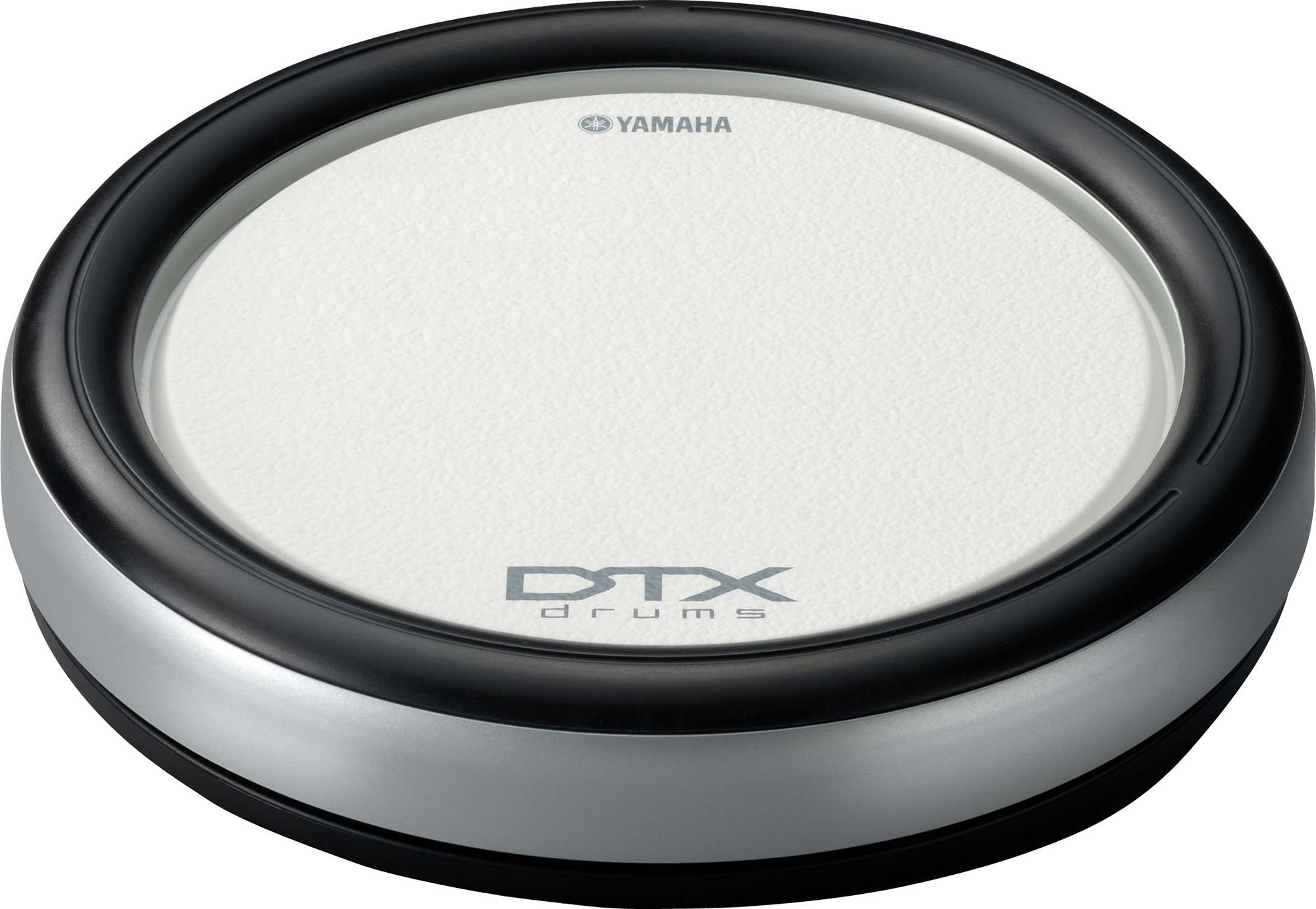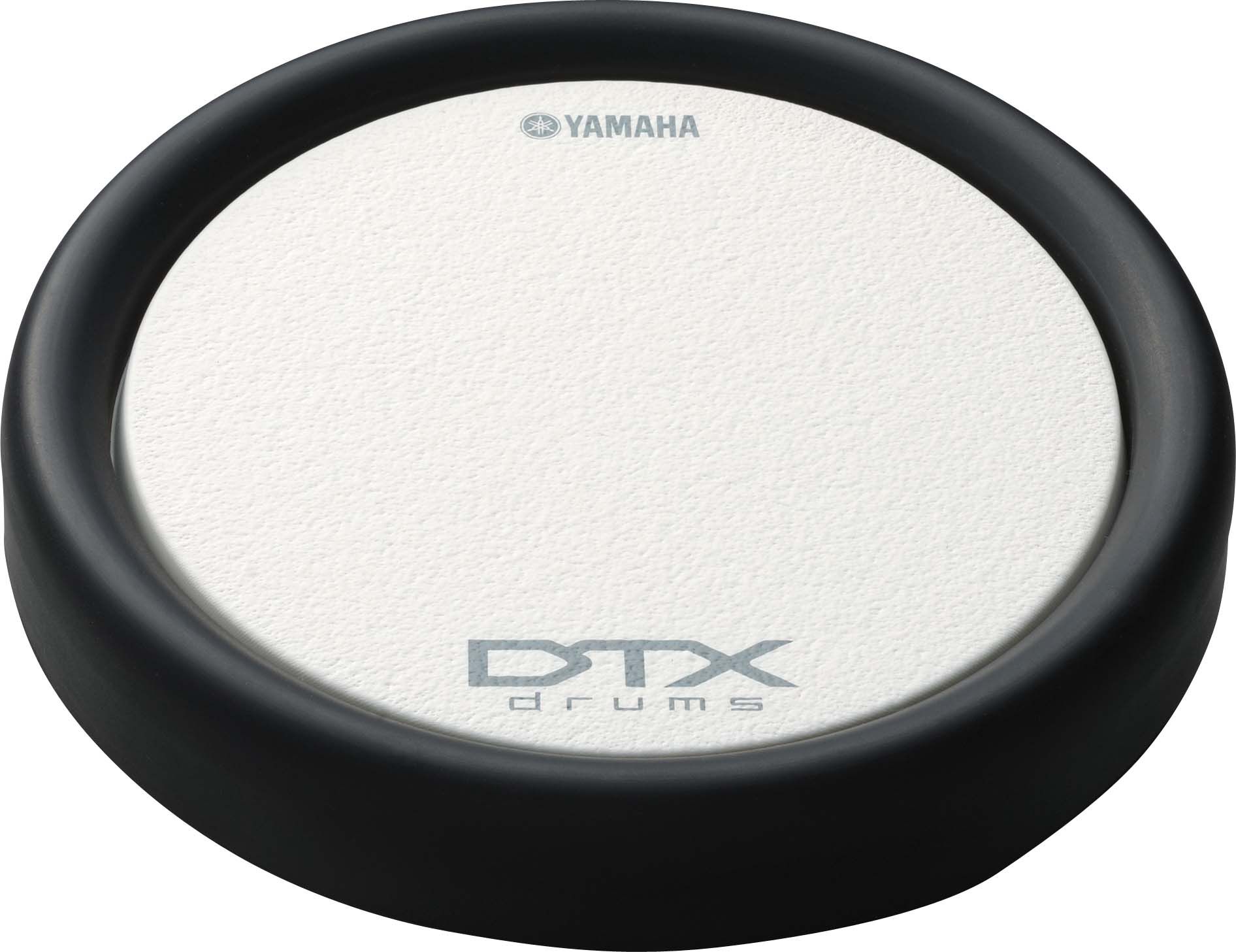 Drum Pad Sizes & Zones
This kit comes with the following drum pads:
8 Inch XP80 Snare
3x 8 Inch XP70 Toms
KP90 Kick Pad Tower
The first thing you might notice is that this kit has an 8 inch snare and toms. In terms of other drum kits in this price range, those are smaller in size than you will find on competing kits from other brands. I think the reasoning from Yamaha here is that they are designing this kit to be the top of the line compact kit using their compact DTX pads. Some drummers prefer to have a more compact kit and smaller pads for many reasons, and this kit is here to deliver for that crowd.
The snare pads is a 3-zone pad that can do standard head strikes, rim shots and also cross stick sounds. It's quite versatile and not a beginners snare pad.
The tom pads are only single zone pads. This is a bit of a drawback as you can't assign separate sounds to the rims, for example.
TCS Drum Heads
TCS stands for Textured Cellular Silicone Head. The pads have a textured surface and have a good sticking response. Drummers who play on DTX pads say they don't feel as bouncy as Roland's mesh heads. While they have a good sticking feel, they are not entirely accurate to an acoustic drum head feel. In terms of playability though, this is not a negative. These are very playable drum heads.
Yamaha's DTX drum pads are designed to provide a quiet, textured and firm-yet-giving playing surface that won't fatigue your hands during play. They are also acoustically more quiet than a practice pad.
Yamaha really hit the mark with this pad design and has now used this type of pad on their kits for years. If you want to use drum pads that aren't mesh heads but still have a great feel – these are hard to beat.
Check out this quick video from Yamaha that explains their pad design. It shows how they design the pad to provide a good playing surface.
The Cymbal Pads
The cymbal pads that come with this kit are very playable and dynamic. With this kit, you get the following cymbal pads:
PCY135 Ride Cymbal
2x PCY135 Crash Cymbals
RHH135 Hi-Hat and HS-650A Hi-Hat Stand
The PCY135 ride cymbal is a 13 inch cymbal pad with three zones. The zones are the top bow, edge and bell. The ride cymbal also has choke zones all the way around so you can choke it like an acoustic cymbal. With the multiple zones and the choke it nearly plays like an acoustic cymbal, minus the feel of the rubber surface and the smaller diameter.
The crash cymbals are also the same 13 inch PCY135 pads as the ride, so they will feel the same as the ride cymbal.  The crashes have multi-zone sounds and choke all the way around for excellent playability.
The hi-hat pad is designed to work with a real hi-hat stand, which is another thing that makes this kit feel higher-level. This gives the hi-hat a much more realistic feel in terms of foot pedal usage. The hi-hat consists of a very small piece on the bottom that works with the 13 inch pad on the top to simulate the top/bottom of typical hi-hat stack. The hi-hat pad can play closed edge, open edge, closed bow, open bow, foot closed and also foot splash sounds – so it's quite versatile and dynamic in how it can be played. The tilt angle can even be adjusted for when it's in a 'closed' position. This drum kit includes a nice HS-650A Yamaha hi-hat stand, so you won't need to buy a stand if you don't have one already.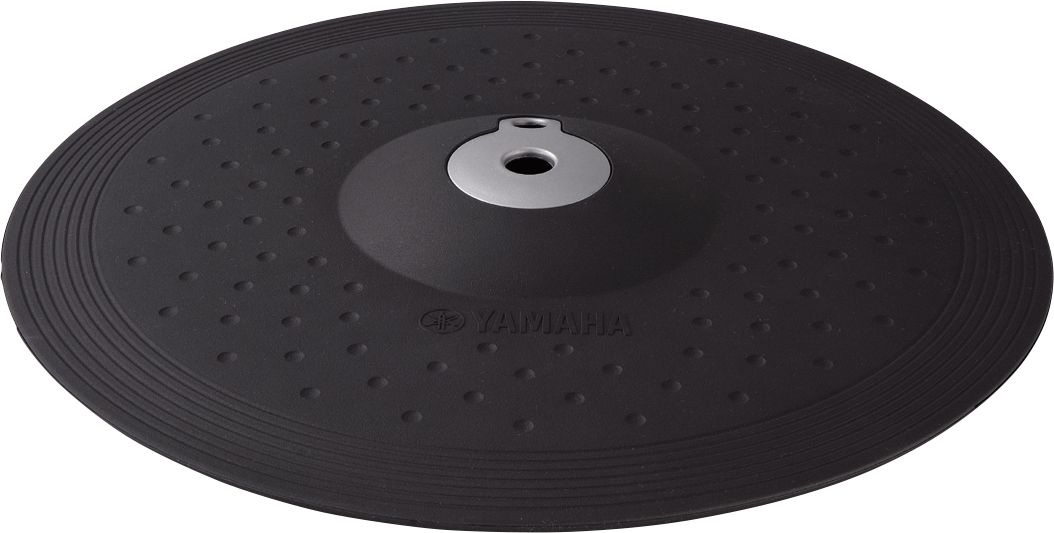 The Rack
This is a very compact rack for a kit in this price range and considering what it's competing against. The first thing you will notice just looking at it is that there is no rack bar/arm on the left side like many other drum kits will have. Instead there is room on the left for a traditional high hat stand.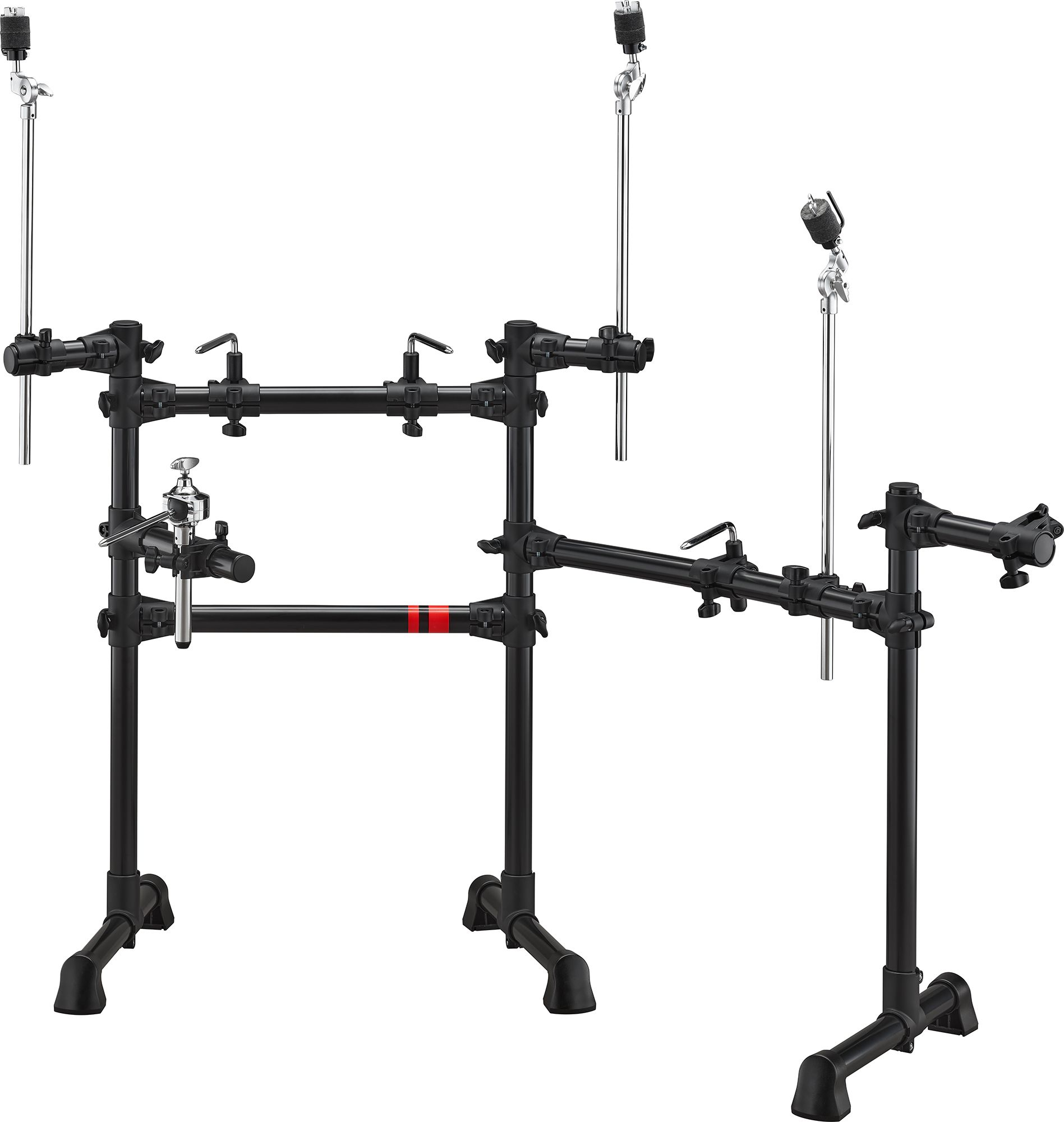 Some drummers look at this rack and say it looks like something from maybe 10 years ago, mostly due to the additional feet on the bottom of the posts. It looks similar to my old Alesis DM-10 rack in that way. However, the feet on the bottom are necessary to keep this rack well balanced and as sturdy as possible – due to it not having an additional bar/post on the left side. For that reason, the design of this rack works well. It keeps the overall rack footprint compact and to a minimum.
The rack is adjustable in all the ways you'd expect. You can easily adjust the height, angle and rotation of the pads. The hardware clamps down sufficiently and the pads stay in place during play, even for more aggressive drummers.
Sturdiness
The overall sturdiness of this kit is quite good. Sometimes we expect smaller, more compact kits to be a little more wobbly, but this kit stands strong when you are hammering on it.
Having the hi-hat and kick drum pad not attached to the rack helps the rest of the rack feel that much more sturdy – there's physically less pieces attached to the rack overall. With a normal hi-hat stand, you can expect that to stay in place like any other hi-hat stand would.
The kick pad doesn't move either if you are using a decent rug, it has spurs and velcro-type of material to keep it in place.
Feel & Playability
The design of this kit is more compact that the Alesis and Roland kits in the price range, with smaller pads and a smaller rack. But does that affect the playability? Or the feel of the pads?
The Yamaha DTX pads are somewhat of a unique design in the drum world, and have their own special feel that drummers tend to like. If you are a DTX pad fan, you will really like how this kit feels during play.
If you are more of a fan of the mesh style drum heads, this kit might not have the best feel for your liking, as the DTX pads are distinctly different in feel than a modern mesh head. They are not necessarily better or worse, just different. Mesh heads give and bounce a little more and DTX pads feel closer to a practice pad.
The size of the drum heads could also affect playability. Most drum kits in this price range have larger snares, and usually large tom heads as well. This DTX kit gives you 8 inch pads all the way around, which is small. That is intentional with this kit, since the goal is to be more compact but also have great feeling pads. If you tend to prefer larger pads or don't want as much of a shock when moving between your acoustic and electronic drum kits, the Yamaha DTX drum pads may be too small for you.
The hi-hat is very playable on this kit, and with being mounted on a traditional hi-hat stand, it will feel very similar to a traditional hi-hat.
The kick drum pad is also unique in design and has excellent feel and playability. Drummers like this drum pad when they use it. It's not a "hard" drum pad but designed to have some "give" and it feels like a more traditional kick drum head.
The cymbal pads are pretty standard and play like typical rubber cymbal pads. They are quite responsive for dynamic play styles, but nothing out of the ordinary for this price range.
Double Kick Bass
The KP90 kick drum pad can easily accommodate a double kick pedal. This pad can be a little finicky during setup for double-kick, but once you get it dialed in it feels and plays great.
If trying to use double kick on this kit – make sure to get the beaters properly centered on the pad and then you will also need to play around with the sensitivity settings a bit. If you don't properly center the beaters on the pad you may notice volume differences between left/right beaters.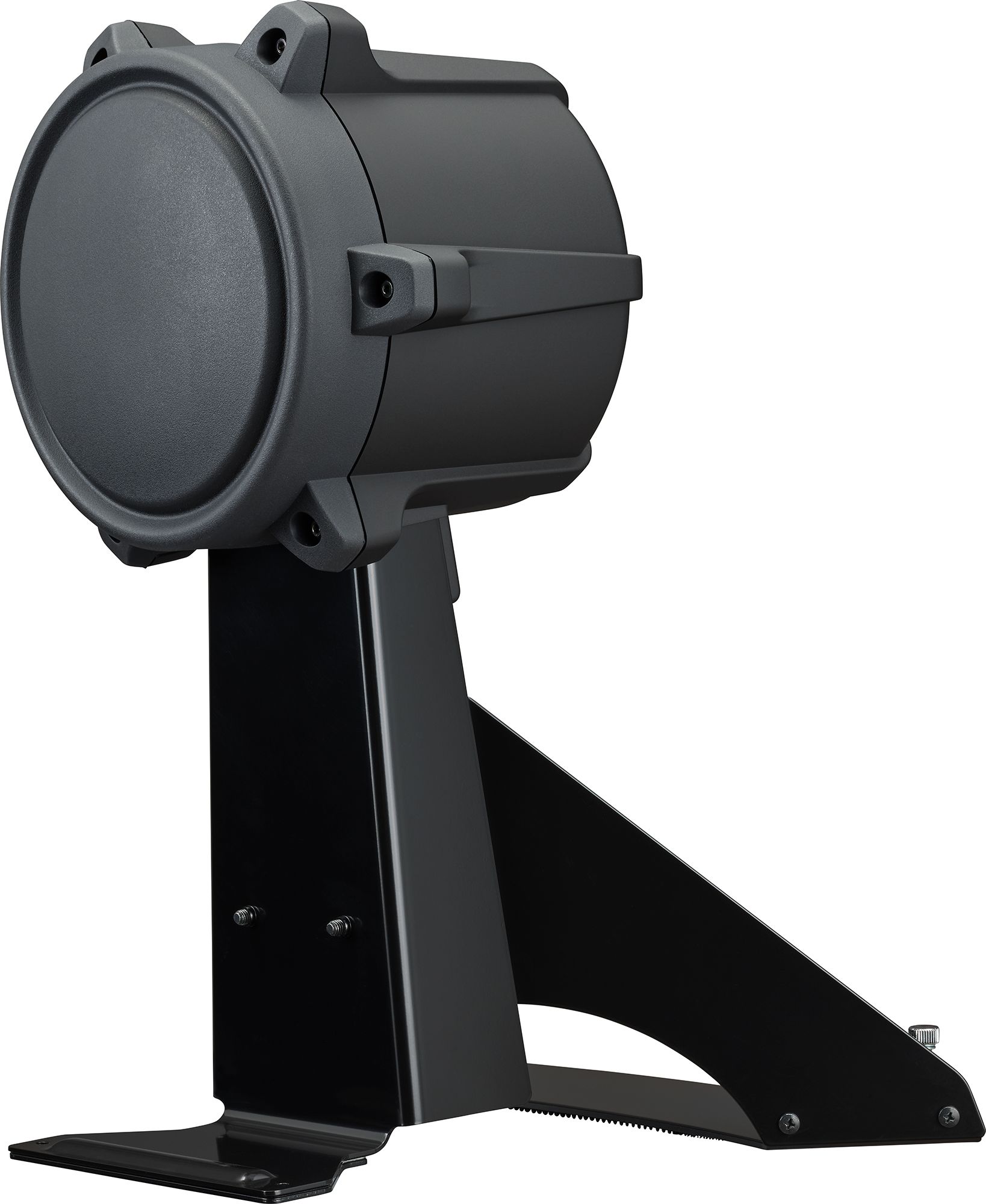 The DTX Pro Drum Module
Yamaha has put out an excellent drum module with this series of drums in the DTX Pro module. It fits their intermediate kits very well, is easy to use and has enough depth to satisfy more advanced electronic drummers.
Scope & Quality of Sounds
Yamaha has produced an entirely new collection of newly recorded sounds for the DTX Pro module. The sounds on this kit sound great as a result.
There are 40 preset drum kits split between categories such as Showcase kits, Acoustic Kits, Acoustic Plus Effects kits, Electronic kits and more.
The Showcase kits are interesting, as they are designed to be playable for certain types of music. Examples of these kits are the "Swedish Metal" kit which is designed for metal drummers, the "Vintage Nashville" kit for classic country sounds and the "AbsoHypeMaple" kit which is basically a studio sampled Yamaha Absolute Hybrid Maples series acoustic kit.
You also get 200 user kit slots. You can create user kits by tweaking the included sounds, importing sounds, and layering sounds for each trigger on the kit. There is a pretty big range of sound design possible if you like to dig in and create your own drum kits.
There are 712 individual voices, or instruments, that are part of the preset kits or available for creating custom kits. The voices include all the typical drum sounds you'd expect from a pro level module.
The training songs in the module cross a wide range of styles, such as pop, rock, metal, hip-hop and more classic percussive styles as well.
Interface
The DTX Pro module does a good job of putting the most accessed functions up front and keeping it simple for drummers who don't want to deep dive into menus.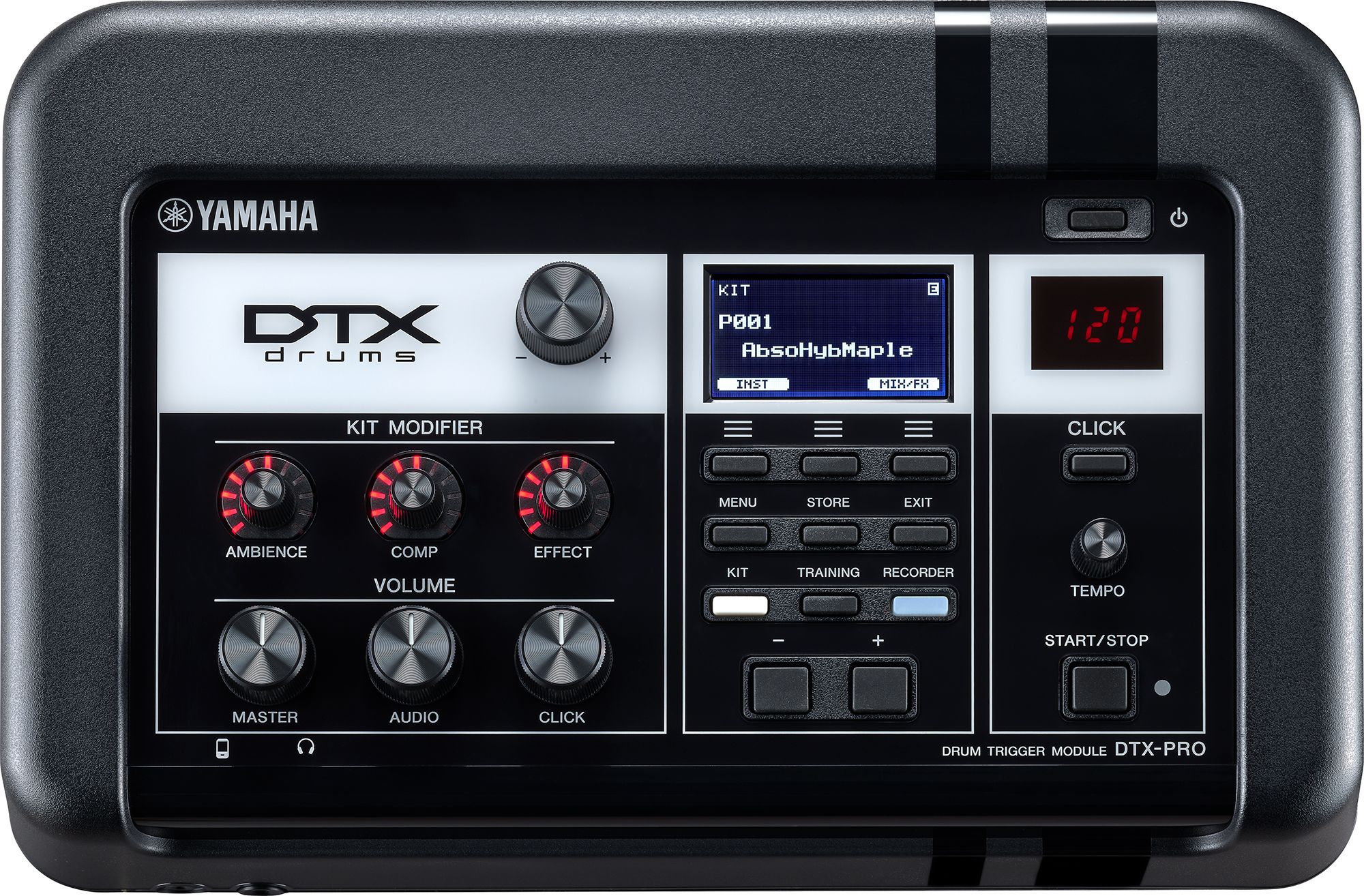 On/Off Switch
Ambience Knob – quickly adjusts room ambience on the kit you have loaded up
Comp Knob – quickly adjusts the overall compression on the kit you have loaded up
Effect Knob – tweak the multi-effect you have assigned
Master Volume Knob – adjusts master volume on the module
Audio Volume Knob – adjusts volume of anything that isn't your drum playing or click track (like audio routed into the aux input)
Click Volume Knob – adjusts volume of the click track / metronome
Click Tempo Knob, Click Start/Stop Button, Click Temp Display – for managing the metronome options quickly
Digital Screen that shows kit and settings info, with corresponding buttons for:

3x Function Buttons – for making on-screen selections
Menu – shows advanced options on the screen
Kit – kit selection screen
Training – training option selection screen
Click – metronome options screen
Exit – exit/go back from the screen you are viewing
Store – saves kit or click settings changes
Recorder – recording/playback screen when using the performance recording mode
Aux Input Jack – 3.5mm input
Headphone Jack – 6.3mm input
All of the trigger input jacks – these are individual jacks and not a single cable snake connection, which is really nice
Midi Out
USB Flash Drive connection (only for USB flash drives, not other devices)
Power Adapter Jack
Stereo Output Connections – two 6.3mm jacks
USB connection for computers or other devices – can send audio and midi signals

The Trigger Input Jacks
There are enough input jacks to connect up to 14 total pads to this kit. This is achieved by the tom/kick inputs allowing for Y splitter cables to attach two pads to a single input. The Hi-hat input is designed for a hi-hat controller. The crash and ride inputs support 3-zone single piezo pads. The snare input supports 3-zone multi and single piezo pads. The kick/tom inputs support multi or single piezo pads and also the Y splitters as already mentioned.
Selecting a Kit
To jump into playing this kit – you simply press the kit button, use the dial or buttons to select one of the preset kits or a kit you created, and start playing. Kits that you've saved to user slots will save the ambience, comp and effect settings you saved along with it.
Using the Built In Mixer
There are no physical mixer sliders on this drum module. However the settings are easy to access once you get used to how it works. When playing a kit, the F3 button right below the digital display will correspond to Mix/FX – pressing that buttons brings up the mixer and then you can use the other function keys to navigate between the mixer channels and the dial/buttons to adjust the mixer levels. One thing to note about the mixer on this module is that the mixer settings do not save along with a kit. So if you make adjustments to pad levels with the mixer and then change kits, the mixer levels will not change on the mixer itself.
Using Built-in Effects
The effects are decent and you may find them useful. Most drummers will likely find the ambience and comp settings to be enough to tweak the sounds. However, if you want more options that those two types of effects, there are plenty of other built-in effects that you can use. You can assign effects to the master mix of your kit, which affects the entire sound of the kit. There are also two effects channels which can be applied to the pads in a kit. So for example, you can assign a reverb to effect channel 1, and then apply effect channel 1 to both the snare and the toms. You can do the same with effect channel 2.
Creating Custom Kits
This module allows you to create your own drum kits by selecting any of the sounds available on the module. There are 40 preset kits already programmed into this device, but there are also 200 user kit slots for saving custom kits. When selecting sounds for a kit, you can also tweak the sound by changing properties of the sounds. This includes tuning & muffling (for drums), size & sustain (for cymbals) and tuning & decay for other percussive sounds. With these settings, it's possible to really dial in the sound of your user kits to your own liking. You can also modify the built-in kits and save them as new kits to your user slots.
Importing Samples
This module allows you to import samples to use with custom kits. The samples must be WAV format and there is a 1000 file limit for importing sounds this way. Maximum sample time is 760 seconds (mono) or 380 seconds (stereo) so you can even import longer samples if you like.
User Click Settings
Another awesome feature of this module is the custom click settings. This kit is excellent for advanced timing practice due to the click features. To put it simply – there are a lot of options for sounds and for creating multiple timing layers within one click track. A click track can use different click sounds for each of the timings (quarter note, triplet, 8th, etc.) and you can mix the levels of the different timings. This allows you to create, for example, a click track with both quarter note and triplet timing, with different sounds, at the same time. Click settings can be saved to use slots as well.
Recording Performances
This drum module has a pretty neat performance recording feature. It can take the input audio (whatever you are playing along with) and mix your drum track over the top of it, saving it as a new audio file after you are done playing. This can be useful for practicing and analyzing your playing afterwards. You can record in this way to both the internal memory or to an external flash drive.
Training Features
There are built-in training features on this module, and beginner level drummers may find them useful. The features are designed to get you get up to speed playing along with the training songs in the module. Drummers working on technique might find the precision training features to be useful. There are options to play along with certain types of rhythms or to train you to strike the pad more dynamically. There's also a rhythm change up feature that lets you play along with and work your way through various types of rhythm changes. If you don't have access to lessons but want to learn some drumming basics, the training features can be useful. Most intermediate to more advanced drummers probably won't use these features at all.
Setup & Assembly
This kit is pretty easy to assemble, not really much different than any other Yamaha kit. The assembly instructions that come with it are actually pretty detailed in the right places, which is nice. They show how to properly put all the small parts together and how to generally connect all the pads to the rack properly, which leaves very little to the imagination.
If you have experience setting up electronic drum kits, a lot of the setup on this one will be pretty self-explanatory, but it's worth taking a quick look at the manual to get all the parts straight before putting it together.
You're looking at around 1 hour to pull it out of the box and get it set up and ready to play for the first time.
What's Included?
Here's what included with this kit when you purchase:
DTX Pro Drum Module
Power Adapter
XP80 Snare Pad
(3) XP70 Tom Pads
KP90 Kick Tower
PCY135 Ride
(2) PCY135 Crash Cymbals
RHH135 Hi-hat module
HS-650A Hi-hat stand
RS6 Rack Stand & Hardware
Manuals
What's Not Included?
Here's what isn't included with this kit that you should probably also get if you don't have it already:
Kick pedal
Throne
Heavy rug
Drum sticks
Headphones
USB Flash Drive
Warranty
Yamaha's drum kits all come with a standard 1 year warranty for defective products or workmanship. It's not overly generous, but it will cover you if you notice something wrong with your kit in that first year of use. Usually this is plenty of time to find any defect issues.
Pros
Compact design & footprint
Great sound module
Real hi-hat stand
Unique and great-feeling kick pad
Expandable
Cons
Drum pads – including the snare – are small at 8 inches
Rack stand looks less modern due to the crossbar feet
Kick pad can be a little tricky to dial in and adjust settings for double kick
The Verdict
The Yamaha DTX6K3-X is the premium option from the DTX6 series of drum kits, and it's a very solid kit overall. It plays great and drummers who own this kit love it. The biggest drawback is the smaller size of the pads. That might not necessarily be a negative for this kit since it seems like they were going for a more compact design overall and some drummers might prefer the smaller pad size along with the smaller overall footprint of this kit. Just keep that in mind when deciding what will work best for your drumming needs and your setup location.