The Alesis Surge Special Edition drum kit is the latest version of the Surge series. Alesis has made some cosmetic tweaks which make the kit look a little more polished. Otherwise there aren't a lot of substantial changes to what is already a solid budget kit. Let's take a closer look.
What's New for the Surge Mesh Special Edition?
There are a few things that have changed from the previous version, mostly cosmetic.
Alesis newer white 2-ply mesh drum heads are being used on this kit, as well as most of their other newer kits. They feel pretty similar to the black mesh heads from previous versions. They look better in our opinion.
The black finish on the rack is another change, the previous version had a chrome rack. The black finish is very sleek and it goes well with the other color changes on the kit.
The gold tension rod lugs around the kit are another cosmetic change.
Alesis includes the BFD Player, which is a more basic version of the BFD drum software. The BFD Player gives you some high quality sampled studio drum kits that can be played by hooking the Surge drum module up to a computer PC or Mac.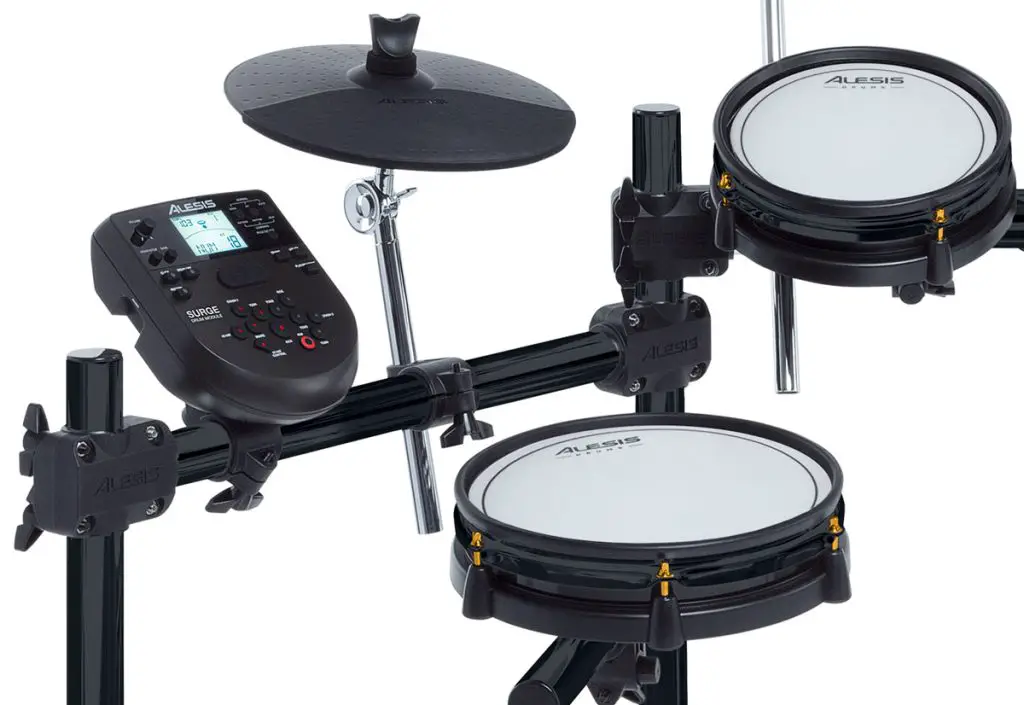 The Drum Pads & Cymbal Pads
This kit uses dual zone mesh pads for the snare and toms and single zone pads for the cymbals. The dual zone mesh pads are one of the stronger points on this kit and the single zone cymbals are one of the weaker points. However they still work together well to provide a good playing experience at this price level.
With the Surge Mesh Special Edition kit, the drum heads are now using Alesis new 2-ply white heads with black pinstripes. These look a little more like acoustic style heads. They feel pretty similar to the black mesh heads during play.
The Mesh Drum Pads
This kit uses a 10 inch, dual zone, mesh snare pad, which is great for a budget level drum kit. The pad isn't as large as an acoustic snare, but it doesn't feel as small as the 8 inch snares on some other budget kits. The snare head feels good to play and it responds well all around the surface. Tension is adjustable, so you can dial in the tension to your preference. There are no cross-stick or true rim shot features, but you can assign rim shot sounds to the rim and play rim shots just by hitting the rim.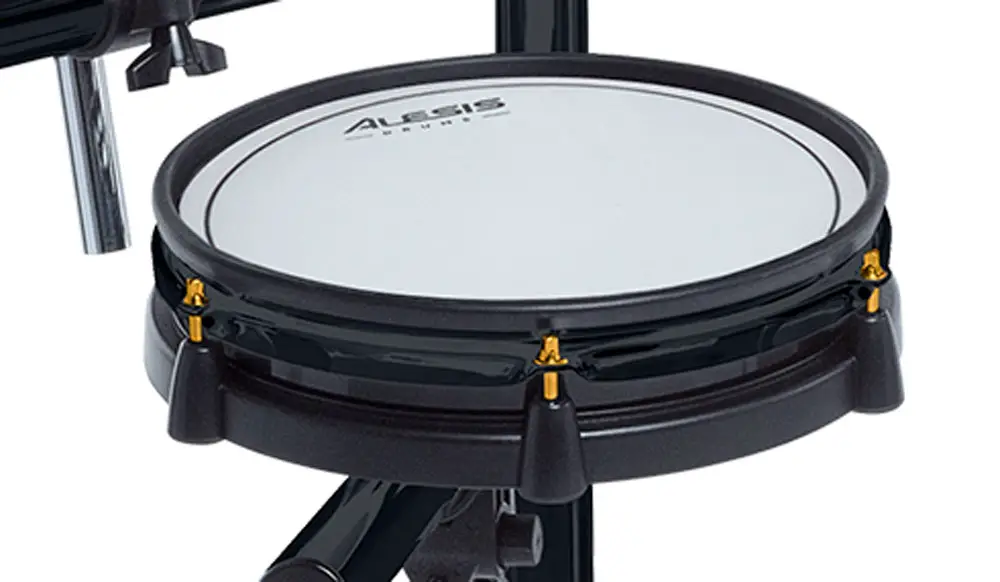 The tom pads on the Surge mesh kit are all 8 inch dual zone pads. 
This is a nice step up from the
Nitro mesh kit
, which has single zone tom pads in comparison. The dual zone pads can have different sounds assigned to both the heads and the rims. This is neat since you can assign cymbal sounds to the rim, for example, to virtually expand the overall number of sounds of a kit. The pads have adjustable tension so you can dial them to your preference. To better match the feel of an acoustic kit, for example, you might keep the tension on the toms more loose than the snare.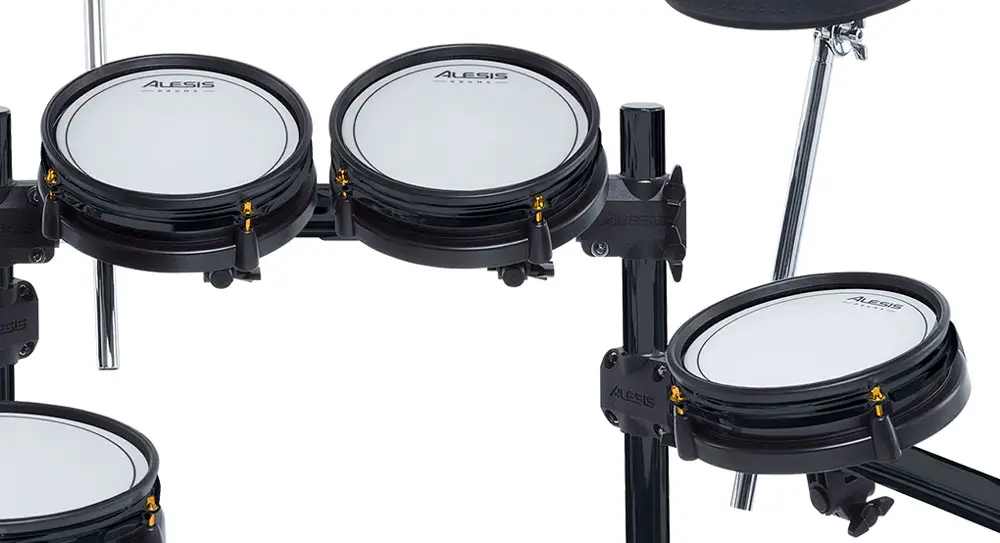 The Cymbal Pads
All three cymbal pads are 10-inch pads with rubber trigger zones all facing the drummer. The pads look the same, but function a little different for each cymbal.
The hi-hat pad is a single zone pad and works along with the included foot pedal. This isn't the most dynamic sounding hi-hat pad to play, but it gets the job done for a budget kit. The foot pedal is a little springy but it is also smooth and functions just fine. There aren't a lot of subtleties in the hi-hat positions on with this pad and pedal. You pretty much just get open, closed and half-open sounds. Depending on what type of drummer you are this may or may not be an issue.
The crash pad is also a single zone pad and it also has a choke. It plays like a basic rubber pad and there's nothing really all that special here.
The ride pad is also a single zone pad with a choke. It can generate a bell sound on the module though by striking it harder, so harder strikes will make a bell sound while softer strikes will make a typical ride cymbal bow sound. Once again, this is a pretty basic pad for a ride, so it gets the job done but it's nothing special.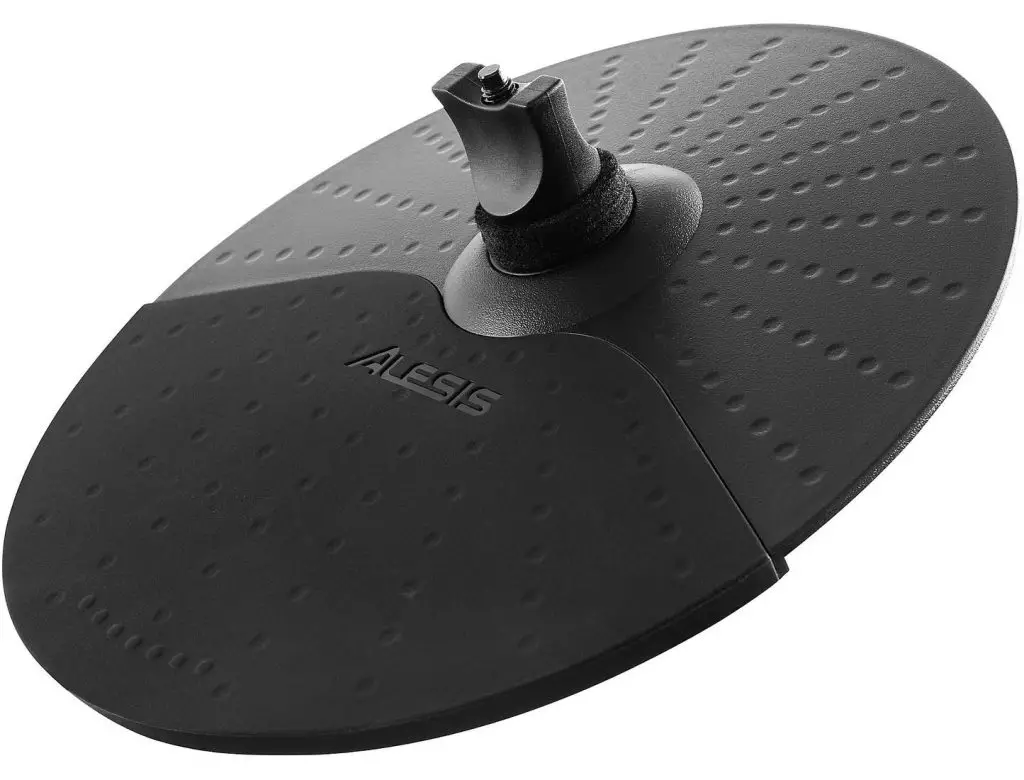 Kick Drum Pad
The kick drum pad is a typical tower-style pad for the Surge mesh kit. The tower has little bit of weight to it, and it has spikes to help stay in place on a rug. When combined with a kick pedal with velcro or it's own spikes, the whole unit of the tower and kick pedal will stay solidly in place and not move while playing.
The kick pad has a mesh head which can also be tension adjusted, which is neat at this price level. The mesh heads feels good during play and it doesn't generate much acoustic noise compared to some harder pads on other kits. But it does have some thump to it.
To best preserve a mesh head on a kick pad like this, it's ideal to use a hard, smooth beater head rather than a fabric beater head. Fabric beaters tend to wear out mesh heads over time. Smooth beaters won't be as abrasive to the mesh surface.
Does The Surge Mesh Kick Pad Work for Double Kick Bass?
The kick pad is large enough and has good enough response to support double kick bass pedals. Pretty much any kick pedal will mount on it just fine.
The sensor on the kick pad is right in the center. So when you use a double bass pedal you will need to ensure that you have both beaters aligned the same distance from the center to get the best results. You will also notice that the sound is a little more quiet with double kick pedals since you are not striking the pad directly in the center like with a single bass pedal. For this reason, you may need to turn up the volume of the kick drum a little to compensate when using double bass pedals.
Once you get it dialed in and have your beaters aligned it plays pretty good with a double kick pedal. This could definitely be a good option for a budget practice kit for metal drummers or drummers who rely on double bass.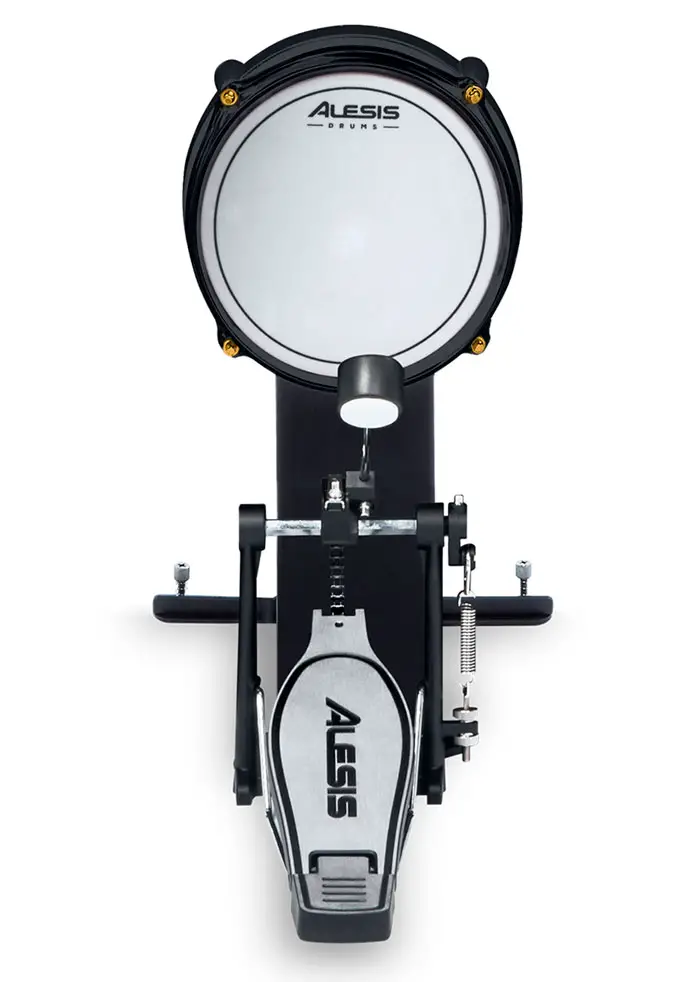 The Included Kick Pedal
One nice thing about this kit, especially for beginner level drummers, is that it comes with a kick pedal. This removes the extra expense of having to purchase a pedal separately. For beginner drummers this inclusion is great since it will give you a decent chain drive pedal to practice with until you get to the point where you want to start upgrading gear.
The kick pedal plays pretty well for being part of a budget kit. It's got a decent action to it and it's much more preferable in feel when compared to the electronic pedal on something like the Turbo mesh kit. More experienced drummers probably won't be impressed by this pedal though when compared to something like an Iron Cobra or the DW pedals, but it's still good enough for beginner level play or budget minded drummers.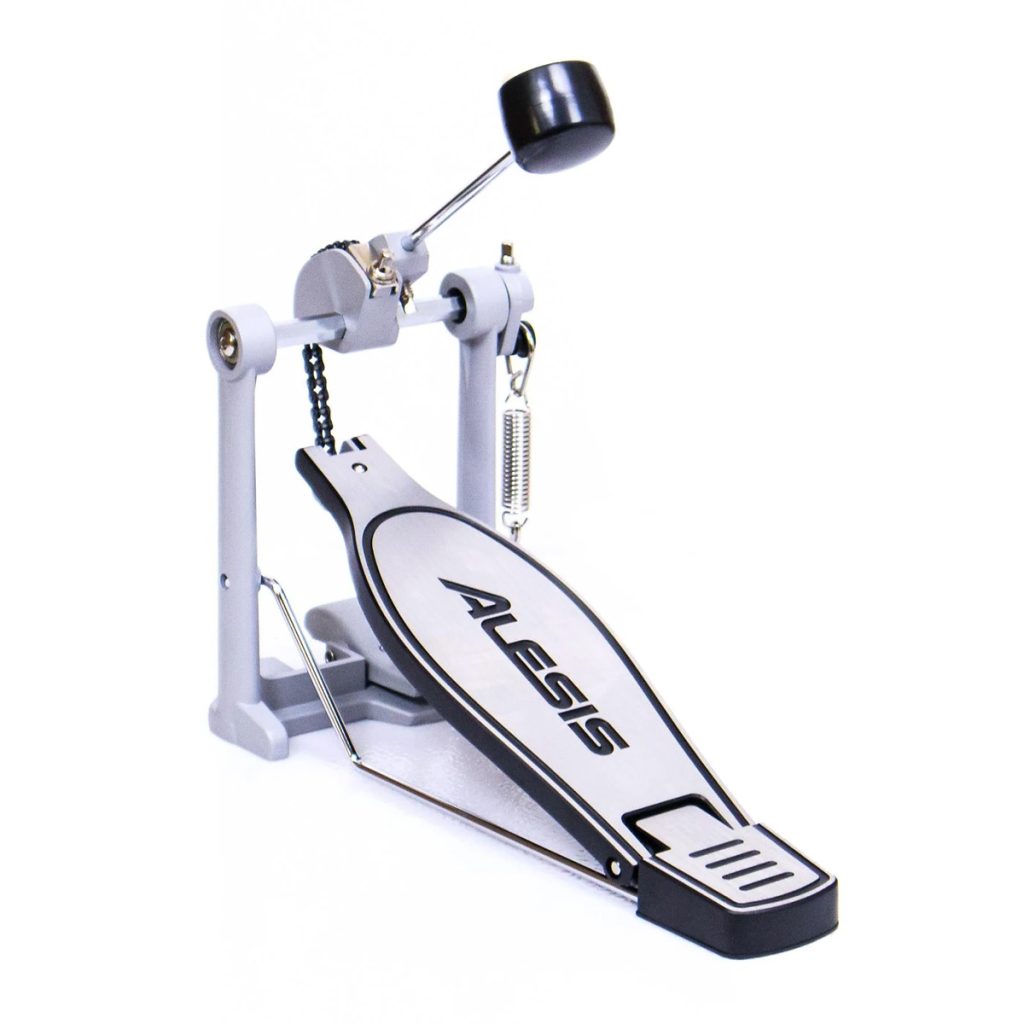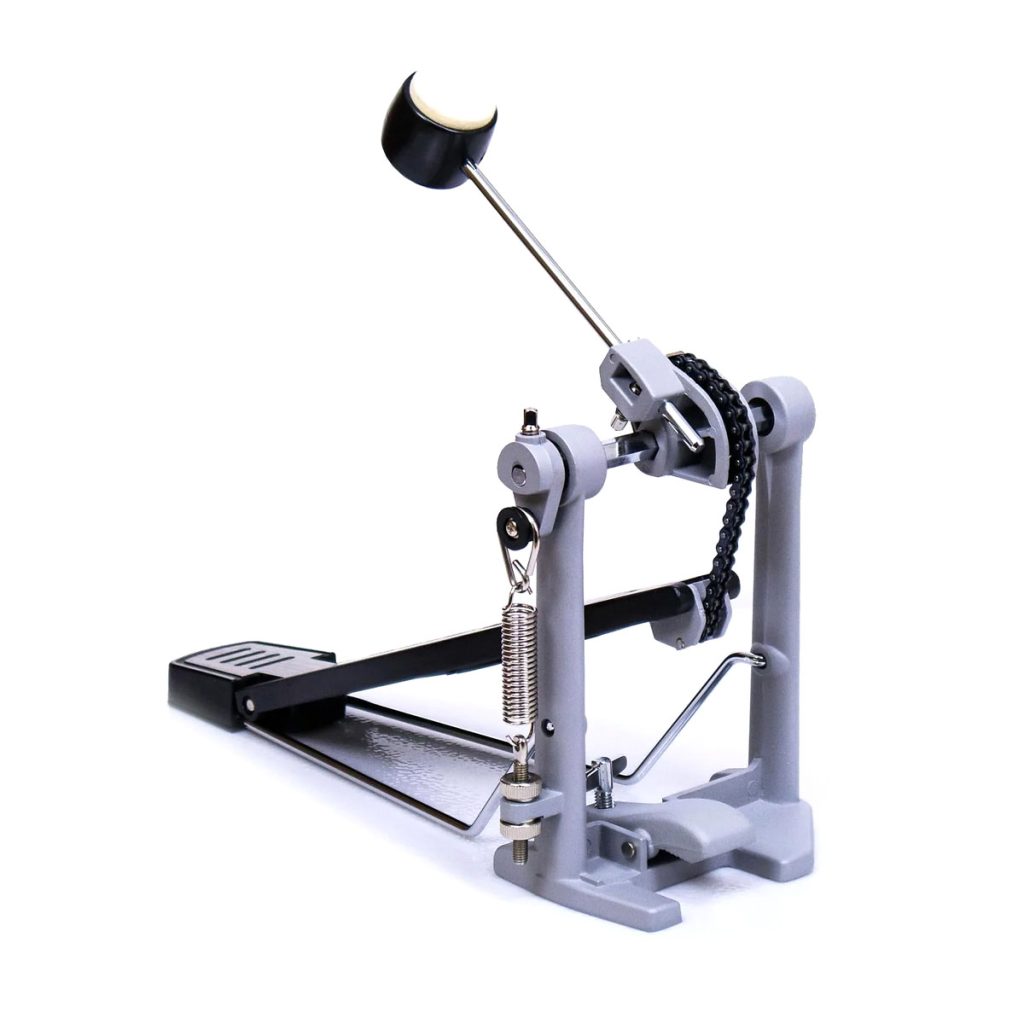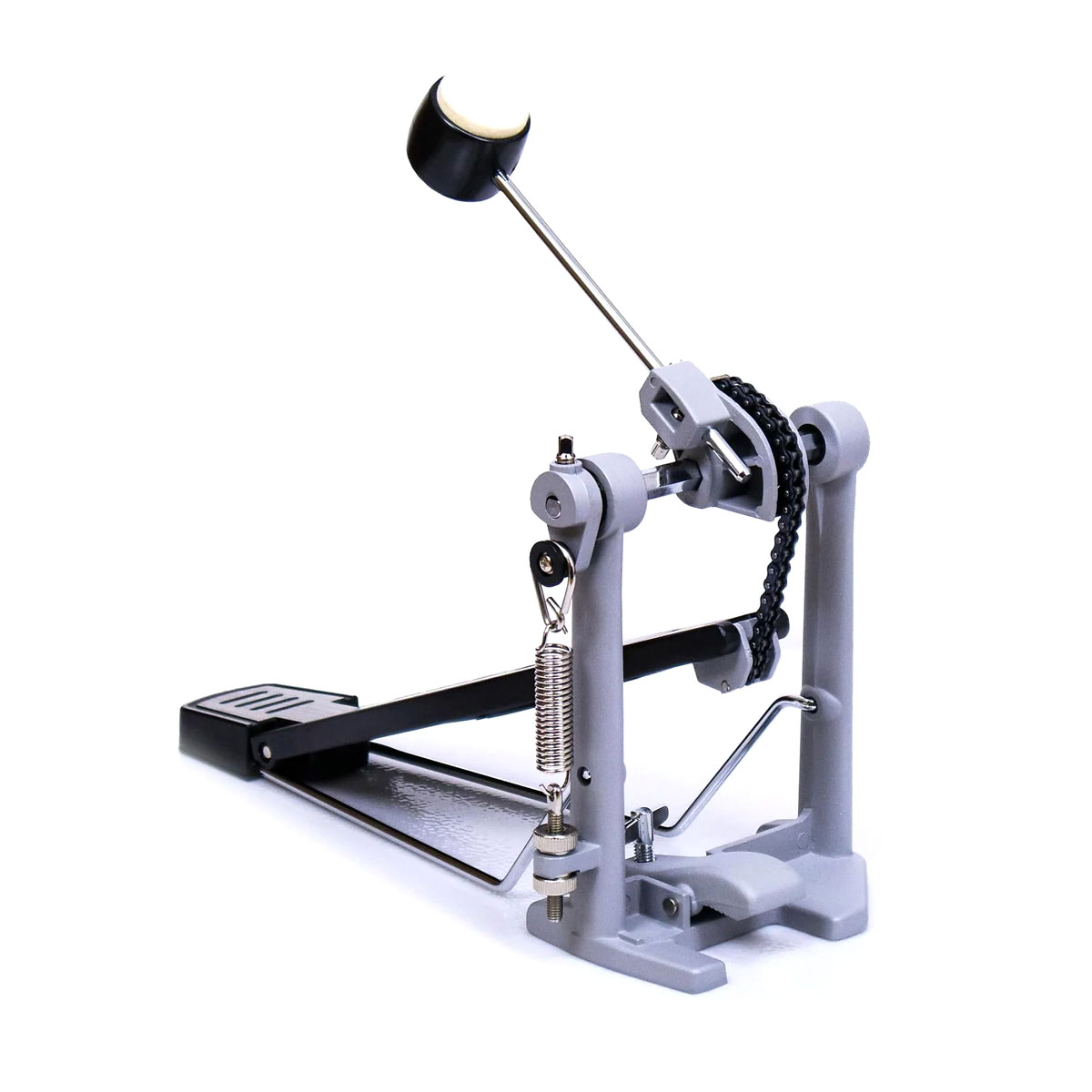 Feel & Playability
Overall, this kit feels pretty good to play but certainly has some drawbacks.
The snare and tom pads feel great with their mesh heads, and the 10 inch snare isn't too small of a hit target. The dual zones on the mesh pads help to create more variation in sounds, which makes them more fun to play than single zone pads.
The ability to adjust tension on the mesh heads is pretty awesome. You can make them feel very close to how you prefer an acoustic drum head to feel, so it can help translate better to an acoustic kit if you are switching between electric and acoustic.
The cymbal pads feel a lot more unnatural than the mesh drum pads, and are the weakest point in terms of feel and playability. The cymbal sounds on the module are pretty good, but the lack of different edge, bow and bell sounds make them feel less dynamic for more advanced drummers. You will have to rely more on volume for dynamics than variation in how you strike the pads.
Adding More Pads
The Surge drum module has two expansion inputs, one for another Tom pad and one for another Crash cymbal pad. This allows you to add one more of each to this drum kit. There's enough room on the rack for an extra Tom or Crash as well.
The Rack
The rack included with this kit is pretty good for a budget kit. The newer Surge Mesh Special Edition kit has an aluminum rack with a black finish. The connectors and clamps are plastic but don't appear to be prone to breaking and can be tightened up quite hard.
Owners of this kit say the rack is sturdy, and they don't find any major issues with it. Initial setup and assembly of the rack can be a little tedious, but once you get the rack put together it's just a matter of attaching the rest of the pads and cabling up.
The placement of the two center toms is the most restrictive with this particular rack, but everything else offers fairly good flexibility for pad arrangement and positioning.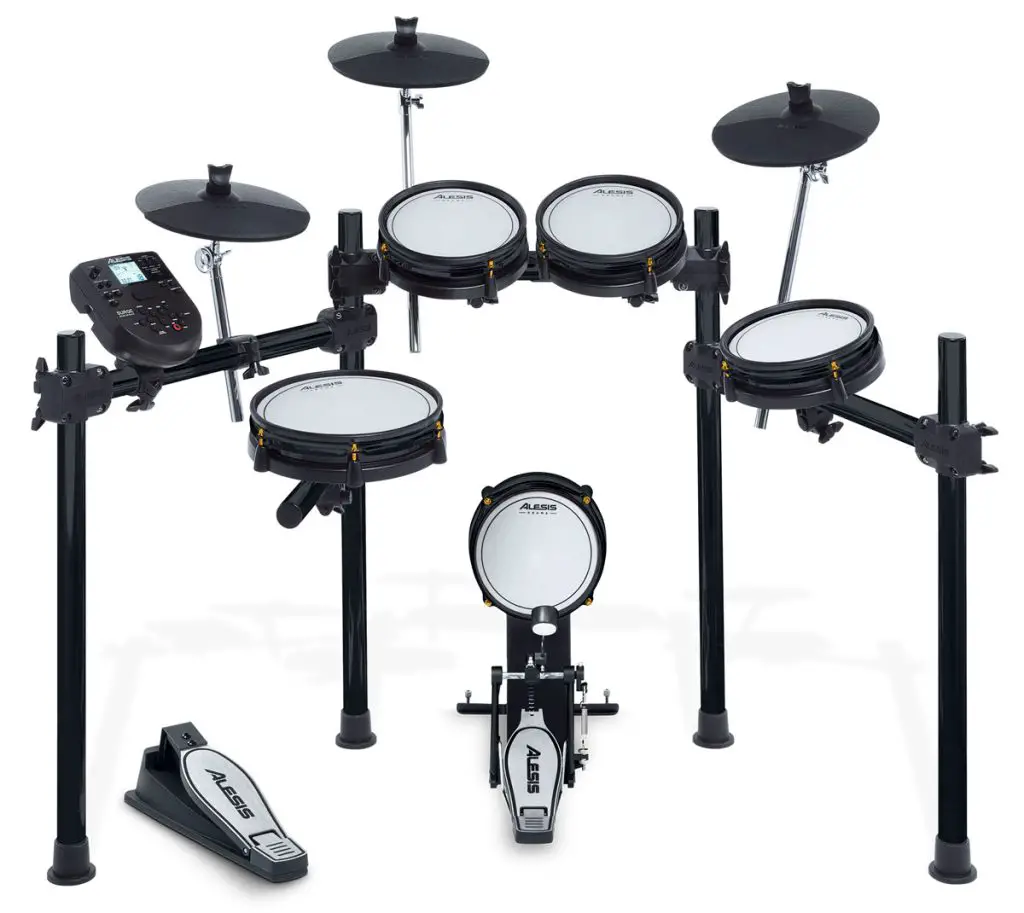 Overall Drum Kit Sturdiness
This is a fairly sturdy electronic drum kit, as most are these days. People who really hammer on this thing don't find it to wobble too much or get loose once they've broken it in and take the time to tighten all the lugs and connectors appropriately. People that play harder might find that they need to crank down the fasteners on the rack almost to the max of what they can handle to keep everything in place during play, so don't be afraid to tighten this up harder if you need to. Just don't overdo it if you feel like you're getting too tight.
To keep the kit from sliding around while playing you should set it up on a flat, heavy carpeted rug as well. That's just good standard practice for any drum kit, acoustic or electronic.
Drum Kit Size & Footprint
The Surge Mesh Special Edition kit is another fairly compact kit from Alesis. It takes up about a 5×3 foot space when set up. This kit can also be folded up and it's light enough to pick up and move out of the way. So if you are in a situation where you will need to move the kit or store it when not playing, this could be a good option.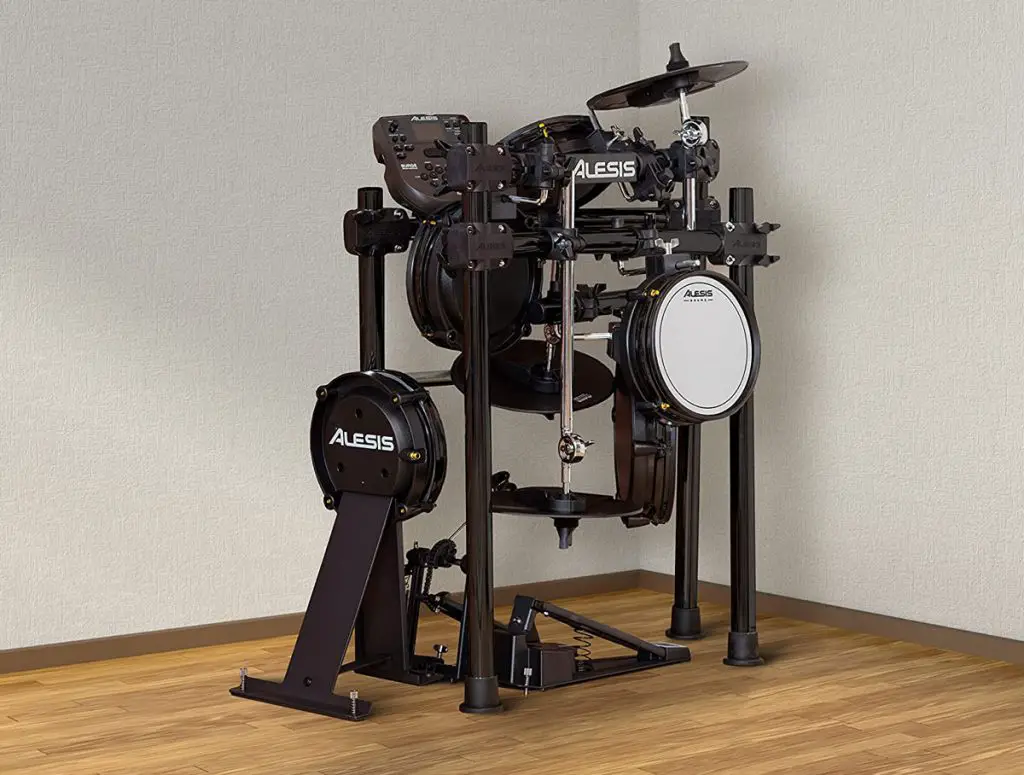 The Surge Drum Module
The Surge Drum Module is another one of Alesis budget modules and it has some nice features and sounds built in. There aren't any changes to the module for Surge Mesh Special Edition kit, it's the same module as the previous version of the kit.
This module has 24 preset drum kits and 16 user kit slots for saving your own drum kits. Alesis doesn't make that readily obvious, it looks like they say on their site and materials that this kit has 40 kits and that's it. The preset kits are mostly what you'd expect, ranging from rock to latin and even some electronic sounding kits.
There are a total of 385 individual sounds and voices in this module. The sound library is pretty good for a budget kit, with enough range to cover most drumming styles. The sounds can also be edited for custom kits, which we'll get into later on.
There is no ability to load custom sounds or samples with the Surge drum module, which is one of it's limitations.
The Drum Module Interface
Most of the commonly used controls are all represented as buttons right on the front of the module. This makes it a very easy module to use, and in fact most tech savvy drummers will be able to figure out most of the module features just by digging around a bit and using the buttons.
Buttons and Controls on the Top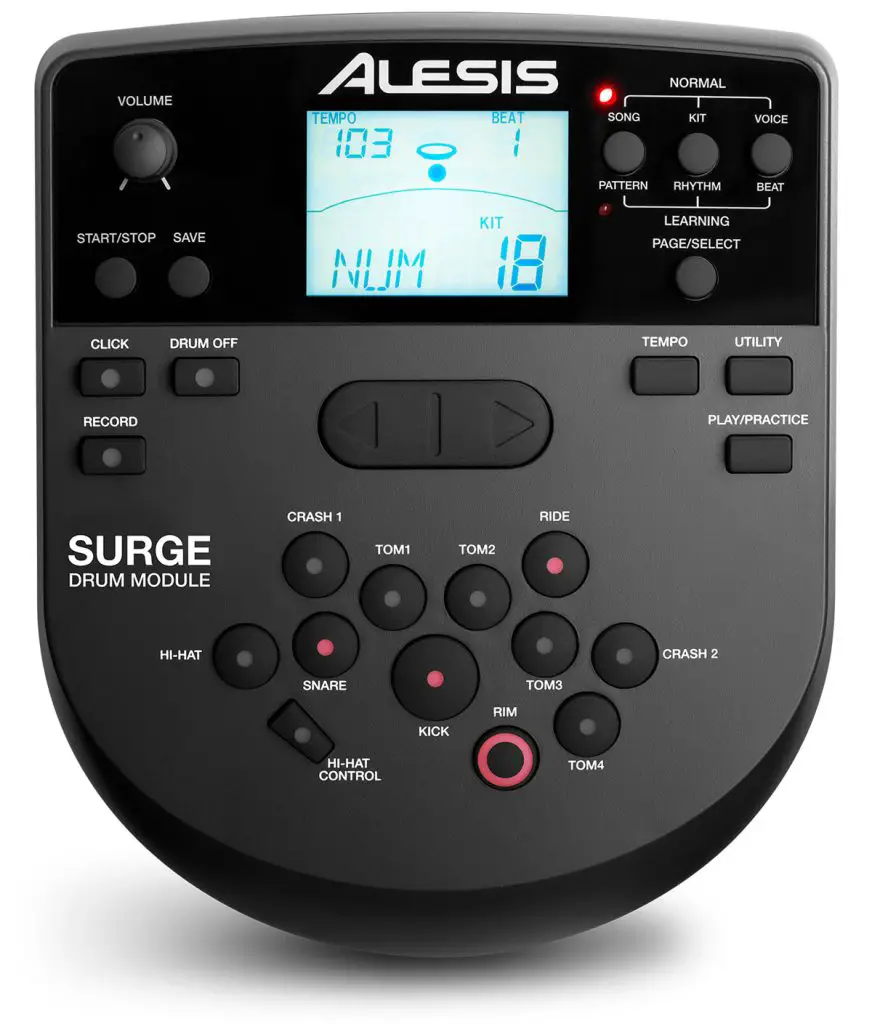 Backlit Display – Shows currently selected settings and kit details
Song/Pattern Button – Select songs in normal mode or patterns in learning mode
Kit/Rhythm Button – Select drum kits in normal mode or practice rhythms in learning mode
Voice/Beat Button – Edit voice setting in normal mode or beats to play with in learning mode
Page/Select Button – Cycles through options or settings
Volume Knob – Adjusts the volume of both the main outputs and headphone outputs
Start/Stop Button – Used to start and stop playback or recording
Save Button – Saves current kit settings
Left/Right Arrow Buttons – Changes values in settings or changes kit/voice selection
Drum Off Button – Turns off the preset drum tracks in song mode
Record Button – Activates recording mode
Tempo Button – Shows current metronome tempo on screen
Utility Button – Accesses the advanced pad and MIDI settings
Play/Practice Button – Plays recorded performances in Normal mode or plays patterns in practice mode
Drum Pad Select Buttons – Press these to instantly select one of the drum pads for voice changes or editing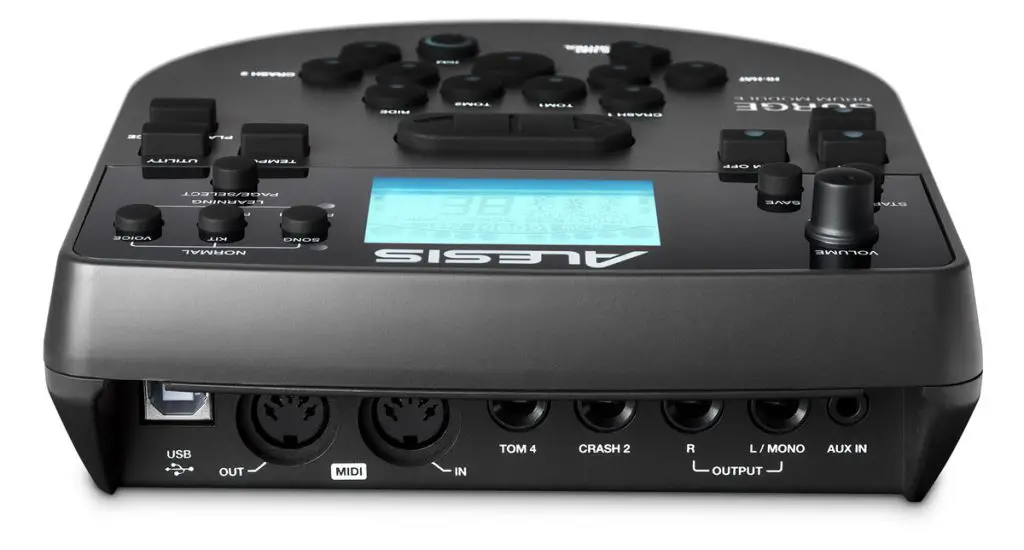 1/4″ Stereo Main Outputs
1/8″ Stereo Aux Input
Tom 4 Input (for extra pad)
Crash 2 Input (for extra pad)
MIDI In/Out
USB port for USB MIDI connections only
Power Jack Connection
Power Button
1/8″ Stereo Headphones Output
Editing Drum Kits
The Surge drum module allows you to edit some overall kit characteristic as well as individual sounds. This allows you to do a little bit of sound editing and craft the sound of the kits to your liking.
Editing the Sound of the Drum Kit as a Whole
These settings apply to the whole drum kit, not individual sounds. This is a quick way of tweaking the overall sound of the kit. You can change the total volume of the kit. You can also add a reverb sound to the whole kit. In addition to those options, you are able to edit the high, mid and low frequencies separately which gives you some control over the EQ of the whole kit.
Editing Individual Voice and Drum Sounds
There are some more detailed settings available for the individual voices and drum sounds. You can edit the volume, panning and pitch of each sound on the drum kit. You can also adjust the amount of reverb individually for each drum sound. So, for example if you want a good amount of reverb on the snare but not on the toms, you can do that. You can also adjust the MIDI number for each pad, which is helpful if you are connecting to a computer and need to edit MIDI numbers to match up with drumming software.
Pads can also be set to start a song on the module when struck, which can be useful for starting a song at the same time you start playing the drums. People who use the song features for practicing will find this useful.
Saving User Kits
Once you're done editing you kit, you'll probably want to save your changes. You can simply save a new kit to one of the user slots by pressing the save button.
Playing Along With Songs and Patterns
This module is designed for beginner or learning drummers, and includes learning modes with songs and patterns to play along with. You can select either single snare drum patterns, full drum kit rhythms or full drum kit rhythms plus accompaniment. These patterns and rhythms let you play along and then the module will give you a score based on how accurately you played. These features can be very useful for beginning drummers, but probably won't be as appealing to more experienced drummers.
Utility Settings
More advanced drummers will be wanting to dig into the deeper utility settings to tweak how the kit feels. The Surge module offers a decent amount of settings to tweak, which is great.
Sensitivity – Adjusts how much hard/soft hits affect the volume
Threshold – Adjust how hard a pad must be hit to make a sound
Crosstalk – Can be tweaked to prevent pads from registering a hit when other pads are being hit
Velocity Curve – Adjusts how responsive the pads are to harder and softer hits and can control dynamics
Rim Sensitivity – Adjust the sensitivity of the rims separately from the pad surface
Hi-Hat Splash Sensitivity – Adjusts the responsiveness of the splash feature on the hi-hat
MIDI Local Mode – Choose whether to use internal sounds or use the module as a controller with the MIDI out
General MIDI Mode – Choose to use either general MIDI drum sounds or the modules drum sounds
Metronome
The metronome on this module is easy to use. It has some features that can be useful for playing along with different time signatures and subdivisions. The metronome is activated by simply pressing the click button and then using the page/select button to choose the time signature, interval and volume options. Remember, always practice with a click!
Auxiliary Input
The aux input on this module works well for playing along with any song or music that you like. The input is a 1/8″ stereo jack and you can connect any device such as a smartphone or MP3 player. The sound is played through the module and mixed with the drum kit sound on the main output and headphone output.
Recording for Practice Purposes
The recording features on this module are designed more for recording your performances along with the internal songs and practice tracks. The module will record your performances in learning mode so that you can play them back for analysis. This can be useful for drummers who are working on timing and accuracy.
Recording to External Sequencers
This module can be connected to any device that supports MIDI inputs or USB Midi connections – which is most likely going to a be a computer these days for recording purposes. You can use this drum kit as MIDI controller when connected to a computer and record MIDI tracks along with projects in a DAW. The MIDI tracks can then be used to play back drums from the sound module or VST of your choice. This type of use opens up a whole new world of sound capabilities beyond the internal sounds in this module.
BFD Player Included
Probably the best thing that's been added in terms of adding more capabilities to this drum kit is the addition of BFD Player. The BFD Player is a stripped down version of the BFD drum software that is focused more on playing kits than the sound design options. You need to hook your Surge drum module up to a computer via USB to use the software. This is a nice addition since the kits sound great and it can give you a preview of what a kit like this can do when hooked up to a computer.
It currently looks like the free version comes with just one kit, the Dark Mahogany kit. Expansion packs will cost extra. There's been some people having issues with getting the BFD player working correctly on their PC's, but many are having good luck so far. It's early in it's release so we'll keep an eye out for more feedback.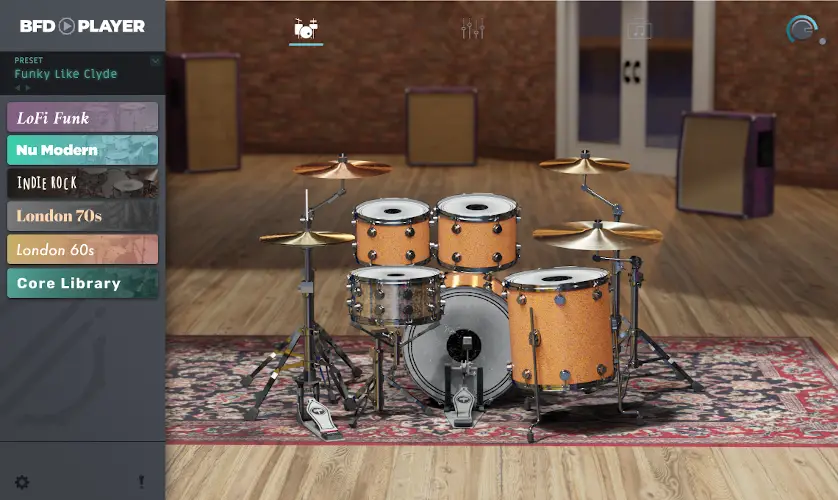 Accessories
In addition to the rack, the pads and drum module, here's what else is in the box:
Connectors and hardware – all the stands and hardware that you will need to mount your pads to the rack
Kick pedal – having a kick pedal included with the kit is great since kick pedals can be kind of expensive on their own
High-hat pedal – the pedal connects to a cable to electronically control the high-hat open/close sound
The cable snake – to connect all your pads into the module
Cable wrap strips – for clean cabling aficionados
A drum key – used to adjust the rack clamps and drum heads
Drum sticks – hey it even comes with sticks!
Power supply – to power up the drum module
Module user guide – the built in user guide is ok, see our note below about more detailed, unofficial user guides
Kit assembly guide – an outline of the hardware parts and how to connect them all together
Safety and warranty info
As you can see, you get just about everything you need to get playing.
What will you probably need to purchase in addition to this kit?
The following extras are recommended, but not included:
No Drum Throne
Keep in mind that this kit doesn't include a drum throne. It's kind of a "duh" moment when you get your kit set up and realize you don't have a throne yet, but it can catch you off guard when buying a kit for the first time.
It's not a huge deal, as it's easy to just grab a chair or something to get by right away if you're in a pinch. Ideally though you'll want to get yourself an adjustable drum throne, and get one that is a little more comfortable than the cheapest of the cheap drum thrones out there.
Check out our drum throne recommendations if you're not sure what to look for in a drum throne.
Setup & Assembly
There's quite a few parts to put together here. The manual that comes with the kit isn't exactly a super-detailed step-by-step guide, but it will help you get the job done. Pay really close attention to how the connectors and joints for the stand are mounted, and you should be ok.
There are also videos out there to help you with the setup of this kit. Here's a good one, for example from Rhythm Room Music School. This is for the previous version of the Surge kit but it still mostly applies to the Surge Mesh SE.
As far as setup goes, just be patient and don't rush it. We also recommend to not tighten all the lugs to full tightness right away during setup. You will need to go through and tweak the adjustment and placement of everything to get the kit positioned to your liking after you get it set up for the first time, and that's a lot easier to do if you don't already have everything cranked tight.
Also, many of the connectors are plastic. It's a very durable, high quality plastic, but be careful of really cranking your lugs too tightly. Only tighten as much as you need to hold something firmly in place.
All the pads are labeled on the bottom as to which is which (snare, tom, etc.). The cables are also labeled clearly so it's easy to figure out how to plug it all in.
Warranty and Support
The warranty period on this drum kit is 1 year and Alesis will replace parts if they are defective from a workmanship standpoint. Alesis support seems to be a little hit or miss for people who run into issues with their drum kits. People that contact Alesis directly for support sometimes have to wait longer than they expected for a response. It seems that people get better results when calling them rather than emailing them. However, they usually do come through with replacement parts even if there is a delay.
It might be a good idea to buy from a retailer who will allow you to contact them for returns or replacement parts rather than having to deal with Alesis directly. Most retailers are pretty good about this. Also expect that it might be quicker and easier to just buy replacement parts if something breaks rather than trying to run it through Alesis support.
Pros
Affordable price for what you get
Mesh pads feel great and are fun to play
Dual zone snare and tom pads
Good sounds in the sound module
Sturdy design
Good for beginner level players
Cons
Cymbals are single zone and the ride doesn't have a bell zone
Cymbals have a rubber pad feel
Hi-hat is lacking in sound variation and subtelties
Drum module is lacking in sound design and advanced features
The Verdict
The Alesis Surge Mesh Special Edition kit is a good drum kit for beginner drummers and it can also fit in as a decent kit for more experienced drummers with a smaller budget.
The dual zone snare and tom pads are the stand out features on this kit. The cymbals are the biggest drawback. The Surge drum module sounds good but is lacking in advanced features and is geared more towards beginners. The inclusion of the kick pedal is a good value for beginners. This is a better quality drum kit option when compared to the Nitro kit and it doesn't cost a whole lot more.