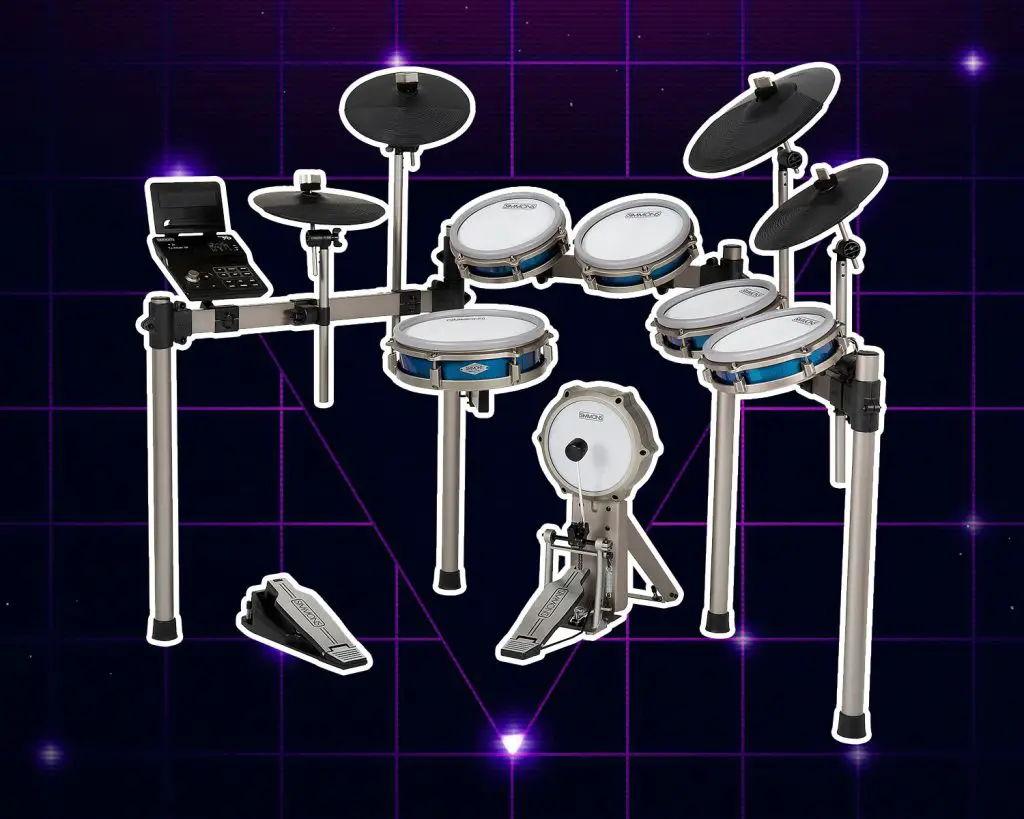 The Simmons Titan 70 has a lot to offer for it's price, and it's features make it a highly playable drum kit. It has a great sounding drum module, lots of multi-zone pads and some great connectivity features.

Drum Pads & Cymbal Pads
This kit has a nice lineup of pads and there doesn't really feel like there's any major shortcomings in terms of functionality from the pads. If you want a kit with lots of multi-zone pads, this is well worth a close look. Let's take a look at each of the pads around the kit.
Snare Pad
The snare pad is a 10-inch, dual zone mesh pad. The mesh head is 2-ply and I was able to dial in the tension to feel about the same as what I prefer from a mylar drum head. The dual zone allows you to generate different sounds from both the head and the rim, and the pad also responds well to harder rim shot strikes. The way the snare pad responds makes it feel very dynamic during play for ghost notes to rim shots and everything in between.
The snare pad is fully enclosed with no open air pass-through underneath. I noticed that this actually makes it slightly louder acoustically than the snare on the Titan 50, for example, which was open on the bottom. Something to consider if you're trying to be as quiet as possible with your kit.
Tom Pads
The tom pads are a little smaller than the snare pad at 8 inches. There are four dual zone tom pads included with this kit. All of the tom pads are dual zone, meaning you can assign different sounds to both the head and the rim of each pad. The dual zone capabilities of the toms on this kit open up a lot of flexibility to build out the scope of the drum kits. Personally, I like to use the rims of the toms for extra cymbal sounds to add some more scope to a drum kit, but it's up to you how you want to use those extra zones.
I noticed that many of the newer drum kits that Simmons added to the module already have some extra percussive and cymbal sounds added to the rims of the toms. The kits that existed on the Titan 50, for example, haven't been updated to use the tom rims as much, but you can create custom versions of the kits and build them out a little further.
The Cymbal Pads
The cymbal pads that come with this kit are pretty nice considering the price. I like how they have more zones to work with when compared to the Titan 50, which is currently one level down from the Titan 70 in the drum lineup from Simmons.
The Triple Zone Ride Cymbal Pad
The biggest advantage that the Titan 70 has to offer in the cymbal department is the addition of a triple zone ride cymbal. The ride has edge, bow and bell zones and can be played very expressively as a result. It's a little a larger than the crash pads as well, so it visually stands out as a ride pad on the kit. I really like how the ride cymbal plays and it's one of the better advantages of this kit versus some others in this price range.
The Crash Cymbal Pads
There are also two single zone crash cymbal pads with a choke feature. While the crash pads are only single zone, they don't feel as limiting when they are played along with the triple zone ride pad.
The Hi-Hat Pad
The hi-hat pad is a single zone pad and it's works in conjunction with the hi-hat controller. Operation between the controller, pad and module is pretty smooth, and once you get used to the feel of the pedal it's pretty easy to get what you want out of it.
The Kick Pad Tower & Kick Pedal
The kick pad tower that comes with this kit is a new model from Simmons, the T70KP7. It has a round playing surface with a 7 inch diameter, and it's large enough to give you some flexibility in both horizontal and vertical positioning of the kick beater. I like this pad since I prefer a lower kick beater height and I can lower the beater with no problems, which is something I struggle with on some smaller, more restrictive kick tower pads. It also is large enough for a double bass pedal and it has good response when playing with a double bass pedal.
This kit comes with a kick pedal as well, which is nice. It's a pretty basic kick pedal for sure, but it's nice for drummers who might just be getting started since it can save a little money over having to buy a pedal separately. For a cheap pedal, it actually plays pretty nicely and the beater height/angle and spring tension can be adjusted to dial in your preferred feel. My main issue with these basic kick pedals that Simmons packs with their kits is that they are always a little squeaky when first put to use, but that's easily fixed with a small shot of lube where the springs are held in place.
Double Kick Bass
As far as double kick bass pedal go, I think that some pedals could potentially struggle to hook up properly to the kick tower. This is the same thing I ran into with the Titan 50 kick pad tower. I ran into issues with my Axis long boards since they require a wider horizontal surface to properly clip onto. My Tama Iron Cobra double pedal works just fine with the Titan 70 kick pad, however since it doesn't require as wide of a clip area to attach to the tower. So if your double pedal doesn't require too wide of a clipping area to attach to a pad or a drum, it'll probably work fine with this kick pad tower.
The Hi-Hat Pedal
The hi-hat controller works well but it's certainly nothing special. It has good enough action to do quicker hi-hat snaps and other techniques. It can also do foot taps, but it can't do foot splashes, so it does have some limitation in how it works with the drum module.
Single Sensor on the Drum Pads
Looking inside the drum pads, it looks like these pads use a single sensor located towards the bottom of the head area. The sensors seem more sensitive than the Titan 50 sensors, but I'm not sure if that's just my perception or not. Regardless of the sensor placement, I get good response all over the drum head and there doesn't seem to be any weak spots.
Feel & Playability
Overall, I like how this kit plays and I'm having a lot of fun with it. The multi-zone pads around the kit, especially the triple zone ride pad, make it feel really good to play. The pads are all very responsive and I'm able to play them at different volumes and with different levels of aggressiveness with good response.
The snare pad and the ride pad are my favorite pads on the kit to play. The snare feels very expressive with the way that it handles rim shots, which fits my style of play quite well. The mesh head on the snare feels great and I have it set at a pretty high tension at the moment. The ride is also very nice with good feel for a rubber and plastic pad, and I like having the bell zone.
The tom pads can feel a little small in terms of hit targets, but I don't mind that since it forces me to work a little more on accuracy. The mesh heads feel good and I like how I can dial them in to feel tighter to looser like acoustic toms might feel as you play down the line. I also really like being able to assign cymbal sounds to the rims to effectively add more cymbals to the kit. It's a nice way to get more auxiliary cymbals in the mix such as china and splash cymbals.
The crash cymbals play well and respond well when hitting the bow and the edge, even though they are just single zone pads. My biggest issue with the cymbal pads is that they have a somewhat small choke zone, so it can take a little getting used to in terms of where to grab them to enable the choke function. Once you get a feel for the choke zone it's easier to use though.
The hi-hat pad and controller combo plays pretty well, but sometimes the closed to open action feels like it's lagging just very slightly. I'm not sure if it's the pedal or the module. But after playing for a while I get used to it's action and it doesn't really cause me any problems. One issue I have noticed with the hi-hat pad is that it doesn't trigger very well when striking only the edge. You have to focus on hitting the bow of the pad to get a solid playback from the sound. At first this was bothersome for me since I typically like to have my hi-hats flat, but after I tilted the pad towards me more it was easy to work with.
The kick pad just works and I have no complaints with it at all. It's my favorite Simmons kick pad so far out of the kits that I've tried. It feels kind of like a practice pad with it's playing surface. It works well with my single pedals and my Iron Cobra double pedal.
The Rack
The rack for this kit is really nice, I like it quite a bit. It's sturdy and the rectangular bars help keep brackets from slipping and rotating unexpectedly. It also comes fully assembled in the box which is great. Being assembled out of the box might seem like a small thing, but after putting together many racks for other kits it's a breath of fresh air.
The height of the rack feels sufficient. I'm taller and like to sit a little higher but I didn't find this rack to feel short at all. But I did have to raise everything to pretty close to the maximum height allowed.
There's just enough room on the rack for all the pads and there's just enough flexibility to move the tom and cymbal pads to where you want them to be.
The Cymbal Arms
I found that there were a few points on the cymbal arms that needed to be tightened down well to keep the cymbals from rotating from side to side, but once I found them all everything is staying in place. If you're finding it hard to keep the cymbals from rotating make sure to look for the lugs that require the key chuck near the top of the cymbal arms, those were loose on my kit and needed tightening, and I kept thinking it was the other clamps that were still loose.
The Drum Module Mount
The one thing that didn't seem to fit well for some reason was the drum module. I wish there was a way to mount it a little more to the left of the hi-hat pad, since it feels like it's sitting half under the hi-hat pad. But I also like to position my hi-hat pad pretty far to the left, so maybe it's just me. It's a minor issue but something I wish I could resolve. I might have to look into some other rack parts to see if I can find something to move it out to the side a little more.
(Update regarding the drum module mount) I revisited the positioning of the drum module. I ended up swapping the bracket used for one of the floor tom pads with the bracket that the module mounts in. The tom pad brackets have more height. By doing this, I was able to move the module more to the left and mount it a little higher, and it's not underneath the hi-hat pad anymore. Simmons could remedy the issue from their end by providing the same type of bracket used to mount the floor toms for the drum module rather than one of the rack tom/cymbal brackets.
Sturdiness
The kit feels very sturdy when fully assembled, especially when you get all the clamps tightened properly. I did find that some clamps needed to be re-tightened after the initial setup, I suspect maybe it's because things tend to settle in a bit after that first round of tightening everything down. But at this point I don't have any issues with stuff coming loose and it's been setup and played on for a few weeks now.
The Simmons Titan 70 Drum Module
The Titan 70 module feels like an updated version of the Titan 50 module, but I suppose that's the idea here. It offers some nice improvements and additions.
Interface
The module interface is easy enough to use that you can dive in and start doing the basics without consulting the manual. However there are also some deeper functions in there if you take the time to learn how to get to them.
Here's what you'll find on the top panel:
Volume Knob – controls both line and headphone outputs
Power Button
Plus and Minus Butttons – for adjusting values in settings
Kit Button – Enter kit mode to select a kit to play
Song Button – Enter Song Mode or Practice Mode to play with songs
Tempo – Change metronome or song tempo
Edit – Edit drum kits or change song settings
Rec – Enter Record Mode to record a MIDI performance
Play – Start playback of a song, also works as stop button
Setup – Enters global settings like trigger sensitivity and MIDI settings
Save – Press both the Mix/Mute and Play Buttons at the same to time to save kit edits
LED Display – Shows which kit you are playing, tempo and level
Drum Display – Lights up drums to identify which drums have been hit
Bluetooth – Indicates if Bluetooth is connected
Inputs & Outputs
Inputs and outputs are fairly well organized on this module. A 25-pin snake is used to connect the bulk of the pads to the module, and the connector plugs in on the bottom of the module. On the back you get the rest of the connections, except for the headphone output which is on the left side for ease of access.
Stereo Outputs – Unbalanced 1/4″ Jacks
Aux In – 1/8″ Stereo Input Jack
Aux Level Knob
Expansion 1 and 2 inputs that can accept dual zone pads
MIDI Output
USB Connection
9v Power Adapter Input
Headphone Output – 1/8″ stereo jack
Scope & Quality of Sounds
The Titan 70 drum module is loaded with Simmons latest and greatest drum kits, and they sound really good. Simmons used the London Bridge studio in Seattle and brought in Don Gunn to engineer the drum recordings and sounds. Don has experience working with popular music acts such as Soundgarden and Peter Frampton.
The result is a pretty nice set of tightly focused drum kits that revolve around common popular music styles. For example, there are drum kits that mimic Metallica's Black Album drum sound, the 70's drum sound, country and modern pop drums. Most drummers will likely find a kit that they really like within this lineup, depending on the styles they play.
There are 314 drum voices overall and 50 preset drum kits. There are also 15 user kit slots for custom drum kits.
Bluetooth
This module has Bluetooth built-in, and it can be used for audio and MIDI operations. You can only use either the audio or MIDI feature alone, not both at the same time.
It can be used to input audio into the sound module from an external device like a smartphone. While doing this, you can play along with audio from your Bluetooth devices.
The module can't use Bluetooth for wireless headphones, due to limitations with latency and delay, so keep that in mind. You can only use wired headphones with this module.
Selecting Kits
This is pretty easy to do on this module. Simple press the kit button and choose a kit. The digital screen will show which kit you have selected.
Adjusting & Editing Kits
Kits can be edited and saved as a new custom kit with one of the 15 custom kit slots. I found the kit editing to be a lot more smooth with the iOS app that via the controls on the module, so I'd recommend trying that out if you have an iOS device like an iPad or an iPhone.
There are some more advanced kit editing features available on this module, which are flexible enough to tweak the sound of your kits to your liking.
For editing drum sounds – you can change the drum sound assigned to each pad, change the pitch, change the EQ, and change the decay time.
Editing kits has a few more options. You can change the level and panning of any of the sounds around the kit. There is a Reverb feature that allows you to send each sound to the reverb send individually, which helps dial in very specific reverb usage around the kit. There is a compression feature allows you to apply compression to the entire kit sound. There is also a high/low EQ feature which affects the overall kit sound.
Song Mode
This mode allows you to play along with audio files or MIDI tracks. You can record your performances along with the songs and play them back, which is helpful for practicing and analysis.
Practice Mode
Practice mode on this module is an extension of the Song mode. Practice mode allows you to play along with the songs and the module will score your accuracy along several difficulty levels.
You can change between a few different practice mode options. You can play along with the song with a click or no click. You can play along with the song with intermittent clicks, which help you get used to playing with no click. You can also play along with the song and click track intermittently cutting out, so that you can get used to keeping time when the music drops out.
Setup Mode
Setup mode is basically the utility settings mode on this module. This is where you'll adjust things like pad sensitivity and trigger settings. For as basic as this module is, it has a pretty good set of configuration options. The options you can adjust include:
Hi-hat Mode – allows you to set the high hat to normal settings or an always-closed sound
Time Signature – changes time signature of the metronome
Sensitivity – adjusts input level for each individual trigger
Retrigger – helps you adjust the kit to avoid double-trigger hits on the pads
Threshold – adjusts how softly a pad can be played before a hit is registered
Curve – adjusts how dynamically the pad will respond to hard vs soft hits
Crosstalk – helps keep pads from triggering other nearby pads when hit
MIDI Number – adjust the corresponding MIDI note number for each pad
Local MIDI – let's you choose if the MIDI control is coming from the module or a DAW
Click Record – metronome settings for recording
Bluetooth – is always on but can be turned off
Auto Power Off – turns off the kit automatically when it's sitting idle for while
Tom Type – if you upgrade to dual zone tom pads you can change the setting here to make the drum module work with the pads
Ratio – adjusts the sound ratio of dual zone pads
Metronome
The metronome settings are pretty standard, and there isn't really anything flashy going on here. You can change volume, tempo and time signature.
The Simmons Drums 2 iOS App
The Simmons Drums 2 iOS app is pretty useful in my opinion. It's made specifically for the Titan series of drums and it works well with this kit. If you're wanting to edit kits more quickly and in a visual manner, the app is the way to go. It's only available on iOS and not Android, which is kind of a bummer, so you need to have an iOS device to use it. I contacted Simmons about the app to see if they were making an Android version and they said they currently have no plans to make an Android app. So that's good to know.
The app can be used to edit all the settings in the drum module such as changing pad settings and editing drum kits. I like it the most for editing drum kits. It makes it easy to adjust levels and panning around the kit, to change drum sounds and to add the effects such as reverb, compression and EQ. So if you're finding the module interface to be a little cumbersome to work with, give the app a try. It's worth it.
I've read that some people have trouble with the app connecting to the to the module, but I didn't have any issues. I was using an iPad Air 3 connected via Bluetooth. I did notice that sometimes when you switch between settings screens that the Bluetooth icon spins a bit like it's working on something and it keeps you from doing anything for a few moments, but that last a few seconds at most and then it's still connected just fine.
Check out our quick Simmons Drums 2 app overview for more info about this one.
What's Included?
When you purchase this kit, here's what you'll get in the box:
Rack with mounting hardware and boom arms
Kick Pad
Kick Pedal (Single)
Snare Pad
4 Tom Pads
2 Crash Cymbal Pads
1 Ride Cymbal Pad
1 Hi-hat Pad with Foot Pedal Controller
Titan 70 Drum Module
Cable Snake
AC Adapter
Drum Key
Drum Sticks
What's Not?
Here's what's not included with this kit or things you might want to pick up:
Setup & Assembly
I found this drum kit easy to setup despite the large amount of pads that need to be mounted. The rack comes fully assembled which really cuts down on setup time. The kit is pretty easy to assemble just by looking at the parts, but the instructions are pretty good and I'd recommend reading through them quickly regardless, just so you don't miss anything. I think the thing I spent the most time on was untangling the cable snake and connecting all the cables. Overall, you'll probably be looking at about an hour or less to get this kit up and running.
This kit also looks like it could work setup as a left handed kit, but I haven't personally tried that myself. With the way it's designed, you should be able to flip the rack around and mount all the pads in a mirrored fashion.
Warranty
Simmons offers a 2 year warranty to cover defects in workmanship and material. This is one year longer than some other brands offer, which is nice.
Pros
The snare pad feels great and has good rim shot capabilities
Has four dual zone toms for expanded sound possibilities around the kit
Has a triple zone ride cymbal pad
Has two crash cymbal pads
The rack is sturdy and comes already assembled
Includes a kick pedal
Can do audio and MIDI over USB
Can do audio input and MIDI over Bluetooth
Drum kits and drum sounds are great, has more kits than the Titan 50
Cons
Crash cymbal pads are only single zone and the choke area is small
The hi-hat pad sounds weak when striking the edge, need to focus on striking the bow
There is limited room for the drum module and it sits partially under the hi-hat pad
Snare pad is fully enclosed and is a little louder acoustically
The Verdict
The Simmons Titan 70 drum kit is a nice addition to the Simmons lineup. It has multi zone pads in the right places along with a great sounding drum module for a fun drumming experience.

The snare pad and the ride pad really stand out as the best parts of this drum kit. The multi-zone toms also add more zones to place more cymbals and other sounds within your custom kits. The hi-hat and crash pads are sufficient but could be improved upon. The kick pad is great and is a nice size for double bass and beater height flexibility.
The sound module sounds great. Advanced sound design is limited, but you can change drum sounds and use some basic effects such as reverb, compression and EQ as well as save custom kits. The iOS app makes it a breeze to edit and customize kits in a visual manner.
If you're looking for a great sounding kit with a triple zone ride pad and dual zone toms for less than $1000, this is a good pick.