The Audio-Technica ATH-M40X headphones offer a flat frequency response and are designed to provide a true representation of audio for mixing and mastering purposes.
Closed Back Design
These headphones offer a closed-back design and the ear cups are just big enough to fit over most people's ears. The closed back design helps to create some passive noise isolation. If you are listening to music, most people around you won't be able to hear what you're listening to unless you have the volume cranked up. The noise attenuation will also passively block out some environmental noise, which is great for keeping the sound consistent for mixing purposes. This is also a preferable quality when using these with electronic drums.
Comfort
These are pretty comfortable headphones as long as they fit your head well. People with larger heads or larger ears might find these to be a little uncomfortable. But for most, these will be a comfortable pair of headphones that you can wear for an hour or longer with no problems. They weigh a little more than the cheaper Audio-Technica headphones but the extra weight doesn't negatively affect comfort.
The ear cups that are included are slightly harder than the ATH-M50X, but still are soft and comfortable. They can be replaced and upgraded if you prefer different types of ear cup padding. The headband padding is a little thinner than the cheaper Audio-Technica headphones but the headband feels comfortable and doesn't have any hot spots.
The fit is slightly tighter than the other ATH headphones such as the ATH-M30X. This helps keep them firmly on your head and can be a good quality when using these with electronic drums.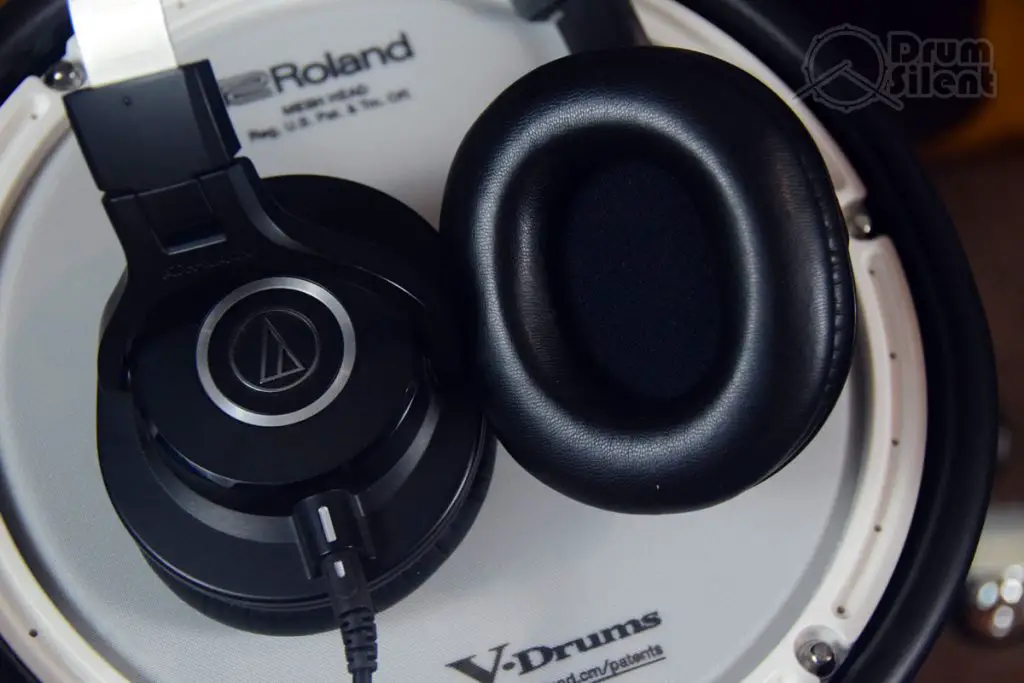 Ear Cup Swivel
The ear cups can swivel 90 degress forward and 15 degrees back. This allows you to use them with one ear a little more comfortably if you have the need for that.
Collapsible Design
These headphones have a collapsible design, so you can fold them up for transport. We recommend to really only ever fold them up if you need to for transport, since the folding mechanism is known to wear out over longer periods of time. If you're just leaving them sitting around in a studio or at home, and they are getting regular use, it's best to just leave them in their non-collapsed state.
Build Quality
The build quality of these headphones feels average for headphones in this price range. They don't feel cheap, but they do have a lot of plastic in the construction. They have a little more weight than the cheaper Audio-Technica headphones, which makes them feel a little higher quality than those options. The headband and the ear cup padding feels good, even if the ear cups might feel a little shallow for some.
Overall, these are fairly well built and if you take care of them they should hold up. Long term you might run into problems with the folding hinges breaking or wearing out, which seems to be common with most Audio-Technica collapsible headphones. The padding on the ear cups can wear out as well but they're replaceable so that issue can be fixed easily.
Multiple Detachable Cables
The headphones come with two cables – a coiled 10 foot cable and a 10 foot straight cable. The cables attach to the left ear cup. The coiled cable is effectively shorter, since it's coiled up. The straight cable is great when using these in the studio since it's much longer, and it's a nice length for electronic drummers who need to keep their headphone cable out of the way when playing drums.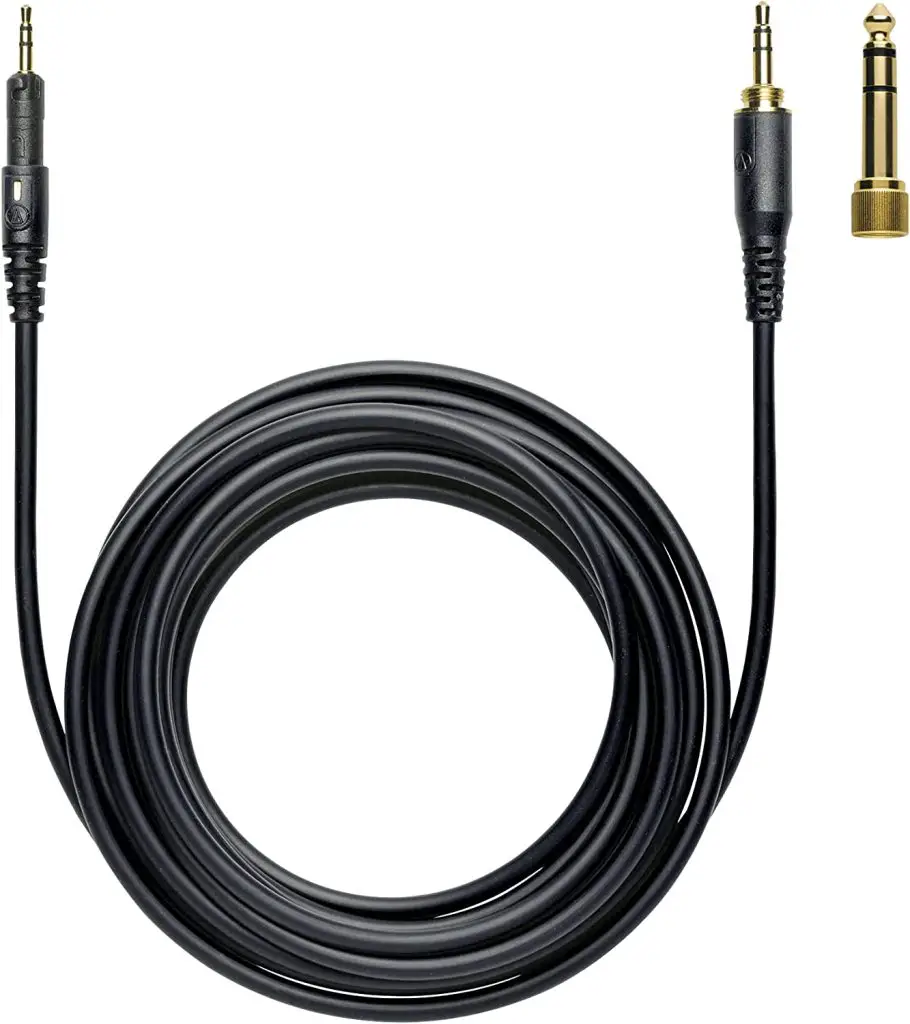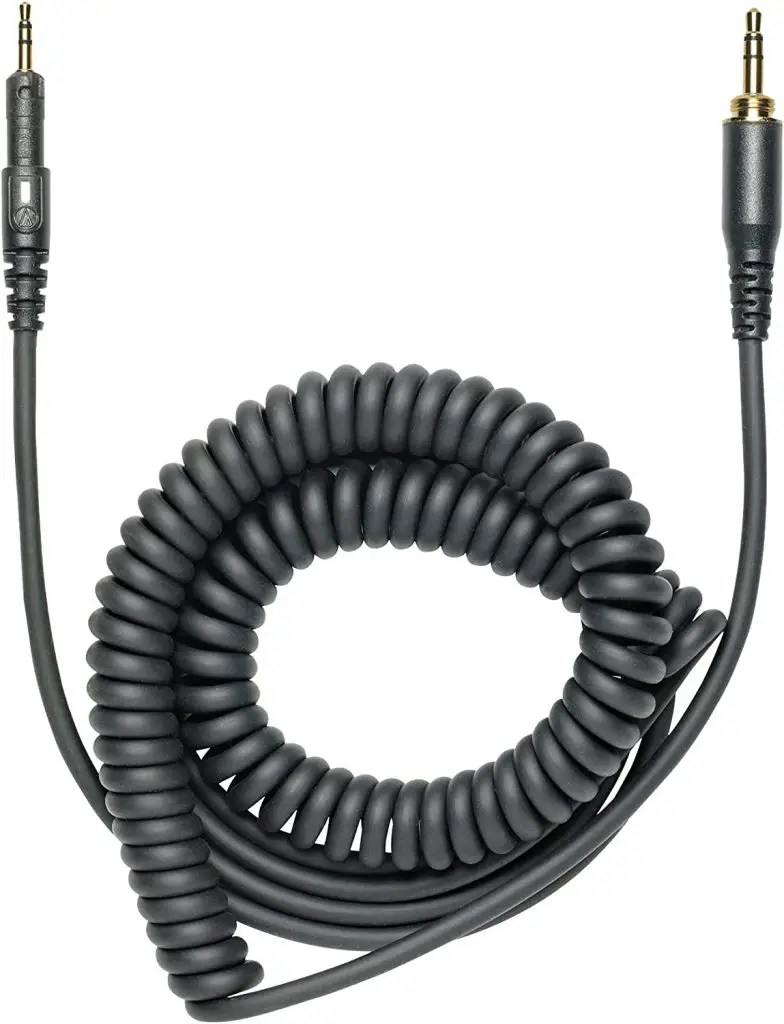 Accessories
In addition to the cables you also get a storage bag. The bag is just barely big enough to fit the cables and the headphones, but still it's nice to have if you will be transporting these around as it can add a little extra protection.
Mixing, Electronic Drumming

10 foot straight and 10 foot coiled cables, detachable

Pros
Excellent studio mixing headphones for the price
Long cables
Collapsible
Comfortable
Good noise attenuation
Cons
Ear cup padding is somewhat shallow
Collapsible hinges can wear out over time
Can get warm during longer sessions of use
The Verdict
The Audio-Technica ATH-M40X headphones are a great option for people who prefer a flat frequency response with their headphones and who need something for around $120 or less.
They sound really good when considering their price range. They can work great as mixing headphones or for other purposes like electronic drumming. If you like the look of these but want more of a forward sound in the mids and highs it's worth it to check out the ATH-M30X or the ATH-M50x headphones as other potential options from Audio-Technica.