The Roland TD-07DMK is the entry level electronic drum kit in Roland's TD lineup. It has enough features to land itself in the intermediate level of drum kits, and is a good option for people who want more than a beginner's level kit but don't want to spend more than $1000. Let's take a look at the features that make this kit worth your attention.
Drum Pads & Cymbal Pads
Roland's mesh drum pads are probably the best you are going to get your hands on in this price range. They have a great reputation for natural feeling electronic drum pads, and this kit is no exception.
Compact Pad Selection
This kit focuses on providing you with smaller and more compact versions of all the drum pads, since it's the entry point to this drum line. While being good for drummers on a budget, this approach also keeps the form factor of this kit pretty small. It can be a good kit to fit into tighter spaces due to the smaller form factor overall, and Roland pitches this kit in that way.
Mesh Heads
The mesh pads on this kit have dual mesh layers to help give them a solid sticking response much like a regular drum head. They don't feel too soft like cheaper mesh heads or too hard like rubber drum pads.
The tension of the mesh heads can be adjusted with a drum key, so you can dial in the type of head tension that you are used to with acoustic drum kits.
Response
The sensors on the drum pads also respond very well, and you will notice that the sounds you are able to generate while playing feel very dynamic as a result. The pads along with the sounds will respond much like you'd expect an acoustic kit to respond, with the ability to play ghost notes, loud whacks, rolls, and anything else you can do with acoustic drums. This makes the kit feel extremely playable compared to the budget entry level kits out there.
Tom and Snare Pads
The snare pad is a standard PDX-8 from Roland. This is a 10 inch snare pad that can trigger sounds from both the head and the rim. The tom pads are a modified budget version of the PDX-6 pads – these are the PDX-6A pads. What this means is that these tom pads on this kit only have a single hit zone on the head compared to the dual hit zones on the head/rim on the regular version of the pads. This should be noted since it's not super clear in the marketing materials, and many people prefer dual zone tom pads.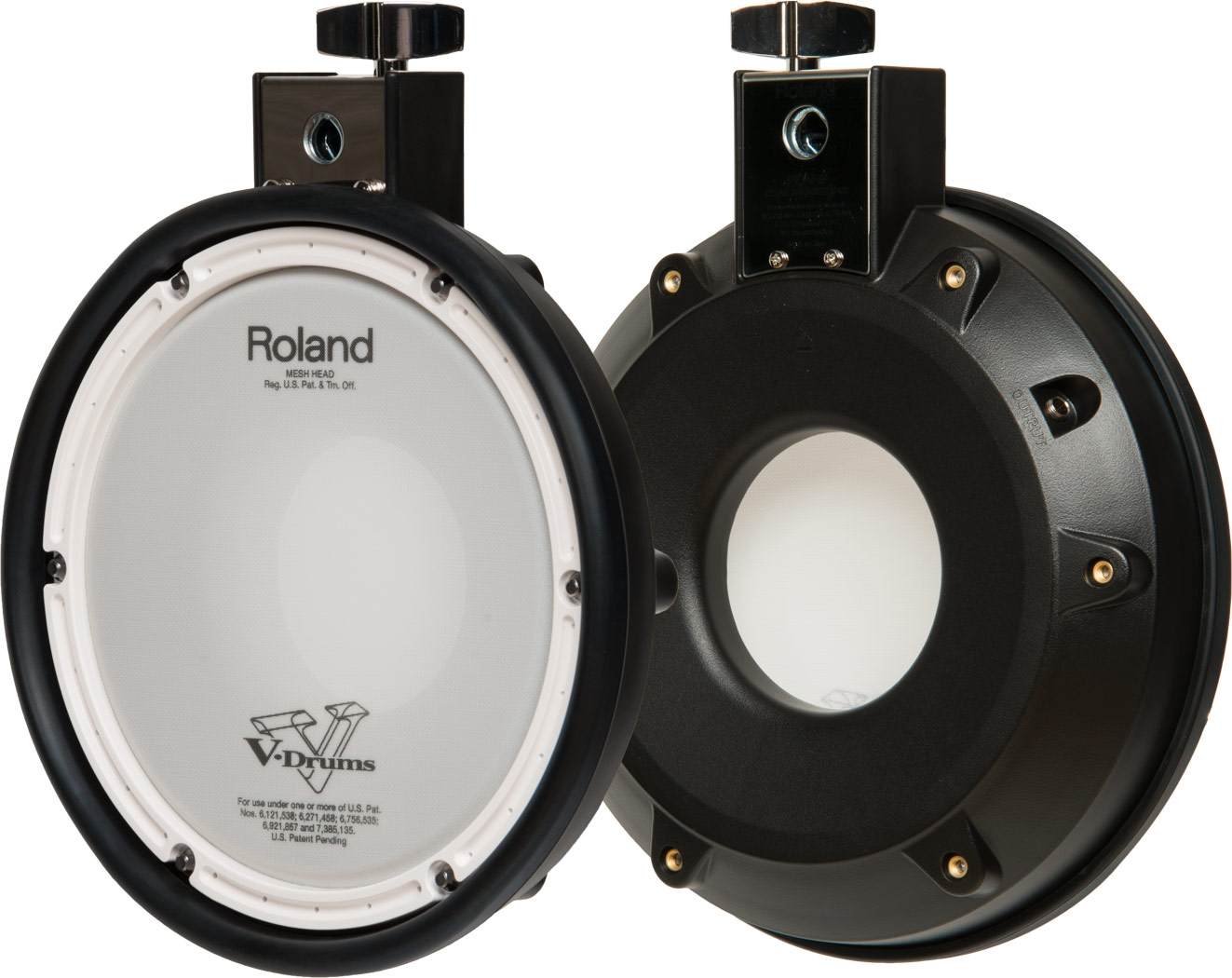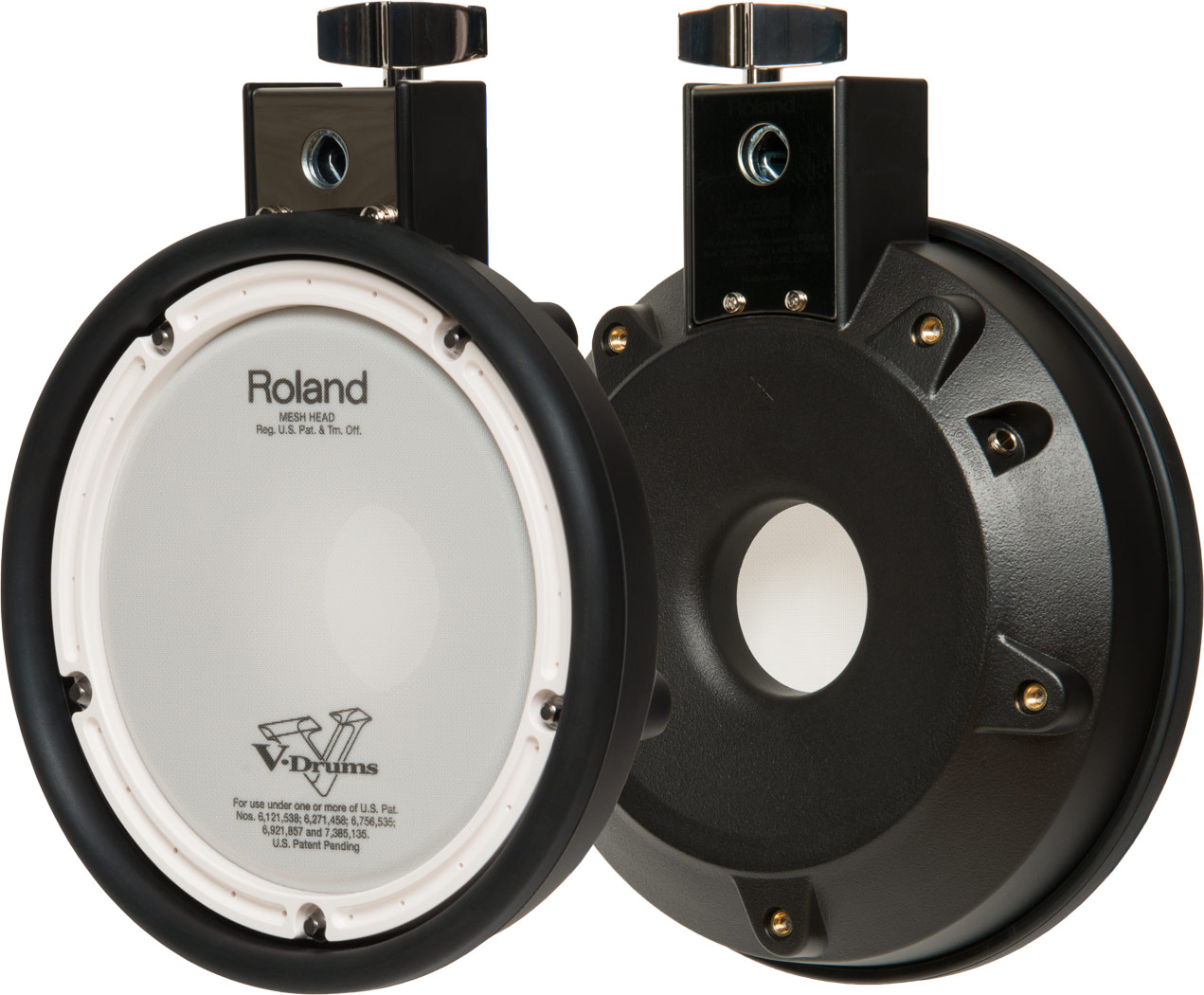 Cymbal Pads
The cymbal pads are all the smaller CY-5 pads from Roland, which are about 10 inches in size. They are your typical hard-rubber types of pads that you see on most budget to mid-level electronic drum kits. They have a feel of a hard rubber pad that gives and moves like a cymbal when hit. The cymbal pads can trigger sounds from hitting either the bow or the edge. The pads all have a choke point for cymbal mutes as well. By all standards, these are good, serviceable cymbal pads but also not exactly the best available out there.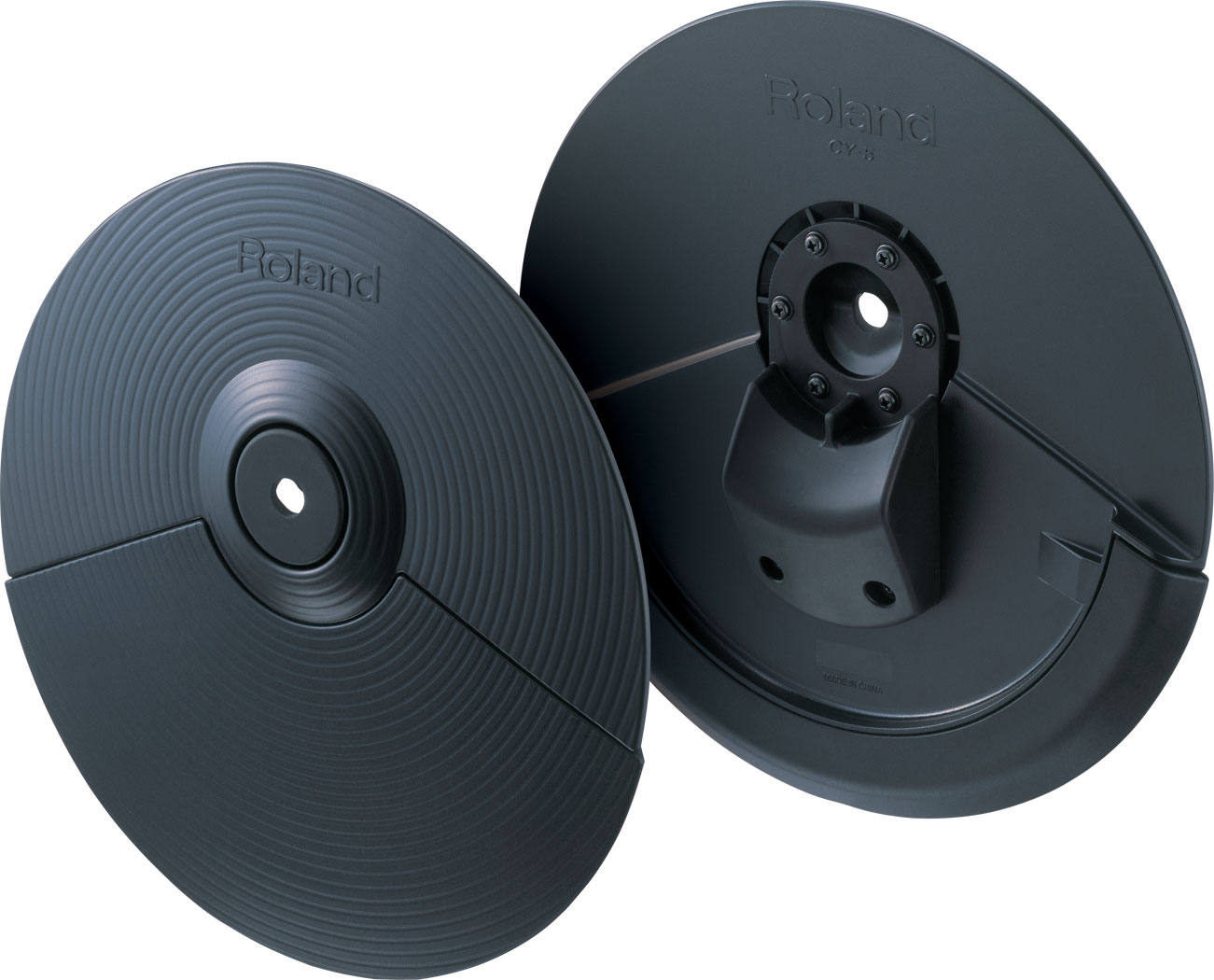 Pad Lineup
Here is the exact pad lineup you will find on this drum kit:
KD-2 Kick Drum Pad
PDX-8 (dual zone) Snare Drum Pad
Three CY-5 Pads for the Hi-Hat, Crash and Ride Cymbals
Three PDX-6A (single zone) Tom Pads
The Rack
This is one of the more compact racks you'll find on a kit in this price range. Roland specifically sells this as a kit with a small overall footprint, and that is certainly what is happening here. The rack is big enough to effectively mount all the hardware, but it's still small enough that you can likely situate the kit in a small spot in your home.
Even though the rack is fairly compact, it is still very sturdy and the posts are thick and the mounts and joints are solid.
The stand is also designed with some shock absorption and dampening in mind, so it will transfer less noise to the ground that other budget kits. This is great for apartment drummers, for example.
Even though the rack is on the smaller size, you should be able to find a way to add a couple more pads without making it too crowded – if you decide to expand this kit.
Sturdiness
This kit is small, but it still feels plenty sturdy when playing it. For harder players, you will be surprised at how this kit keeps from moving around on the floor if you have it on a solid rug.
Feel & Playability
This kit provides a very good feel due to the response of the drum pads. The feel of the mesh heads on the v-drum pads is great.
Where the feel and playability starts to struggle on this kit is the small size of the pads and the resulting small hit zones. The smaller pads give you a smaller area to hit as you work your way around the kit, and you will find that precision becomes more necessary. This is not necessarily a bad thing, as smaller hit zones will make you a more precise drummer. But some drummers might prefer bigger pads and more hit zones that get closer to what you'd find on an acoustic kit. You won't find that here with the smaller pads around the kit overall and the single zone tom pads.
So, the bottom line here is – good feeling pads, but smaller areas to hit and less hit zones to work with.
Double Kick Bass
The included kick pad on this kit is designed to work well with both single and double bass. The width of the pad will support any double bass pedal out there right now.
One thing to keep in mind is that with the way the included kick pad is mounted on the rack post. There's no place for a kick pedal to "clip" onto the kick pad to keep it from moving around, like some other floor-mounted kick pads might work. For this reason, make sure that any pedal you use with this kit has a way to secure itself to your rug via velcro or spikes so that it won't slide around on it's own during play.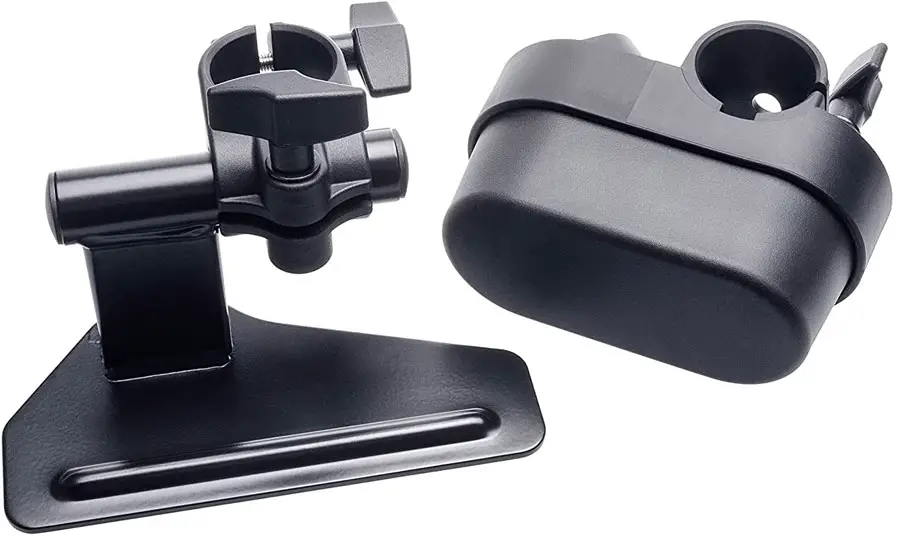 The TD-07 Drum Module
The namesake drum module for this particular kit is the TD-07 Drum Module. Roland has included some nice features with this particular drum module, so let's take a look.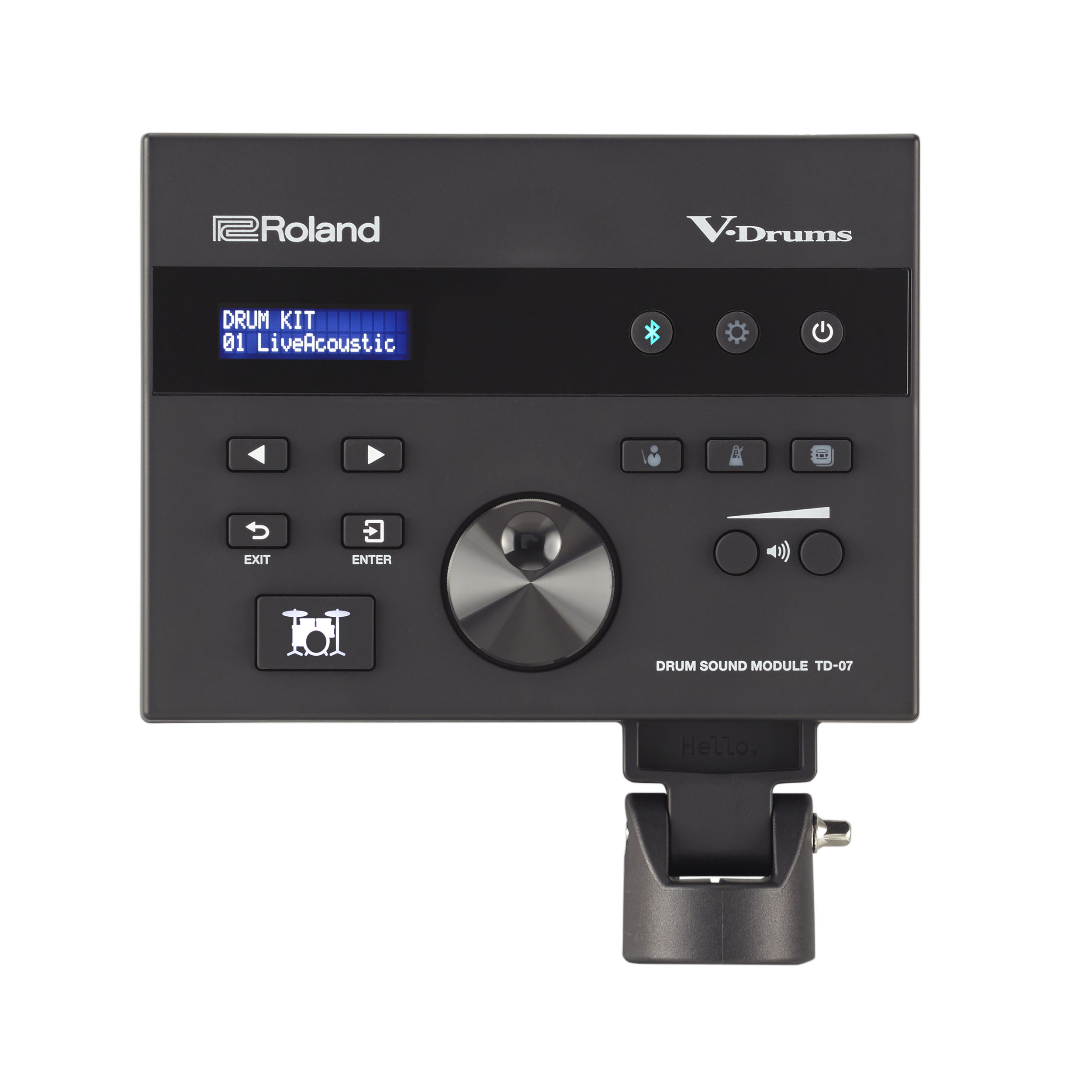 Interface
Roland has done a nice job with making this module easy to use. The buttons and interface are intuitive and without even reading the manual you will be able to figure out the basics without much issue at all. The manual is quite detailed and easy to understand as well – for when you want to dive into the finer details and deeper features of this drum module.
Inputs, Outputs and Connections
On the back side of the module:
The power input for the power supply
The USB port
3.5mm aux input labeled as "Mix In"
3.5mm Stereo Headphone output
On the bottom:
Connector for the cable snake for the drum pads
There are just enough connections to get the job done here, and nothing extra.
Scope of Sounds
The TD-07 drum module contains 25 preset drum kits and 25 extra user slots to save your own drum kits. The list of instruments contains 143 different percussive sounds to choose from, containing all the standard drum sounds you'd expect to hear along with some more experimental options as well. You get everything from acoustic drum sounds to the 808 electronic drum sounds directly from Roland.
View the full list of kits and sounds here
The drum sounds themselves are really good. Roland always excels in the sound of the drums on their modules, and the TD-07 is no exception. You will find many serviceable sounds to use here, and you always have the option of connecting this module to other sound modules or a computer to play sounds from other devices.
Editing Kits and Voices
There are some neat options available on the TD-07 sound module to tweak the sounds of your drum kits. For each kit, you are able to adjust:
Sounds assigned to pads
Overall kit volume
Attack or release of each pads sound
EQ for each pads sound
Overhead mic positioning, which affects overall sound spaciousness
Room type
Add multi-effects to each sound
Those are some pretty neat options and they allow you to really dial in how you want your kit to sound overall.
When editing individual voices, you can adjust the following:
Volume level
Panning left/right
Tuning higher or lower
Add muffling to the sound
Choose a head type (clear, coated or pinstripe)
Choose a beater type (felt, plastic or wood stick)
Change the diameter of cymbals which can affect the overall sound
Set the high hat to fixed or adjustable with the pedal
Pitch up or down
Decay length of the pad sound
Once again, that is a lot of things that can be adjusted to really dial in the type of sound you want out of this kit. These are a lot of neat sound design options for a kit in this price range.
Multi-FX
The TD-07 sound module contains a pretty impressive list of multi-effects that can be applied to individual voices and the kit sound overall. This is another one of the strengths of this module. The effects include lots of options for delays, overdrives, reverbs, flangers, phasers, saturators and more.
View a full list of all available multi-effects
Metronome
This module contains a metronome, as most all drum modules do. Remember to always practice with a metronome!
Coach Mode, Quiet Count and Changing Tempo/Rhythm
The TD-07 contains a basic coaching mode that will help you learn how to play in time with a click/metronome. This mode will show you how well you are playing in sync with a click.
There is also a mode that lets you practice along with a click that comes in and out, to help you develop internal timing.
In addition, there are also modes that allow you to play along with changing tempos and rhythms, which can help develop your skills in these areas.
Play Along Tracks
There are no built in tracks to play along with on this sound module.
In our opinion, that isn't an issue really since you can connect your smartphone or other audio device. This is our recommended way to practice – play along with songs that you like! Sure, this module has some good coaching and practice modes, but the best practice is usually going to be playing along with music that you want to play yourself.
Bluetooth
You can connect your smartphone via Bluetooth to play along with songs without using the aux input.
Trigger Settings
As with most other good drum modules, you can adjust the triggering settings on a per-pad basis on this kit.
The settings that you can tweak include:
Pad type – Choose the type of pad you are using to quickly set some ideal trigger settings
Threshold – Adjust the minimum sensitivity of the pads
Sensitivity – How the pads react to stronger or lighter playing
XStickSens – Adjust how hard you need to strike a pad to get a rimshot sound
FootSpSens – Adjust how easy it is to make a foot splash sound
Being able to make the adjustments above will help you dial in the "feel" of your kit to better fit your play style.
MIDI Settings
There are no MIDI inputs or outputs. However, you can connect this module via USB to a computer or other USB enabled device to use the drum kit as a controller for another device.
Expandability
We touched a little bit on the expandability of this module. Here's what you are able to do:
Add another crash cymbal, with an extra input available for another cymbal pad
Upgrade the ride cymbal to a pad with more features, such as a CY-13R
Connect the module to other devices and use as a controller
Swap in a different type of kick pad, if you don't like the pole-mounted pad that is included
It's also possible to swap in other pads to get larger sized pads on this kit or pads with more features. Roland pads are recommended.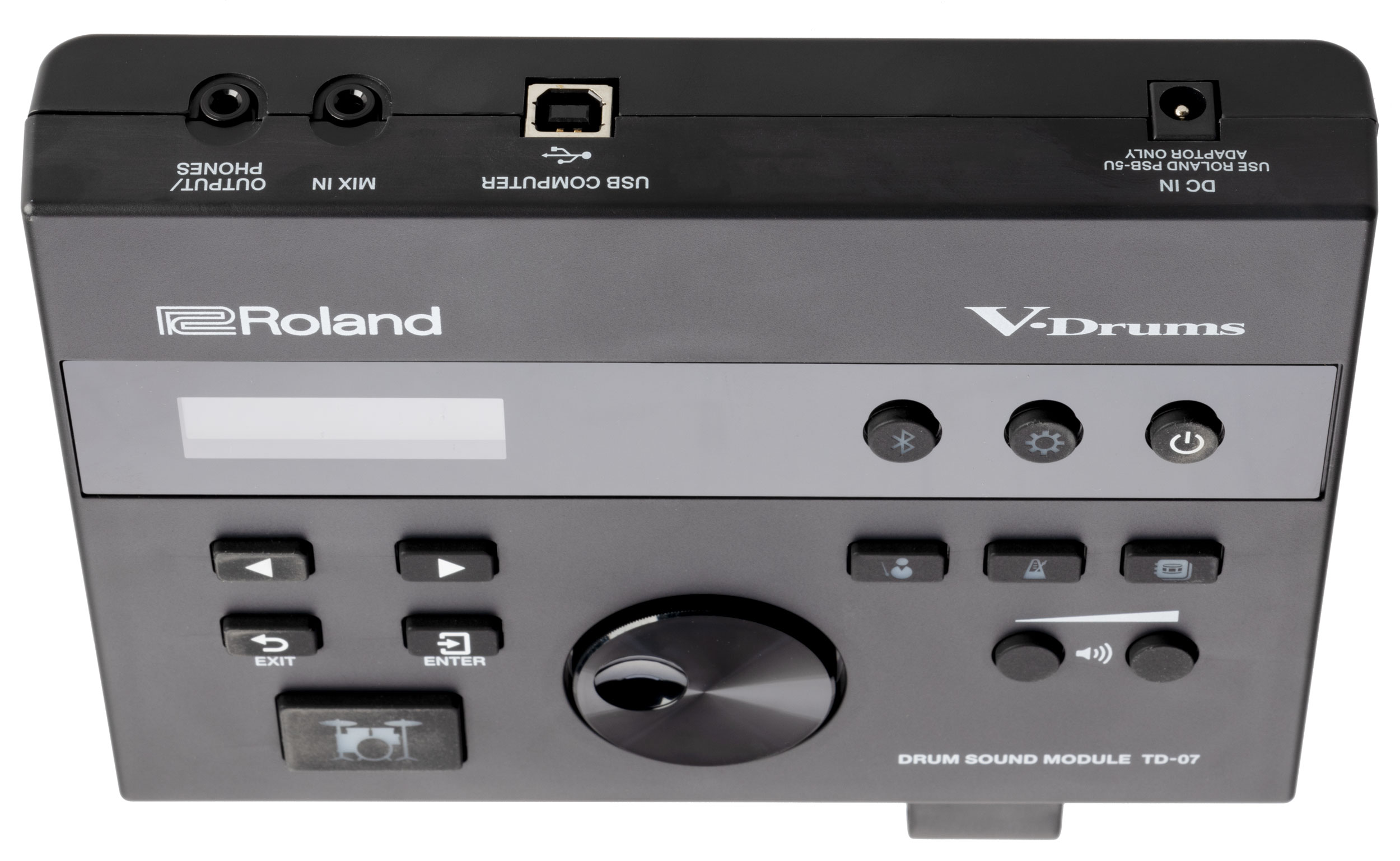 Setup and Assembly
Drummers who purchase this kit find it easy to assemble. The setup instructions are quite good, especially compared to some other kits out there from other manufacturers.
The setup guide is detailed and doesn't leave much to the imagination. There is also a detailed parts list. That is probably a good thing, even if it seems like a little bit of overkill for those that have experience setting up electronic drum kits and related hardware.
You will probably spend an hour or less getting this kit setup. Our recommendation is to not tighten down everything fully until you get the kit mostly assembled and have a chance to sit at the kit and get everything placed properly.
If you are intimidated by setting up a kit like this for the first time, kits from Roland are a good option due to how good to the instructions are.
What's Included?
When you purchase this kit, this stuff will be in the box and included:
The MDS-COMPACT rack stand with clamps and mounting hardware
Pads:

KD-2 pole-mounted kick pad
3x PDX-6A Tom Pads
1 PDX-8 Snare Pad
CY-5 Crash Cymbal Pad
CY-5 Ride Cymbal Pad
CY-5 Hi-hat Cymbal Pad

Hi-hat Control Pedal
Roland TD-07 Drum Module
Cable Snake
Power Supply
User Guides and Assembly Guides
What's Not Included?
Here's what's not included, but you probably will also need:
Drum throne
Headphones
Drum sticks
Drum key
Kick drum pedal
A heavy, flat rug to keep the kit and pedals from slipping around
Warranty & Support
Roland's electronic drum kits fall under their 1 year parts / 90 day labor plan in the United States, as outlined here.
They also list rates for service and repair for units that are out of warranty.
Drummers who own Roland electronic drum kits find support to be fairly good overall. Roland typically responds to support inquiries quickly and may request more proof of your issue. If they determine you got faulty parts on a new drum kit, for example, they will send you a replacement part. Cost depends on if you are in/out of the warranty periods.
Pros
Excellent sound capabilities for the price range
The feel of the mesh pads is unbeatable in this price range
Bluetooth connections for Smartphones
The rack is very sturdy for it's size
Excellent manuals and setup guides
Kick pad is large enough for double kick out of the box
Cons
Pads are single zone – no separate hit zones on rims, for example
Cymbal pad has no bell zone
Pads are smaller in size compared to higher-level Roland kits
Kick pad mounted on pole can be undesireable and transfer vibration into the rack
Few accessories included, you will need to buy a kick pedal, throne, sticks and a drum key
The Verdict
The Roland TD-07DMK is a great kit for beginner to intermediate drummers who want excellent sound capabilities while compromising with smaller, less featured pads and a smaller overall footprint. If you are ok with single zone drum pads and basic cymbal pads all the way around, this kit could be a good choice for you.
For it's price point – we find this kit to be a great choice for beginners who don't want a super-cheap kit, especially since pads can be upgraded over time. That allows you to get started with a smaller investment and upgrade later on if you stick with it and play the kit a lot.