NUX has released a new flagship drum kit with the DM-8. Upon first glance this looks like a lot of kit for the money. At a $1399.99 MSRP this looks like it could be an excellent option for drummers that want to get out of the budget electronic drum kit range without breaking the bank.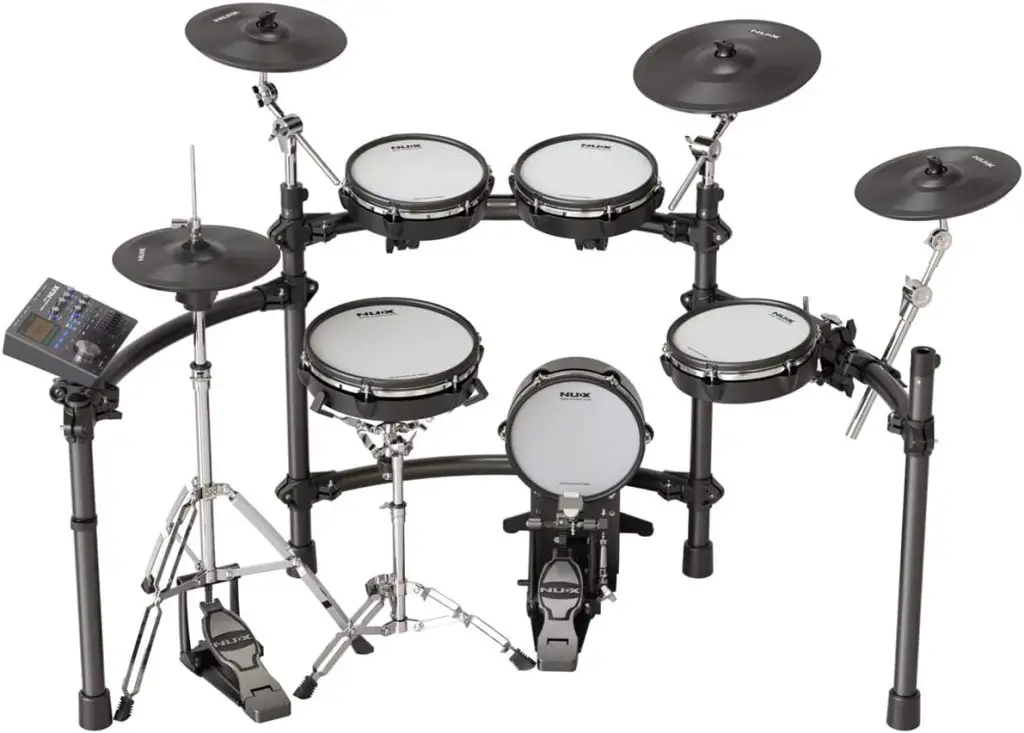 Just look at it! Visually this kit gives off a good impression. The larger 12 inch snare sitting on a snare stand. The two-piece hi-hat pad mounted on an actual hi-hat stand. The larger size of the kick tower and pad. The larger, rounded rack. The multi-zone cymbals that have strikes zones all the way around the pad. The drum module even looks slick on the surface.
The drum pads all have mesh heads along with three sensors to help keep the response even around the surface area of the heads.
Here's what's all included with this drum kit:
12 Inch 3-Zone Snare Pad
10 Inch 2-Zone Tom Pads (x3)
10 Inch Kick Drum Tower
12 Inch Hi-Hat Pad
12 Crash Cymbal Pad (x2)
14 Ride Cymbal Pad
Snare Stand
Hi-hat Stand
Kick Pedal
DM-8 Drum Module
Rack
The snare pad is using a three-zone design and it has the ability to produce very acoustic-like results. It has capabilities for both cross sticking and rim shots which make it suitable for many styles of play.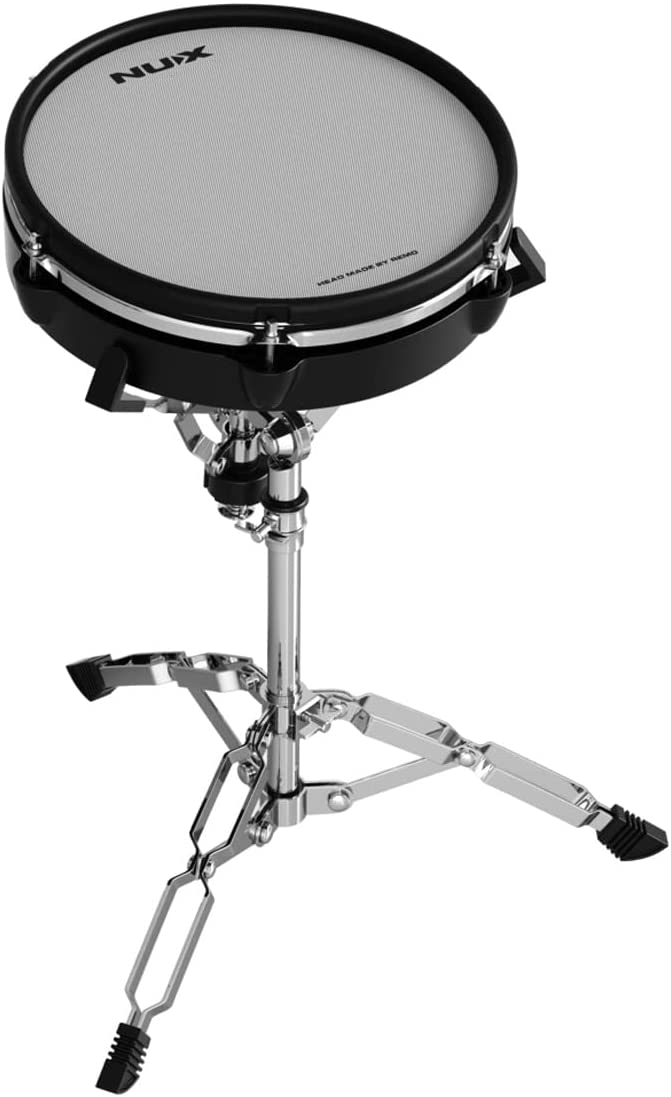 The toms are two zone pads that can generate sounds from both the heads and the rim. The ability to assign separate sounds to the rim of the toms is always nice in terms of expanding the sound of a drum kit without adding more pads.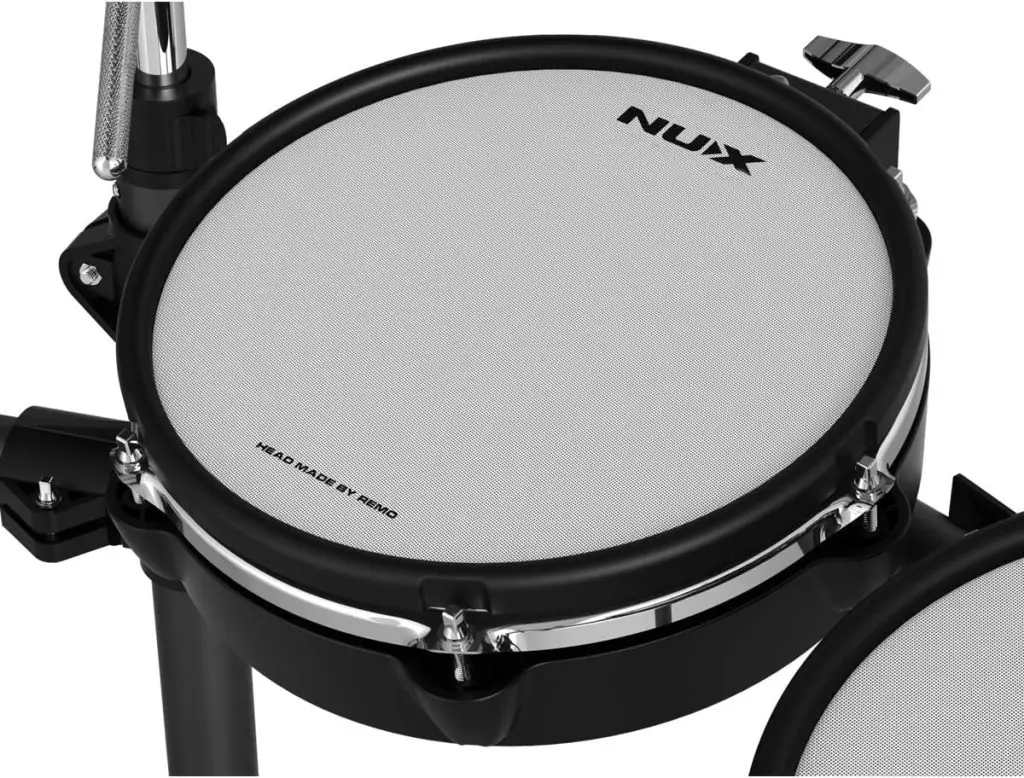 The kick pad is a beefy little tower that has a 10 inch surface with a mesh head. This pad should be suitable enough for a double kick pedal from the look of it, but we'll want to try it out to see how well it really works.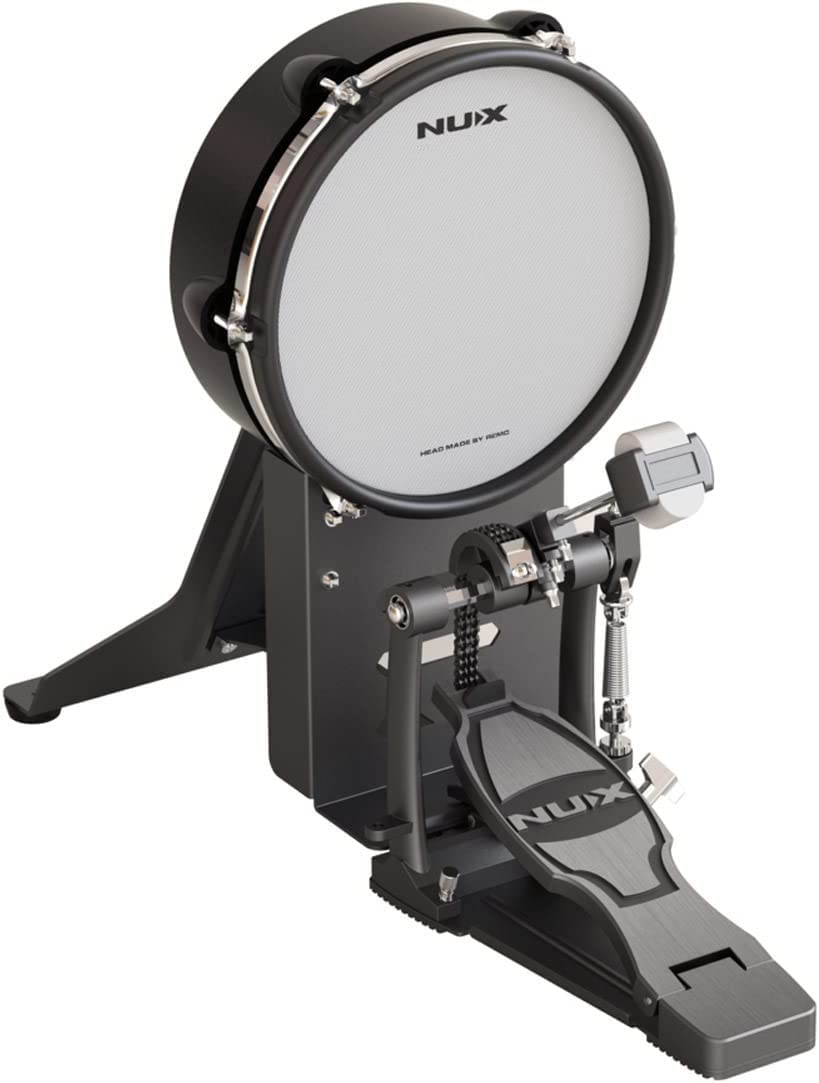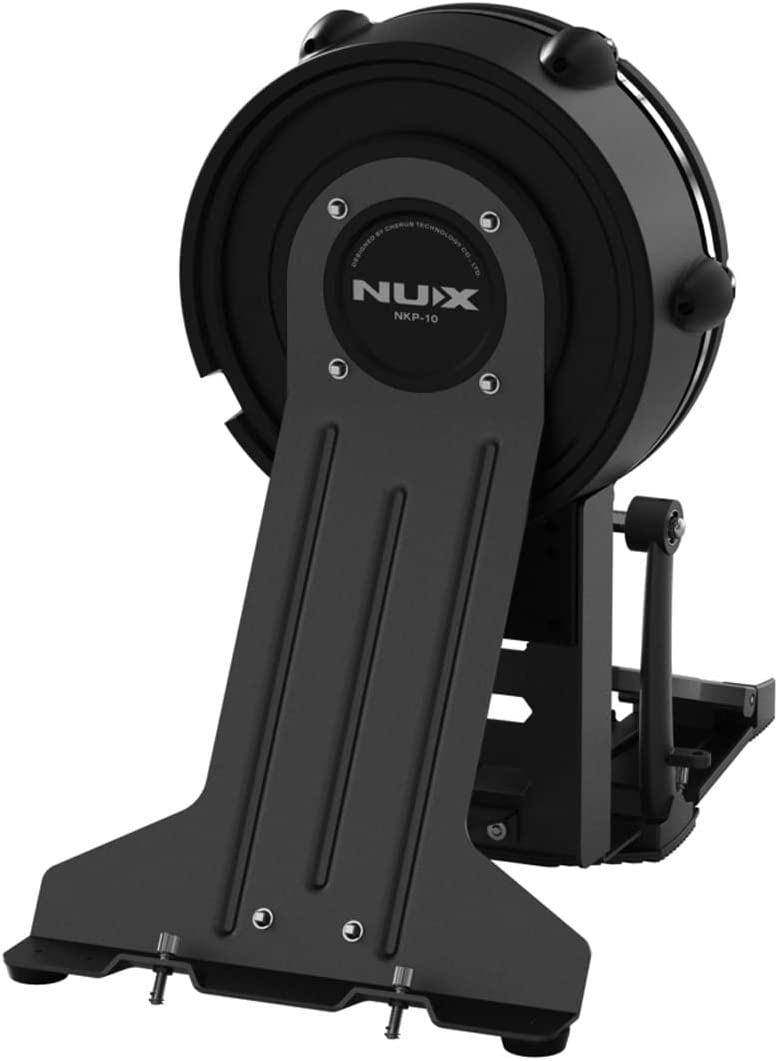 The hi-hat pad is a two piece pad that mounts onto a hi-hat stand. It appears to have a natural response and feel based on some of the demos we've seen. We'll want to try it out ourselves to see what it's really like, but it looks like it should produce a feel similar to playing acoustic hi-hats.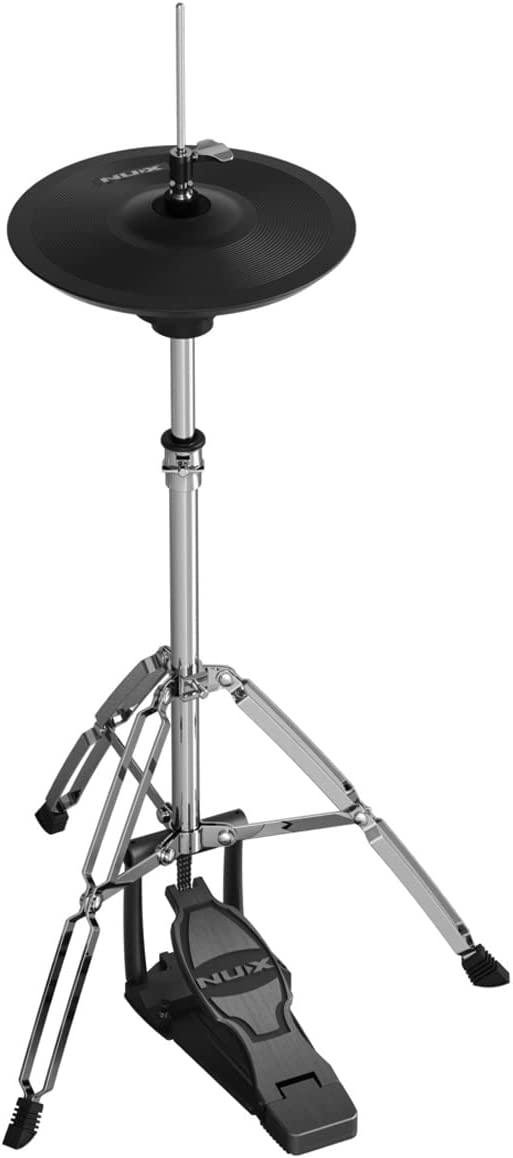 The two crash pads offer both edge and bow zones as well as a choke feature. They have a rubber surface all the way around the surface of the pad. The ride cymbal pad is a three zone pad with edge, bow and bells zones. The strike zones on this pad also work all the way around the surface and not just the part facing the drummer.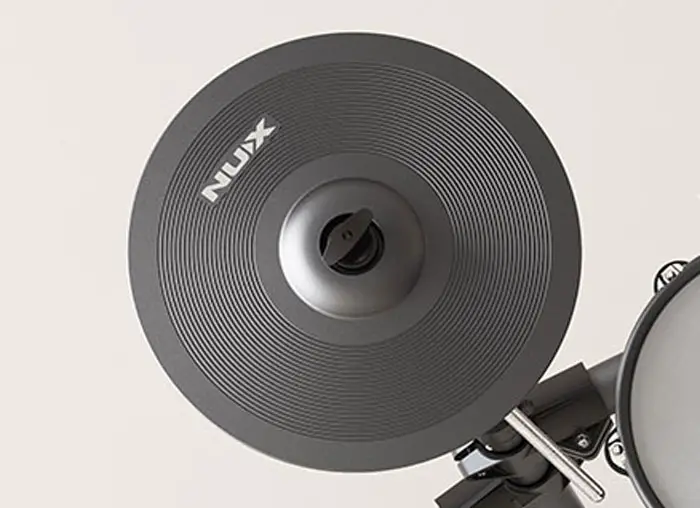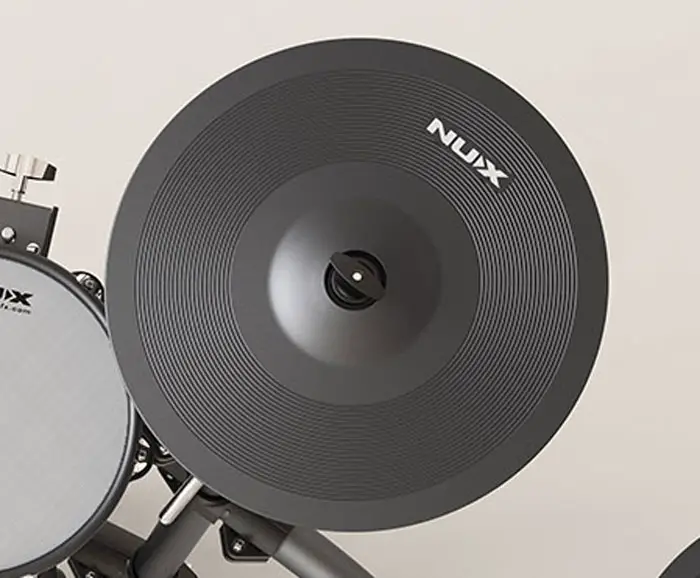 The rack looks a little larger than some other similarly priced competing kits. The curved design of the bars looks kind of neat. The the center posts have an additional support bar down low to keep it sturdy. The rack looks like it should offer some decent flexibility for pad placement and not make everything feel too close like some electronic kits do.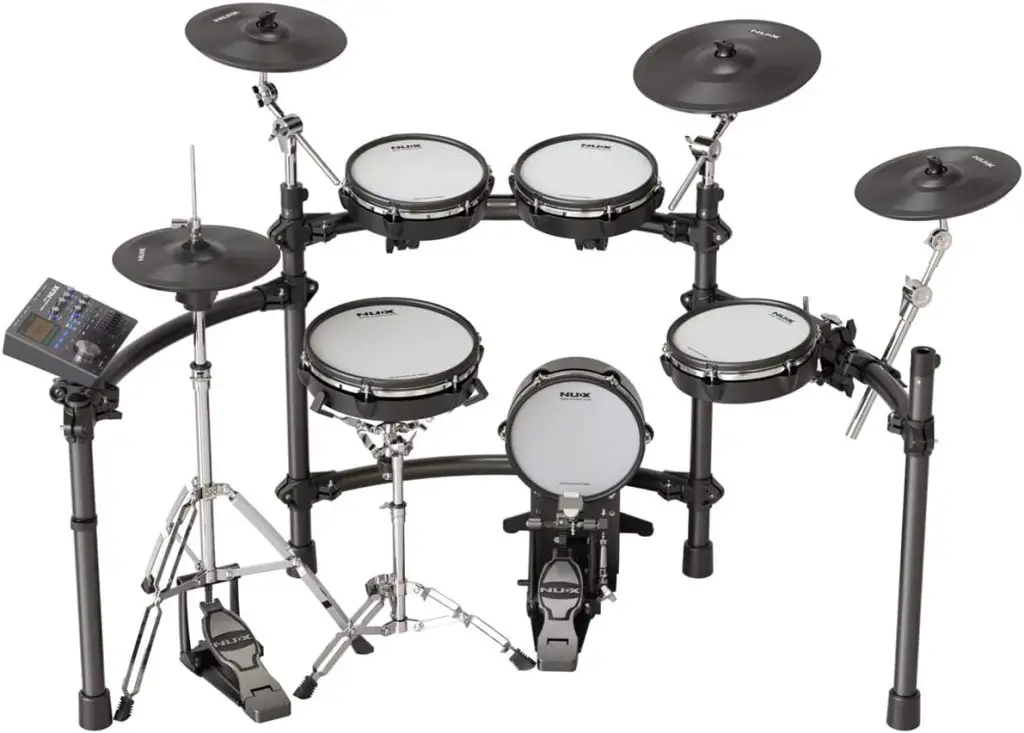 The DM-8 drum module looks nice on the surface with it's metal top plate, multi-color backlit screen and backlit buttons/controls. There are faders for volume right on the front for each pad or groups of pads.
There are 30 built-in drum kits and the demo sounds we've heard sound pretty good. The sounds of each kit can be modified by adjusting parameters like EQ, compression, overdrive and reverb. There is also master compression and EQ for the full kit sound.
The DM-8 module also can work as an audio interface when connected to a computer. It can transmit 14 audio tracks which can be recorded as individual tracks in a DAW. It can also transmit MIDI for recording MIDI tracks instead of audio tracks.
Another nice feature is the ability to import WAV samples into the module to create your own unique drum kits.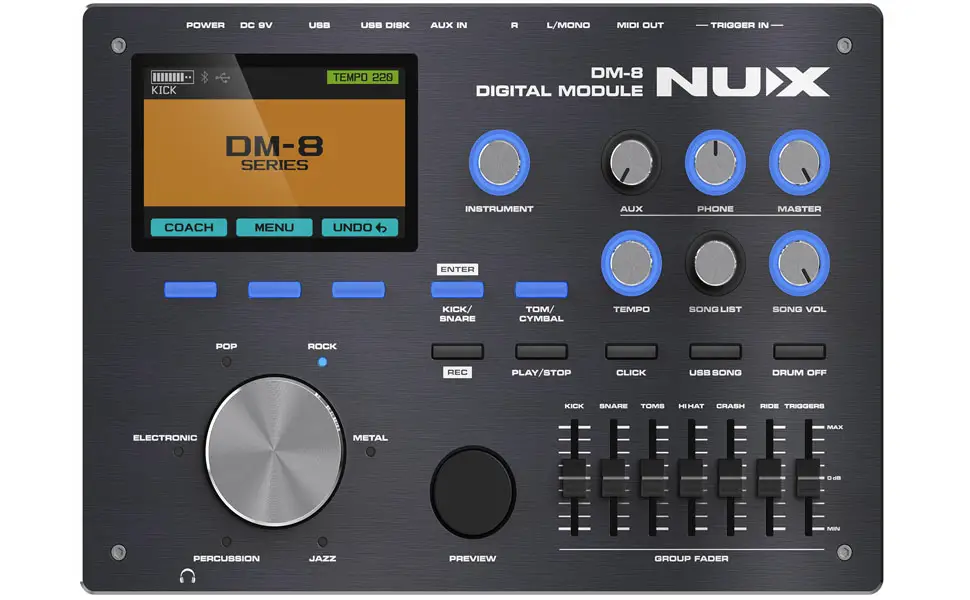 NUX has a good demo video showing off some of the features and sounds from this drum kit. It's only about 10 minutes but it gives you an idea of what this kit is capable of if you can't find any place to try it out.
This kit is already available for sale and can be found at online retailers such as Amazon. We're looking at getting our hands on one so we can do a full review in the near future. This looks like it could be a good option for a full featured kit at a more digestible price point that some competitors.