Normally we take a look at more serious electronic drum equipment here, but this new offering from Donner looked interesting enough to get our attention. The DED-20 is a very low-budget approach and probably the cheapest electronic drum kit you can find. And it can roll up and fit in a backpack. Let's take a closer look.
Overview
What is this exactly? It looks like a cheap electronic drum pad. And it is. But it has just enough features to almost qualify as a playable electronic drum kit. For kids and beginners – it will help introduce them to the idea of playing a trap set without the expense of a more traditional acoustic or electronic drum kit.
One thing the pictures don't do justice is showing just how small this setup actually is. When sitting on a tabletop it's roughly 13 inches long by 16 inches wide. It only weighs about 1kg total as well. So it's super small and portable. It's flexible and it can roll-up as well for storage or transportation.
This isn't going to be something more serious drummers will likely find useful. We would consider this to be more of a toy or something you'd buy to have some cheap fun with.
This could be a great pickup for kids who are interested in drumming if you don't want to spend a lot of money on gear for them to play with.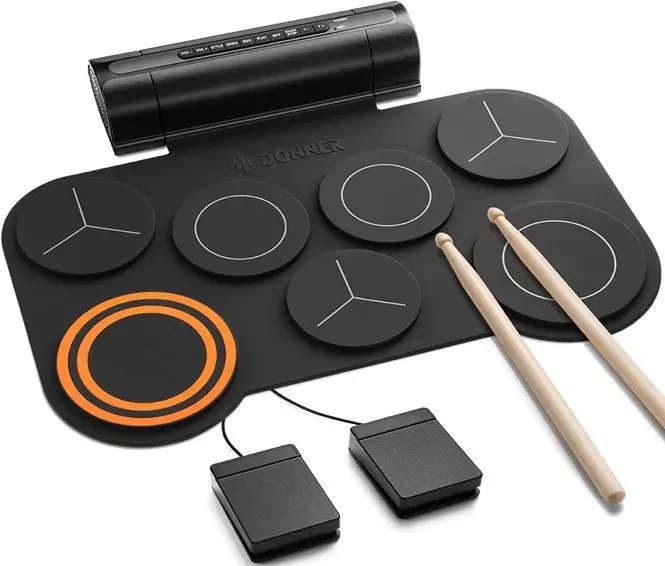 The Pads
There are 7 pads on this device and they are all a soft silicone type of surface. Drummers say the pads feel like a practice pad and are pretty small hit targets. The small size is by design, however, since Donner appears to be trying to make something portable for kids here.
The pads represent the following: Snare, (3) Toms, Ride, Crash and Hi-Hat. There's no way to re-assign the sounds on the pads, they are already locked in to the configuration of a typical pop drum kit.
The Pedals
One nice thing about the DED-20 is that it includes two pedals to represent kick and hi-hat pedals. They are pretty basic but they work. They are pretty much on/off pedals with no real variation or nuance in sound generation.
What makes this nice is that it introduces the full coordination needed to play a drum kit with both pedals and pads. And for that reason it can be a good, cheap practice setup for the most beginner of drummers.
Sounds
The sound are very limited on this device and there is basically just one drum kit. You can't modify the sounds and there really are no sound-design capabilities at all. The sounds are pretty basic, but they work.
There are built-in speakers which can actually get pretty loud. They sound ok, but not the greatest. For best sound results, we'd recommend using headphones or plugging into another sound system.
Playability
So these are pretty small and basic electronic drums. How do they play?
The pads are small hit targets, and you need to hit them fairly accurately to generate a consistent sound. If you hit around the edges of the pads you won't always get a good response.
There are some issues with cross-triggering the sounds and pads. Depending on the surface you have these pads sitting on, you may experience different types of results. There are also issues with double triggering sounds and by default the pads feel overly sensitive.
You can adjust pad sensitivity, but it's not a fix for the issues that are found and you will just need to accept that this is a pretty cheap electronic pad and will have some issues like this.
The pedals feel pretty basic, but they work. You can get some nice rhythms going if you are more experienced, but you will find the inputs and triggering to be a little sloppy overall.
Here's a great video that shows how this pad plays, courtesy of Akhamie Music:
Features
There are a few features that are built-in that can expand the capabilities a little bit. Let's take a quick look.
MIDI
You can hook this up to a computer with the MIDI outputs and use it as a controller. This can expand the sounds and allow you play with your own sound libraries. However, with the odd triggering and sensitivity issues that people run into, using this as a midi controller is probably not ideal for more serious applications.
Recording
There is a basic recording function built-in. You can record up to 3 minutes total of your playing and listen to it during playback. There's not much more to it than that.
MP3 Input
There is a 3.5mm input jack that you can use to hook up an MP3 player or audio device. When this is used, you can play the external audio through the speakers and also jam along with it on the speakers.
Pros
Affordable way for kids to try drumming
Super compact and portable
Built-in speakers
Cons
Not ideal for serious drummers
Sensitivity and triggering is inconsistent
Very limited in sound capabilities
The Verdict
The Donner DED-20 drum pad is very basic and limited in features. However, it can be a good introduction for kids to drumming. It's best to look at this as a toy that also has enough capabilities to play somewhat like a drum set since it has pedals included. If you have kids that are interested in drumming or more specifically electronic drumming – this can be a good, cheap way for them to try it out without a whole lot of overhead and investment.