What are some of the best types of drum sticks to use when you are playing electronic drums?
We like to recommend drum sticks with nylon tips to help protect mesh pads and more tapering on the barrel for better rebound with harder rubber pads. Any features that can help reduce fatigue from playing on harder surfaces is also a plus.
Do drum sticks need to have those qualities to work well for electronic drums? No, not necessarily. Many people find a standard wood-tipped 5A or 5B stick works just fine on their electronic drums. I mean, I've had plenty of fun playing electronic kits with the basic no-name sticks that are included with most of kits. But there are some more interesting options to explore beyond the basics, that's for sure.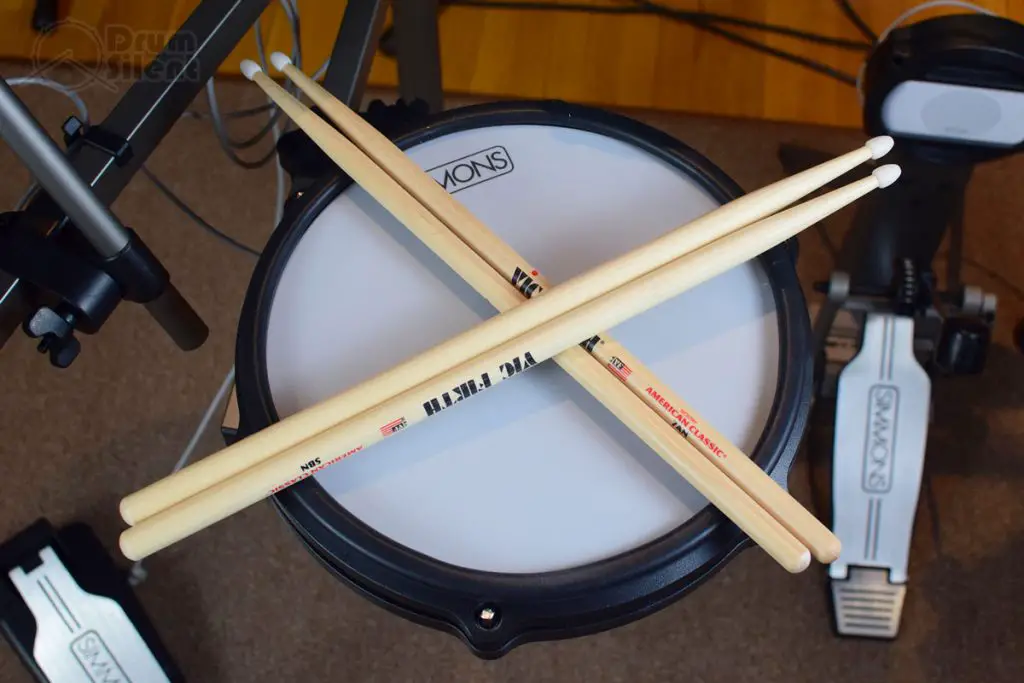 Wood Tip vs. Nylon Tip Drum Sticks for Electronic Drums
It is commonly recommended to use nylon tip drum sticks on electronic kits. The reasoning is that there is much less of a chance of a nylon tip drum stick damaging both mesh drum heads and rubber drum pads. But there's some finer details to consider as well.
Wood tipped drum sticks can work just fine for mesh and rubber drum pads as long as the tips and barrel are smooth with no burrs or chips in the wood. A brand new pair of wood tipped sticks will be in good enough condition most of the time, but it's best to inspect the stick before each drumming session to be sure that they are still in good shape before you start hammering away on your mesh drum heads. If you see any chips or feel any burrs on the wooden tip, and it's not completely smooth, it might be time to replace them.
Nylon tipped drum sticks are preferable and will usually have a smooth tip that will stay that way for a long time. However, I've had plenty of nylon tipped sticks that have burrs on them, usually from the molding or manufacturing process. If you run your fingertips over the tip of the stick you can feel if there are any burrs, even if they are not visible. Next time you're in your drum shop looking at the stick wall, grab some of the various nylon tipped sticks and feel them for burrs. You might be surprised how many you find. If you feel any burrs on a nylon tip, use a knife or a razor to remove them and smooth out the surface completely before taking them to your electronic drum kit.
Also, it's probably pretty obvious, but never use the sticks that have been played on an acoustic kit on an electronic drum kit. Acoustic drums and cymbals can damage sticks very fast. A chipped up drum stick can do some good damage on mesh and rubber drum pads even if it has a nylon tip.
Alright. So here's our recommendations.
Promark Rebound Nylon Tipped Drum Sticks
These sticks are designed to create a little more rebound when playing, which can be a good thing for electronic drum kits with rubber drum pads. They are weighted more towards the rear grip which helps to enhance the rebound action. This type of action can also be useful for drummers who play faster, more intricate styles as opposed to just bashing around the kit.
They are made from hickory with an oval nylon tip. They are available in several sizes as well – 5A, 5B, 2B and 7B – so you'll be able to find a pair to match your preferred drum stick size.

Vic Firth American Classic Nylon Tipped Drum Sticks
These are your standard hickory drum sticks from Vic Firth with nylon tips. They have a balanced feel in-hand and have a reputation for being good go-to sticks for many drummers. If you're looking for a more balanced stick as opposed to an enhanced-rebound stick, these are hard to go wrong with. They are easy to find as well, most shops will have these in stock.
They are available in many common sizes such as 5A, 5B, 7A and 2B. They even have specialty sizes available such as larger, heavier versions for metal and rock players. Most of the American classic sticks have both nylon and wood tipped options.

Zildjian Anti-Vibe Drum Sticks
These sticks are designed to reduce the amount of fatigue from playing on harder surfaces. They use a rubber core inside of the grip end of the stick to reduce vibrations. They can be a good option for people that experience hand and wrist fatigue when playing any type of drums, acoustic or electronic.
These stick are made from hickory and have an oval tip. They are available in 5A and 5B sizes. They also used to be available in both rubber and nylon tipped versions, but I've only seen the wood tipped versions for sale recently. Don't let the wood tip scare you away from trying these out if you are looking for a stick with anti-vibration qualities.

Vic Firth Jojo Mayer Signature Drum Sticks
These sticks are a signature series stick from the legendary Jojo Mayer. He's well known for his drum n bass and jungle chops. If you haven't heard of him, look him up and prepare to be inspired.
These are similar in size to a 5A stick but a little shorter and a little thicker. They have a length of 15-21/64″ and a diameter of .577″. They are weighted more towards the rear grip, which creates a good rebound action and a solid feel in-hand.
I've found these to be fun to use on electronic kits due their action and their feel on the pads. If you are into drum n bass or break beat drumming definitely give these a try.

Vater Manhatten 7A Nylon Tipped Drum Sticks
These hickory sticks from Vater provide a lightweight, balanced feel and feel pretty good on an electronic drum kit. The 7A size is on the lighter end of the spectrum for drum stick sizes. 7A sticks are slightly smaller in diameter than 5A sticks. The smaller, lighter weight can be good for those who play more quietly and don't need to hammer on their drums as much.
Depending on the style of music you play, these might work for you. Due to their smaller and lighter size, these sticks can be a good option for drummers who are trying really hard to keep the noise levels down as much as possible on their electronic drum kits.

Conclusion
Hopefully these recommendations help you get going in the right direction in terms of picking out some sticks. It's kind of funny how it can suddenly become confusing to buy something simple like drum sticks as soon as you really how many options are out there. Personally, I've spent plenty of time standing in front of the drum stick wall, eyes glazed over, confused at all the options after hoping to make a quick trip to grab a pair of sticks.
If you aren't sure what type of stick will work best for you, just try out a couple different styles and sizes. Maybe start by just grabbing a pair of basic nylon tipped 5A and 5B sticks and try playing with both of them and go from there. Experimentation will help you find what you really prefer.