The Samson SR850 professional studio reference headphones aim to provide comfort and accurate headphone monitoring. Is Samson able to achieve these goals or should you look for another pair of studio headphones?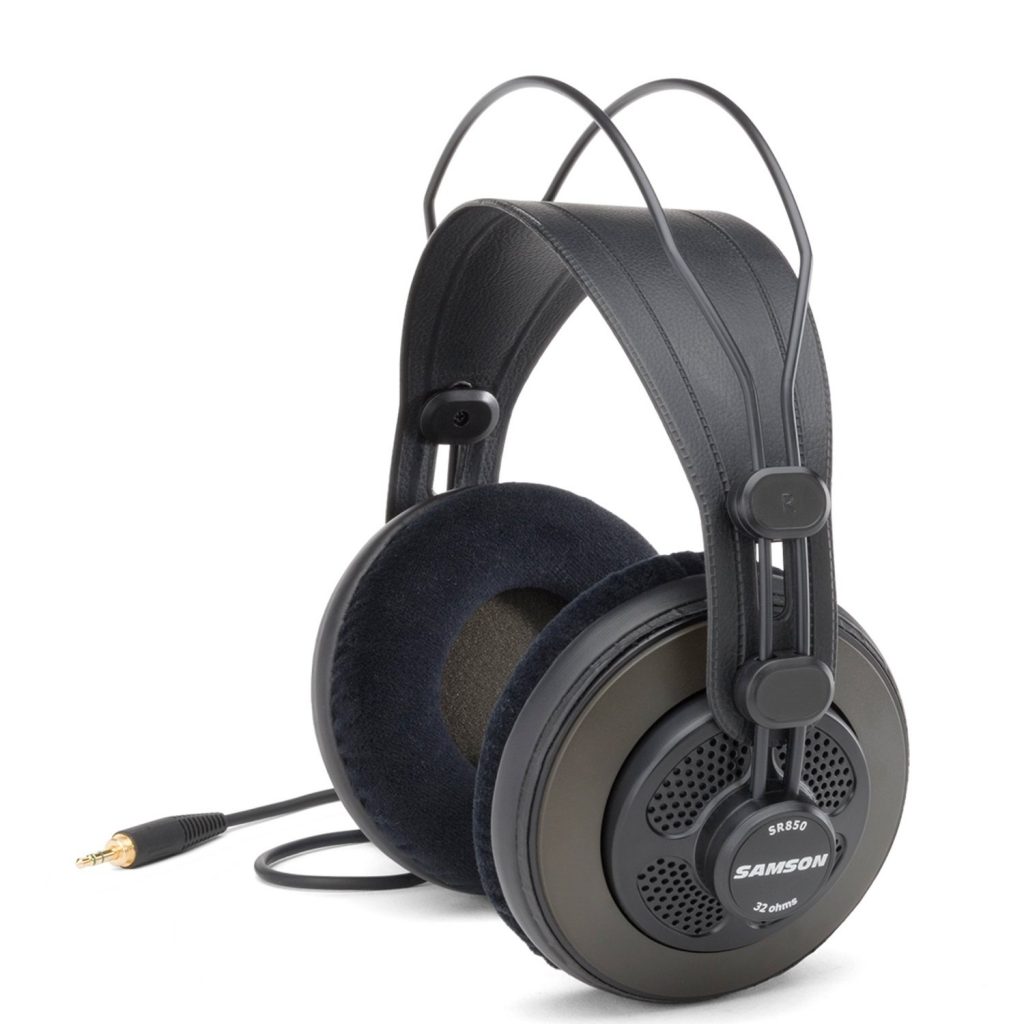 Learn more about these headphones and get a detailed account of their primary advantages and disadvantages.
Overview and Technical Details
First, look at the technical details and features of these Samson headphones. What sets these studio headphones apart from your standard pair of headphones? The main features are intended for professional use; though, they can also be used recreationally for listening to music. Here is a look at some of the features that help make these studio headphones suitable for professional use:
Open ear design for increased isolation
1/8-inch to ¼-inch gold-plated adapter
10Hz-30kHz frequency response and 32Ohm impedance
Self-adjusting headband
The open-ear design increases the ambient listening environment provided by these studio headphones. You would need to turn the volume up incredibly high for the noise to carry more than a few feet away, yet you are still able to experience the full range of sounds coming from your playback device.
This open-ear design, combined with the self-adjusting headband, make the studio headphones incredibly comfortable. This reduces ear fatigue so that you should not experience any discomfort while listening to music for a long period of time.
The 1/8-inch to ¼-inch gold-plated adapter makes these studio headphones versatile. You can use them with your MP3 player, computer, phone, or use the adapter to connect to a professional mixer or other studio equipment requiring a ¼-inch connection.
Pros
Samson remains a leader in professional audio equipment, including studio headphones. They have been involved in the microphone and audio industry for over 35 years and continue to release high-quality equipment. These studio headphones are no exception – just look over some of the advantages:
Comfortable design
Lightweight
Exceptional sound reproduction
Affordable
Above all else, the greatest advantage is the comfortable design and lightweight frame of these studio headphones. When you are listening to music for hours on end, a clunky pair of headphones can give you a headache or even an earache. This is not a problem with the Samson headphones. The auto adjusting strap works perfectly, immediately adjusting to the size of your head.
Along with comfort, you also get an exceptional sound reproduction. You will notice solid bass response, clear sound, and just the right amount of bleed for a wider sound stage. At this price point, you will unlikely find better sound – making these studio headphones perfect for sound engineers, musicians, and even music lovers.
While those are some great benefits, you will also enjoy the fact that these headphones are affordable. The list price is $80, but you should be able to purchase them on sale for $50 or less.
Cons
There are no major disadvantages that should prevent you from purchasing these studio headphones. They provide crisp, clear sound with no major limitations. With that being said, some users may be disappointed that the headphones do not have volume and mic functions built into the studio headphones. This is only a minor issue and is not really a disadvantage.
Some users were not happy with the quality of the frame and the adjustable headband. Though, these users were in the minority, as most customers thoroughly enjoyed the design and the automatically adjusting headband. You need to keep in mind that these are economical, affordable headphones. You should use care when wearing them and using them. As long as you do not roughly use your studio headphones or drop them on a regular basis, you should not experience any problems with the design or the construction.
Where Can You Buy?
You can get your own set of professional studio headphones for less than $50, by purchasing them through Amazon. The list price is $80, but they are typically on sale. They are only available in black and you may be able to find a used pair. Though, when it comes to a piece of electronics like studio monitor headphones, it is always a good idea to buy them brand new.
You may also be able to find lower prices from other sellers. However, many of the sellers with a lower asking price will charge for shipping, which could come out to about the same cost as the $50 offered through Amazon Prime.
What are People Saying?
If you take a moment to consider what customers have had to say after actually trying these headphones, the majority of the reviews are amazingly positive. The Samson headphones have a 4.5-star rating out of 5 stars – with 231 customer reviews on Amazon. Out of these 231 reviews, 68% were 5-star reviews.
Some of the lower end reviews mention the quality of the construction. These users commented on the cheap plastic frame and the quality of the adjustable head strap. As with any product, some users may abuse their device and cause unnecessary damage. Since an overwhelming majority of users did not experience these issues, the negative comments need to be taken with a grain of salt.
The large earpads were also mentioned in some of the negative reviews. They are designed to be large for comfort and for isolated sound, yet some users feel that they are too large and can make your ears sweat. This is probably a personal preference and depends on a variety of factors – including how long you wear the headphones, how you wear them, and the actual temperature of the room that you are in.
Read more reviews and feedback here
Conclusion
Studio headphones are not created equal. You cannot simply use a cheap pair of earbuds when monitoring and mixing music. These Samson headphones are professional studio headphones that combine an open-ear design with a self-adjusting headband for comfort and clarity. Whether you are listening to your MP3 tracks or mixing music, you will enjoy the superior listening environment provided by these studio headphones.
At less than $50, the Samson SR850 studio monitor headphones are a great value. If you want clear sound and a comfortable headband, these headphones are a good option.