Are you looking for a complete electronic drum kit? The Roland TD-11KV-S V-Compact series electronic drum kit provides everything that you need to jam with your band or increase your drumming skills. From beginners to professionals, there is something for everyone to enjoy with the Roland electronic drum kit.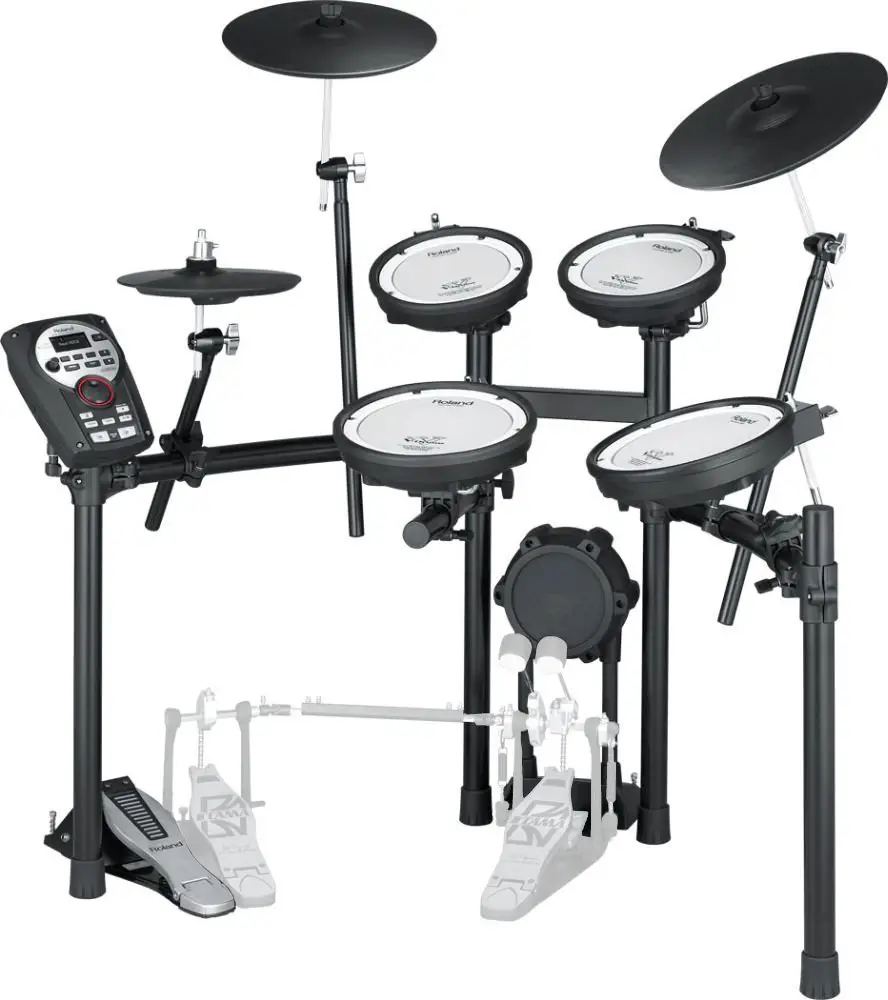 If you want to determine whether or not this kit is a good fit for your drumming needs, then take the time to read the rest of this review.
Overview and Technical Details
What do you get with the Roland electronic drum kit? While it was mentioned that you get everything needed to start jamming, there are a few items that you will need to provide on your own. You will need a drum pedal for the bass drum and a pair of sticks. This is fairly standard for a drum kit. While you will need a drum pedal and sticks, the electronic drum kit comes with everything else:
Compact drum stand
Complete set of electronic drums
Mesh head pads
TD-11KVS drum module
The compact drum stand is easy to setup and provides flexible positioning to suit your comfort level. You can easily adjust the stand and drums. This kit comes with a standard set of electronic drums with high-quality mesh head pads.
Many users have mentioned that these are the best quality mesh head pads that they have ever played on. The goal of a quality mesh head is to give drummers the feel and sound of using a real acoustic set. Roland has definitely achieved this goal with the satisfying sound provided by their electronic drums.
The TD-11KVS drum module includes the SuperNATURAL-enhanced sound engine with Behavior Modeling. This helps to create a natural drumming experience, despite the fact that you are playing on an electronic drum kit. The drum module also includes a large sound library that covers a wide range of musical genres.
Pros
The majority of these benefits come from the fact that you are using an electronic drum kit over using a real acoustic set. Though, inferior electronic drums will not provide the same quality of sound found with this Roland drum kit. Here are a few of the benefits that you will get from playing on this set:
Zero maintenance
Low noise level compared to a real set
Satisfying feel when hitting the mesh drum pads
Compact and takes up less space than a real set
High-quality, sensitive electronic drums
With a real set, you need to constantly tune your drums. This is never an issue when using an electronic drum kit. You can play all day and all of the night without having to take a break to tune your drums.
Another benefit is the lack of noise. This is the primary reason that many drummers choose to use an electronic drum kit in their home. While you may play gigs or record using a real acoustic set, having electronic drums gives you the advantage of not making a lot of noise when you practice.
Some drummers worry about the feel of electronic drums. When you are used to playing on an acoustic set, the idea of hitting a mesh drum head may not be appealing. This is where an electronic drum kit can succeed or fail and the Roland electronic drums succeed. You will notice a satisfying feel when playing on the mesh drum pads. These are high-quality, sensitive drum pads that will respond to your every touch.
The Roland drum kit is also compact. It takes up much less space than an acoustic set featuring the same setup. This is a major advantage for those that have limited space in their home or apartment and also makes the kit easy to transport or take to another location.
Cons
Are there are any disadvantages to the Roland electronic drum kit? There are actually no major issues to mention. The only problems that arise are the result of personal preferences and what you are used to.
Some users found the drum stand to be difficult to setup or adjust, while others were impressed with the compact design and ease of use. Contradictory comments could also be found when discussing the drum module. There were users that were very happy with the available settings, while some felt the drum module lacked the ability to customize the sound.
Due to a variety of comments that appear to contradict each other, it is safe to say that these disadvantages come down to your own personal preferences.
Where Can You Buy?
The Roland electronic drum kit can be ordered through Amazon for a pretty good price. It is a great value and several hundred dollars in savings compared to the list price. If you purchase this kit from Amazon, you will benefit by having a Prime membership – to take advantage of the free shipping. You will also have to sign for the package when it arrives, due to the high cost of the product.
What are People Saying?
The real test of a product comes from actual use. There are not a lot of user reviews to go by, but out of the 10 reviews left on Amazon, the Roland drum kit received an average rating of 4.5 stars.
The most common comments were about the mesh head pads of the electronic drums. Users seemed very satisfied with the quality of the mesh head pads – commenting on their solid feel and the sound that they are capable of creating.
Read more reviews and feedback here
Conclusion
Should you buy this Roland electronic drum kit? The answer depends on what you are looking for. This is definitely a high-quality set of electronic drums, but it may not be the solution for every drummer. Make sure that you are ready to use an electronic drum set before purchasing this kit. If you are just starting out, you may not need such a sophisticated kit.
For those looking to step up their drum skills or need a suitable kit for practicing at home without making a lot of noise – this is the kit for you. The Roland electronic drum kit features high-end mesh head pads and an easy-to-use drum module that allows you to customize your sound and even record your drumming.