You can use any type of kick pedal that you want with your electronic drum kit, as long as it fits the kick drum pad. Let's take a look at what factors come into play when fitting a pedal onto an electronic drum kit.
Single Bass Drum Pedals and Kick Drum Pads
Pretty much any single bass drum pedal will work with the kick pad towers or kick drum pads on electronic kits. So that gives you free reign to use any type of pedal that want with your kit in most cases. The only restrictions you might run into are the height and width of the playing surface of the kick drum pad on your kit. Kits that have kick pad towers with smaller pads are sometimes more restrictive in allowing you to adjust the beater height or offset of the beater, so you might find that you have to set your beater height to a specific height to center up on the pad, but that's about the only restriction you'll run into. Kick pad towers with larger pads will give you more freedom in adjusting the beater height or offset.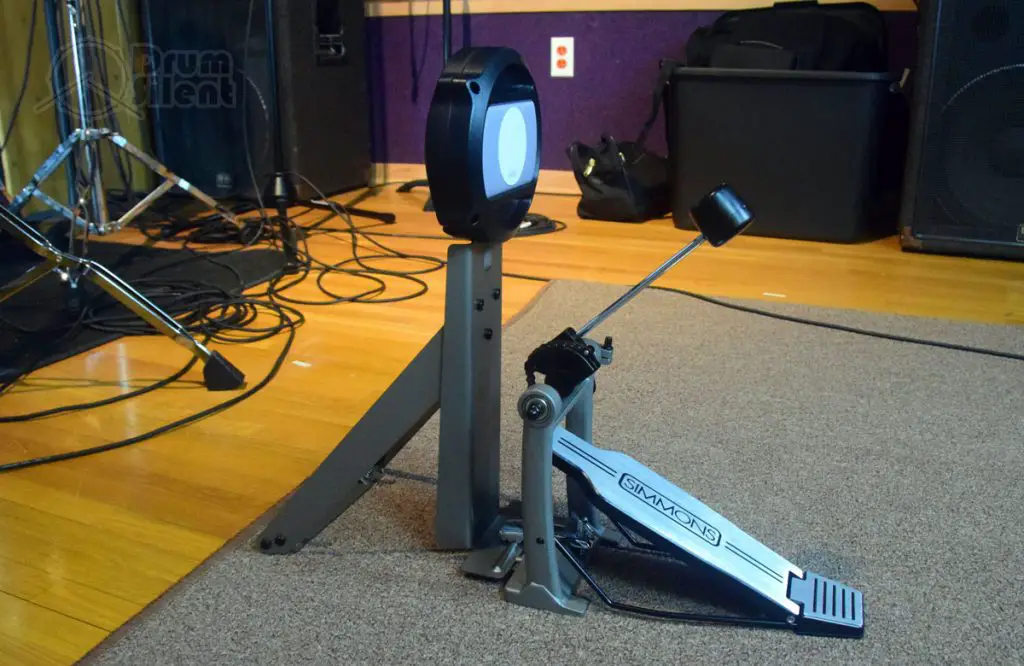 This is the Titan 50 kick pad tower. While the pad has decent width, you can see how it offers less flexibility in adjusting your beater height on your kick drum pedal.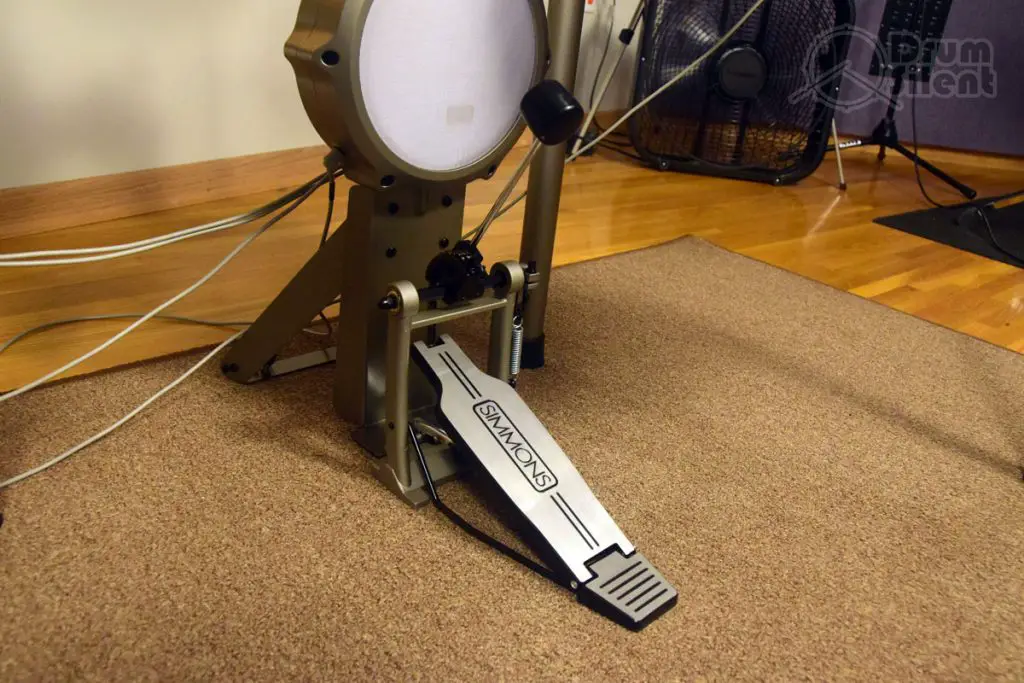 And here's the
Titan 70
kick pad tower. You can see that the larger size of the pad surface area will offer more flexibility in setting your beater height.
Double Bass Pedals and Kick Drum Pads
Double bass pedals are where you start to find more issues with whether or not a specific pedal will work with a specific electronic drum kit. The biggest issue with double bass pedals is that they require enough width on the kick drum pad to support the two beaters. Some kits have smaller pads that aren't always suitable for double bass. Usually you need at least 5 inches of surface area width to fit a double bass pedal, but depending on the pedal or how it's setup it might require more space.
Another thing that can cause issues is excessive beater offset from the toe clamp on the pedal, or beaters being further apart. Some kick pad towers have a narrow clamping area that can make it tricky to properly center up pedals with more extreme offset. I've run into this with my Axis double pedals, for example, the toe clamp was too wide to properly clamp onto a kick tower while also centering up the beaters. My Iron Cobra pedals don't have that issue and they center up better, even with a narrow plate to clamp onto.
Check out these two images to see what I'm referring to. This is what both these pedals look like when attached to the kick tower that comes with the Alesis Nitro Max kit, which has a 5 inch kick pad. I can't use the Axis double pedal with this kick tower, but the Iron Cobra double pedal fits.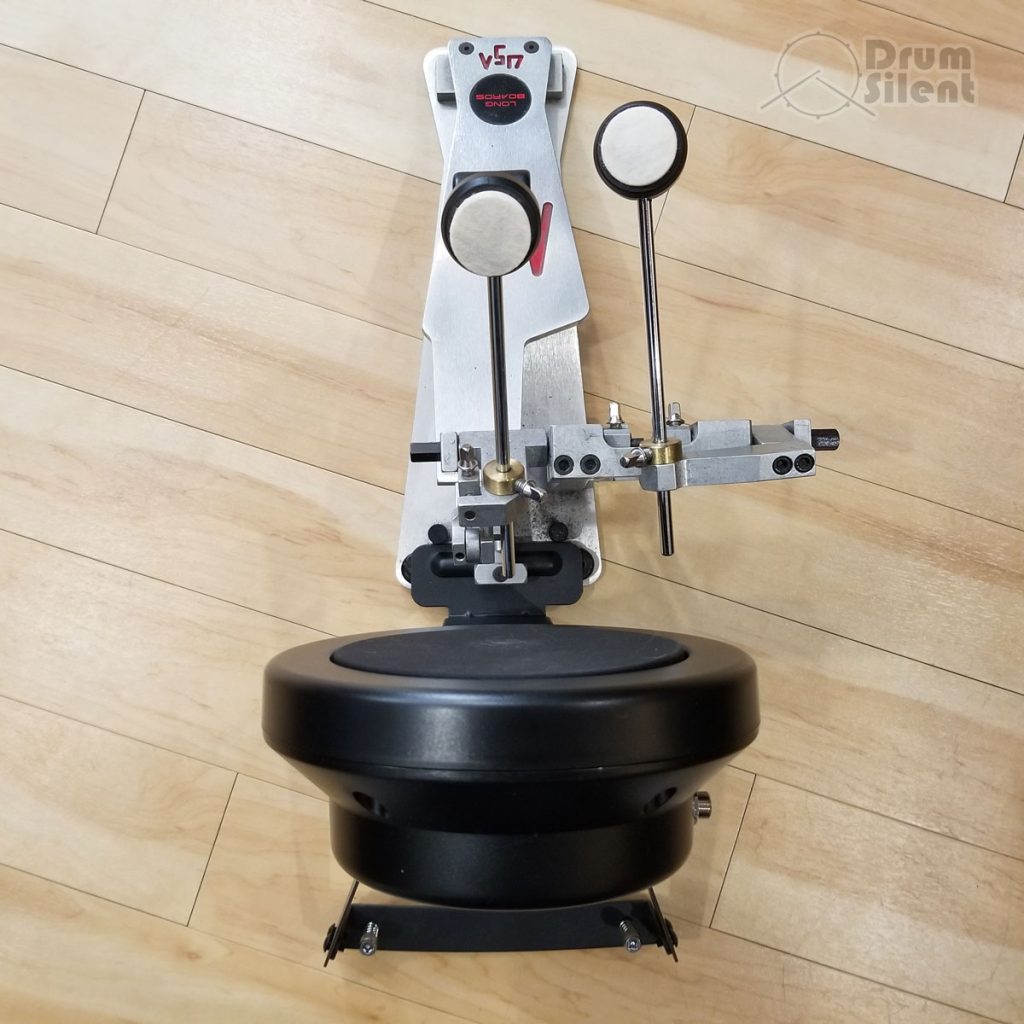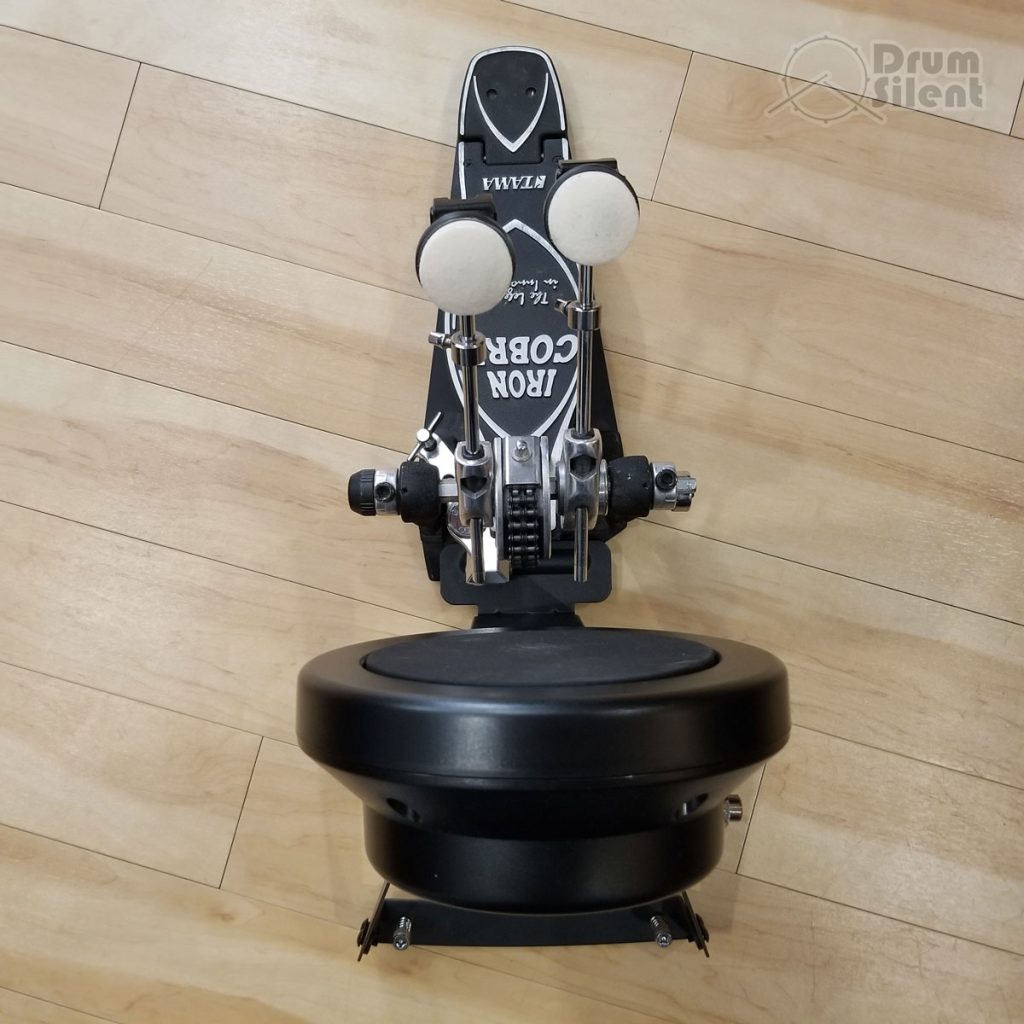 If you want to be able to use any double bass pedal with your electronic drum kit, you'll want to get a kit with a larger pad and a larger plate to clip onto for the best results. If you already have a kit but the pad is too small for double bass, you can always look at upgrading just the kick tower pad to something that will fit a double bass pedal.
Conclusion
For the most part, you'll probably be able to use any single bass drum pedal with just about any bass drum pad, so single pedals will be much less restrictive to work with. Double pedals will often require wider or larger pads and wider foot plates to clamp onto. So if you're a double bass player you'll want to spend more time investigating the kick drum pads that come with any kit you are interested in to make sure it can fit your pedal of choice. If you're in need of a bass drum pedal, check out our bass drum pedal recommendations.