An electronic drum kit can be a good option for kids that want to try playing the drums. There are some relatively inexpensive and compact kits that can be good enough to get a kid started on their musical journey.

Simmons Titan 20 Electronic Drum Kit
The Simmons Titan 20 kit is the least expensive option from Simmons and it has some good sounding drum kits and nice mesh pads. It's a great kit for kids who want to try out drumming.

The snare pad and the toms pads are all 8 inch mesh pads. The tom pads are single zone, meaning they can only generate sounds by striking the head. The snare pad is a dual zone pad that also has rim shot features which is nice at this price level. The cymbal pads are all basic 10 inch rubber pads.
This kit uses a kick controller pedal rather than a real kick pedal. While it's not a real kick pedal, it's plenty playable for beginners and it saves you from the cost of having to buy a kick pedal to use with a kick pad tower like some other kits. There is also a hi-hat trigger pedal for controlling the hi-hats.
The drum module has 10 built in drum kits and they sound really good for a budget minded kit. The module also has one slot for a custom drum kit, so you can mix and match your favorite sounds from the drum module and make your own drum kit. The module has some nice connectivity options for a budget kit. The Bluetooth feature allows you to connect a smartphone or other device and play along with music, which can be a great way to learn. There's also a metronome and practice features for learning drummers.
Roland TD-02K

Electronic Drum Kit
This kit is geared towards beginners and is a good option for kids who want to get into drumming. It is extremely compact and take up very little space.
The price of the TD-02K is about as low as you can go if you want to get a Roland drum kit. This kit includes everything you need to start playing drums in a very compact package.
This kit uses a tripod rack stand to keep it's overall footprint to a minimum, and it can fit easily in the corner of a bedroom or elsewhere around your home. It's compact design also makes it easy to move around and move out of the way when not in use.
It includes four single-zone, rubber pads for the snare and toms. It also includes three dual zone pads for the cymbals, meaning you can play both the bow and the edge of the pad for different cymbal sounds. The crash cymbal has a choke feature as well.
Both the kick and the hi-hat are controlled via the included foot pedals, so you won't have to worry about getting a kick drum pedal to play this kit which helps keep it more affordable.
The drum module is pretty basic but it includes 16 great sounding drum kits, USB audio and MIDI outputs, aux inputs and headphone outputs to give you some connectivity flexibility.
Alesis Turbo Mesh Electronic Drum Kit
The Turbo Mesh kit from Alesis is one of their most affordable options and can be a good starter kit for kids. Alesis is currently pricing these low since they have some new drum kits coming soon, so as of August 2023 this is a pretty good deal if you can find one.

The snare and toms are all 8-inch, single zone mesh pads on this kit. The snare is a single zone pad, which can be a little limiting, but it shouldn't be a big deal for kids who are just starting out. The cymbal pads are all 10-inch single zone pads, and a controller pedal is included for the hi-hat pad.
The kick pedal on this kit is a controller pedal rather than a pad with a standard kick drum pedal. This works fine for kids who are beginners and it can help save you from the price of having to get a kick pedal in addition to the price of the kit.
The drum module has 10 drum kits built in with 120 drum sounds total. There are no custom kits on this module so you won't be able to save your own kits. There is an aux-in port for playing along with music and several output options including headphones.
Alesis Debut Electronic Drum Kit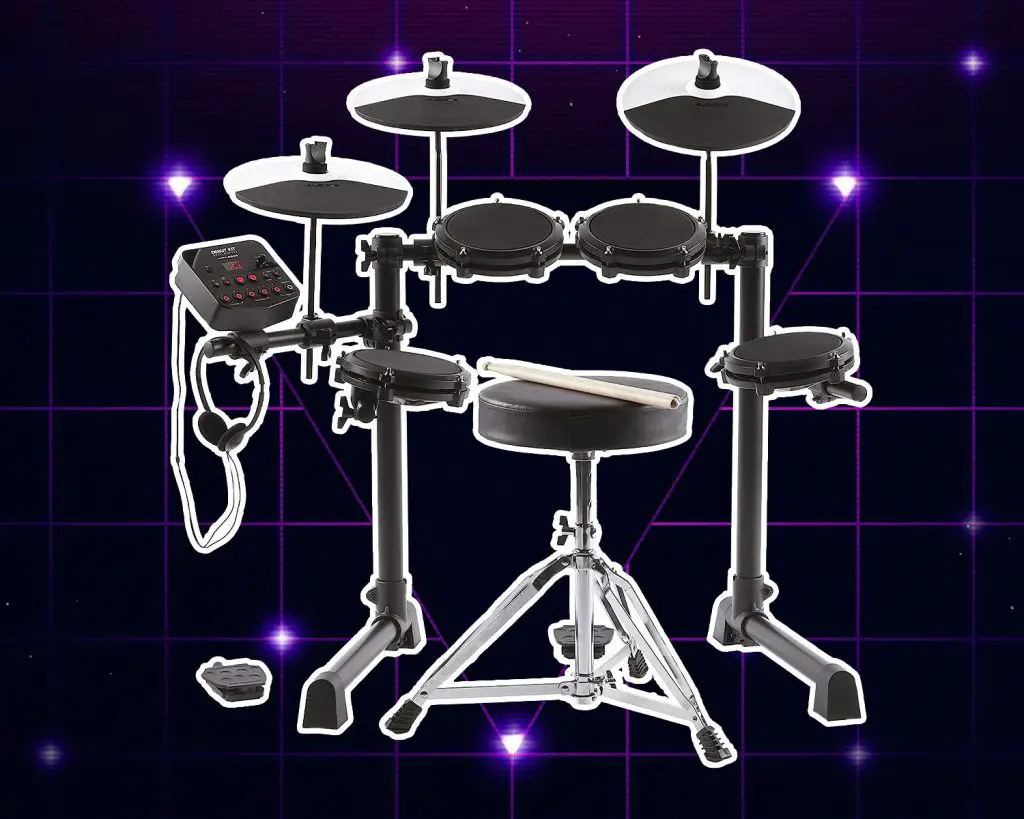 The Debut Kit from Alesis is specifically designed for smaller kids and is very compact and short. If you have young kids interested in drumming this is an affordable starter kit option.

Even though it's a smaller kit, it still used mesh pads for the toms and snare which is nice. All of the tom and snare pads are 6-inch single zone pads. The cymbal pads are all 10-inch single zone pads. The pads are pretty light on features but they work fine considering the price point. This kit uses a pedal controller for both the hi-hat and kick drum. So there's no need for a regular kick drum pedal on this kit.
There are also a lot of accessories included which helps keep the total cost down since you don't have to buy as many extras. You get a pair of sticks, headphone and a drum throne with this one, so you can set it up and start playing right away with everything you'll need being in the box.
The drum module has 10 drum kits built in with 120 drum sounds total with no custom kits or anything like that. There is an aux-in port for playing along with music and several output options including headphones.
Yamaha DTX402K

Electronic Drum Kit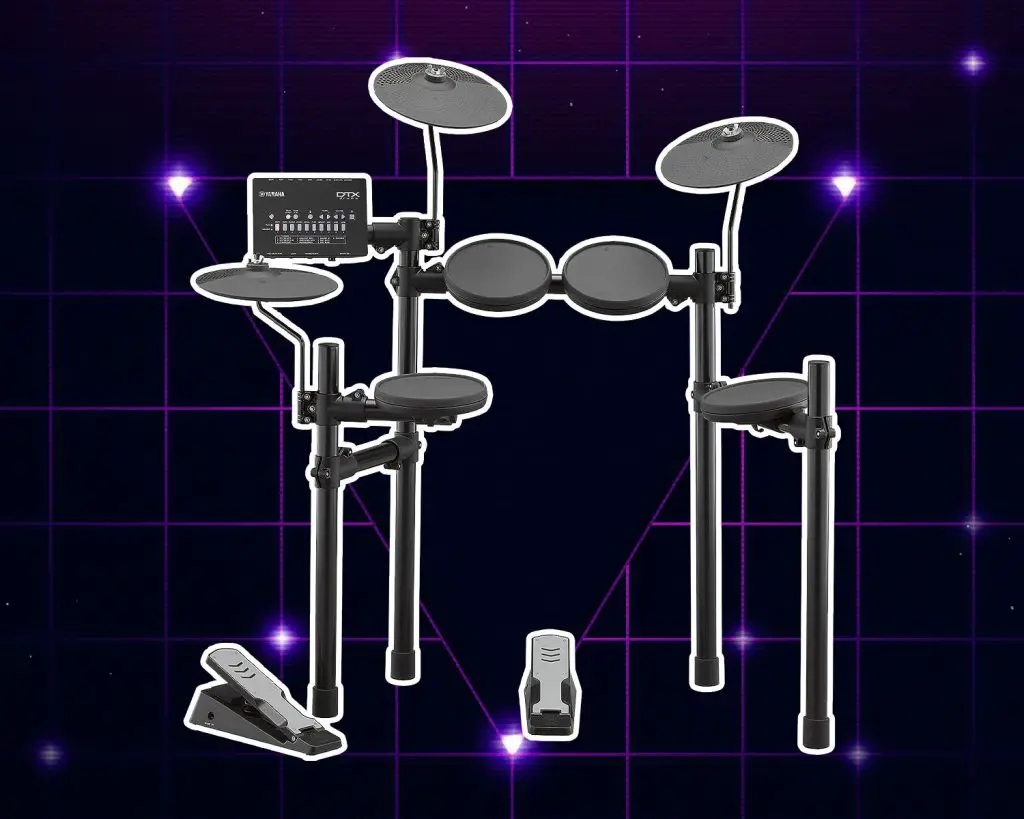 The Yamaha DTX402K is a compact kit geared towards beginners and it can make a good first kit for a kid. It features responsive rubber drum pads and has a kick trigger pedal instead of a kick pad.

This is a very compact drum kit and it doesn't take up much space. It's easy to move around or move out of the way when not in use.
This kit features single-zone 7.5 inch rubber drum pads for the snare and the toms. The cymbal pads are also single zone and the crash has a choke feature. The kick pedal is a trigger pedal with no kick pad, which helps to keep tapping noise to minimum for people playing at home or in apartments. While the pads are fairly basic in terms of features they have a good feel and will work well for beginners.
The drum module features 10 preset drum kits which can be edited and saved to create custom drum kits. There are no custom drum kit slots, you just save over the preset drum kits. The module can output audio and MIDI over USB, and there is also an Android and iOS app to access the module settings with a graphical interface.
Donner DED-80 Electronic Drum Kit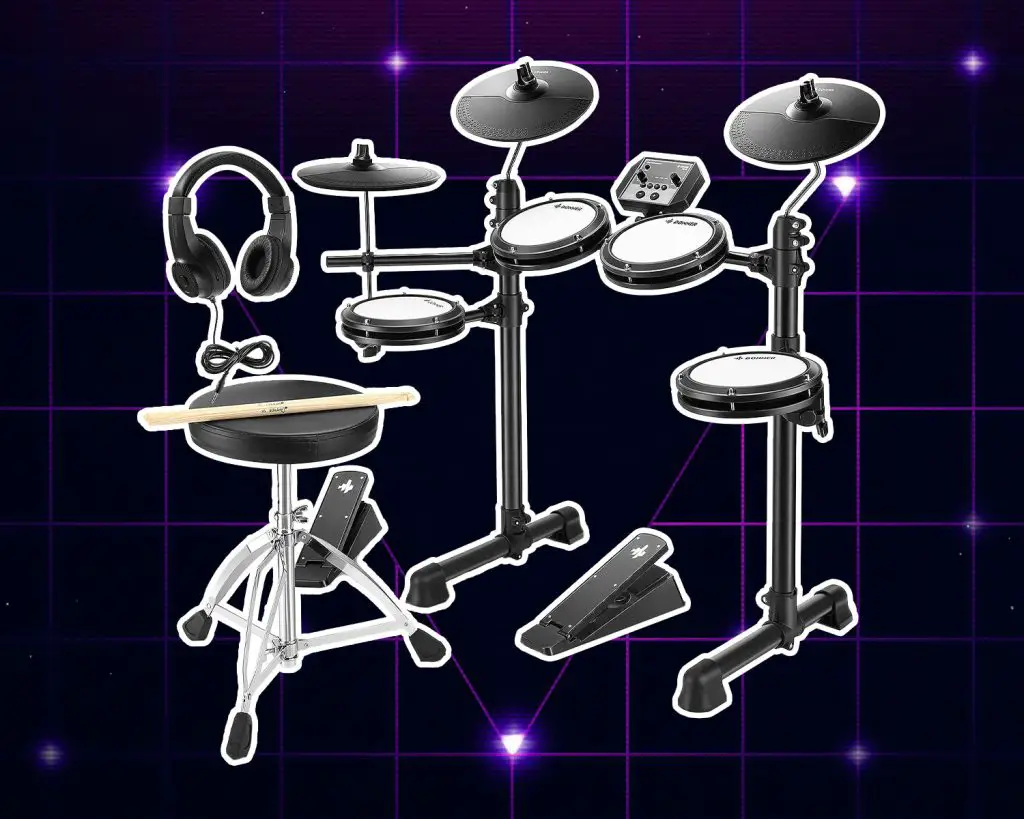 The Donner DED-80 is a very affordable drum kit with mesh heads that can work well for kids that are getting into drumming.

The snare pad and tom pads are all 6-inch, single zone pads with mesh heads and they feel pretty good to play, even for their smaller size. The cymbal pads are all 10-inch single zone pads and the hi-hat works along with the included controller pedal. The kick pedal is also the same type of controller pedal and doesn't require a kick pad or a separate kick pedal to work, so it keeps the kit affordable.
The module includes 15 preset drum kits using 180 different sounds. There's enough kits in this module to cover most styles of popular music.
This kit includes plenty of accessories. It includes a drum throne, sticks and a pair of headphones which means you can start playing with everything included in the box.
What Should You Look For in a Beginner Electronic Drum Kit For Kids?
If you are getting a kit for kid that is showing interest in music or drumming, a beginner kit can be an affordable way to test the waters. They are definitely short in features when compared to more advanced kits, but they are a low-risk investment. Kids that stick with drumming and take it seriously after starting out will likely want to upgrade to a more serious electronic or acoustic kit at some point. Here's what you can expect to find on a beginners kit that is suitable for kids.
Single Zone Snare Pads – Most beginner budget kits will have single zone snare pads, but not all.
Single Zone Tom Pads – Don't expect to find dual zone toms in this price range.
Basic Cymbal Pads – Most budget kits will have basic cymbal pads with one or two zones. Most kits will at least have a choke feature on the crash cymbal pad. You won't find ride cymbals with bell zones in this price range.
Decent Drum Sounds – You won't usually get premium level drum sounds from modules in the price range, but manufacturers such as Simmons and Roland can surprise with the quality of sound in the budget kits.
Limited or No Sound Design Features – You usually won't find many features for creating custom sounds and custom drum kits such as layering sounds or wildly manipulating sound characteristics. Ability to save custom drum kits is often limited if it exists at all.
Kick Trigger Pedals – The kits we recommend here use trigger pedals instead of kick pads with real kick pedals. This keeps the price down since kick pedals can add to the costs if you are trying to put a basic set together for a kid.
What Else Will You Need When Picking Up One of These Kits?
Many of the kits we recommend here actually come with enough accessories to get up and running without having to buy extra gear. Some of them include a throne, sticks and headphones. Of course they will all be pretty cheap versions of those things. So if your kid keeps at it and sticks with drumming for a while you might need to upgrade some of the extras after a while.
A Drum Throne
The cheap drum thrones that come with some of these kits are fine for getting started, but they will mostly likely lack in ergonomics and might fall apart after a while if used a lot. If the kit doesn't come with a throne you'll need to get one.
A Good Rug
Setting up an electronic drum kit on a rug keeps the rack and pedals from moving around and sliding on the floor while playing. If you want to keep everything in place a decent rug that doesn't bunch up and lays flat is a good idea. A 3×5 area rug should be suitable for most smaller kits.
Headphones & Extension Cables
Very rarely will an electronic drum kit include a pair of headphones, but some of the recommended kits on this list do. However, they'll be pretty cheap headphones and might not last if used a lot. Check out our headphone reviews to see what we recommend for electronic drummers.
Drum Sticks
Most kits will include a basic pair of drum sticks. Some don't, though. If you are just starting out, the included stick will be just fine to use. Some people prefer to use nylon tips sticks if they use mesh heads. The reasoning is that they are less likely to have barbs or slivers that damage the mesh drum heads. So that is something to consider. It's also best to avoid using any drum sticks that you've used on an acoustic kit on your electronic drum kit, since worn, chipped sticks could damage the mesh and rubber pads. Check out our recommended drum sticks for electronic drums.
A Cable For Connecting Audio Sources
You will at some point want to hook your phone or an MP3 player or some sort of audio player to your drum module to play along with music that you like. To do this, you'll need a cable that probably didn't come with your drum kit. Usually you'll need a 3.5mm stereo cable, but it could vary depending on your equipment.