You don't need to spend thousands of dollars to get a good, playable electronic drum kit. If you're looking to keep your budget under $500 there are plenty of good options on the market. Let's take a look at some of our favorite kits in this price range.

Simmons Titan 50

Electronic Drum Kit
The Simmons Titan 50 kit is a solid option for under $500. It offers excellent sounding drum kits in the module and the pads, especially the snare, are fun to play.

Simmons is still putting out some nice drum kits and this one is no exception. It has a lot to offer for the price. One nice thing about it is that the rack comes fully assembled, which is an advantage over many other kits where you have to put the rack together from scratch during assembly.
The snare and tom pads are all mesh. The snare pad stands out since it is a dual zone, 10 inch mesh pad. The snare pad has an excellent feel during play and responds well to rim shots, which is an area where many budget kits can struggle. The cymbal pads are all single zone pads and the crash has a choke feature. The kick drum pad is wide enough to support a double kick pedal, which is also nice at this price range.
The drum module has some excellent sounding drum kits that sound a little better than other budget drum kits, at least in my opinion. The drum sounds in the 25 preset drum kits are very punchy, clear, and have a nice, natural ring out and decay when played. There is also 10 user slots for saving custom kits.
The module also has some nice connectivity options for a budget kit. The Bluetooth feature is available for both audio input (like an aux input) and MIDI connections. The USB connection can do both audio and MIDI over USB. There is also a Simmons iOS app to help modify settings in the module with more of graphical user interface.
Roland TD-02K

Electronic Drum Kit
This kit is geared towards beginners but it is very playable for all levels of drummers. It is extremely compact and take up very little space.
The price of the TD-02K is about as low as you can go if you want to get a Roland drum kit. This kit includes everything you need to start playing drums in a very compact package.
This kit uses a tripod rack stand to keep it's overall footprint to a minimum, and it can fit easily in the corner of a bedroom or elsewhere around your home. It's compact design also makes it easy to move around and move out of the way when not in use.
It includes four single-zone, rubber pads for the snare and toms. It also includes three dual zone pads for the cymbals, meaning you can play both the bow and the edge of the pad for different cymbal sounds. The crash cymbal has a choke feature as well.
Both the kick and the hi-hat are controlled via the included foot pedals, so you won't have to worry about getting a kick drum pedal to play this kit which helps keep it more affordable.
The drum module is pretty basic but it includes 16 great sounding drum kits, USB audio and MIDI outputs, aux inputs and headphone outputs to give you some connectivity flexibility.
Alesis Nitro Mesh

Electronic Drum Kit
The Nitro Mesh kit from Alesis is one of their more affordable options without cutting too many corners on features. Alesis has also recently dropped the price as of August 2023 and these are extremely affordable if you can still find one.

This kit offers mesh drum pads for the snare and toms, and the snare pad is a dual zone pad that can generate sounds from both the head and the rim. The cymbal pads are all single zone pads and the crash cymbal includes a choke feature. There is also an expansion kit available that adds another tom and crash pad.
The kick pad tower works with standard kick drum pedals, but it might not be ideal for double kick pedals due to it's size – drummers have had mixed results trying to use double kick with this pad.
The drum module offers 24 built-in drum kits along with 16 slots to save custom kits. The drum sounds and kits are pretty good for a budget electronic kit such as this one. The module also offers connectivity such as MIDI and MIDI over USB. There is no audio over USB, just MIDI, so keep that in mind with this one.
Yamaha DTX402K

Electronic Drum Kit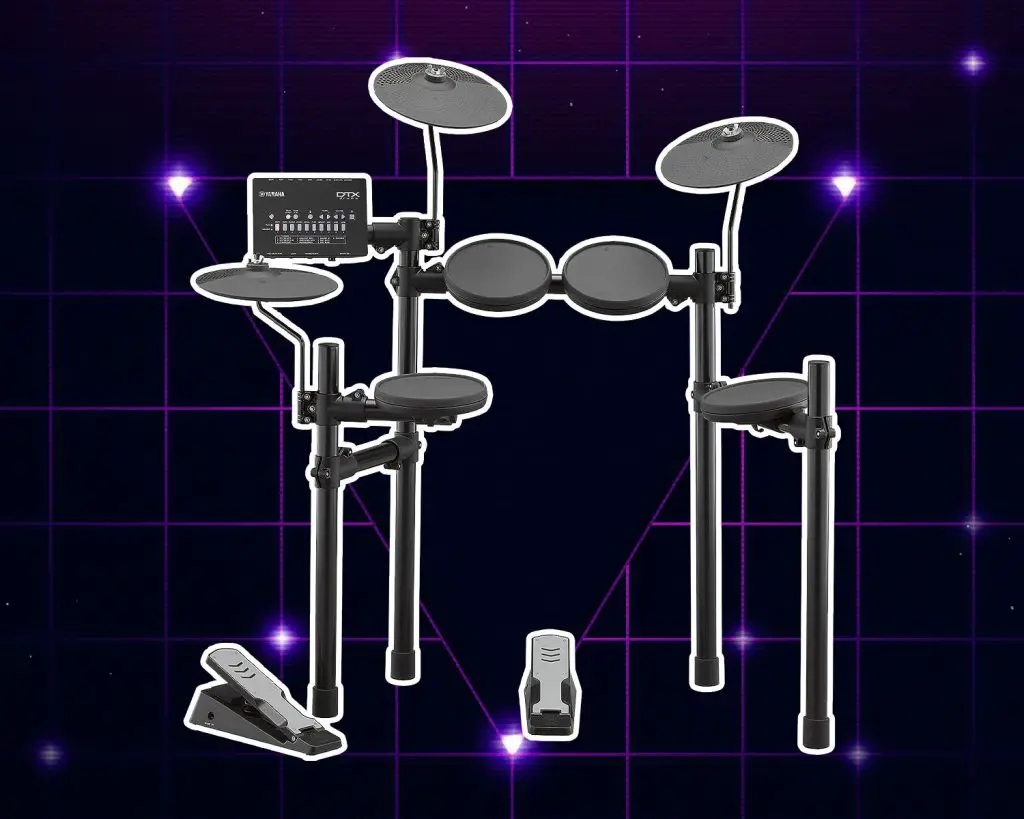 The Yamaha DTX402K is a compact kit geared towards beginners. It features responsive rubber drum pads and has a kick trigger pedal instead of a kick pad.

This is a very compact drum kit and it doesn't take up much space. It's easy to move around or move out of the way when not in use.
This kit features single-zone 7.5 inch rubber drum pads for the snare and the toms. The cymbal pads are also single zone and the crash has a choke feature. The kick pedal is a trigger pedal with no kick pad, which helps to keep tapping noise to minimum for people playing at home or in apartments. While the pads are fairly basic in terms of features they have a good feel and will work well for beginners.
The drum module features 10 preset drum kits which can be edited and saved to create custom drum kits. There are no custom drum kit slots, you just save over the preset drum kits. The module can output audio and MIDI over USB, and there is also an Android and iOS app to access the module settings with a graphical interface.
Donner DED-200

Electronic Drum Kit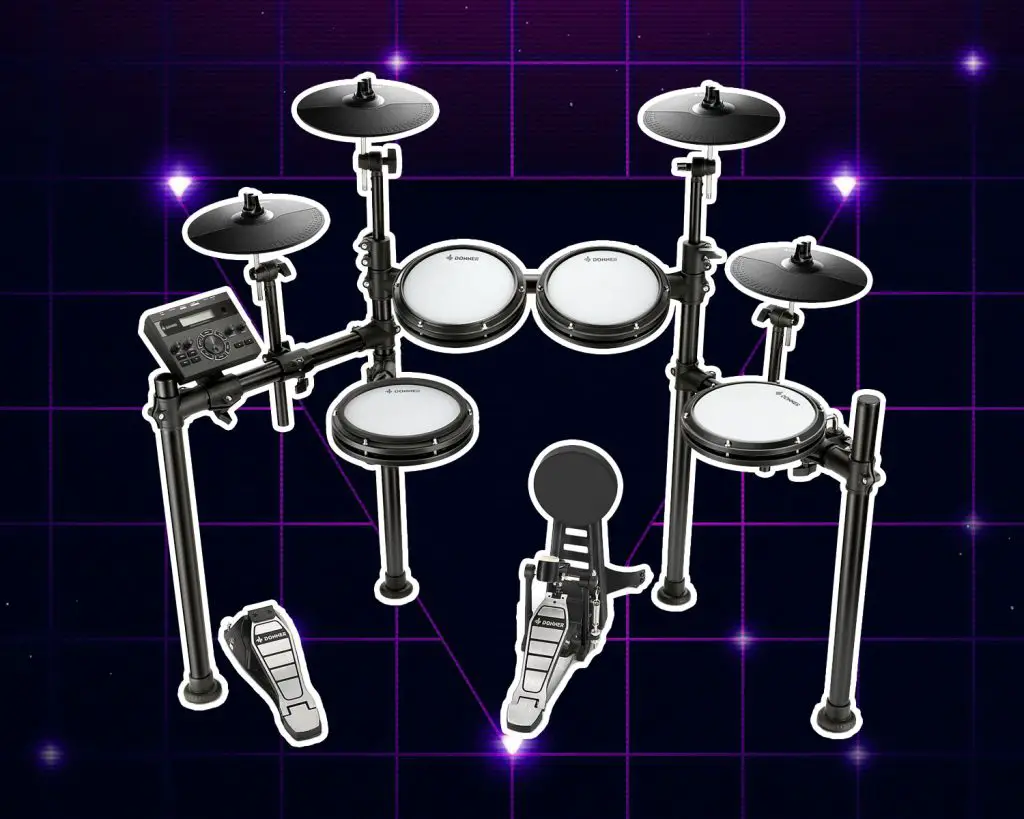 The Donner DED-200 drum kit is a decent budget kit with mesh drum heads and lots of accessories included to get beginners up and running quickly without extra costs.

This kit uses mesh drum pads for the snare and the toms. The snare pad is an 8 inch dual zone mesh pad that can generate sounds from both the rim and the head. The toms are all single zone pads and are the same size as the snare. The cymbal pads are all basic 10-inch single zone pads and the crash and the ride pad have choke features. The kick drum pad works with normal kick drum pedals and the 6 inch pad surface is large enough to fit a double pedal.
The module includes 30 preset drum kits and also includes one user slot for saving a custom drum kit. The sounds are decent for a budget drum kit and there's a wide range of sounds used through the preset kits. The module has a USB connection for MIDI. It also has aux in, headphone outputs and line outputs for connecting to various devices.
As far as the accessories go, this kit includes a drum throne, headphones, drum sticks and a kick pedal. Having all this included is nice for beginners since you won't need to worry about buying that stuff separately. While it's nice that all of these are included they definitely feel on the cheaper side, but you can always upgrade and replace them later on.
What Can You Expect From a Sub-$500 Electronic Drum Kit?
In this price range you'll find a lot of budget offerings from manufacturers that make much more expensive and feature-rich drum kits. In the sub-$500 dollar range you should expect to find:
Single or Dual Zone Snare Pads – Most budget kits will have dual zone snare pads, but not all. It's kind of a toss up.
Single Zone Tom Pads – Don't expect to find dual zone toms in this price range.
Basic Cymbal Pads – Most budget kits will have basic cymbal pads with one or two zones. Most kits will at least have a choke feature on the crash cymbal pad. You won't find ride cymbals with bell zones in this price range.
Decent Drum Sounds – You won't usually get premium level drum sounds from modules in the price range, but manufacturers such as Simmons and Roland can surprise with the quality of sound in the budget kits.
Limited or No Sound Design Features – You usually won't find many features for creating custom sounds and custom drum kits such as layering sounds or wildly manipulating sound characteristics. Ability to save custom drum kits is often limited.
Kick Trigger Pedals – Some budget kits use kick trigger pedals instead of kick pads with real kick pedals. Keep this in mind if you prefer to use a real kick drum pedal when sizing up the various budget kits out there.
What Else Will You Need When Starting Out With an Electronic Drum Kit?
Buying a kit isn't always the only thing you'll need, unfortunately. Not all drum kits come with everything you need to start playing. Most drum kits will include the rack, a drum module, the pads and all the cables to connect everything. But they don't always include a kick pedal, a throne, headphones or drum sticks. So it's good to keep an eye out to see what a drum kit doesn't include, since those things will be an extra expense.
Kick Pedal
It's not uncommon for beginner level kits to include a kick pedal of some sort. Usually they are pretty cheap pedals, but they are perfectly fine for beginners and a decent kick pedal can cost a hundred bucks or more. Some budget kits have electronic kick pedals that work similarly to the hi-hat pedal, and they work without a beater striking a pad.
A Drum Throne
Don't discount the need for a solid, comfortable drum throne. When you get into a good groove you could be sitting there playing drums for up to an hour or more at a time. If you have a cheap, uncomfortable drum throne, you'll know it pretty quickly because you'll have a sore back and sore rear. You'll get tired of feeling off-balance, and you'll get tired of the squeaking that cheap thrones tend to do. So just trust us here and get something that is comfortable, even if it's not the cheapest option.
A Good Rug
Setting up your kit on a solid rug will be essential. The hi hat pedals, kick pads and kick pedals will likely have velcro or spikes to stick to carpeting to keep them in place. Carpeting will also keep the rack stand from moving around and sliding on the floor. Not all rugs are equal. Look for the really stiff or heavy types of rugs that don't bunch up or wrinkle and that will stay flat on the floor.
Headphones & Extension Cables
Very rarely will an electronic drum kit include a pair of headphones. You'll need a pair of headphones if you want to play your electronic drum kit quietly. There are so many options available for headphones and it's possible to find decent drumming headphones for any budget. Check out our headphone reviews to see what we recommend for electronic drummers.
The reason we also mention extension cables is that not all headphones have long enough cables to be comfortable for electronic drumming. For example, I'm currently using Sennheiser HD 280 Pro's, which have a shorter, coiled cable and it gets in way unless I add a headphone extension cable. You'll probably want a total of at least 10 feet of cable length for any headphones you are connecting to your kit so you can get the cables out of the way of your arms and give yourself some room to move around while plugged in.
Drum Sticks
Most kits will include a basic pair of drum sticks. Some don't, though. If you are just starting out, the included stick will be just fine to use. Some people prefer to use nylon tips sticks if they use mesh heads. The reasoning is that they are less likely to have barbs or slivers that damage the mesh drum heads. So that is something to consider. It's also best to avoid using any drum sticks that you've used on an acoustic kit on your electronic drum kit, since worn, chipped sticks could damage the mesh and rubber pads.
A Cable For Connecting Audio Sources
You will at some point want to hook your phone or an MP3 player or some sort of audio player to your drum module to play along with music that you like. To do this, you'll need a cable that probably didn't come with your drum kit. Usually you'll need a 3.5mm stereo cable, but it could vary depending on your equipment.