There are some pretty nice electronic drum kits available for under $1000. When you spend closer to $1000 you start to get out of the extreme budget range and can find some more capable kits with more features. Let's take a look at some of our favorites.
Simmons Titan 70

Electronic Drum Kit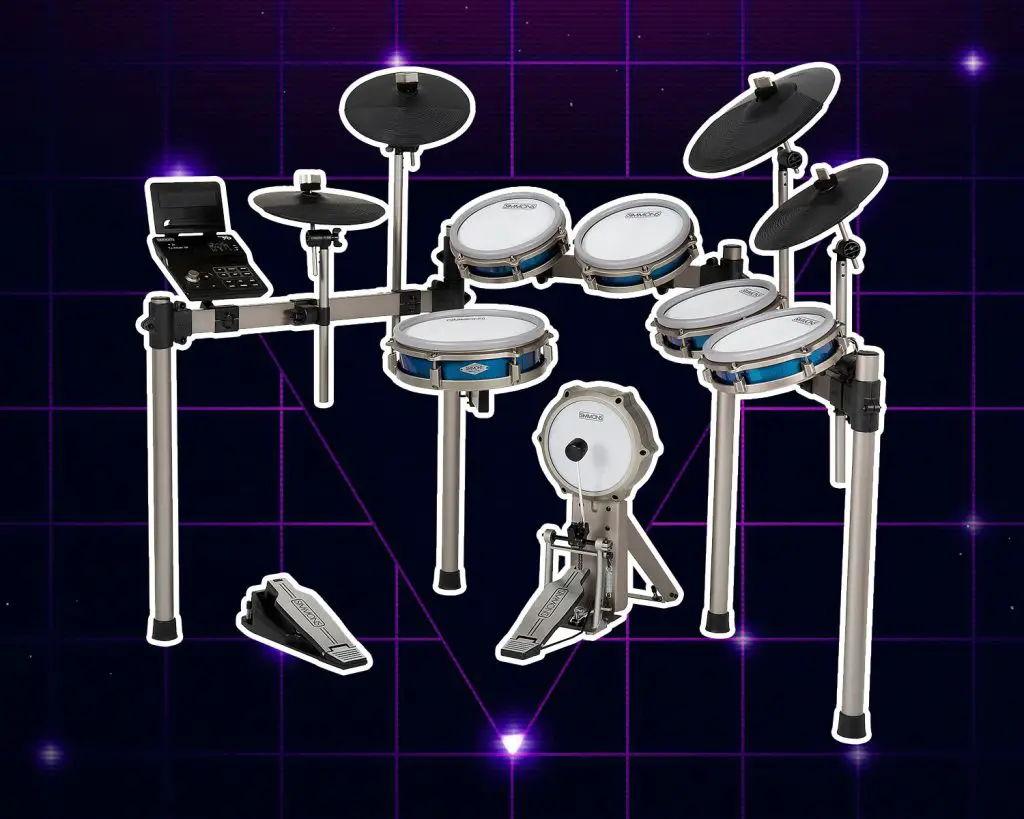 The Simmons Titan 70 has a lot to offer at it's price point and is an excellent option for a sub-$1000 electronic drum kit. This kit has plenty of multi-zone pads and has a great sounding drum module with some nice connectivity features.

The snare pad is a 10 inch dual zone mesh pad with nice rim-shot capabilities to help make it feel more dynamic. The tom pads are all also dual zone mesh pads and they can generate sounds from the head and the rim. The hi-hat and crash pads are 8-inch pads and the crashes have choke features. The addition of the second crash cymbal pad is nice as well. The ride pad is a 10-inch, triple-zone pad with a bell zone, which is great. The kick pad is large enough to fit a double bass pedal.
The drum module contains 50 preset drum kits and also has 25 custom user kit slots. The drums sounds are really nice, and there's enough variety to help this kit get to work for many styles and genres of music. Connectivity-wise, the module can transmit MIDI over USB or via the MIDI port. The module also works as a 2×2 audio interface when connected to a computer via USB. The Bluetooth receiver feature can be used like an aux-in for playing along with music from external devices.
This kit also comes with a kick pedal, which is nice for beginners or those who don't already have a pedal, which can help save some money when you start picking up accessories.
Roland TD-1DMKX

Electronic Drum Kit
The Roland TD-1DMKX is one of the cheaper kits on this list at around $599, but the Roland TD-1DMKX has some nice qualities to it that make it worth a serious look. This is currently the kit I have at home in my apartment.

This is on the cheaper end of Roland's drum kit offerings, but it plays very nicely and sounds great as well. It features a dual zone, 8-inch snare drum pad and 3x single zone 8-inch tom pads. The double mesh layer on the drum pads feels great and has really good response. The hi-hat and crash pads are single zone pads and the crashes have a choke. The ride cymbal pad is 10 inches and is also a single zone pad. The addition of the ride pad and the extra crash pad are a really nice combo for this kit at this price.
The kick drum pad looks less conventional since it's mounted on the frame, but it work surprisingly well and has good response during play. It's width and it's ability to adjust it's vertical positioning makes it easy to position for your favorite kick pedal, and it's wide enough to work with double bass pedals.
The TD-1 drum module is extremely basic and that might be a drawback for drummers who want more sound design options. The 15 preset drum kits and the drum sounds in this module sound great for it's price level. There's no ability to create custom kits with this module, which is one of it's bigger drawbacks.
This kit is also a good one to consider if you don't want to spend much now but want to get a solid foundation for upgrading later on. You can upgrade to a different Roland module or other Roland drum pads with this one without having to worry much about compatibility issues.
Roland TD-07DMK

 Electronic Drum Kit
The Roland TD-07DMK is pretty similar to the TD-1DMK which we just looked at, but it has a few upgrades that could make it more appealing while remaining under $1000.

This kit features a dual zone, 8-inch snare drum pad and 3x single zone 8-inch tom pads, and the mesh heads on the pads feels great during play. The hi-hat and crash pads are single zone pads and the crashes have a choke. The ride cymbal pad is 10 inches and is also a single zone pad. The addition of the ride pad and the extra crash pad are a really nice combo for this kit at this price.
This kit also uses the kick pad mounted on the frame, but there is also an optional version of the kit with a kick tower, which some might prefer. Both options are fine in terms of playability.
The TD-07 drum module is more capable than the restrictive TD-1 module, so that's a big plus for the TD-07DMK kit. The module has 25 preset kits built in along with another 25 user slots for custom kits. There's also some nice sound design options such as ambience settings and sound effects that you can use. The module can support more types of Roland pads than the TD-1, which is good if you want to be able to upgrade. Connectivity-wise, the TD-07 module can send both stereo audio and MIDI over USB, and also has a Bluetooth feature for inputting sound from external sources.
This is a nice sub-$1000 option from Roland that can be expanded and upgraded, and it's well worth a look if you want to get into Roland V-Drums.
Alesis Command Mesh

Electronic Drum Kit
The Command Mesh kit from Alesis offers a few more features over their extreme budget kits such as the Nitro Mesh without getting overly expensive. For this recommendation we're specifically looking at the Command Mesh SE version.

This kit offers a dual zone, 10-inch mesh snare pad and 3 dual zone, mesh tom pads. The dual zone toms are nice since you can assign separate sounds to the rim to expand the scope of the kit without adding more pads. The cymbal pads come up a little short for this kit since they are only single zone pads all the way around, but the crash and ride pads do have a choke feature. The kick drum pad is large enough to support double bass pedals which is great.
The drum module in the SE version offers 54 preset kits and another 20 slots to save custom kits. You can also load your own samples into the module with a USB drive. The module can transmit MIDI over both USB and MIDI outputs. There are expansion ports to add another cymbal and tom pad as well.
It's interesting to see the ability to load samples into the module, but the kit does come up short in terms of multi-zone cymbal pads, so it's a bit of a trade off at it's price point depending on what you're looking for.
Yamaha DTX6K-X

 Electronic Drum Kit
The Yamaha DTX6K-X offers fully featured cymbal pads along with rubber drum pads and a feature packed drum module.

This kit uses an 8-inch three zone snare pad which utilizes a TCS (Textured Cellular Silicone) head, which offers excellent feel and rebound for a rubber style drum pad. The toms are all 8-inch single zone rubber pads, and are probably the weakest point for this drum kit. The cymbal pads on this kit are pretty great, and you get a PCY135 ride pad which is a nice three-zone ride pad with edge, bow and bell zones. The kick pad has a 7.5 inch diameter and is able to fit double bass pedals.
The drum module is pretty nice on this kit and one of it's strengths overall. There are 40 preset drum kits and 200 user slots for saving custom kits. You get some nice sound design options along with sound layering features and sample import options, so this module can be fun for drummers who like to design their own kits and sounds. Connectivity is also good since you can send both audio and MIDI over the USB connection.
While the rubber drum pads can be a drawback for some, the quality of the pads and the features in the module are really nice for the price point of this kit.
KAT Percussion KT-300

 Electronic Drum Kit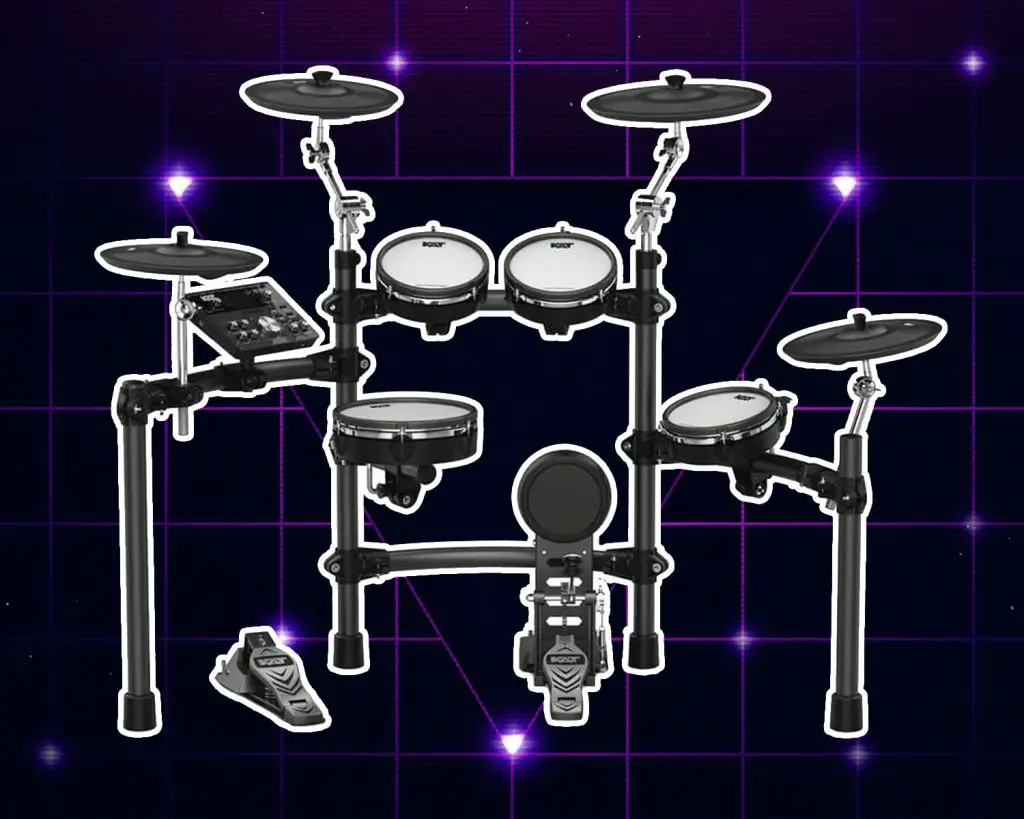 The KAT Percussion KT-300 has some really nice drum and cymbal pads for it's price point as well as a solid drum module to bring the pads to life.

The snare and tom pads are all dual zone mesh pads with REMO mesh heads. The snare is a 10-inch pad and the toms are 8 inch pads. The dual zone capabilities on the toms give you more flexibility when assigning sounds and building kit in the module. The cymbal pads on this kit are really nice for this price level. They are all fully rubber (not rubber over plastic) with play zones all the way around the surface. The ride is especially nice, it's a 14-inch pad with a bow, edge and bell zone for excellent playability. The two crash pads are dual zone pads with choke features. The kick tower has an 8-inch pad surface so it has room for a double bass pedal.
The module has 30 preset drum kits and 18 user slots for saving your own custom kits. The sounds can be edited and effects are available such as reverb and compression. The USB connection can send MIDI over USB.
This kit has a lot to offer at it's price point and arguably has some of the best combination of mesh drum heads and cymbal pads for it's price. The drum module is lacking features such as audio over USB but it works well for this level of kit.
What Can You Expect From a Sub-$1000 Electronic Drum Kit?
Once you start to spend between $500-$1000 you start to find more fully featured drum pads and cymbal pads along with more sound design features on the drum module. Here's what you can expect for a drum kit in this price range.
Dual Zone Snare and Tom Pads – You'll start to find more kits with dual zone toms which are fun since they can add more playable sounds to any kit by changing the sounds assigned to the rims.
Multi-Zone Cymbal Pads – In this price range you'll start to find more three-zone ride pads which are great since they have an edge, bow and bell zone for more expressive play. Crash cymbals will often have multiple zones as well with edge and bow zones.
More Sound Design and Custom Kit Options – This is where you start to find more sound design features such as adding reverb and compression effects or other multi-effects, along with the ability to save more drum kits. Sound layering still isn't as common but some modules in this range can do it.
Larger Kick Tower Pads – Most drum kits have larger kick tower pads that will work well with double bass pedals, and they usually have good sensitivity and response for quicker pedal work.
What Else Will You Need When Starting Out With an Electronic Drum Kit?
Some of these drum kits come with accessories, but it's not as common as with some of the more budget level kits. You are expected to provide more of the essential accessories at this price point and sometimes the extras can add up.
Kick Pedal
It's not uncommon for beginner level kits to include a kick pedal of some sort. Usually they are pretty cheap pedals, but they are perfectly fine for beginners and a decent kick pedal can cost a hundred bucks or more. Some budget kits have electronic kick pedals that work similarly to the hi-hat pedal, and they work without a beater striking a pad.
A Drum Throne
Don't discount the need for a solid, comfortable drum throne. When you get into a good groove you could be sitting there playing drums for up to an hour or more at a time. If you have a cheap, uncomfortable drum throne, you'll know it pretty quickly because you'll have a sore back and sore rear. You'll get tired of feeling off-balance, and you'll get tired of the squeaking that cheap thrones tend to do. So just trust us here and get something that is comfortable, even if it's not the cheapest option.
A Good Rug
Setting up your kit on a solid rug will be essential. The hi hat pedals, kick pads and kick pedals will likely have velcro or spikes to stick to carpeting to keep them in place. Carpeting will also keep the rack stand from moving around and sliding on the floor. Not all rugs are equal. Look for the really stiff or heavy types of rugs that don't bunch up or wrinkle and that will stay flat on the floor.
Headphones & Extension Cables
Very rarely will an electronic drum kit include a pair of headphones. You'll need a pair of headphones if you want to play your electronic drum kit quietly. There are so many options available for headphones and it's possible to find decent drumming headphones for any budget. Check out our headphone reviews to see what we recommend for electronic drummers.
The reason we also mention extension cables is that not all headphones have long enough cables to be comfortable for electronic drumming. For example, I'm currently using Sennheiser HD 280 Pro's, which have a shorter, coiled cable and it gets in way unless I add a headphone extension cable. You'll probably want a total of at least 10 feet of cable length for any headphones you are connecting to your kit so you can get the cables out of the way of your arms and give yourself some room to move around while plugged in.
Drum Sticks
Most kits will include a basic pair of drum sticks. Some don't, though. If you are just starting out, the included stick will be just fine to use. Some people prefer to use nylon tips sticks if they use mesh heads. The reasoning is that they are less likely to have barbs or slivers that damage the mesh drum heads. So that is something to consider. It's also best to avoid using any drum sticks that you've used on an acoustic kit on your electronic drum kit, since worn, chipped sticks could damage the mesh and rubber pads.
A Cable For Connecting Audio Sources
You will at some point want to hook your phone or an MP3 player or some sort of audio player to your drum module to play along with music that you like. To do this, you'll need a cable that probably didn't come with your drum kit. Usually you'll need a 3.5mm stereo cable, but it could vary depending on your equipment.