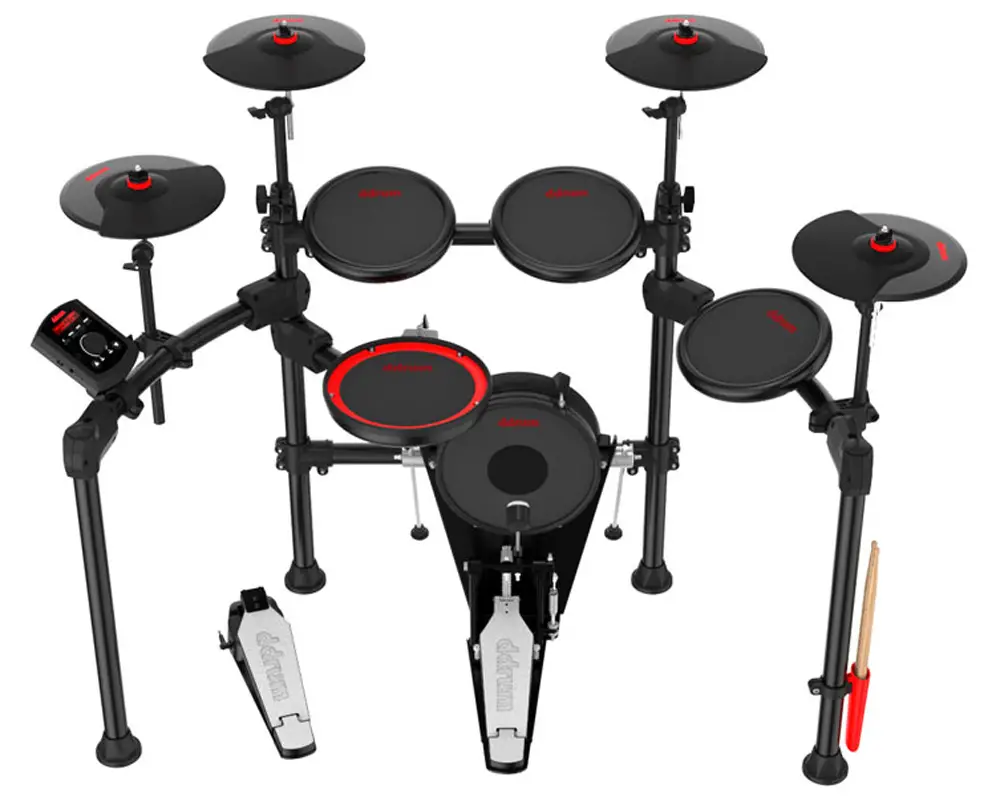 The ddrum E-Flex drum kit is an entry level kit that was introduced by ddrum in 2022. The new version which is called the E-Flex BT9 will be out later this year in 2023, and makes some improvements over the original.
The E-Flex BT9 will offer improvements such as larger mesh drum pads, larger cymbal pads, a wider drum rack, and a 10 inch kick pad. The first version of this kit used a kick pedal controller rather than a pad with a kick pedal, so the upgraded kick pad is a welcome addition for sure. The kit also offers features such as a dual zone snare drum pad, a bell zone on the ride cymbal pad, and Bluetooth connectivity on the drum module. The drum module will have some new sounds and a total of 20 drum kits. Overall, some nice upgrades for an entry level kit.
The E-Flex BT9 will include some nice accessories for beginners, such as a drum pedal, a throne, sticks and more. These types of accessories are great for beginner level kits since buying a throne, pedals and other accessories can add up quickly on top of the price of the drum kit itself.
The current E-Flex kit might also see some price reductions or sales as the new kit arrives, so that could be worth keeping an eye out for as well if you are in the market for an entry level kit.
We'll keep an eye on this one as it gets closer to release time. For more info visit ddrum.com.