If you're going to be getting an electronic drum kit, do you also need to get some speakers? The answer is no, but you might prefer playing your drum kit over speakers or a sound system depending on your situation. And if that is the case, there are sound systems available specifically for electronic drum kits.
Drumming With Sound Stealth Isn't Always Necessary
Many drummers who buy electronic drum kits are doing so because they want to be able to practice while keeping noise levels down. It's extremely common for most beginner electronic drummers to use headphones, since they keep everybody else in your household from having to listen to you while you practice and learn. However, while headphones provide you with sound stealth, they aren't your only option.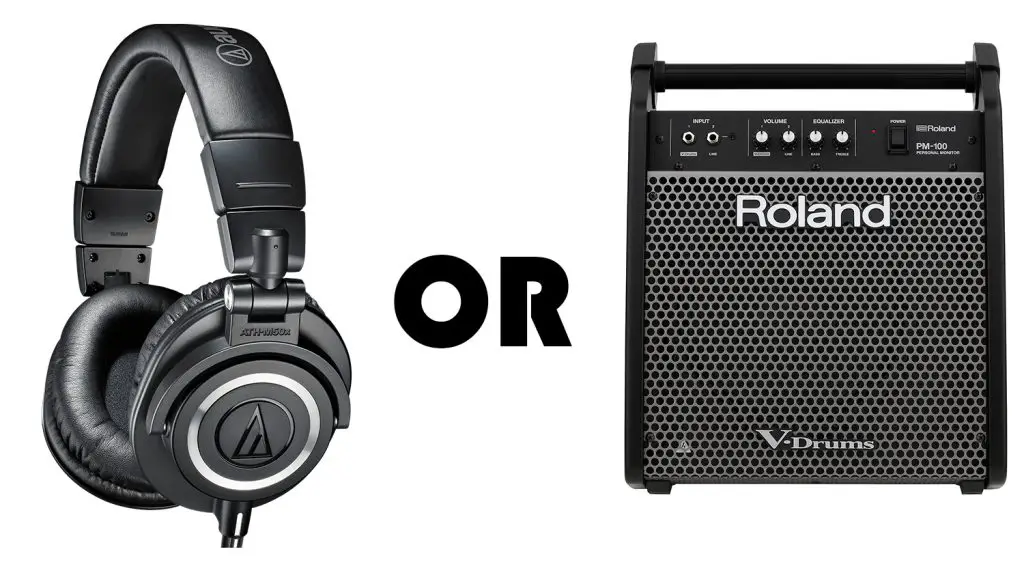 Connecting Your Electronic Drum Kit To Sound Systems
All drum modules on all modern electronic drum kits will have a standard stereo output for the main sound output. That might come in the form of 1/4″ stereo jacks or 1/8″ stereo jacks. Either way, you'll be able to connect a cable and route the audio to a sound system of your choice.
Your sound system that you will use for playback could be anything, really. Here's some examples:
A stereo system in your living room, allowing you to connect your electronic drum kit via RCA inputs.
A boom box with a jack for an aux in.
A bluetooth speaker system with a cable jack for an aux in.
A PA system with any type of input, either 1/4″ jacks, RCA or otherwise.
Speakers that you have hooked up to your computer might have an aux in.
One of those speakers designed specifically for electronic drum kits.
If you already have something that you use to play music or that you use to play other instruments, chances are you can connect your drum kit to it since it's just another audio device in the grand scheme of things.
All you need to connect your electronic drum kit to one of those options is the correct type of cable that matches up with your drum kit and your sound system. Preferably a longer cable, at least 25 feet, so that you can comfortably connect without having to keep proximity too close. To figure out what type of cable you need, simply take a look at the output jacks on your drum module and the input jacks on your playback sound system. Typical connections often include either 1/4″ or 1/8″ jacks or RCA jacks.
Why Playing Over Speakers Can Be Nice
If keeping silent isn't your main goal with electronic drums, having a compact speaker system to use along with them can be very handy. Some people just might find headphones to be uncomfortable when practicing and if you don't need to keep quiet, why not try something else?
It's also nice to have a speaker available for your electronic drum kit so that you can jam with friends much like if you had an acoustic kit. If you are in a band or have some people that you jam with, moving an electronic drum kit around along with a smaller speaker can be a lot more manageable than moving a full acoustic kit around. So it gives you more options, which is always a good thing.
Monitor Speaker Options for Electronic Drums
If you want to play your drum kit over speakers or monitors, it can be worth it to look into the monitor systems that are specifically made for electronic drum kits. They are compact but can put out some good sound, and are plenty loud for smaller practice spaces. They are designed to sit on the floor next to your kit while projecting sound wherever you point the speaker. They can also be used in multiples, so if you want to hook up two or three to expand your sound or get louder volumes, that will be an option.